Knight's dinner in the castle Lockenhaus in Burgenland

We are invited to a knight's dinner at the castle Lockenhaus im Burgenlandto Enjoyment trip of a special kind. The castle is enthroned over the small town of the same name. We also spend the night in the castle. Part of the former dilapidated castle has been prepared for overnight guests. In any case, we are accommodated in a huge room with a view of the surrounding area. Even if I don't feel like the princess on the pea (the bed is too hard for that), this night in the castle is a great experience.
Attractive overnight stays in the area of ​​Castle Lockenhaus: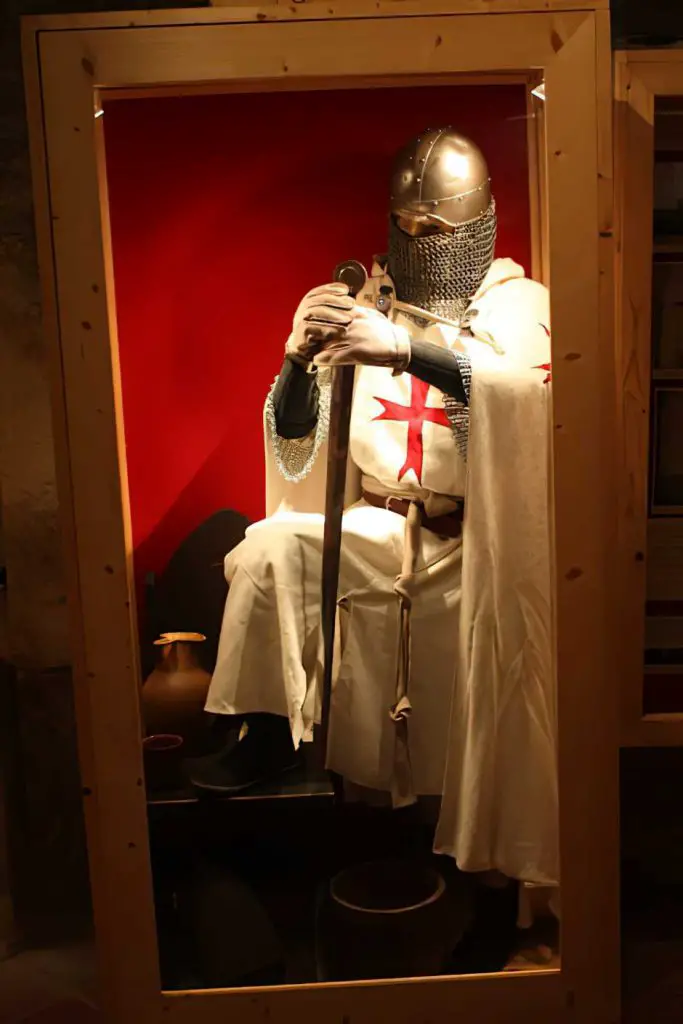 It begins with a medieval knight's meal in one of the knight's halls at Lockenhaus Castle. The Knights Templar, who once lived in the castle, ate their meals there. On the way there we pass exhibition windows, in which the figures in Templar uniforms appear almost alive during the nightly lighting. However, it is a little scary to walk through the old walls, which are barely lit. I feel watched by the figures behind glass.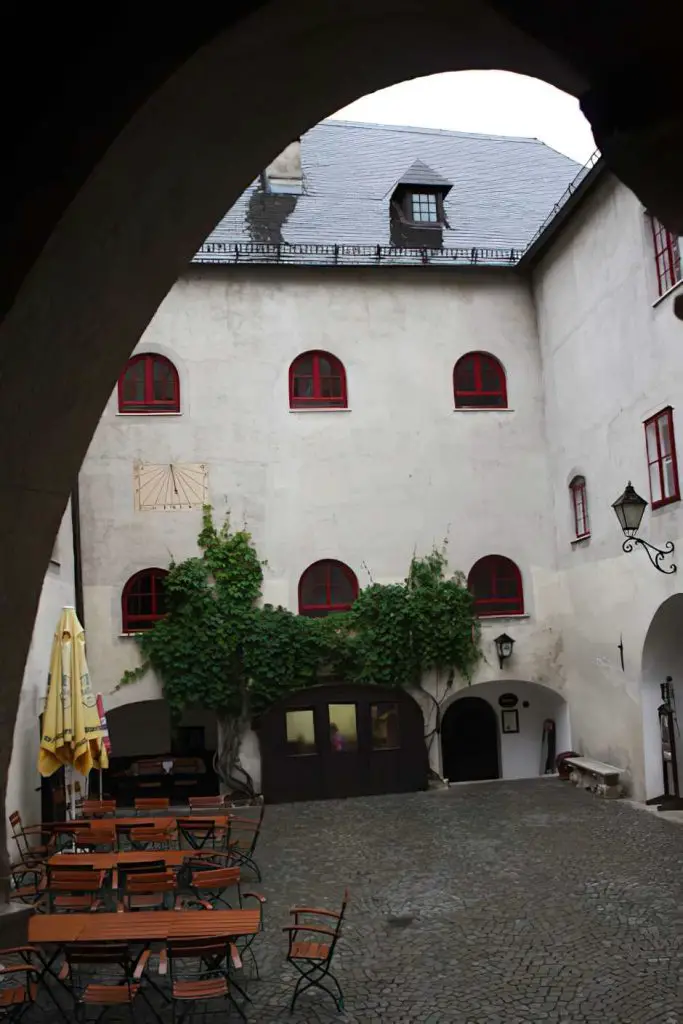 In the castle kitchen of Lockenhaus Castle
Through a tangle of stairwells we follow the sounds that echo to us from above. Obviously we are not the only guests at Lockenhaus Castle. And so we get into a kitchen with a large fireplace in the middle. There are still ash and burnt wood on it. Did they cook our food here too? We cannot determine it. But on the wall there are various ladles, pots and other utensils that were once used in this kitchen. A friendly lady in a simple linen dress welcomes us and leads us through a door covered with thick fabric into the knight's hall. There are two long tables on the right and left walls. A group of young women is already sitting on one. These have apparently already awarded the wine, because it is high in the ladies.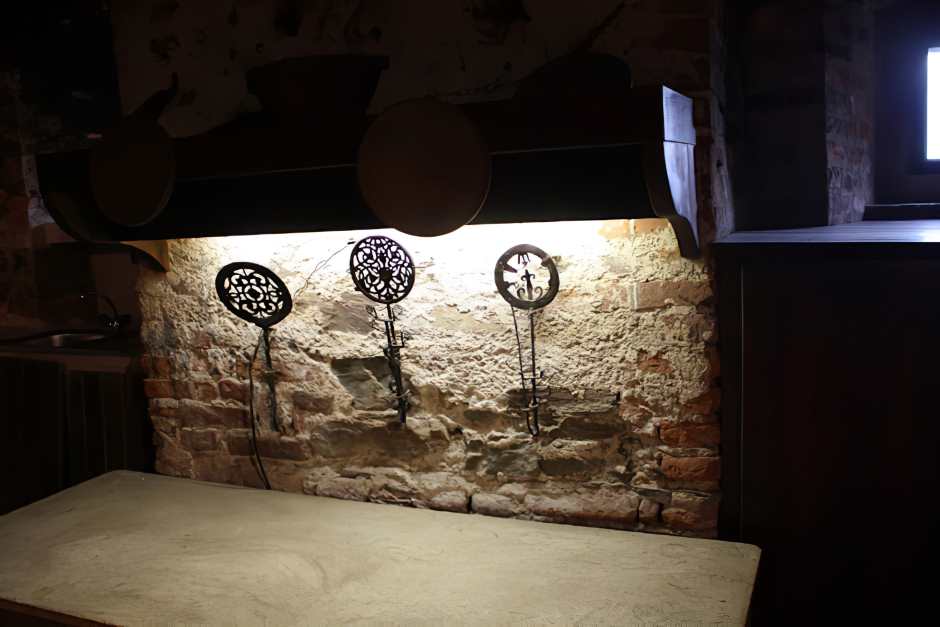 At Lockenhaus Castle people eat from wooden plates
We take a seat at the second table, on which simple wooden plates and several racks are already distributed, on which the food is served. In between there are candlesticks with thick candles that illuminate the vault in Lockenhaus Castle. Plaster was probably not yet known at that time, because the walls of the room consist only of bricks roughly laid on top of each other, on which previous guests have immortalized themselves. A rustic environment that makes you curious about what's coming. Before long, we too are offered wine, which we should drink properly in earthen beakers. Apparently we should eat like in the Middle Ages, because next to our wooden plates there are only knives and spoons. There are no forks, just like the Templars.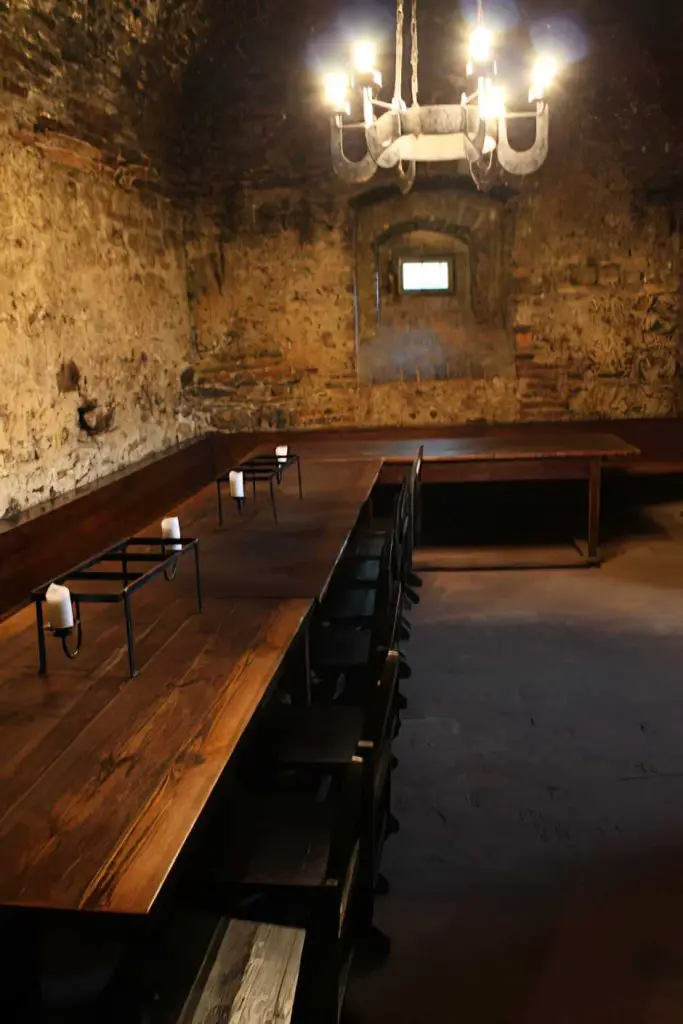 Cooked like in the Middle Ages at Lockenhaus Castle
And then it's served up: big wooden plates with pies of all kinds - stuffed with minced meat and herbs or with small cut vegetables and herbs and seasoned with salt. There was no more spices in the Middle Ages for the average consumer. But it tastes amazingly good. As a second course we get a huge wooden plate with all sorts of meats: poultry, sausages and pork in thick, dripping slices. Who wants to participate here, should not be a vegetarian, because this is really hearty. Since we had eaten during the day but wise foresight, we grab and let us taste the meal.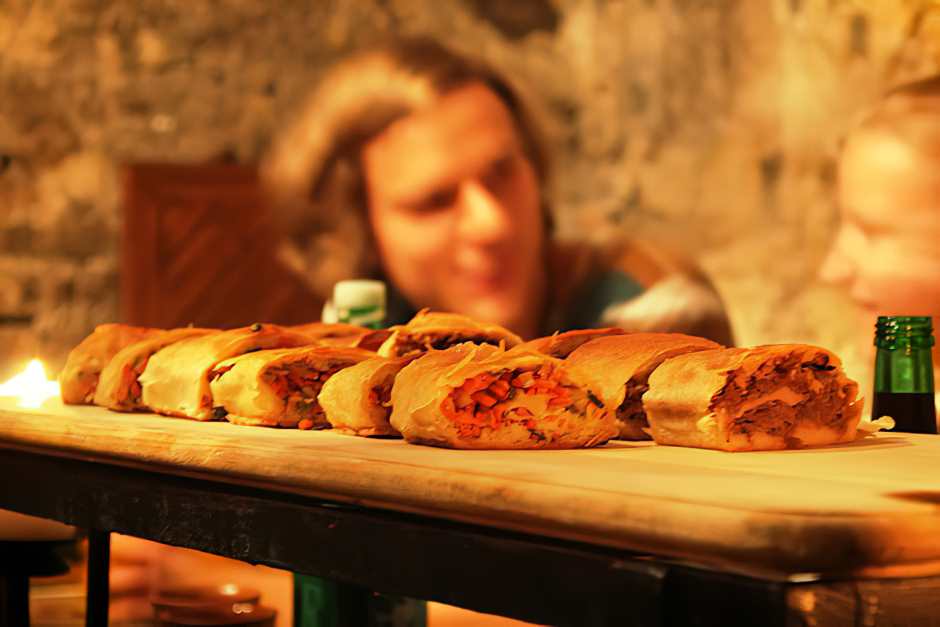 You can eat (and cook) like in the Middle Ages here:
At the castle Mildenstein in Saxony we have at one medieval cooking class participated.
That it's not that easy to cook medieval, said the chef of the restaurant Rheingerbe in Stein am Rhein in Switzerland.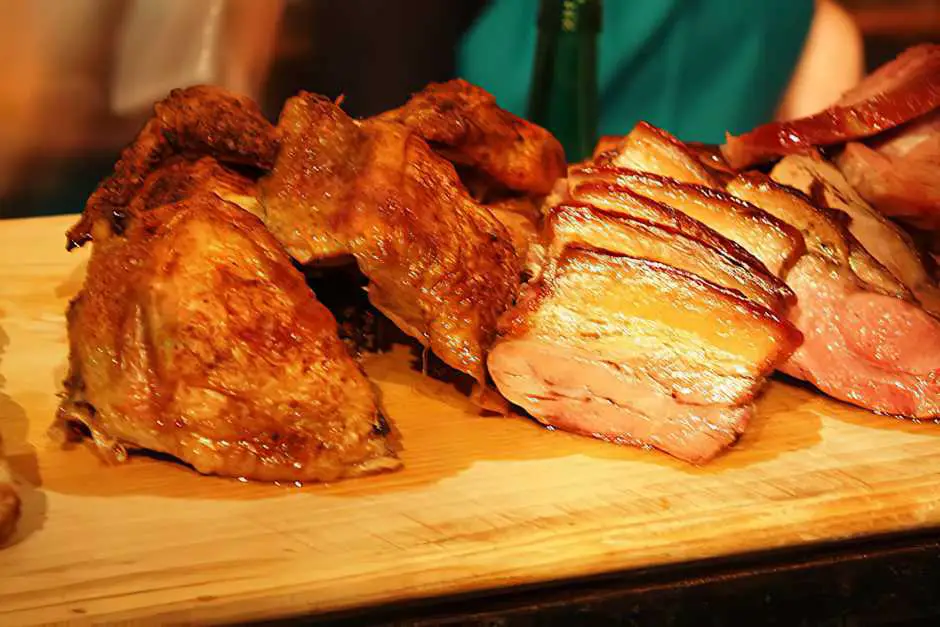 Nevertheless, it is difficult for us to consume the masses of meat, and so after a while we give up, to the regret of our landlady. "But you still have to taste our dessert", she says with a wink and puts different types of cake on the table, for which we are served coffee - atypical for the Middle Ages, because at that time there was not yet one in Europe. And so, with difficulty, we each wipe away a piece of the delicious apple pie before we get tired and retired to our chambers in the castle.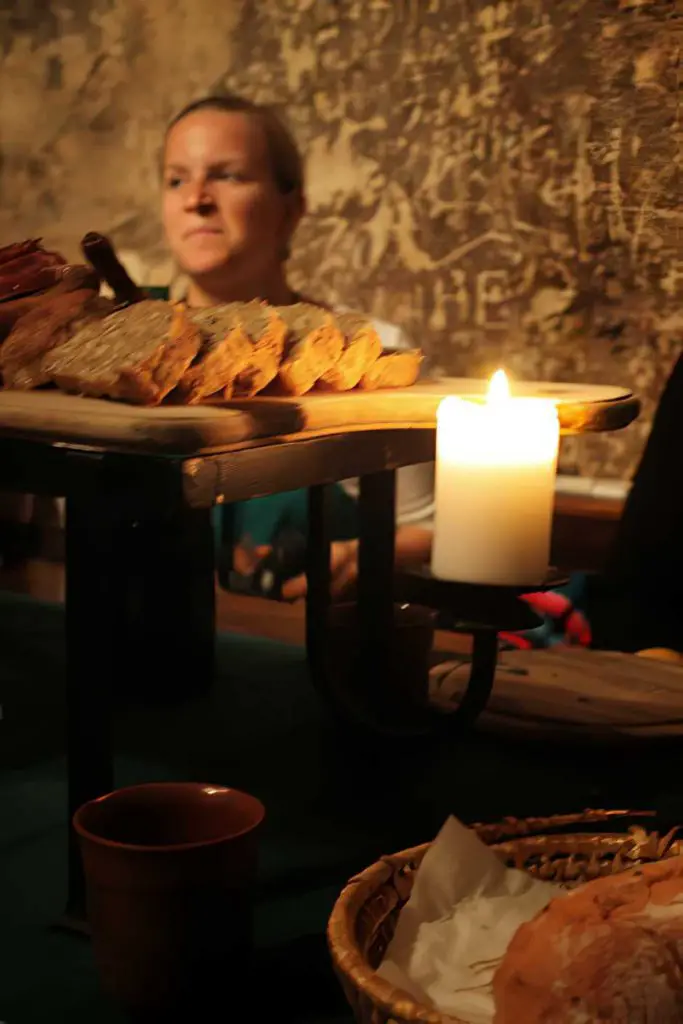 Recipes from the Middle Ages:
If you want to experience such a knight's dinner yourself, you can do so on the
Castle Lockenhaus
Günserstraße 5
7442 curl house,
Austria
Tel. +43 2616 23940
Find more Food Travel you find here. Or are you looking for others Castles and palaces?
If you are looking for more tips on the subject of "Castle Pleasure", have a look at Blog parade of castles and gardens Germany .
Source: own research on site at the invitation of Burgenland Tourismus
Text: © Copyright Monika Fuchs, TravelWorldOnline
Photos: © Copyright Monika Fuchs, TravelWorldOnline
Knight's dinner in the castle Lockenhaus