Luxembourg Specialties you should know
Luxembourg is a small country, but it has a variety of delicious dishes to offer. Many of these dishes are typical of Luxembourg and have a long tradition. You should know these dishes when you travel to Luxembourg. Our trip to Luxembourg showed us how important it is to know dishes from your travel destination. Before our trip, we knew that Luxembourg has culinary specialties. What we didn't know, however, were their names. It was only in the local restaurants that we realized that we should have dealt with this before we arrived. Because on site we didn't understand a word that was on the menu at first. Menus are written in Luxembourgish. Even if the country is multilingual and almost everyone speaks German or French.
There was Grompere Kichelcher. Kuddelfleck. Andouillette. Träipen. Kallefskaap. I could go on with the list. Just what is it? Some things could be deduced after getting used to Luxembourgish, but not everything. We couldn't have the waiter translate the menu every time. By the time he finished his translation, we had already forgotten, what the dishes were. Therefore, our restaurant visits turned out to be quite an adventure. What ended up on our plate was always a surprise. Therefore you should definitely get to know a few specialties of the country you travel to. That makes a trip a lot easier.
Eat in Luxembourg
In Luxembourg, food is more than just a necessity - it is an important part of culture and social life. Luxembourgish cuisine is characterized by its diversity and its unique blend of different culinary traditions. Luxembourgish cuisine has been significantly influenced by the neighboring countries of France, Germany and Belgium. This created a fusion of flavors and techniques that create unique dishes.
In Luxembourg you will also find a large selection of regional products that are often used in the kitchen. This includes fresh vegetables such as potatoes, beans and cabbage, as well as meat and sausage products such as pork, lamb and Mettwurst. Luxembourgish dishes are often hearty and filling. Therefore they are perfect for cold days.
In addition, Luxembourg also offers a variety of international cuisines, from French to Italian, from Asian to Mediterranean. Cities have a wide range of restaurants and cafes where you can enjoy the different flavors of the world. And don't forget the Luxembourg wines! Luxembourg is also known for its excellent wines, particularly Riesling and Crémant, a sparkling wine. These wines are the perfect accompaniment to the country's delicious dishes.
Overall, Luxembourg offers a wealth of culinary experiences, from traditional dishes to international specialities. Whether you're a foodie or just want to explore the local cuisine, Luxembourg has something for everyone.
A Crime Story from Luxembourg
We have seen for ourselves that Luxembourg has culinary specialties. A crime novel I read recently reminds me of this. Tom Hillenbrand's investigator is star chef Xavier Kieffer. He lives in Luxembourg. So it's no wonder that culinary delights play a role in these thrillers. I devoured his thriller Bitter Schokolade. Not only does he present the capital's gastronomic scene and the upper and lower towns in detail. He also describes dishes that the star chef and others serve in their restaurants.
In volume 6 of his crime series, Kieffer meets his childhood sweetheart Ketti again, whom he has not seen for years. She now produces pralines in her chocolate factory near Brussels. At a meeting, she collapses before his eyes, mortally wounded. She was shot by strangers. Does her murder have anything to do with the fair trade chocolate, she grows in the Congo?
Hillenbrand weaves a story about the delicacy, which, however, leaves a bitter aftertaste due to the machinations of certain people. For this reason alone, this crime story is worth reading. You can order the crime thriller here* (in German).
Do you also want to cook the dishes yourself? Then you need the cookbook Kachen: Luxembourgish specialties *.
I also used Hillenbrand's crime thriller to learn more about the country's specialties. The crime thriller is a culinary treasure trove. His protagonist Xavier Kieffer is a star chef. On his return from Paris, he decides to serve local specialties to the guests in his Luxembourg restaurant. You can hardly find a better teacher. Every instance he prepares his menu for the next day is an exciting part in the novel. I end up collecting his menu suggestions on a notepad, that I put next to my reading chair.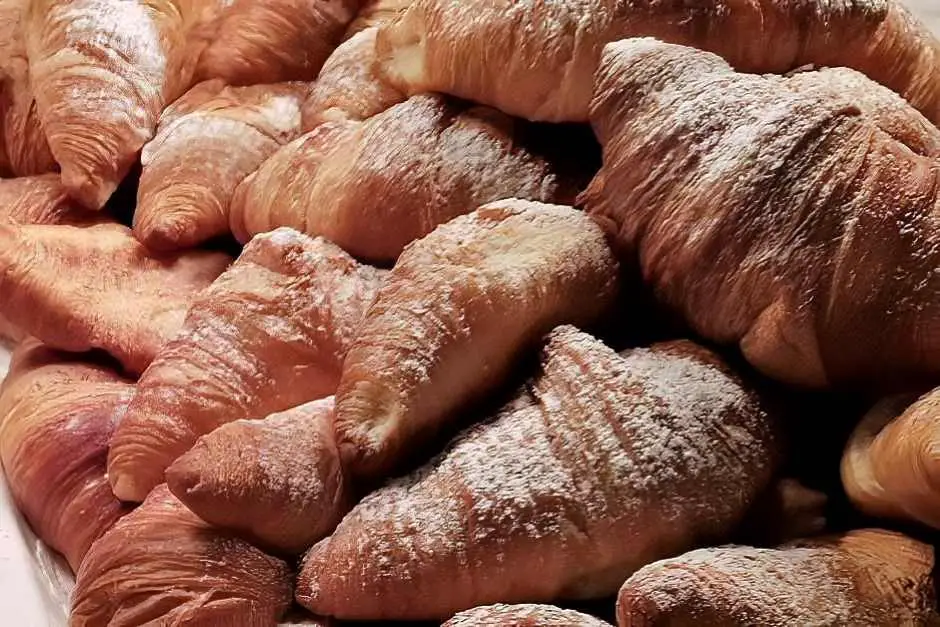 Luxembourg Specialties
Kieffer's breakfast usually consists of croissants or brioches with coffee. It immediately reminds me of our breakfast with view of the old town . His chases through the city and his visits to the Old town are like a déja vu. In my mind I follow his paths through the city. Even his visits to the government district and the hotels of the city evoke images of a city, as we got to know it, when we were there.
However, the matter of food gets more complicated with the main meals. The names of the dishes are not as easy to recognize as croissants or brioches. Some names can be derived from Luxembourgish into German after we get used to the pronounciation. With others, however, it is more difficult.
If you're craving a salad, Feierstengszalot, a cold beef salad, is the way to go. Hearty Luxembourg dishes include Judd mat Gaardebounen, a meal of cured pork and green beans. "Kachkéis" is also a popular dish. This is a spicy, melted cheese that is served on bread. Huesenziwwi, braised hare with chocolate sauce, is also a Luxembourg delicacy. Another specialty is the "Gromperekichelcher", potato pancakes that are often served with applesauce or cranberries. And not to forget the "Kniddelen", small dumplings made from potato or flour dough, which are often served as a side dish to meat dishes.
Sweet specialties in Luxembourg
Luxembourg also has a variety of typical sweets. The "Bamkuch", for example, is a traditional cake with many layers. It is often filled with plum jam. Another favorite are the "waffles", a type of waffle pastry that is often dusted with powdered sugar. Have you ever tried "Quetschentaart"? This is a plum cake topped with a shortcrust pastry base and juicy plums. Just to bite into! And don't forget the "Boxemäncher", which are small yeast cakes with raisins. They are ideal for a sweet hunger in between meals. Or how about Omelette soufflée au kirsch, a fluffy omelette with cherry liqueur? In Luxembourg there is a wide variety of sweet specialties that you should definitely try.
Glossary of Luxembourg specialties
This list of the names of Luxembourg specialties will help you when visiting a restaurant.
| | |
| --- | --- |
| Grompere Kichelcher | potato pancake |
| Huesenziwwi | rabbit ragout |
| hassle stain | a traditional dish made from rumen |
| andouillette | sausage made from offal |
| Träipen | filled blood sausage |
| Kallefskapp | calf's head |
| Graf Pati | terrine made from liver, pork, bacon, eggs, wine and spices |
| Feststengszalot | meat salad |
| gebotschte Gromperen | fried potatoes |
| Biwwelamoud | Boeuf à la mode or sauerbraten |
| Judd mat Gaardebounen | a national dish, pork neck with broad beans and potatoes |
| Choucroute | Sauerkraut |
| Verwurelte | carnival pastries from Luxembourg |
| Go to Kraiderzooss | pike with herb sauce |
| Chou Fleur Zopp | cauliflower soup |
| cuddles | flour dumplings |
| mummaart | topped apple pie |
| squeeze fluid | plum cake |
| Riesling paschtèit | puff pastries with pork |
| Suet pudding | kidney fat cake |
| Wäinzoossiss with Moschterzooss | sausages with mustard sauce and mashed potatoes |
| kachkei | cooking cheese |
| Queen's bite | Puff pastry patties with chicken fricassee |
| Boune slip | Luxembourg bean stew |
| Consomme diablotins | Broth with slices of bread topped with cheese and béchamel sauce |
| Frying | Deep fried Nosel fish in batter |
| ganache | Cream of couverture and cream |
| Gratin de queues d'écrevisse | scalloped tails of crayfish |
| lobster Thermidor | Lobster ragout baked with cream and mushrooms |
| Kanengche mat Moschterzoos | Casserole with rabbit in mustard sauce |
| Loup de mer en croûte feuilletée | Sea bass in puff pastry crust |
| Mousses d'ecrevisses au Cliquot | Cream of crayfish refined with champagne |
| Ortolan au suc d'pineapple | Bunting in pineapple juice |
| Bone marrow | marrowbone |
| Pâté a Jelli | Pie with jelly |
| Poularde en vessie | Chicken cooked in a pig's bladder |
| Rapes des Vosges | Lorraine potato pancakes |
| Gribiche sauce | cold sauce with egg, capers, gherkins, mustard and herbs |
| smear | Luxembourg spread |
| Sole a l'Oseille | Sole with sorrel |
| stuffy | Luxembourg cottage cheese |
| Truite farcie braisee au porto | Trout stuffed with port wine sauce |
| Coucou de Malin | Mechelen cuckoo, chicken species from Flanders |
| Cremant | Luxembourg champagne |
| Entrecote Bercy | Stick with white wine shallot sauce, parsley and cress |
| Enjoy the Riesling | Trout in Riesling |
| Gramigna | short noodle |
| clap | whipped cream |
| Chorone sauce | Variant of Béarnaise sauce with tomato paste |
| Tarte Tatin | Apple pie baked upside down |
| Vol-au-vents | Puff Pastry Patties |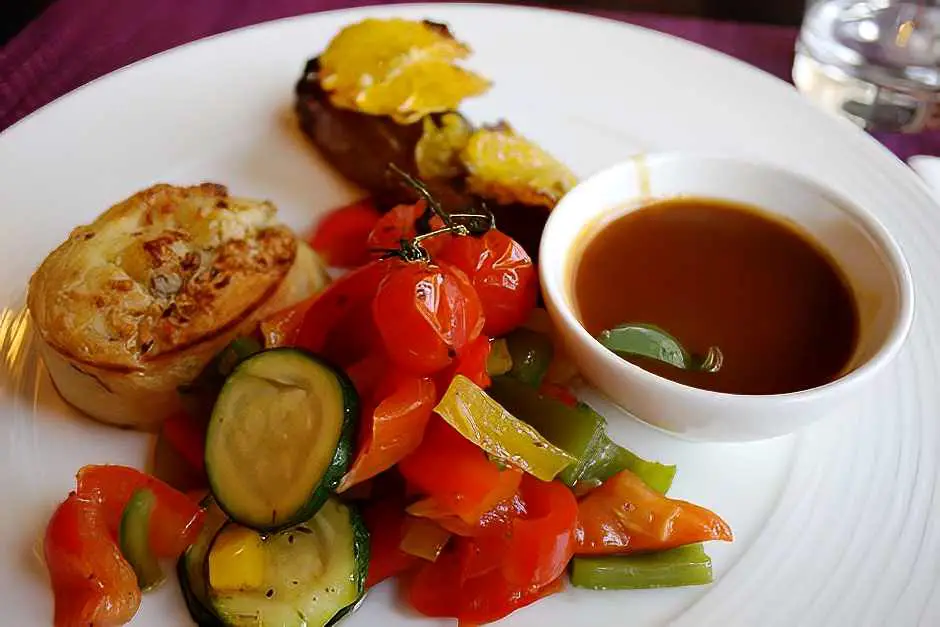 Influences on the Cuisine of Luxembourg
Of course there are even more Luxembourgish specialties. But with these dishes you can get further as a traveler.
German roots in the cuisine of Luxembourg
On our trip we also learned that along the border with Germany you can often find dishes that have been adopted from the cuisine of neighboring regions. Germany has also left its mark on Luxembourg cuisine. The dishes are often hearty and filling. A good example is Judd mat Gaardebounen, a hearty dish of smoked pork and broad beans. The love of potatoes and sausage also shows the German origins.
Influences of French cuisine
The proximity to France is clearly reflected in Luxembourg's cuisine. You will find many dishes here that are refined with a pinch of French finesse. For example, the use of sauces and spices is very French. Desserts such as omelette soufflée au kirsch also show the French influence.
Portuguese influences
Yes, you heard that right. The cuisine of Portugal has also found its way to Luxembourg. The use of fish and seafood in particular is a clear sign of this. In Luxembourg, for example, you will find dishes prepared with spices and ingredients from Portugal.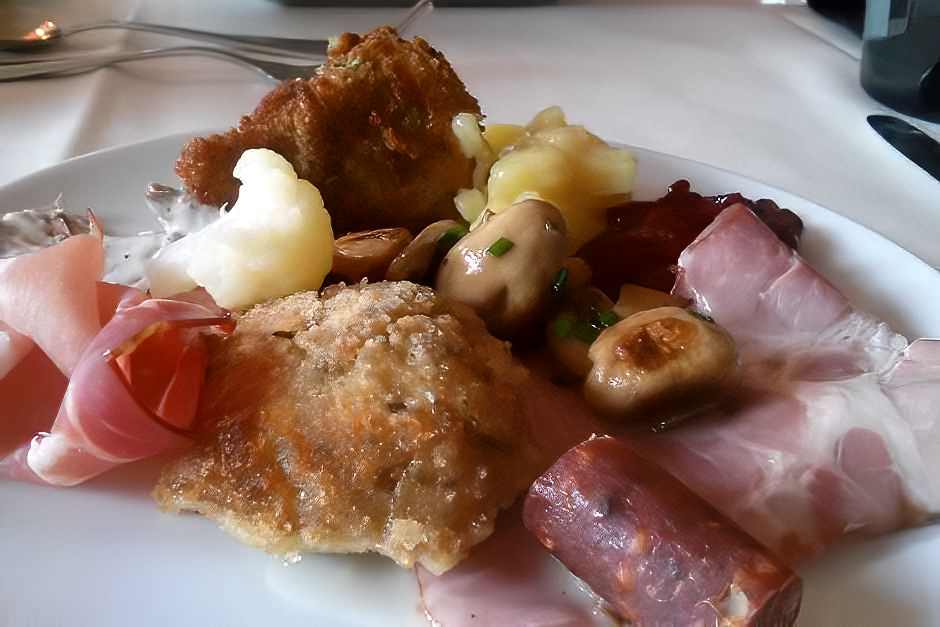 Luxembourg culinary specialties that are popular
One of the dishes that Luxembourgers love to eat is Judd mat Gaardebounen. Wikipedia even calls it the national dish. This is pork neck that is cured or smoked. It is served with broad beans. The Bouneschlupp is also popular. This is a bean soup with bacon and potatoes. This soup is not only known in Luxembourg, but also in Lorraine. We also tried Kniddelen on our trip to Luxembourg. This is what dumplings made from flour, water, eggs and salt are called. These are served with a bacon and cream sauce or with applesauce. Afterwards, people like to eat a squeeze tart as dessert. This is a plum cake. An omelette soufflée also tastes good at the end. Specialties from Luxembourg are definitely dishes from the country's home-cooked cuisine.
National dish in Luxembourg?
Whether one can call Judd mat Gaardebounen Luxembourg's national dish remains to be seen. I haven't found an official source for this. In any case, it is a delicious dish that can be found in many restaurants and homes across the country.
"Judd mat Gaardebounen" consists of salted pork cooked together with beans. The meat is first cured and then slowly cooked in a broth until it is beautifully tender. The beans are cooked in a separate pot with onions and spices and then added to the meat. The whole thing is served with boiled potatoes, which go perfectly with it.
Why is this dish called the national dish of Luxembourg? Well, it has a long tradition in Luxembourg cuisine and is highly valued by the locals. It's a simple but hearty dish. Pork and beans are typical ingredients in Luxembourg cuisine, and their combination is a real culinary delight.
In addition, "Judd mat Gaardebounen" is a dish that is often served at festive occasions. It is a dish that has transcended generations and is considered by many to be a piece of national identity. Therefore, if you ever have the opportunity to visit Luxembourg, you should definitely try "Judd mat Gaardebounen".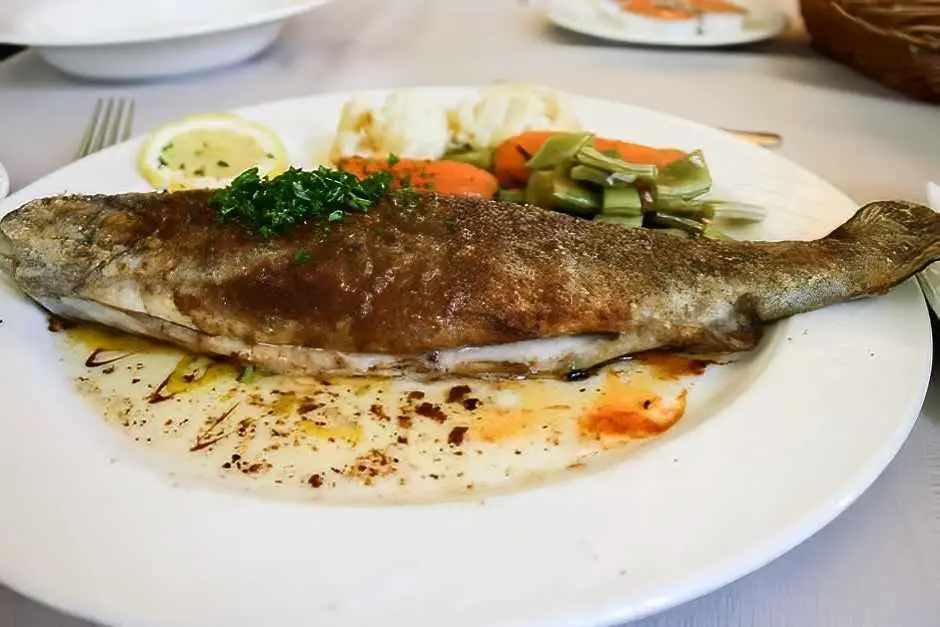 Products from the region are Luxembourg specialties
I also find it exciting that Luxembourg produces a lot of regional specialties. For example, there is the ham from the Ardennes or the pork in aspic. In the wine regions there is, for example, Riesling pschtéit. This is one of the national dishes of Luxembourg. This is a pie made from puff pastry filled with pork and a layer of gelatine. These are made from Riesling. Rivers like the Moselle or the Untersauer also supply fish, which the restaurants in the valleys have on their menu. These include trout, pike and crabs. If you want to buy products from the region at Souvenirs, then look for the "Produit du terroir" seal. Only products that are produced in the region are allowed to bear this quality seal.
Local drinks with Luxembourg specialties
In addition to Luxembourg's cuisine, the country also offers local drinks that you should also try.
Moselle wines from Luxembourg
The wines from the Moselle region are a real pleasure. White wines such as Riesling, Pinot Blanc and Gewürztraminer are particularly popular. They are often fruity and have a pleasant acidity. These wines go perfectly with many Luxembourg dishes.
Luxembourg beer
Beer is another highlight. Although Luxembourg is not as well known for its beers as Belgium or Germany, there are some local varieties here. Mousel and Bofferding are two of the best-known brands. They offer a good alternative to wine and are particularly popular in social gatherings.
Crémants: The Luxembourg sparkling wine
If you're looking for something special, try a Crémant from Luxembourg. These sparkling wines are of high quality and are often enjoyed as an aperitif. They are the perfect choice for festive occasions or simply to kick off a lovely evening.
Liqueurs and spirits are also among the Luxembourg specialties
Luxembourg also has a selection of liqueurs and spirits. Eau de vie is an example of this. These schnapps are often made from local fruits such as plums or pears. They are strong, so be careful when consuming them!
Conclusion: Food in Luxembourg is Hearty
The food in Luxembourg surprised us. We expected to feel the influence of fine French cuisine. However, you can only find this in the restaurants and hotels in the European Quarter. However, this meal has little to do with the specialties. Instead, specialties from Luxembourg are down-to-earth. For example, you can easily imagine grandma or mother putting Kniddelen on the table. Or how Jupp mat Gaardebounen is served to a family on holidays. The influences from neighboring countries also come more from home cooking. They therefore go well with the dishes from the country's cuisine. Let our tips encourage you to try these specialties. It is worth it .. However, you have to be hungry. Because the portions are large. We definitely wish you bon appetite!
Questions and answers about Luxembourg specialties
Are there vegetarian or vegan options in restaurants in Luxembourg?
Yes, many restaurants in Luxembourg also offer vegetarian and vegan dishes, such as vegetable stir-fries, salads or pasta dishes.
Which drinks are popular in Luxembourg and go well with Luxembourg culinary specialties?
Popular drinks in Luxembourg are beer, especially "Battin" beer, as well as local wines such as Riesling or Elbling.
Do I have to tip in restaurants in Luxembourg?
It is customary to tip in Luxembourg. A common practice is to tip around 10% if the service was good.
Should I make reservations at restaurants in Luxembourg?
It is advisable to reserve a table at popular or upscale restaurants, especially on weekends or during holidays. This will ensure you get a table.
When are restaurants open in Luxembourg?
Restaurants in Luxembourg have similar opening hours to those in other European countries. Many restaurants open for lunch around 12:00 p.m. and dinner around 18:00 or 19:00 p.m. However, note that some smaller restaurants may be closed on certain days.
Are there any special customs I should pay attention to in restaurants in Luxembourg?
In Luxembourg it is customary to leave your cutlery on your plate while eating. When you're done, place your cutlery parallel to the plate. This shows that you are finished. It is also polite to say "Enjoy your meal" before eating and "Thank you" after eating.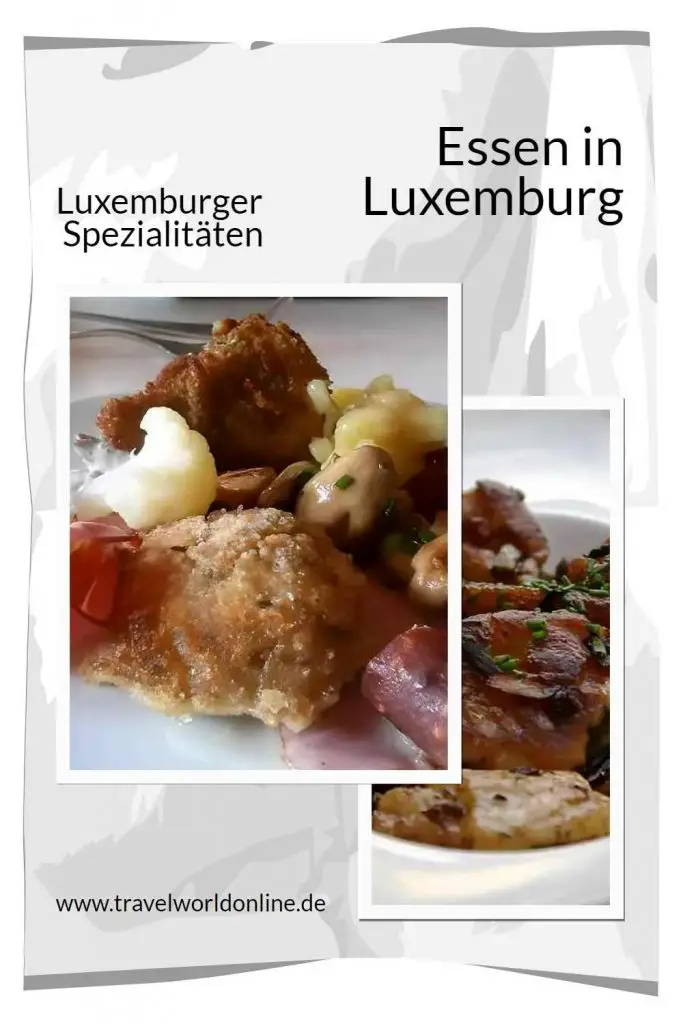 Besides, do you know?
Source Luxembourg culinary specialties: own research on site. Our opinions definitely remain our own.
Text Luxembourg culinary specialties: © Copyright Monika Fuchs and TWO
Photos of Luxembourg culinary specialties: © Copyright Monika Fuchs and TWO
Luxembourg Specialties you should know