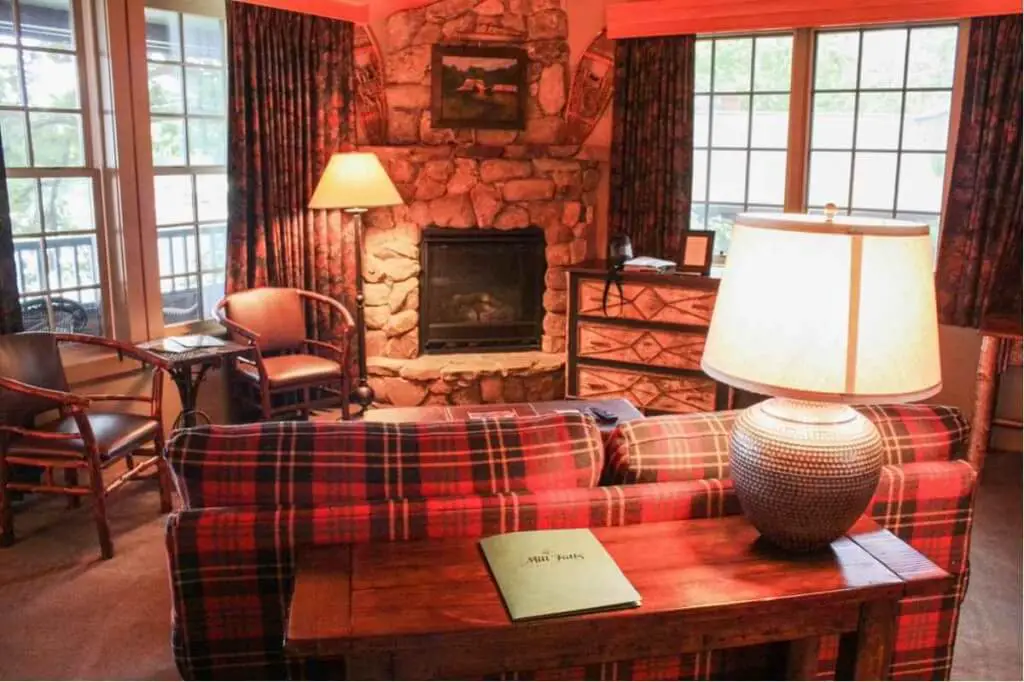 In Meredith, New Hampshire, Harley is meeting. As we turn into the main street of the village, we are immediately in the midst of a line of Harley Davidson drivers whose motorcycles surround us with their dull hum. You know that: the dark sound of these bikes, from which you immediately recognize which production it comes from? The unmistakable sound of a Harley? Actually we like that, just not in the immediate vicinity of our accommodation. And that's right in the heart of Meredith: the Boathouse Lodge at Mill Falls at the Lake Church Landing, a luxury lodge on Lake Winnepesaukee in New Hampshire.
We follow the instructions of our navigation device, which leads us to a parking lot. The building we are standing in front of confuses us first. It looks a bit like the many boutiques and small malls with their nice craft shops, one of which is in new England there are so many. A little hesitant, we enter the building. Inside, there is a room that is tastefully decorated with wood, hand-woven fabrics and lavish floral decoration. And a small reception. We go to this and ask first, if we are right here. We still doubt that we have arrived at our accommodation, because the many souvenirs in front of and on the counter make us uncertain, whether we are in the lodge, where we should spend the night, or in a nicely decorated shop. But the two ladies reassure us. We are in the right place. They check in and show us the way to our room, which is located in a side wing of the hotel, the Boathouse Lodge.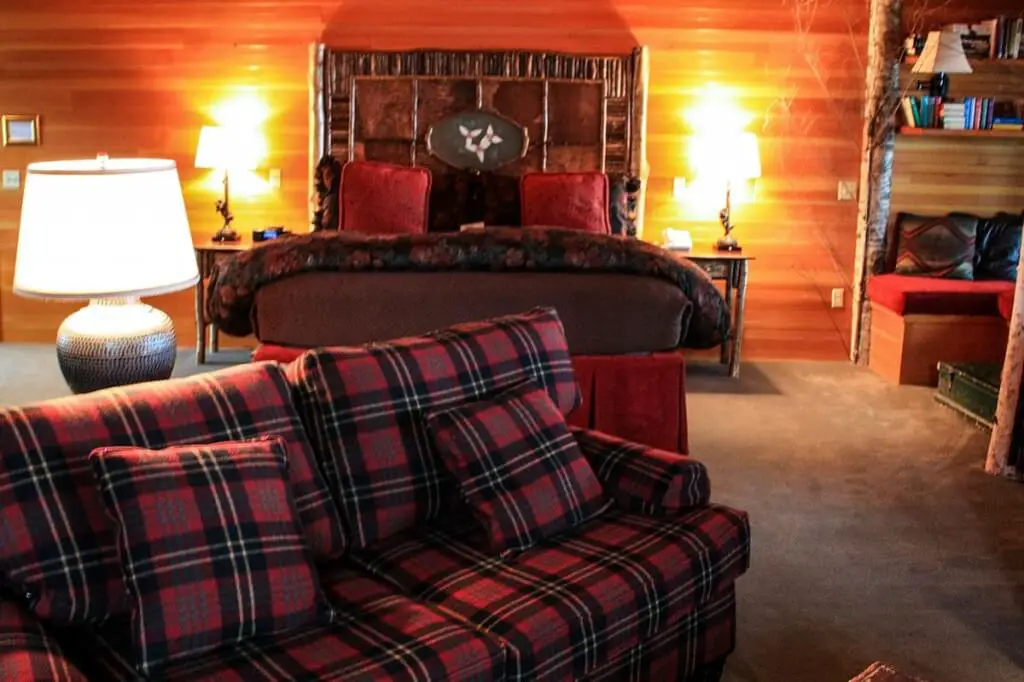 And then a surprise awaits us: I've stayed in great hotels many times on my many trips, but what we see here when we open the door to our room takes my breath away. It's one of the nicest hotel rooms I've seen so far. It is completely clad in wood and looks like a room in a log cabin. The bed with its thick red blankets is the first to catch our eye. He immediately wanders on to a cozy reading corner with a comfortable window sill, from which we have a direct view of Lake Winnepesaukee. A real birch trunk separates the corner from the rest of the room - a touch of real nature in this wonderful wooden room. I've dreamed of such a corner all my life. Relax with a book, browse through it and let your eyes wander over the lake in between - a dream!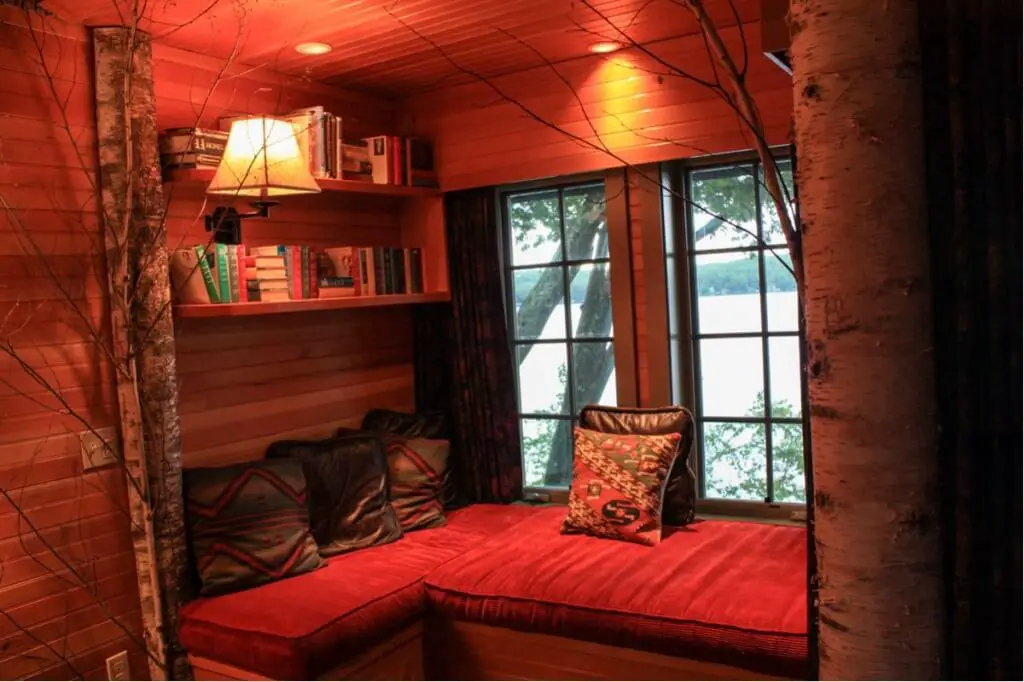 In front of the bed is a red plaid sofa, in front of which a chest stands as a table replacement. From there you look directly at the fireplace, which is operated with artificial flame. Two leather chairs and a small side table complete the tasteful seating area. Next to it is a desk made of coarse birch trunks, which enables the most necessary office work. But if you want to work in this room at all, I dare to doubt. Here I just want to put my feet up and feel good.
The bath is similarly breathtaking: a tub for two with whirlpool is built into a niche, from which you can look at the lake during the bath through the window. Two sinks speed up the morning ritual in the bathroom for a couple. And those in a hurry can use the large brick shower. A bathroom that really leaves nothing to be desired.
The rest of the hotel is similarly comfortable. On the ground floor there are several large lounges, all overlooking the lake. Sitting areas to relax in, a table waiting for a chess match on opponents, a big billiard table, a round windowsill that invites you to chat with friends and lots of wingback chairs that I would like to try out all of them.
The Boathouse Lodge really fulfills every dream of a lodge. The only drawback is, that the next day we only drive hard in the heart White Mountains, Here we would have liked to spend several days, just to relax, to relax, to take a boat out to the lake, to relax in one of the sun loungers on the lakeshore and just to do nothing.
Mill Falls at the Lake
Church Landing
Boathouse Lodge
281 Daniel Webster Highway
Meredith, NH03253
further information, availability inquiry and easy online booking*
Source: own site research courtesy of Discover New England
Text: © Copyright Monika Fuchs, TravelWorldOnline
Photos: © Copyright Monika Fuchs, TravelWorldOnline
Video: © Copyright Petar Fuchs, TravelWorldOnline
Luxury lodge on a lake in New Hampshire, New England