Tortellini salad with mango-mint smoothie
Imagine walking through a herb garden in a monastery ruin and collecting the herbs you need for your meal. This is exactly what we experienced in the Altzella Monastery. Except for a few buildings, the monastery is only preserved as a ruin. However, the garden is again supplying herbs. All kinds of herbs grow there today. Herbalist Koreen Vetter conducts seminars, herbal courses, fasting evenings and courses there. She shows us how to make a mango-mint smoothie with tortellini salad.
We present this recipe for a smoothie with pizza tortellini salad to the friends of the herb kitchen among you. We were at Herb garden of Altzella Monastery in Nossen in Sachsen. With herbs from the monastery garden, we tried herbal recipes in the monastery kitchen. Petar and I prepared a mint-mango smoothie that tasted so good that we have made it at home several times since then. With the herbal taste together with mango, it tastes wonderfully refreshing and is a summer drink that refreshes. That's how you prepare it.
Mango-mint smoothie
Ingredients
A mango as well
1 cup of yogurt from Greece
approx. 300 l peppermint tea (you can also prepare it with peppermint from the herb garden. Then it tastes even more intense)
1 Orange
Mint leaves (I use lemon mint for this)
50 g sugar
Preparation of mango-mint smoothie
Cut the mango and orange into pieces and place in a mixing bowl. Add yoghurt. Sort out mint leaves. Do not wash if possible. Then the taste stays more intense. Add sugar. Fill with mint tea. Then mix everything with the blender. Finished!
With herbal drinks like this, we also like to eat dishes that are prepared with herbs. This includes, for example
This tortellini salad goes well with the mango-mint smoothie
Ingredients
1 packet of tortellini with prosciutto
1 cucumber. Cut in slices.
1 onion. Finely chopped.
Cocktail tomatoes. Halved.
Bacon strips. Fried.
about 15 olives. Halved.
some basil leaves
Gouda cheese, grated
salad dressing
Oregano leaves. Finely chopped
ca. 100 ml olive oil
about 75 ml of brandy vinegar
1 clove of garlic. Pressed.
Chilli flakes. To taste.
salt
pepper
Preparation
First let the tortellini steep in boiling water for about 5-8 minutes. Then pour it off and let it drain.
In the meantime, mix the ingredients for the salad dressing in a glass with a lid. This is sealed tightly. Then shake the sauce until it is creamy.
Then add the salad ingredients to the tortellini and mix with the salad dressing.
The mango-mint smoothie goes perfectly with this.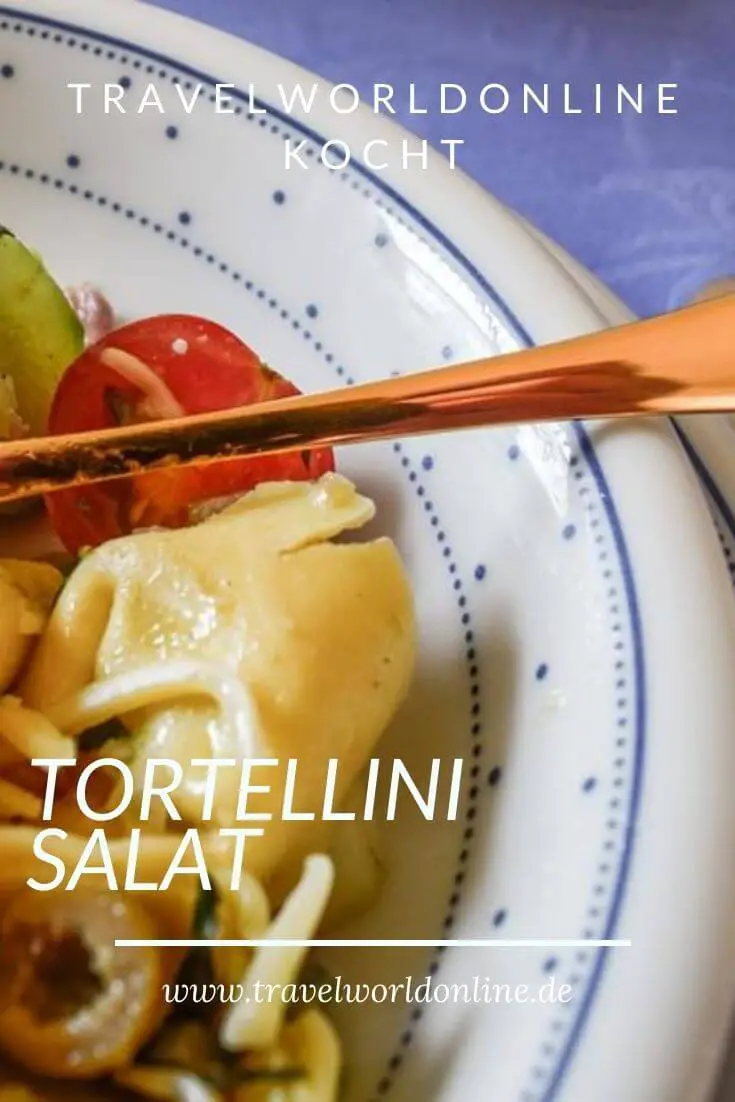 Do you already know:
Text Tortelini salad with mango-mint smoothie: © Copyright Monika Fuchs
Photos: © Copyright Monika Fuchs
I adapted the recipe for the salad from Original Recipe by Donna Elick on The Slow Roasted Italian.
Mango-mint smoothie with tortellini salad