Winter blues? On to Florida! Miami lures in December

We're flying to Miami in December. At the end of December the usual winter blues packs us. Christmas is just over. It will be months before the first spring flowers break through the snow. We are starving for the sun. So what do you do? Only one thing helps: flying in the sun. Miami in December is the solution. We take our time for Miami and Miami Beach. Slow Travel in Florida, At the end of December, we set off on a plane to Miami and set out on a two-week trip to the Sunshine State Florida on. Let's test if it's true that the winters are so enjoyable there.
While we wait in Frankfurt along with hundreds of other sun-hungry passengers to board our giant plane, it storms and snows on the trajectories in front of the large windows of the hangar. We are flying for the first time with an A380 from Lufthansa. "Worse than here it can be in Miami not be, "I think to myself. Amazingly fast, we get on the plane in spite of the crowds that flee with us the winter. Miami in December is certainly a good idea.
You can find offers for Miami in December here
Miami in December
After the crossing of the Atlantic, our plane flies along the east coast of America. The further south we go, the more the thick clouds break up below us. Between the clouds we can see the sea more and more often. Deep blue, it extends into the distance. Small white crests on the waves indicate that we are still away from the coast. Miami in December - we look forward to it. We follow our trajectory via the on-board camera, which is probably attached to the upper end of the rear of the aircraft. Because we watch the plane follow its invisible paths above the clouds. Shortly before landing, our pilot turns a curve over the Atlantic. Then he flies over the elongated peninsula of Miami Beach with its skyscrapers and sandy beaches, the Port of Miami and its downtown. He sinks deeper and deeper.
Pleasant temperatures in Miami in December
In pleasant temperatures of 26 degrees Celsius, a light wind and especially in bright sunshine, we leave our giant aircraft. We'll take our rental car for the next two weeks and drive past downtown Miami and the docks. There are some cruise ships ready to take off to their destinations in the Caribbean. Our goal is Miami Beachwhere we spend the first days of our trip Richmond Hotel, one of the few remaining Art Deco hotels in South Beach spend.
You can find offers for Miami Beach in December here
Miami in december - perfect travel time for South Florida
Already after the first days we know that the season is perfect for our winter trip to the sun. On the beaches of Miami Beach sunbathe the tourists. Children play in the water screaming. We use one of our days in Miami Beach for a rapid Ride the zodiac through the waters off Miami, We let the fresh wind blow around our nose. It also brings a pleasant cooling from the warm midday temperatures.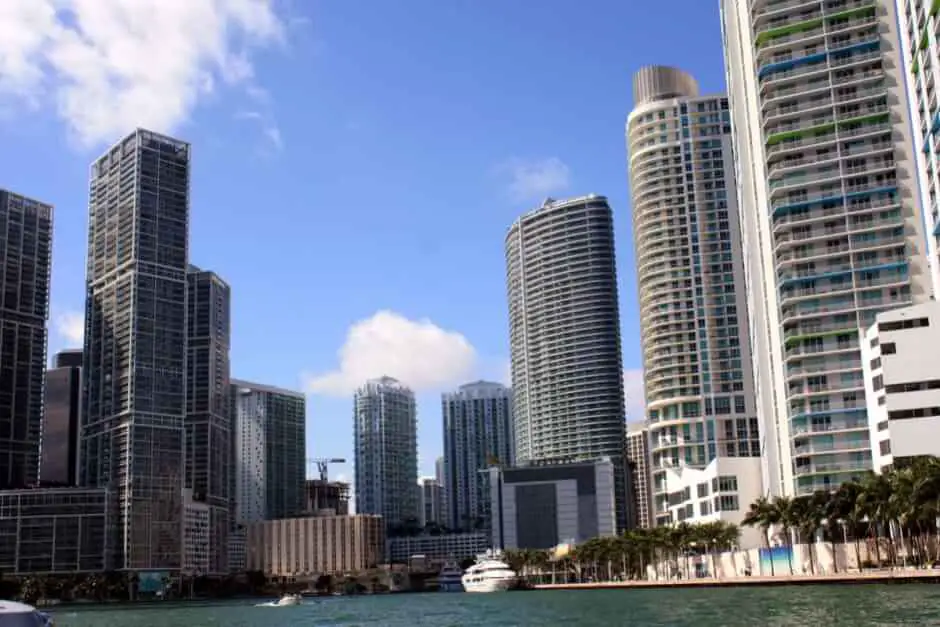 What you can do in Miami in December
More ideas for things to do in Miami in December
Travel tips from travel bloggers
---
travel arrangements
Arrival to Miami in December
Various airlines fly to Miami, including Lufthansa, United Airlines and others
rental car
Car rental price comparison for Miami *
Hotels and accommodations
Accommodation in Miami Beach * You can also book here.
Miami accommodations * you can also find here.
Trips in and around Miami in December
Numerous Tours and tours in and around Miami * Get Your Guide to Online Booking.
These trips and tours can be booked online at Get Your Guide if you click on these links (we get a small commission, but the tours cost you no more than booking directly).
Travel book
You will also find Florida Travel Guide on Amazon.de
Price: € 12,99
Add to cart Add to cart *
Price incl. VAT, plus shipping
Price: € 12,99
Add to cart Add to cart *
Price incl. VAT, plus shipping
Please note that prices displayed here may have changed. All statements without guarantee.
---
More Slow Travel Tips and a Cities in the USA you find here. Maybe you are also interested in one Beach vacation in California?
Source: own site research for the Miami article in December with the kind assistance of Visit Florida
Text: © Copyright Monika Fuchs, TravelWorldOnline
Photo: © Copyright by Monika Fuchs, TravelWorldOnline
Video: © Copyright by Petar Fuchs, TravelWorldOnline
Monika Fuchs and Petar Fuchs are the publishers of the Trips to Savor and Slow Travel Blog TravelWorldOnline Traveler , They have been publishing this blog since 2005. TravelWorldOnline is online since 2001.
Their topics are
Monika Fuchs is author and photographer of the blog and occasionally writes as a freelance journalist for DIE ZEIT Online and travel magazines like 360 ° Medien, TRIVAGO, etc. She also writes travel guides about destinations and Slow Travel experiences all over the world. Petar Fuchs produces the videos on this blog as well as on YouTube.