Michelin chef in Slovenia
You can experience the finest Slovenian culinary art not far from Vipava. On our pleasure journey through Slovenia we were lucky enough to meet one of Slovenia's outstanding chefs. Michelin chef Tomaž Kavčič earned a Michelin star in 2020 and operates it "Pri Lojzetu" restaurant in Zemono Castle in the fourth generation. This makes him one of the three Michelin star chefs in Slovenia. The culinary art goes back a long way in his family. He perfected it. His family's hosts have always stayed true to the expectations of local guests. At the same time, however, they were always looking for a slightly different approach. They offered their guests something different than the average inn.
Tomaž Kavčič - Michelin star chef and motorsport
Even Tomaž Kavčič's development as a Michelin chef is extraordinary. He learned to cook from his mother. "My mother Katja was without a doubt one of the first cooks to introduce a new approach to the kitchens in our region. She put fresh flowers on the plate. She also served home-baked bread. You have to be born with it. She wanted to give the guest as much as possible. It also showed him that he is welcome, "says Kavčič.
We experience that he has brought it to perfection at our dinner in his restaurant. Michelin chef Tomaž Kavčič and his team welcome us like old friends. I have seldom felt so at home straight away in a restaurant of this quality. Again and again he surprises with imaginatively presented dishes. His menu is an event, not a menu. He also says: "It's not just the food on the table, but everything that happens while the guest is in the restaurant." He shows his respect for the guest not only through the delicious food.
He could also have made a career in motorsport. Kavčič has always been involved in the racing circuit and has even achieved second place in a motocross competition in the former Yugoslavia. Cooking was not his calling from the start. Maybe it's also because he never studied from one of the great bosses. He ultimately transferred his enthusiasm to cooking. So far that he became a Michelin chef.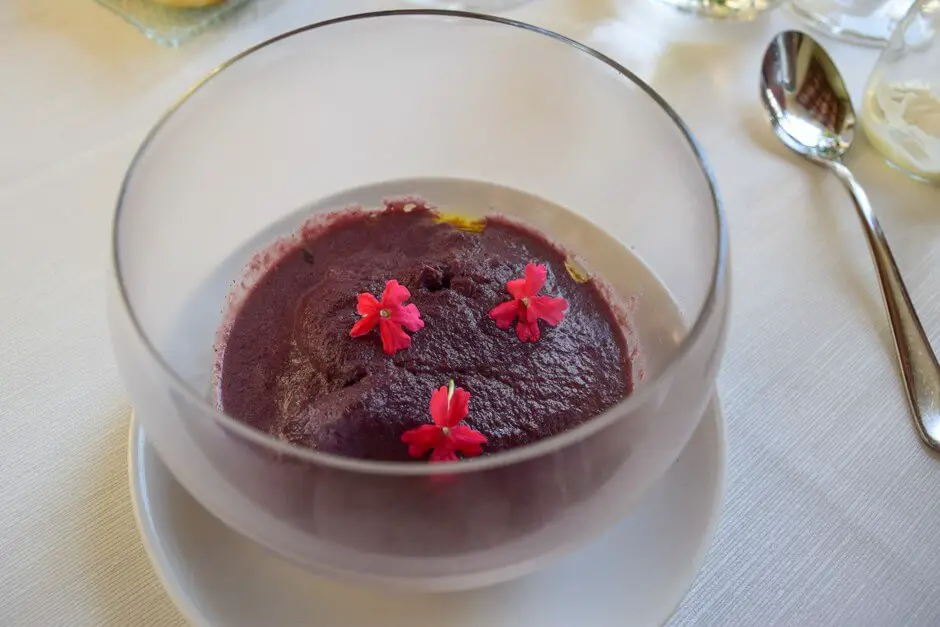 I'm glad I did not learn from a big chef
If he used to be sad about never having studied with one of the great chefs in the world, today he is happy about it. "That might even be an advantage. That's how I developed my own style. Today this is an advantage over the competition. "His cooking style varies from simple to complex. "However, I always want to get simple results. Less is definitely more in my kitchen. "The Michelin chef from the Vipava Valley manages that perfectly.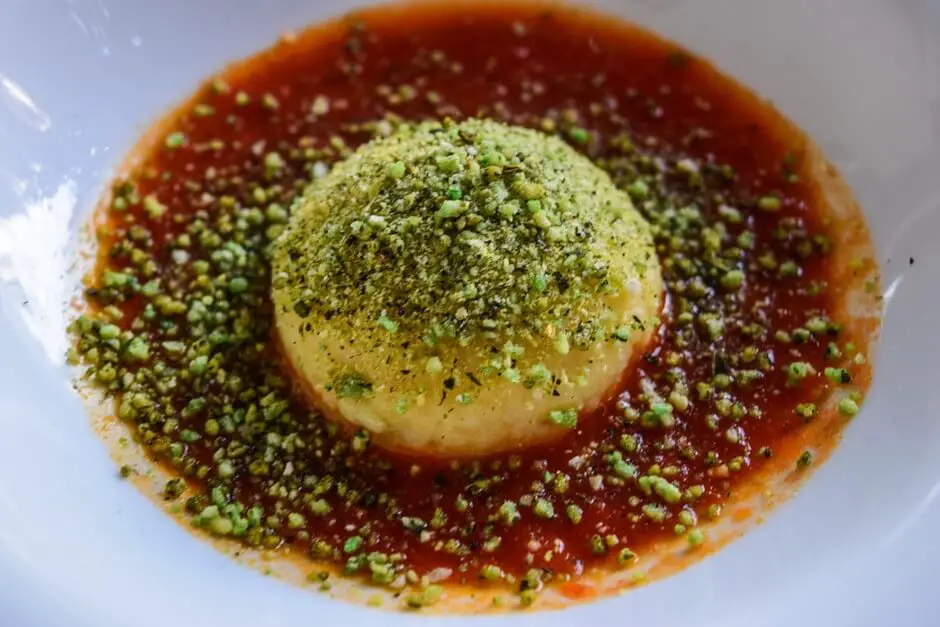 Basic ingredients without frills
Tomaž Kavčič's definition of culinary art is based on using the right ingredients. He makes sure not to change the essence of this ingredient. Instead, he serves them to the guest in such a way that they can tell that someone has thought of them while they are being prepared. This is exactly what makes the cuisine of Michelin chef Tomaž Kavčič so special. "I don't like complicating things." He attaches great importance to this both in the preparation and in the name of his dishes. He shows us this in an impressive way at our dinner. When we ask him about a menu on which we can find out the names of his delicious dishes, he says succinctly: "They don't exist."
First Slow Food restaurant in Slovenia
When it comes to dishes, the Michelin chef doesn't like rapid changes. Thirty percent of the food is constant. "I like to use local products in my kitchen. But we also try to follow global trends. "Around 1994 the Slow Food movement came to Slovenia. His family's inn was the first to appear in the Italian Slow Food Guide, he explains.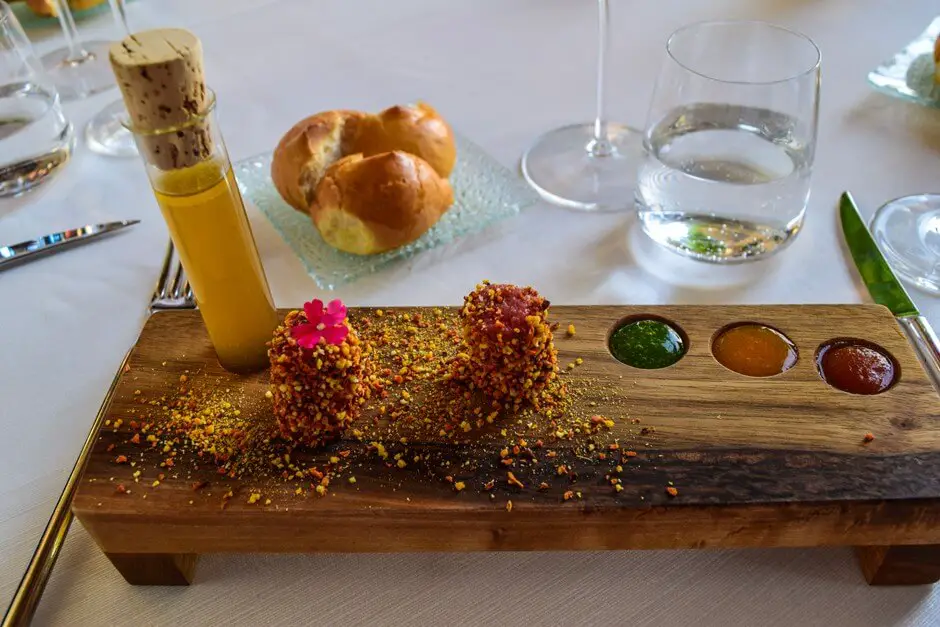 However, the organization of the Jeunes Restaurateurs de Europe influenced him even more than the Slow Food movement. "The Jeunes Restaurateurs de Europe are not over the top. You are relaxed and very creative. That's why I'm trying too. "
Slovenian cuisine abroad
Cooking, teaching and being creative abroad are part of Tomaž Kavčič's everyday life. He is invited abroad almost every month. He cooks in Italy, Germany, Austria, Japan or France. At conferences he met Ferranom Adria, Heinz Beck, Rene Redzepi, Heston Blumental…. he is friends with many of them. "Emanuele Scarello, chef at the only restaurant in Friuli with two Michelin stars, the Agli Amici, calls me his brother, not his friend. I get on very well with many other chefs. This includes the chef at Don Alfonso ... But despite all the chefs I know, my mother's kitchen influenced me the most. Today I look for inspiration on my travels around the world. I always look first where we're eating, "says Michelin chef Tomaž Kavčič.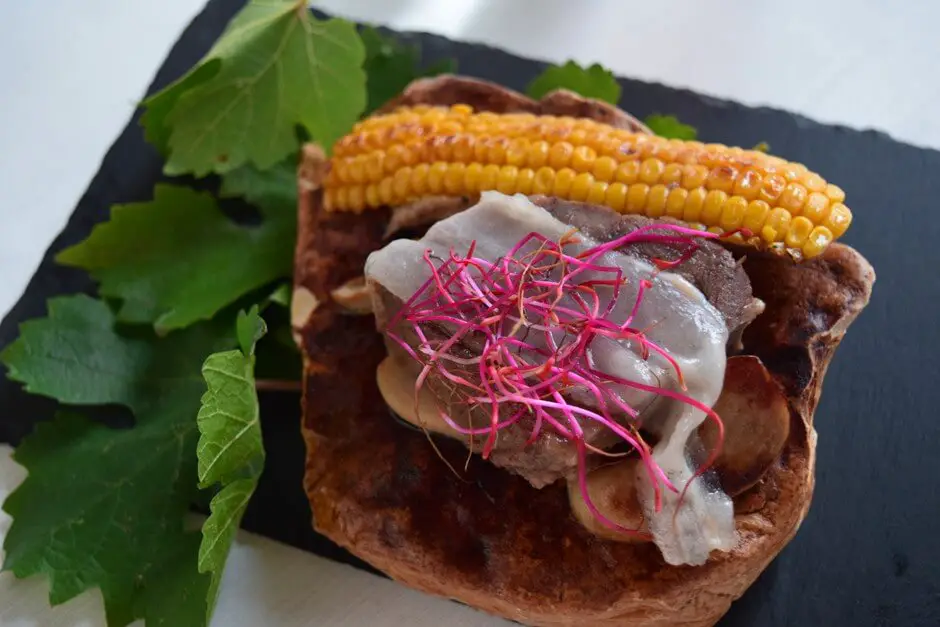 What is Michelin chef Tomaž Kavčič proud of?
"If I have to highlight some of the things I'm particularly proud of, that includes lunch for all 27 Prime Ministers in Brussels. It was a unique and very valuable experience, "says Tomaž.
Slovenian culinary art at its best: Today it is the only Slovenian winner of the renowned Italian Cuoco d'oro. He is winner of the Sv. Fortunate Price. He received an award for the best restaurant in Central and Eastern Europe. And his restaurant has been awarded several times as the best restaurant in Slovenia. He belongs to the international association of the Chaîne des Rôtisseurs and the Italian Le Soste. He is also an honorary member of the Ambassador's Club of Slovenia and Belgium, and he is ambassador of the white truffle of Alba.
Every year he participates in the Audi Chefs Cup in Alta Badia and participates in the Alpe Adria Cooking, at the festival Vico in Naples. In recent years, he also participates in the Festivine in Dubrovnik, the VinoForum in Rome, Vinitaly in Verona, the Circo Mercato in Rimini. He can be found at the ITB in Berlin as well as at the Ein Prosit in Tarvisio-Malborghetto. And of course, he also likes to take part in gastronomic events at home such as the Sladolent, the Restaurant Week, the Full Moon Party and much more.
Drive & Style Gourmet Magazine named Tomaž Kavčič Chef of the Year 2014.
In March 2015, the Pri Lojzetu Restaurant was also invited by the French Ambassador to Slovenia to participate in the Goût de France.
In 2020 Tomaž Kavčič received its first Michelin star.
So far there is no cookbook by Chef Tomaž Kavčič. His recipes, however, can be found in many Slovenian and international publications.
Our conclusion: a visit to Michelin chef Tomaž Kavčič is worth it
Our visit to the restaurant of Tomaž Kavčič left a deep impression on us. We have never been cared for and welcomed in a foreign restaurant as warmly as Pri Lojzetu. Then there are the delicious dishes, which, because of their simplicity, emphasized the taste of the ingredients. Combined with the imaginative presentation of the dishes, an evening at the restaurant of Tomaž Kavčič is a gastronomic event that we greatly enjoyed. Slovenian cuisine at its best ... definitely.
Pri Lojzetu by Michelin chef Tomaž Kavčič
Dvorec Zemono
5271 Vipava
Tel 386 (0) 40 777 761
email: zemono@zemono.si
---
Travel Arrangements:
Check in:
Book yours here Arrival by plane, bus or train*. By car you can reach Vipava (near Gostilna Pri Lojzetu) from Munich in just under five hours (without traffic). The nearest airport is Ljubljana.
Car Rentals:
Cheap car hire - book quickly and easily!
Hotels:
Accommodations in and around Vipava * You can also book through our partner booking.com.
---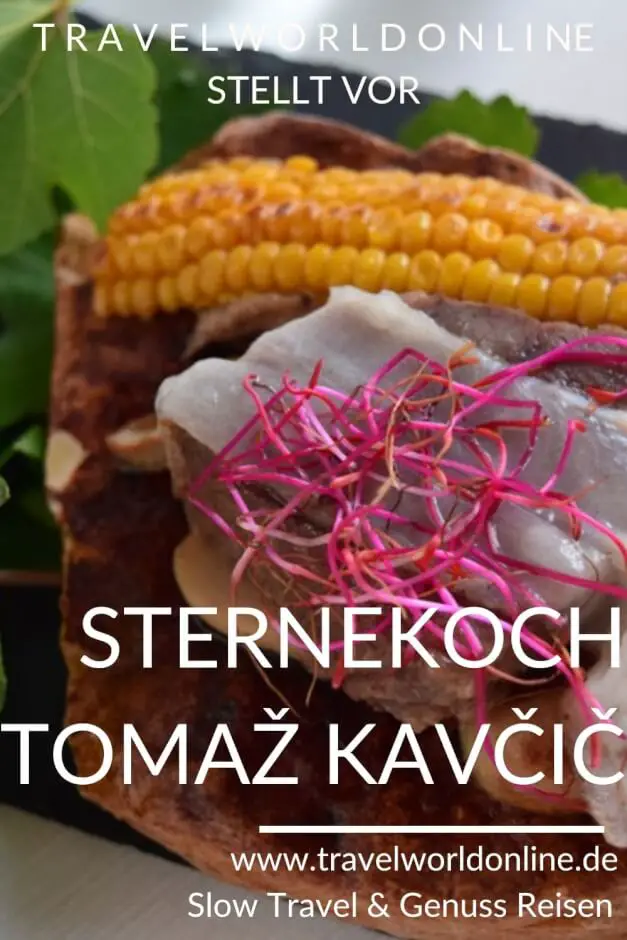 Do you already know:
Source Michelin chef Tomaž Kavčič: research on site. We thank Best Press Story for supporting this trip. Our opinion remains our own.
Text Michelin chef Tomaž Kavčič: © Copyright Monika Fuchs, TravelWorldOnline
Photos Michelin chef Tomaž Kavčič: © Copyright Monika Fuchs, TravelWorldOnline
Michelin chef Tomaž Kavčič - Slovenian culinary art