You can try mountain farmers cheesecake in Aschau
Slow food is good. It's regional. Consistent. Tastes fresh. And it's often homemade. This is proven by the farmers in and around Aschau im Chiemgau. However, these mountain farmers' products are not always easy to sell. A mountain farm is often secluded on mountain slopes. If you want to enjoy a mountain farmer's cheesecake, you can often only do so after one Chiemgau hike or during a holiday on a mountain farm. Not that this isn't a nice alternative, but not everyone has the time and physical constitution to do it. Mountain farmer products also do not wait for customers. The farmers want to sell them. A few hikers or vacationers are not enough as customers. That's why thirteen direct marketers from the Chiemgau and Tyrol have joined forces and founded the Prientaler Bergbauernladen.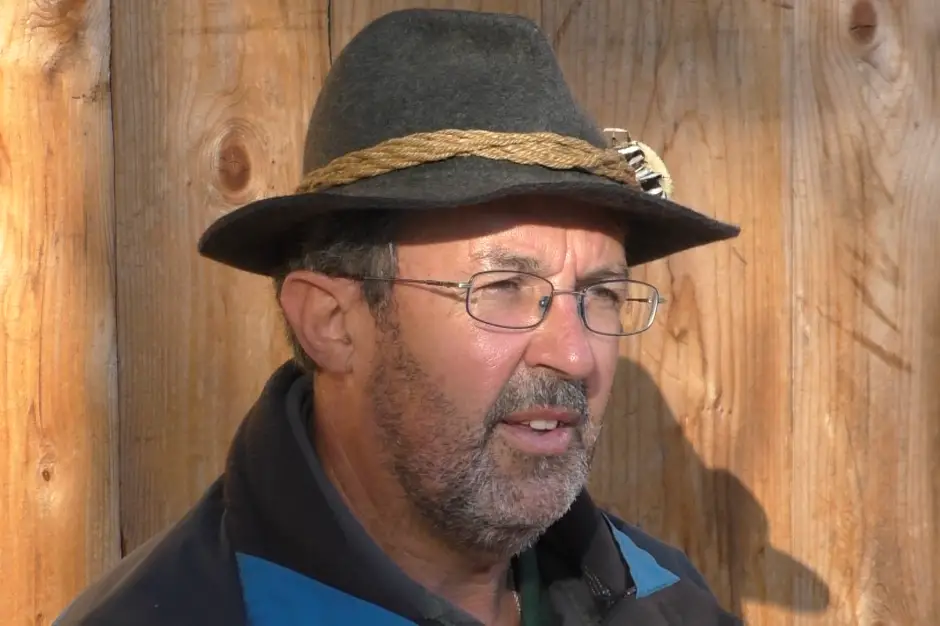 We meet Sebastian Pertl in the mountain farmer's shop next to the train station in Aschau im Chiemgau. He is a co-founder of the Prientaler Bergbauernladen and partner in the village shop of Sachrang. "I'm the Pertl Wast," he introduces himself. Then he tells us about his life as a mountain farmer. Together with his wife Angela, he has been running his parents' mountain farm in organic farming since 1995. This made him the first organic farmer in the Priental. 40 laying hens roam free on his farm in the hamlet of Innerwald near Aschau. He also has 11 cattle that spend the summer on the family's alpine pasture in the Geigelstein nature reserve.
Mountain farmer Sebastian Pertl also uses the mountain slopes near Sachrang for his cattle in winter. When I asked whether that was possible with the amount of snow in the region, he laughed and said: "It'll work. The cattle feel at home outdoors even in snow depths of over one meter. On the contrary! They romp around when they are allowed out of the stable in winter. "The animals also ensure that the mountain slopes behind his mountain farm do not slide off. "We let the cows graze on the steep slopes behind the farm so that they can tread on the ground," he explains. "This is how you ensure that there are no landslides." It is important to him that his animals feel comfortable.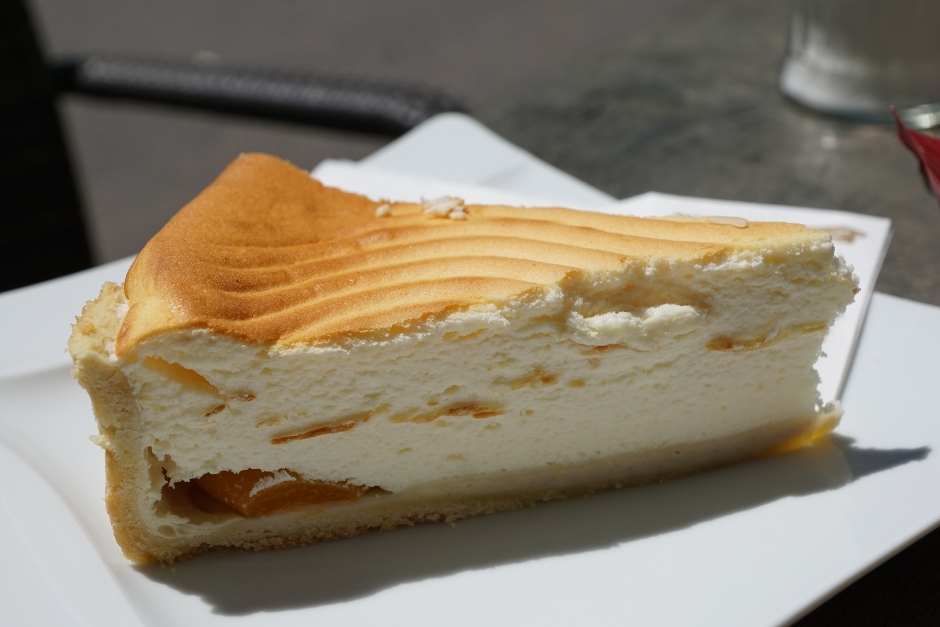 The Prientaler Bergbauern shop doesn't just have cheese cake for mountain farmers
Sebastian Pertl's wife Angela is also involved in the Prientaler mountain farm shop. She bakes cakes herself. She serves them up for the holiday guests on her mountain farm. In addition, together with other female mountain farmers, she ensures a supply of mountain farmers cheesecake and other cake specialties in the mountain farmer's shop in Aschau. When we visited, two women farmers were baking Undressed and Alpine nuts for your customers. They are queuing for the lard pastries. The store opens every Friday. On the Facebook page of the Priental mountain farmer's shop You will find out what is currently trending.
Mountain farmers products
The mountain farmer's shop doesn't just sell Pertl's products. A total of thirteen direct marketers have joined forces. They offer their customers the products of the season every Friday between 9.00 a.m. and 16.00 p.m. During the week, anyone who can't wait can help themselves in the vending machine in front of the store. The mountain farmer's products include, for example, the mountain farmer's cheese from the Schwaiger family from Niederndorferberg in Tyrol. Barbara Schwaiger also contributes her smoked sausage specialties. Tyrolean bacon and sausages are just as much a part of it as the schnapps, liqueurs and jams that the mountain farmer prepares from what her mountain farm and nature in the area provide.
Mountain farmers cheese and bread
The farmer's bread from the mountain farmer family Pfaffinger from Aschau-Sachrang goes well with the mountain farmers cheeses. In the Simmerlhof, Monika and Peter Pfaffinger bake their own farmhouse bread, Vinschgerl, baguette and pretzel baguette. This is available for guests who stay overnight in their holiday apartments as well as in the mountain farmer's shop in Aschau. If the guests are on the farm at the right time, they can even bake rolls and hearts with the farmer's wife.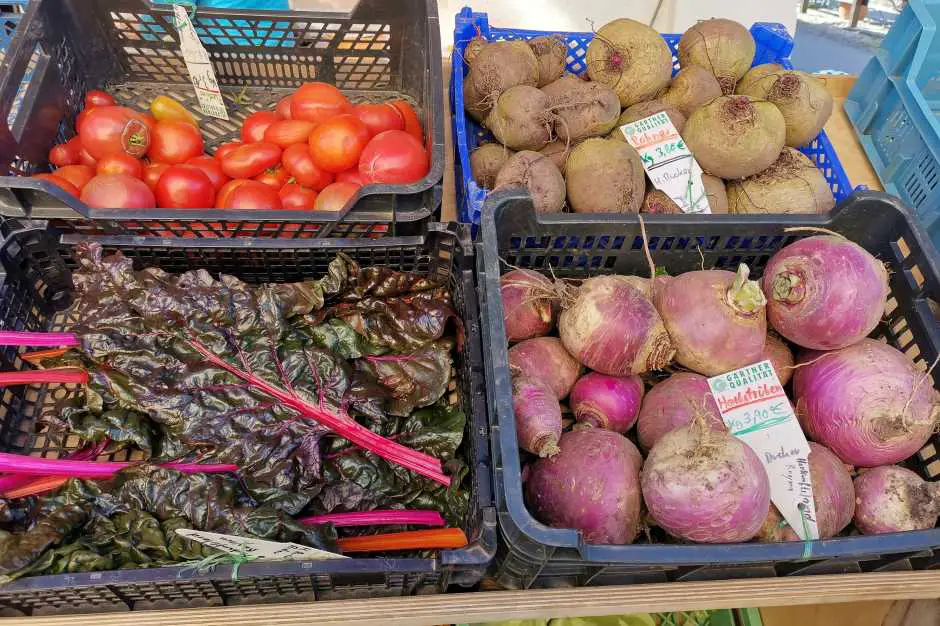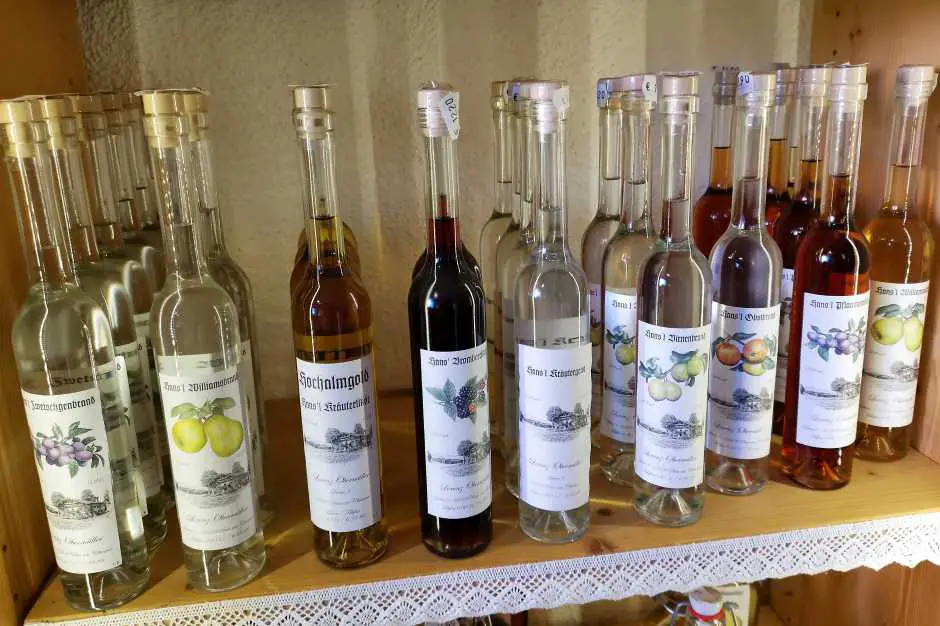 In the Prientaler mountain farmer's shop you can get your snack for a hike as well as your vegetables and fruit for a meal in your holiday apartment. We were certainly not the last time in the mountain farmer's shop in Aschau.
If you want to visit it yourself, you can find it here:
Priental mountain farmers shop
Hans Clarin Square 5,
83229 Aschau im Chiemgau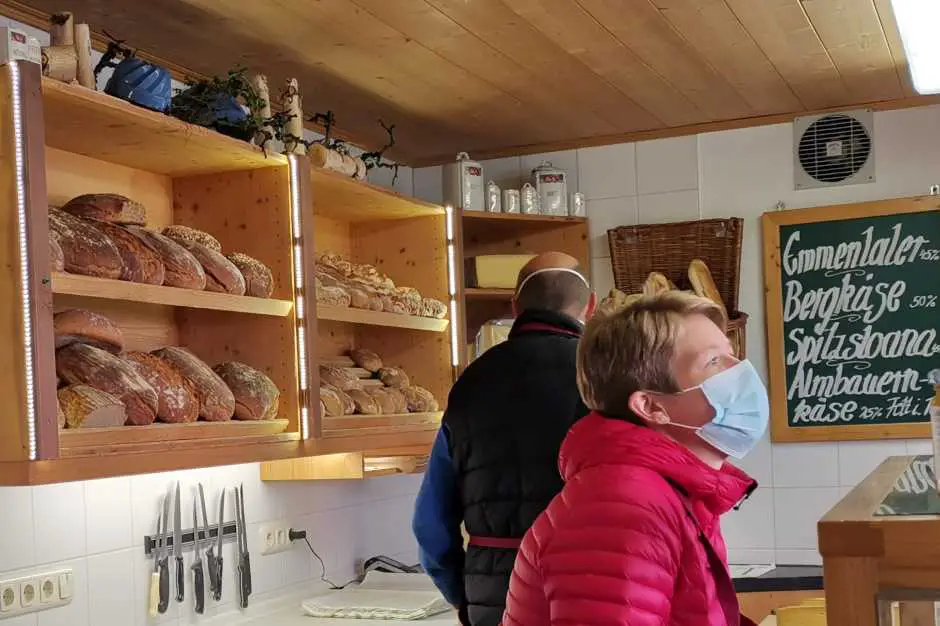 Our tip: Pack your snack for your hike at the Bergbauern Laden
You also need:
We recommend comfortable walking shoes for the hike.
Practically for traveling is one backpackin which you will find drinks, snacks, a jacket and odds and ends.
You are well equipped with these hiking guides:
Do you have everything? With our hiking checklist you can easily check that.
Are you looking for Snack gifts for hikers? Here we have collected a selection that every hiker will be happy about.
---
Travel Arrangements:
Arrival by plane, car, bus and train

Arrival by plane, bus or train*. Airports are in Salzburg or Munich. It is also possible to travel by train ( Timetable and booking*). From Prien am Chiemsee the Chiemgau Railway goes to Aschau i.Ch. If you want to continue to Sachrang, you can take the bus (Mon - Sat) (10 km) or you can take one
Car Rentals:
Cheap Car Hire - Book Fast and Easy! *
Camper Rentals:
A Caravan you can book here. Or do you prefer to travel with him roof tent on the car? Also the overnight stay in camping tents is possible.
Hotels in Aschau:
Accommodation in Aschau * you can book through our partner booking.com. You can find accommodation with the mountain farmers mentioned in the article.
Travel Guides
Travel guide for the Chiemgau * There's Amazon.de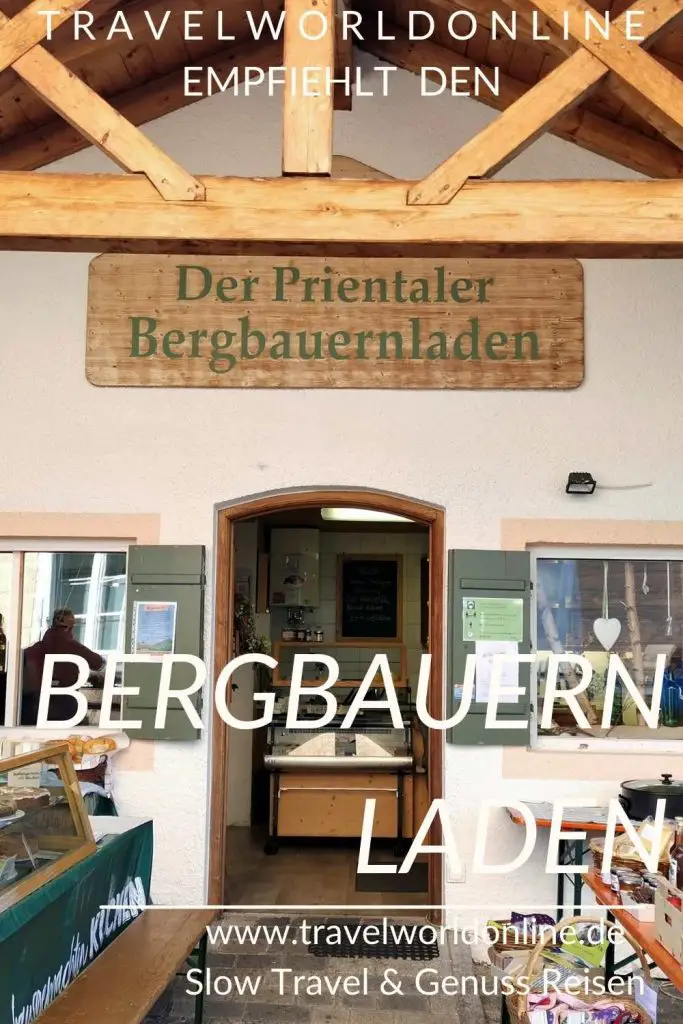 Do you already know:
Quelle Bergbauern Laden: Research on site
Text Bergbauern Laden: Copyright Monika Fuchs, TravelWorldOnline
Photos Bergbauern Laden: Copyright Monika Fuchs, TravelWorldOnline
Where you can enjoy mountain farmers cheesecake