National Day in Oslo Norway
On May 17, Norwegians celebrate the existence of their state with Constitution Day. We are in Oslo, Norway's capital, for the 200th anniversary of National Day. We are very fortunate to be able to see part of the celebrations. However, since our time in Oslo is limited and we also want to see a bit of the city and its surroundings, we don't spend this day at Castle Square, where for example Gerhard Liebenberger from Andersreisen.net also sees the royal familywaving to their people. Instead, we mingle with the people on the town hall square.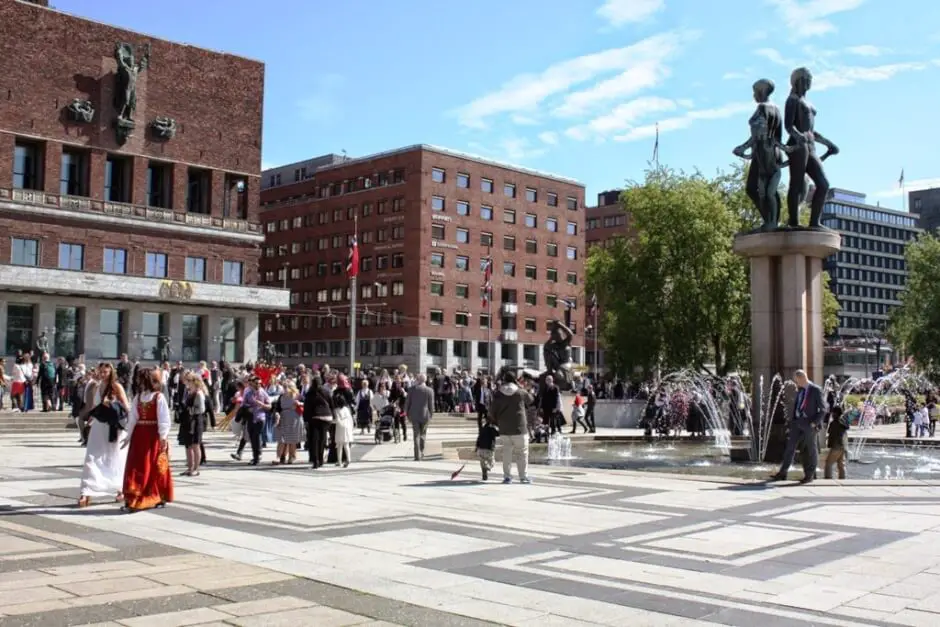 Celebratory mood on National Day in Oslo
That's interesting: already at 8:00 in the morning, while we were still having breakfast in our hotel, the Park Inn by Radisson in the city center * sitting, we see more and more people walking past the hotel in national costume or elegant festive attire in the direction of the port. This is where some of the groups participating in the parade meet. This will pass the royal palace from 10:00 a.m. Some carry heavy musical instruments under their arms, others have their entire families in tow, with even the smallest ones out and about in fine twine or pretty national costumes.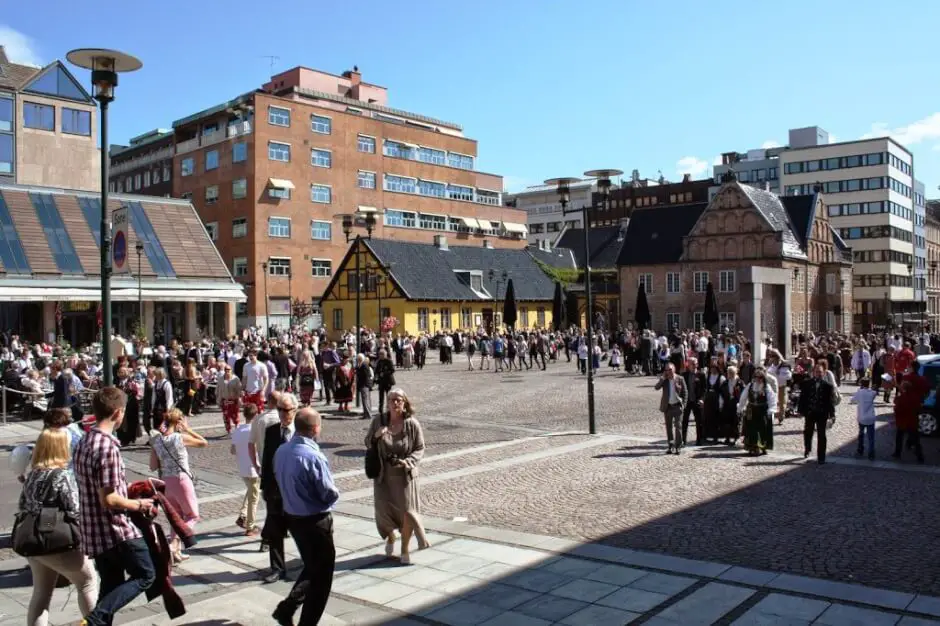 The National Day Parade in Oslo: children in the spotlight
While such National Day parades in other countries often serve to showcase the country's military, for Norwegians it's the children who play the leading role. They are the ones who - accompanied by numerous music bands - roam the streets of Oslo for hours to celebrate the existence of their country. And they do it with admirable persistence and fervor. A very likeable way of celebrating the existence of a country.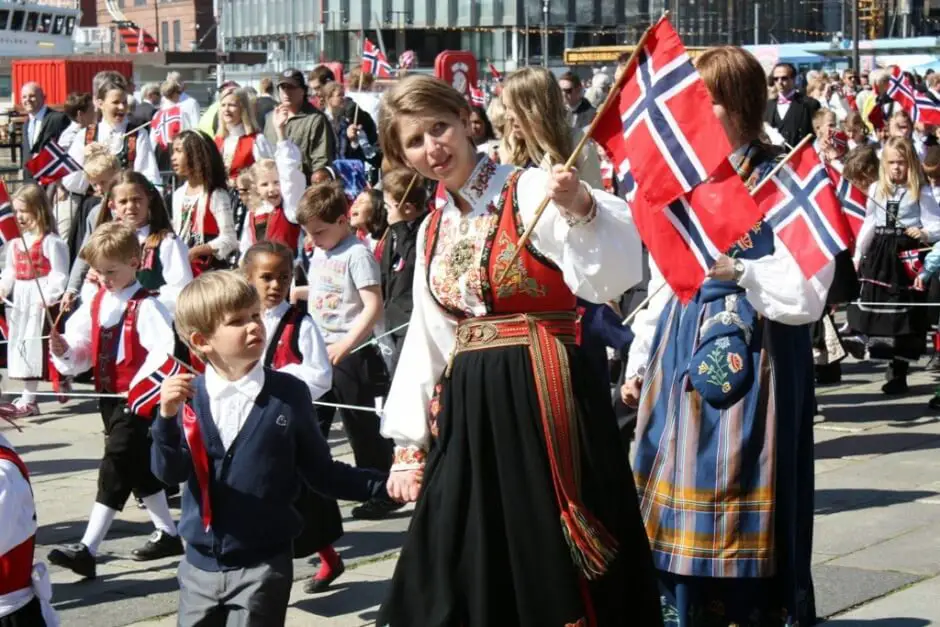 A colorful parade: children from all regions of the world
We noticed that the children seem to come from all regions of the world. In addition to Scandinavian blonde boys and girls, we saw a striking number of children who obviously come from other countries. All of them carried the Norwegian flag around town with beaming smiles, and their proud parents either led them by the hand in the parade or accompanied them on the sidelines with equal pride. It is just as natural that blind or disabled children take part in this parade. They, too, enthusiastically wave the national flag of their country.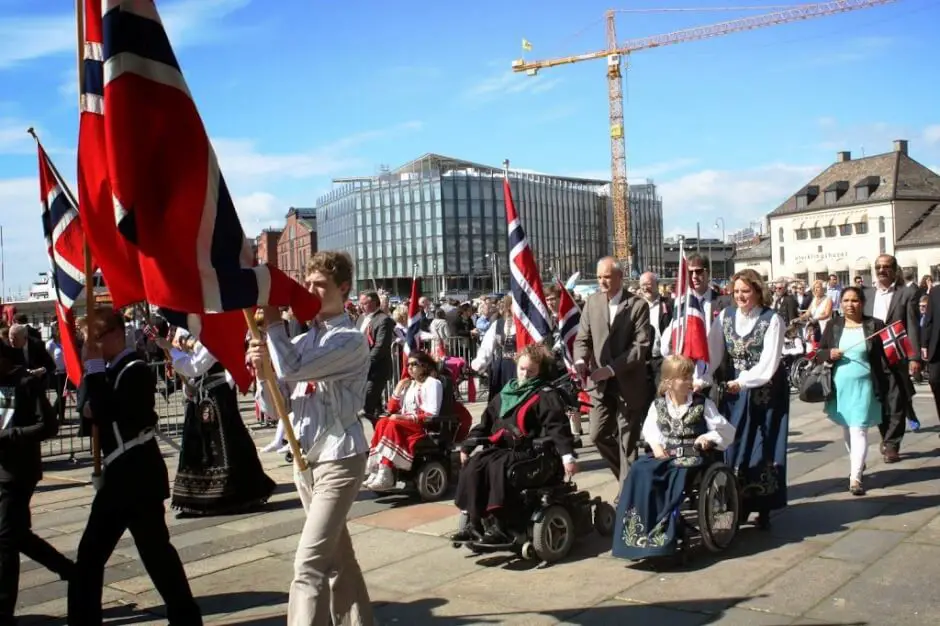 An open and friendly people: Norway celebrates its future
Experiencing the National Day parade in Oslo shows us a very open, tolerant and friendly people who proudly celebrate the existence of their country, themselves and above all the future that lies in their children. What a perfect way to see a country for the first time. Norway and Oslo took us by storm. We will definitely come back to learn more about its people, their way of life and customs.
Also, discover how other travel bloggers experienced National Day in Oslo:
You can find more tips for Oslo here, for example:
---
Park inn by radisson
Ovre Slotsgate 2C, Sentrum
0157 Oslo
Norway
Information, availability query and online booking*
Other hotels in Oslo * is for example here.
---
Do you also know:
Source National Day Oslo: Research on site with invitation from DFDS and Visit Oslo. However, our opinion remains our own.
Text National Day Oslo: © Copyright Monika Fuchs and TravelWorldOnline
Photos: © Copyright Monika Fuchs and TravelWorldOnline
National Day Oslo in Norway