Ontario interesting places. Our journey takes us around the Georgian Bay in Ontario, the eastern bay of the Lake Huron. In doing so, we get to know Ontario as it is in the clichés of Canada often shows up. There are countless lakes, large and small to pools and ponds that do not deserve the name "lake".
Ontario lakes, forests and bears
Surrounded by these wild waters, with their overgrown and overgrown by wild plant growth water surfaces not so reminiscent of what we understand in Europe under lakes, dense and impenetrable forests that also have nothing to do with our cultivated cultural landscapes on the European continent to have. And as if it were a cliché, on our tour through these pristine landscapes, wild animals appear again and again: bears that cross the road in front of our car and disappear quickly back into the undergrowth, red deer that does not disturb us when eating as we watch it on the roadside with its meal and flocks of Canada Geese flying south over our heads in perfect V formation.
A few not-so-serious tips, like you hunted, attacked and eaten by bears will, Janine has collected. You're better off doing the exact opposite of what she recommends.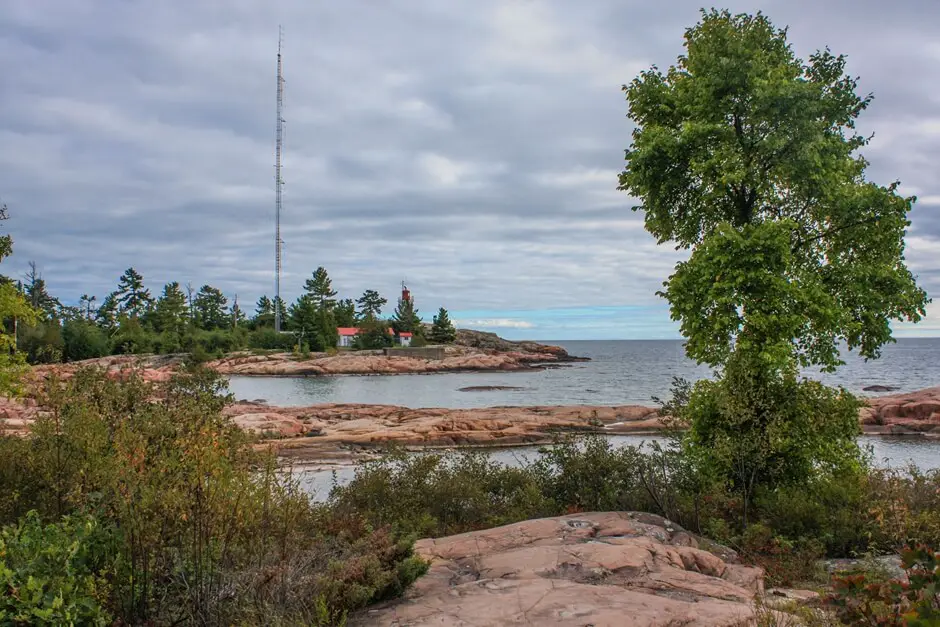 A trip to the center of Ontario means a journey back in the evolution of our Western civilization. The places we meet on the road are either so small that they do not consist of much more than a main road and a few back roads. Or they are places that serve exclusively the supply of the surrounding areas. The distances to the next supermarket, the nearest gas station or the nearest doctor are often tens of kilometers - if not more. In general, the distances between the localities are often a hundred kilometers or more, something. This is unthinkable in Europe due to its high population density. Except perhaps the regions on the northern edge of our continent.
Ontario places of lakes, forests and bears
If the places are larger - like Parry Sound or Sudbury - the impressive shopping opportunities are first of all noticeable. You can find almost everything you need to live in these supply locations. Huge supermarkets with an incredible variety of foods. Hardware stores that make the heart of a craftsman beat faster and invite you to do it yourself. Furniture markets where buyers can find practical furniture of all kinds, but also decorative and not so important items for their apartments. And of course the fast food chains such as Pizza Hut, McDonalds, Burger King, Tim Hortons and others, which ensure that the cravings that inevitably occur during a shopping tour are quickly satisfied.
If these places are older, or if they are in scenic spots that also attract tourists, then there are - perhaps - some local attractions. For example, this can be a museum that deals with the history of the place that is only a hundred years old. They lovingly try to preserve the development of the place for posterity. Even if the Canadians' sense of history is often touching to us Europeans, they often surpass us in presenting their development. Many of these local museums also collect family items and thus document the settlement history of their region.
Destinations worth seeing in the province of Ontario
We have visited many regions in Ontario on our travels. We have met many places that are worth a visit. The following list is our very own collection of worth seeing destinations in the province of Ontario. Have a look. Maybe there is something below that interests you as well:
---
Travel Arrangements:
Getting to Ontario:
Arrival by plane, bus or train*. Air Canada, Lufthansa and Icelandair fly to Germany from Germany Toronto. There you can rent a car, with which you can then discover Ontario.
Car Rentals:
Cheap car hire - book quickly and easily!
Accommodations:
Accommodation in Ontario * You can also easily book through our partner booking.com.
---
Do you also know:
Source Ontario, land of lakes, forests and bears: on-site research. We financed this trip ourselves. In any case, our opinion remains our own.
Text Ontario: © Copyright Monika Fuchs and TravelWorldOnline
Photos: © Copyright Monika Fuchs and TravelWorldOnline
Ontario, land of lakes, forests and bears