Order awning for the terrace or balcony
We thought about it for a long time - awning or parasol? Our terrace faces south. Therefore, the sun shines fully on our terrace from midday. On the one hand, that's very nice. On the other hand, we could only use the terrace as soon as the sun disappeared behind the linden tree that grows in our garden. Depending on the summer month, this was only possible in the late afternoon. So we had a view of the garden. Due to the heat, we could only use the terrace for a few hours a day. It was soon decided that we should order an awning. It quickly became clear that we would buy the awning online. Buying in a hardware store means a longer journey for us every time because we live in the country. Ordering an Amazon awning online for the terrace is quick and easy. Only which ones?
Order an awning for the terrace or balcony
Since we work at home, we also want to use our terrace for work in summer. Savor the Outdoors at work was our goal. This is not a problem with the laptop. Since the sun shines on our terrace for several hours, we decided against a parasol. The stand needs space. In addition, a parasol must move with the sun's rays. It was therefore clear that we would order an awning. But: which awning should we order? The offer is great.
An awning for the terrace and balcony
Since we live in a rented apartment, a permanent installation was out of the question. For us, ordering an awning means being flexible. We wanted to change the building as little as possible. Another consideration was that we wanted to take our sun protection with us when we move to a new apartment. After two moves, that is quite possible. Even if we currently feel very comfortable in our apartment. Third, the awning should be easy to install. Petar is very talented with his craft. But we didn't want to put in a lot of effort. After all, we didn't want to invest a large sum. There are awnings with a lot of ski. That didn't matter to us. It is only supposed to reliably protect us from heat and sun. So our decision was soon made.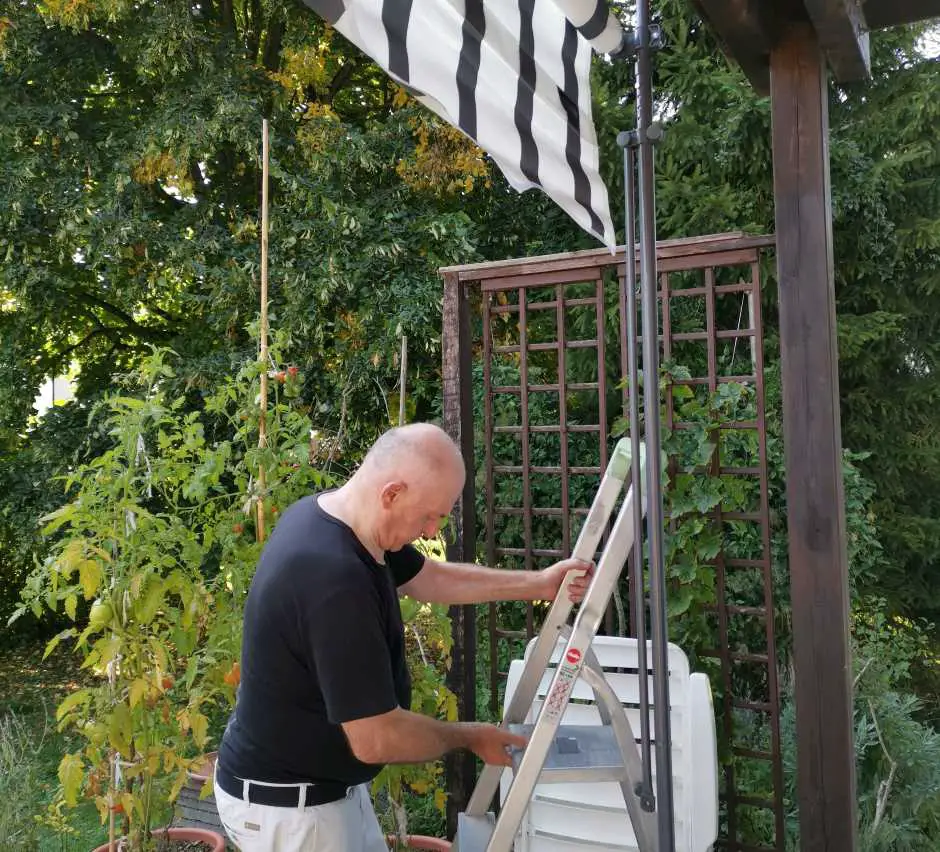 Buy a clamp awning for mobile outdoor enjoyment
There are also different models for this - some are simpler, others more luxurious. There are awnings that can be extended electrically. But there are also those that you can simply move with a rotary crank. That was exactly what we were looking for. It should be as simple as possible and not prone to repair. The more complex, the greater the risk that installation will be tedious. At the same time, we wanted to order an awning that can be easily installed and, if necessary, used again at a different location. An awning with supports met all of our requirements. It does not require any major interventions in the local conditions. We just had to wedge two poles between our neighbor's balcony on the first floor and our patio. The awning is installed in between - et voilá! Our garden awning has been ordered.
Petar mounts the awning with a lowerable valance
As I said above, Petar is a skilled craftsman. He looks at the assembly instructions, sorts screws, pipes and fabric. And let's go! I only have to lend a hand once when he adjusts the awning on our neighbour's wooden balcony. Overall, it takes a few hours to assemble. So nothing stands in the way of our outdoor enjoyment when working on the terrace in the future. How about you? Do you also work on the balcony or on the terrace? What do you do to make it as comfortable as possible for you?
So there is more Grill tips nothing more in the way. on one Grill we can also with that Dutch Oven cook on the terrace. You can also find Dutch oven accessories you can find here. We can even enter there with the right accessories campfire . make
When should you order awnings online?
We bought our awning in late autumn. Then the summer business is over. Prices usually go down because demand goes down. In addition, the shops want to clear their warehouses. The selection may not be as big as in the summer months. However, if you are flexible, you can make good bargains in autumn.
How much does an awning cost?
The price of an awning depends on the type of awning. An awning with motor control or one that is permanently installed costs more than a clamp awning that is opened with a hand crank. On the other hand, it is important whether you need fitters for the installation. Hardware stores and fitters charge between 200 and 500 euros for installation. It is definitely cheaper if you have manual skills yourself. However, the price for awnings has no upper limit. This can cost between 1000 and 3000 euros with all brackets. It depends on where you install the awning. We paid just 120 euros for our clamp awning. Petar installed it himself and we are very happy with it.
What types of awnings are there?
Which awnings you can order online varies. Come most often folding arm awnings* for use. There is also:
cassette awning*
semi-cassette awnings*
side awning*
drop arm awning*
Markisolette*
Conservatory awning/conservatory shading*
Depending on the place where the awning is mounted, you can find a sunshade that fits.
More tips for the Savor the Outdoors you can also find here.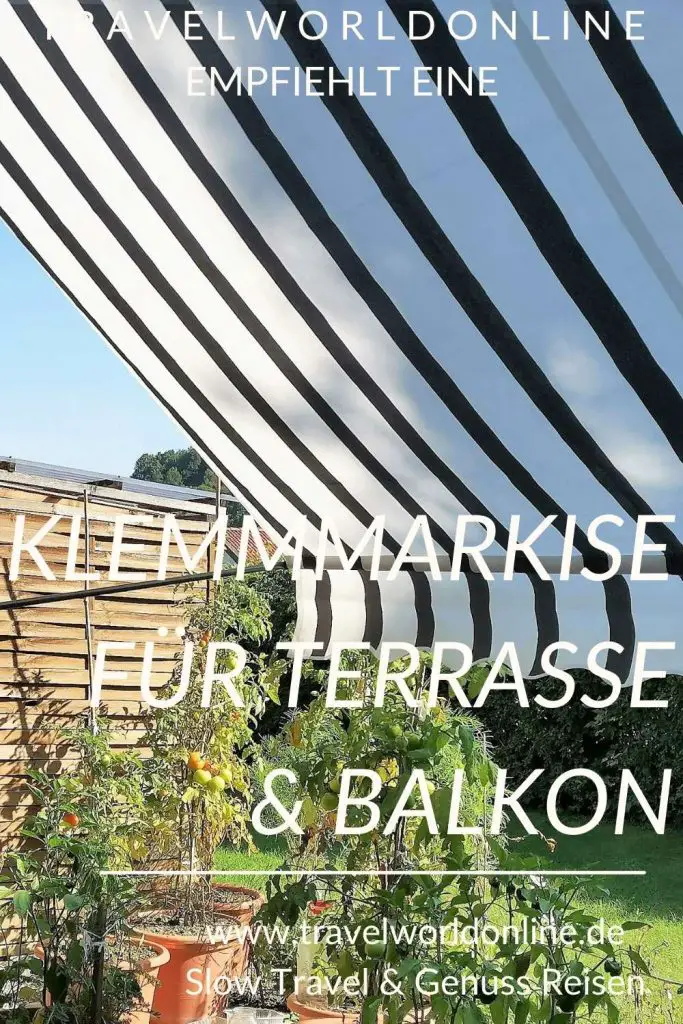 Do you already know:
Order Quelle awning online: own research
Order text awning online: (c) Copyright Monika Fuchs, TravelWorldOnline
Order awning photos online: (c) Copyright Monika Fuchs, TravelWorldOnline and Amazon
Order awnings for balconies and patios for outdoor enjoyment at home