Travel at Christmas time have been part of our lives for years. We are just from ours # Winter Happiness Journey through North Rhine Westphalia come back. A few weeks ago we were visiting the Christmas market in Schweinfurt, I could extend the list with countless Christmas travel experiences that would go beyond the scope of this article. One thing is for sure: these trips did not only take us to our immediate surroundings, but also to other continents. Over time, this led me to discover the Christmas shops in other countries in times when we were free to do so. And they are not only open at Christmas time. So, over time, I started bringing Christmas souvenirs from my travels, which we now hang each year on our Christmas tree. In this way, every year, our Christmas tree tells of new travel stories that I have experienced myself and that remind me of beautiful memories at this time. In this blog post I introduce you to my very personal Christmas memories that our Christmas tree tells: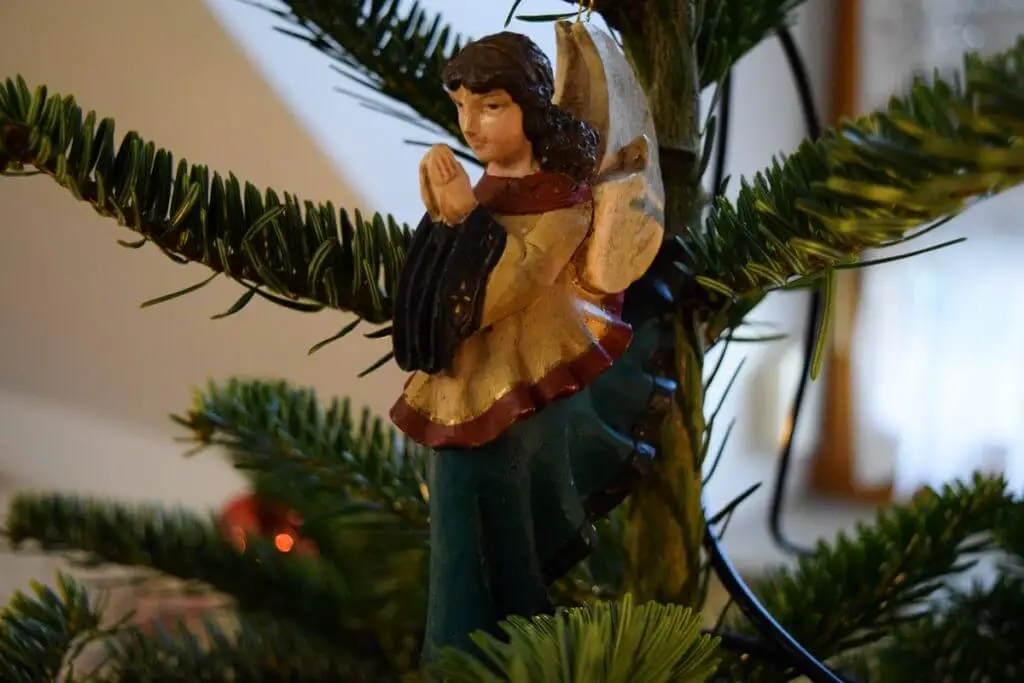 Our Christmas tree tells about New York City
As a tour guide, I've been taking city trips to New York City for a long time, where I've always had some time for my own business. Of course, strolling through the shopping worlds of the Big Apple played an important role. Often just to look, but sometimes I just could not resist and brought home selected Christmassy souvenirs. I discovered two Christmas shops that might be interesting for your New York travel:
Christmas tree decoration from the Southstreet Seaport
If you drive up the escalator in the South Street Seaport shopping center, you inevitably stumble into the Christmas shop on the mezzanine. There is the melody of "Jingle Bells" all year round and Bing Crosby sings of a "White Christmas". From there I brought back the glittering glass moon and the carved wooden angel, which receives a place of honor at the top of the Christmas tree every year. Since I was very often in New York City, the golden snowflake also comes from the Christmas shop at Southstreet Seaport.
Christmas decorations from the Trump Tower in New York City
Of course, every sightseeing tour of New York City includes a walk along Fifth Avenue. Besides a visit to Tiffanys I was always in the Trump Tower on the New York Boulevard, where I discovered the Christmas shop on the first floor during one of my stays, which can be reached by the escalator. There, the Christmas tree decoration was a bit more expensive, but also nobler than the port in the south of Manhattan. From there I brought me these two memorabilia: the golden harp and the pretty golden trumpet, which adorns our Christmas tree every year with its tassels.
Our Christmas tree tells of Santa Fe, New Mexico
Every year we hang a little Indian Madonna from Santa Fe, New Mexico, on our Christmas tree. I discovered them in an extraordinary Christmas shop in the market square of Santa Fe directly opposite the governor's palace. There are many Native American Christmas motifs. The Indian Madonna is made of clay and therefore quite heavy, so I always have to choose a particularly strong branch on our Christmas tree so that it does not pull down the whole branch in the course of time. Therefore, it usually hangs on the stronger branch branches near the trunk. To make it stand out, I usually attach it near a candle.
Our Christmas tree tells of Banff in Alberta
One of my favorite souvenirs is a lasso-wielding cowboy Santa Claus riding a horseshoe on our Christmas tree. This Christmas souvenir I discovered in a Christmas shop on the main street in Banff in the Canadian province of Alberta. It's so typical of the region that I just could not resist and had to have it for our annual Christmas tree ornaments. He therefore always gets a position on our Christmas tree, where he is clearly visible. He always provides conversation material for visitors. And a lot of nice memories of my trips to Banff and Alberta.
Our Christmas tree tells about Niagara-on-the-Lake in Ontario
The last piece I want to introduce to you is our nutcracker from the pretty village of Niagara-on-the-Lake on the shores of Lake Ontario in the Canadian province of the same name in the east of the country. You can not miss this Christmas shop. It is located near the Town Clock on the main road and offers the best Christmas decorations on several floors. Again, there are bizarre and unusual Christmas souvenirs. I chose the nutcracker, which can also be found here, because Niagara-on-the-Lake is not too far away from Kitchener, where many German settlers have settled down. This is probably one of the reasons why the traditional nutcracker got to this place. In any case, he does well every year on our Christmas tree.
Even our Christmas tree has traveled - by mail
Another tip for all of you who travel a lot. This year we have avoided the usual Christmas stress that usually causes us to buy our Christmas tree just before the holidays and then usually have to take the one that still exists. This year we came across the offer of Aunt Tanne, a Christmas tree delivery on the Internet, over which one can choose his Christmas tree by size. The Christmas tree will be delivered to the house punctually on the agreed date, which can be easily adapted to your schedule. Or almost on time - we arrived one day earlier than agreed. Therefore, one should better calculate one to two days buffer. We were skeptical at first if we would get a nice and even grown tree, but we are thrilled with our Christmas tree from Tante Tanne. He would not be better if we had chosen him. In any case, this is a very practical service that helps to reduce the Christmas stress.
More Christmas stories from travel bloggers you will find on the Travel bloggers Advent from Janett.
We thank Tante Tanne for the beautiful Nordmann fir, with which we were allowed to test their service. Money did not flow for this article. Our opinion remains our own.
Text: © Copyright Monika Fuchs, TravelWorldOnline
Photos: © Copyright Monika Fuchs, TravelWorldOnline
Our Christmas tree tells travel stories