packing list beach vacation
You can find what you need for a beach holiday by the sea in our beach holiday packing list. It makes a difference where your beach vacation is going. In this packing list beach vacation we put together the things you need for a vacation on the beach where you beach holiday want to do in warm regions. We will put together what you need for other trips to the sea in another packing list.
That must be in the suitcase for a beach holiday
We have got into the habit of creating our own packing lists for the trips we make. We do not need the same equipment for every vacation. We therefore divide them up according to the type of travel. You will find these in our collection of packing lists and you can put them together individually according to your needs. In our beach holiday packing list, we only collect the things that are necessary for this.
Packing list for the beach vacation
What you need for those vacation on the beach, we collect in this packing list beach vacation.
swimming trunks
These swimming trunks are perfect for a beach vacation or for a short swim in the river. It is so neutral that you can not only wear it when swimming. It dries quickly. Therefore, you can also use them well on beach hikes or even on excursions on a summer day. If you want to take a swim in a lake, a stream or a river on the way, you can easily do this with these swimming trunks. Simply take a bath towel with you, then let it dry in the sun and you can continue your trip. A must in every beach vacation packing list.
Swimsuit or tankini
For women, I find a two-piece swimsuit with a top practical that can also be worn over shorts or pants. So on trips I can also take a quick bath in a lake or cool off in a shallow spot in a river. Then just lay in the sun for a few minutes and wait until the swimsuit is dry, and then the trip into nature continues with a stop at a swimming lake. That must be in our packing list beach vacation.
beach dress
If we plan to spend a whole day on a beach or a lake, we can treat ourselves to a visit to the beach cafe or restaurant at the end or during our stay. A beach dress is very practical for that. You can quickly put it on with your bathing suit and you are perfectly dressed for a visit to a restaurant or café. It's practical when we're at the sea. So we save a trip to the accommodation and are immediately ready for new activities. Essential for me in my packing list beach vacation.
Flip Flops
The best shoes for the beach are flip flops. Since you usually only wear them when you walk from the hotel or from the street to the beach, they only have to protect the soles from sharp stones or the heat in the sand. We take longer beach walks barefoot. We walk along the water's edge. The sand there is usually so fine that you can walk well without shoes. Flip flops have the advantage that you can quickly take them off and on. We take them with us on beach hikes in the event that a more difficult beach surface is on the way.
Bath towel
If you want to spend a whole day on the beach, you need space to make yourself comfortable. We always take a large bath towel or beach towel with us. Then we can make ourselves comfortable after the bath. Such a bath towel is sufficient for sunbathing. If the beach is not sandy, we also use it to dry off after swimming. On sandy beaches, however, we take a second bath towel with us. The sand in the bath towel doesn't make drying fun. Essential in a packing list beach vacation.
sun hat
We protect ourselves against excessive sunlight with a sun hat. A straw hat or a cloth hat with a wide brim is best suited for this. This also protects the neck from sunburn. Hats that can be crumpled together are also good. We prefer this. Because we can easily put them in the suitcase. This is difficult with hats that have to be worn separately so that they do not bend. Although these usually look more elegant, they are not practical when traveling by air or by train.
Sonnencreme
For sunbathing, we use a sunscreen with a high sun protection factor. My favorite thing is a sunscreen that can be sprayed on. This is easier to spread over the skin. It also avoids using too much of it. I like nothing less than when the skin feels oily on hot days. It is therefore very important to me that the sunscreen protects the skin but does not grease it. I then use special care products after sunbathing. That must be in your beach vacation packing list.
After Sun Lotion
When treating the skin after sunbathing, I also make sure that the lotion is not greasy. It is also important to me that it cools the heated areas. On my travels in Africa and Australia, I had particularly good experiences with aloe vera products. Therefore, I also make sure that the after sun lotion contains this. It cools and nourishes the skin at the same time. The lotion is quickly absorbed into the skin and does not leave an annoying grease film. It must be part of a beach holiday packing list.
sunglasses
Of course, we also protect our eyes when sunbathing. When buying sunglasses, we make sure that they have a high UV factor. So it protects better against intensive sun exposure. It should also look chic. I chose this model because this style suits me particularly well. But of course you can choose the sunglasses according to your taste. Just click on the link below and you will find a large selection of sunglasses.
beach bag
A beach bag is best for carrying all of these items. Since we are always on the go for two, it has to offer enough space for the things we need for two people. I like maritime style very much. I like this especially on the beach. Therefore I suggest this beach bag. But here too, you can choose your beach bag according to your taste. Simply click on the link and choose the bag of your choice.
underwater camera
So that you can also take photos and film underwater, you should get an underwater camera. This should not be missing in a beach vacation packing list. With the Apexcam Action Cam you can dive up to 40 meters deep. It is waterproof and therefore suitable for swimming, diving, surfing and rafting. What I also like is that it has digital image stabilization and a wide-angle lens of up to 179 °. So you are well equipped for good and varied underwater shots. You can find more underwater cameras under this link.
Schnorchel
If you want to experience the sea extensively during your beach vacation, you should consider whether you want to try snorkeling. This opens up the underwater world up close. To really enjoy this, a snorkel is not enough. It is best if you also have a snorkeling mask with you. These anti-fog glasses allow you to see the underwater world well. Since it also has a wider viewing angle, it enlarges the view of the underwater flora and fauna and increases your pleasure.
holiday reading
Last but not least, of course, you also need something with which you can spend your time sunbathing or in a beach chair. That said, you shouldn't forget to pack yourself some light vacation reading. Since we deal with specialist literature and subject matter all year round, we want to relax during the vacation. Light summer stories and thrillers are particularly suitable for this. We have put together a selection for you here.
When packing your suitcase, check the beach vacation packing list
Download the beach holiday packing list in .pdf format and print it out. Then you can easily tick off everything that is for a beach vacation in the suitcase got to. The question "What do you need for a vacation on the beach?" Is answered in this packing list. You can find all beach holiday utensils in this beach packing list.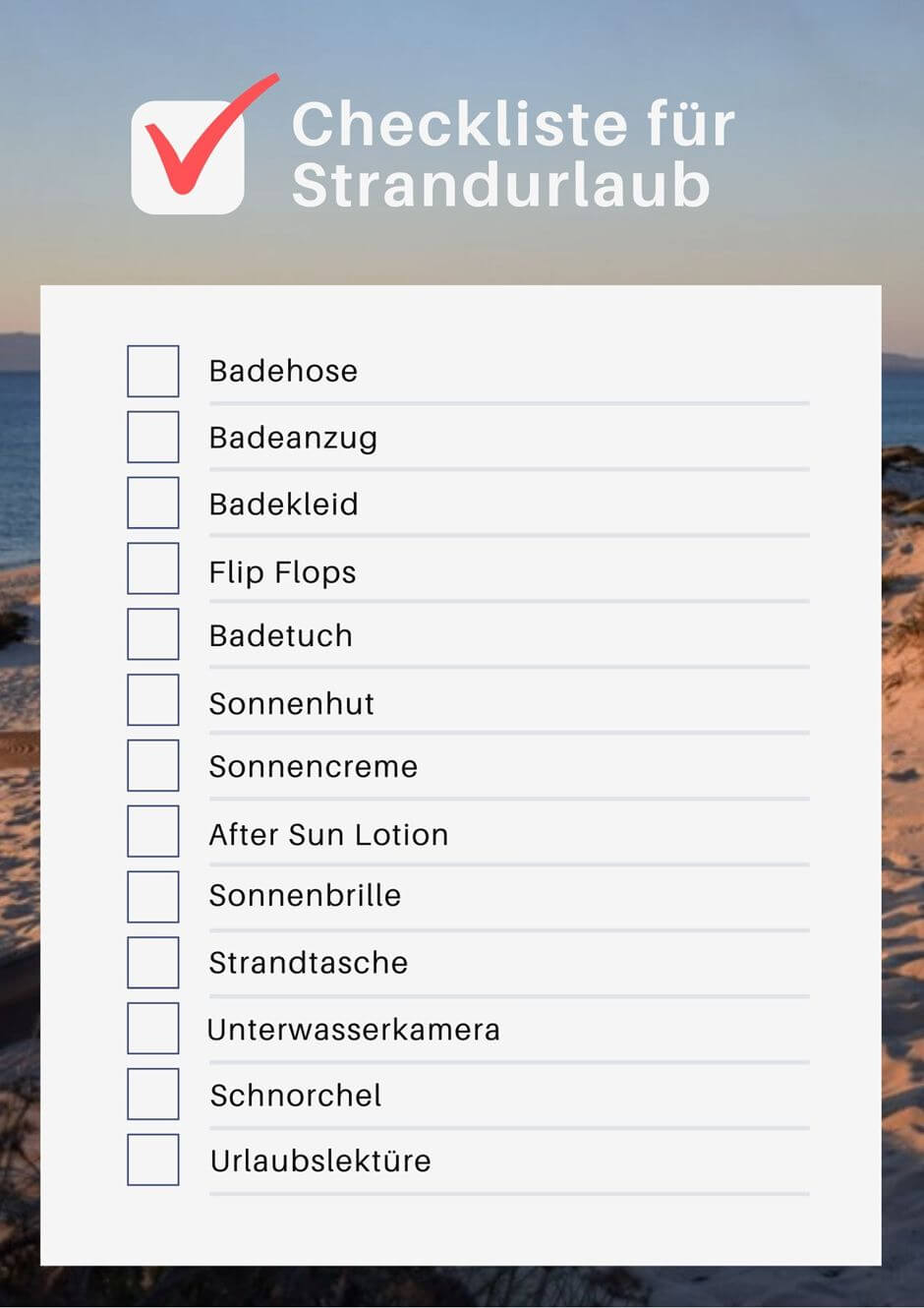 By the way, you already know ours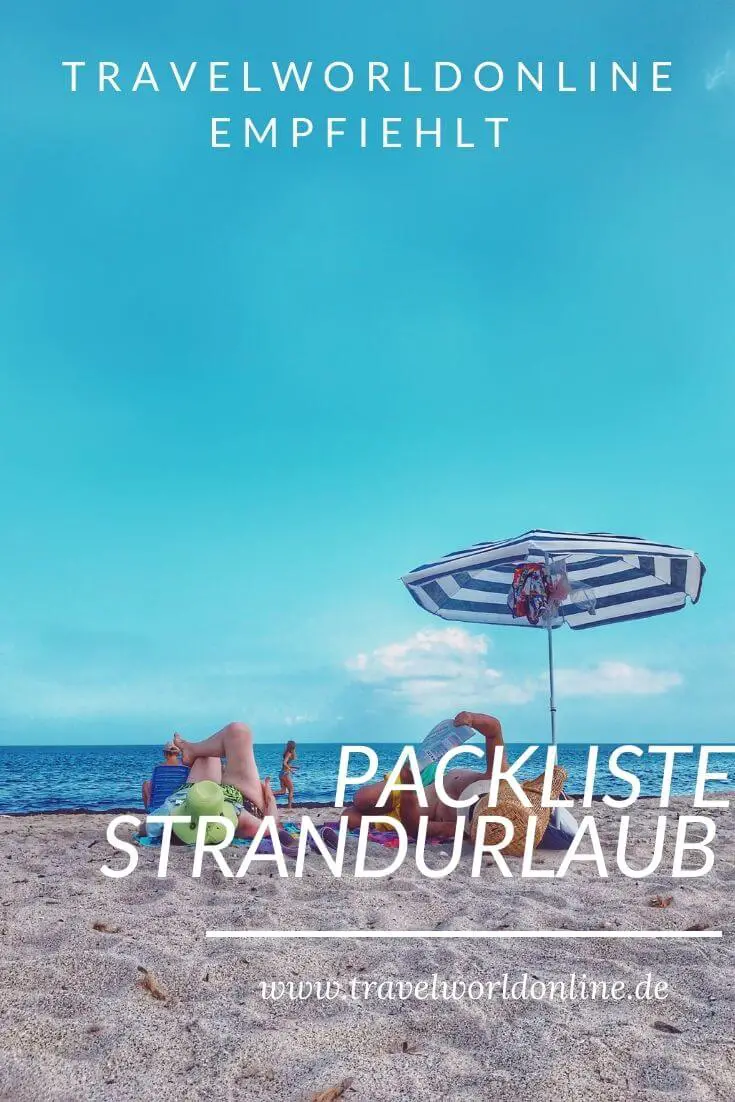 Source packing list beach vacation - packing list beach vacation: own research
Text packing list beach vacation: © Copyright Monika Fuchs, TravelWorldOnline
Photos of packing list beach vacation: © Copyright Monika Fuchs and Amazon, TravelWorldOnline
Packing list beach vacation - what has to be in the suitcase?