The picnic accessories for a picnic in the countryside
Time to get picnic supplies. The sun is shining. Flowers bloom. The deciduous trees are green again. Birds chirp and nature lures us outdoors. We have on ours Trips to Savor already discovered some picnic locations where you can enjoy this. But what do you take with you to a picnic? Not so easy, because a picnic is more than just snacks, one snack and Recipes. Therefore, we present here what you need for a successful picnic in the countryside. In addition to a picnic bag, a picnic basket or a picnic backpack, this also includes a picnic blanket and a picnic grill.
What to do for your picnic to one of the nicest picnic spots in Germany take with you also depends on where it should take place. For a Picnic in the rose garden of Baden near Vienna or for a Picnic in Munich you need different picnic accessories than for a picnic that you plan on a hike. You are more likely to take a picnic bag or basket, a picnic blanket and a picnic grill with you on a day trip in which the picnic in the countryside plays the main role. On a trip to the lake or a trip to a scenic spot. Your picnic kit will look different on a hike, however. A picnic backpack makes sense, as well as a vacuum flask, thermos cup, picnic dishes and ice packs.
You need that for a picnic in the country or at the lake
When the weather is nice, we are always drawn to nature. Then we like to look for a place that offers a beautiful view. Or we drive on one of the lakes in the Chiemgau. On their shores there are numerous places where we can enjoy a picnic by the lake. We also discovered some picnic locations on our trips. In the vicinity of Neualbenreuth there are picnic areas with a view. At the Weissensee in Carinthia there are places where you can picnic by the lake. Also load the Mountain meadows in the Kleinwalsertal to picnics. We take several hours for such an excursion. Time to relax. To read a good book. Or just to enjoy the view. And what do we take with us as picnic accessories?
Picnic set for a trip to the country
picnic basket
For a longer picnic, we pack our food and everything else we need in a picnic basket. Although there are only two of us, we choose a picnic basket for 4 people. We do not need all the dishes that are in them. But the additional space for food, drinks, a book and whatever else we need for a picnic is worth the extra expense. A picnic basket has the advantage that dishes and glasses can be safely stowed in it. Since such a picnic basket is heavy when it is filled with food and our picnic accessories, we use it especially when we don't have to carry it far. Are you looking for others Picnic baskets *, then you can buy your picnic basket online using this link.
Picnic bag
Picnic bag or picnic backpack
Alternatively, you can also take a picnic bag or backpack with you for such an excursion. We also recommend choosing a bag for this, in which crockery, cutlery and everything else you need in terms of picnic accessories can be stored. The picnic accessories are safely stowed in the bag that we recommend here. There is also a cooling compartment in which food can be transported warm or cold. Further Picnic bags * here.
Picnic blanket
A picnic blanket is also part of a picnic in the country. We often take tours into the blue in our area and let ourselves be carried away. We often discover hidden places that are perfect for a picnic. However, there are only a few picnic tables or a bench where we can unpack our food. Therefore, a picnic blanket is a must in the car on excursions of this kind.
You can also buy a picnic basket online that already comes with a picnic blanket. These baskets are particularly practical because they often have brackets for a picnic blanket at the same time. So you can easily transport it and it is always at hand.
picnic barbecue
If you plan several hours or a whole day for your picnic trip, then it is also worth taking a picnic grill with you as a picnic accessory. On this you can hot dog or even grill steaks. These stay fresh in the cooler in your picnic basket until you use them. You can also prepare a potato salad at home that goes perfectly with it. However, lettuce leaves are not good for a picnic. They quickly lose their freshness and no longer taste good. You should also avoid cream or mayonnaise dressings. It is better to use an oil and vinegar dressing for the salad. Even on a road trip, it's fun to prepare a snack on a portable picnic grill. If you take more time, you can in one Dutch Oven even over the grill fire One Pot Recipes prepare.
You need this as a picnic accessory during a hike
If you want to picnic on a hike, you will certainly not have to carry all the picnic accessories with you. Instead, we recommend a backpack in which you can store a snack and drinks on the go.
If you take a normal hiking backpack, this picnic checklist will help you. You need on the go:
With these picnic accessories you are well equipped for a picnic on a hike. We hope you enjoy your picnic on your hike or a day trip to the lake or the countryside.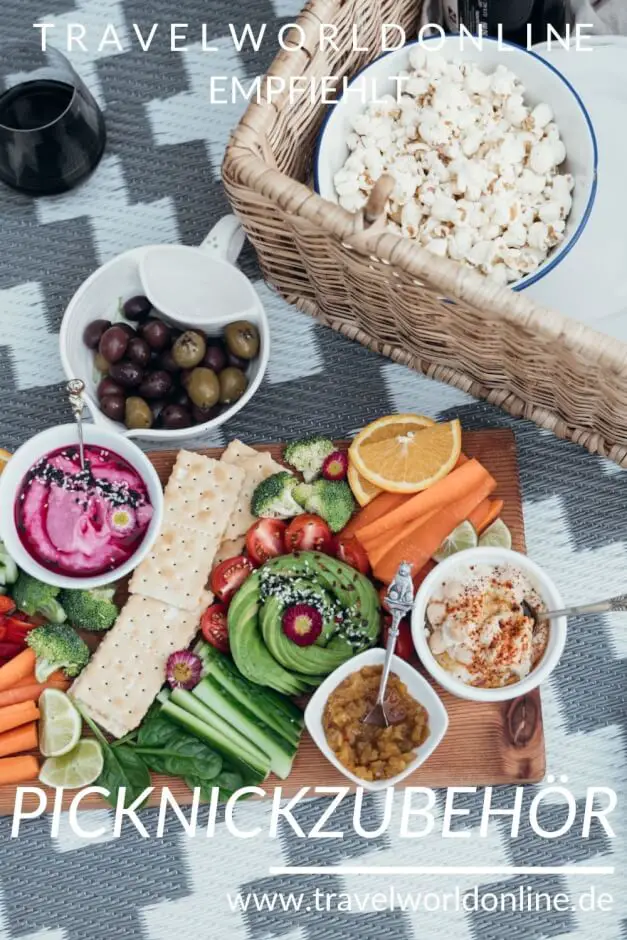 Do you already know:
Source for picnic accessories: own research on our culinary trips through the world.
Text: © Copyright Monika Fuchs, TravelWorldOnline
Photos: © Copyright Monika Fuchs, TravelWorldOnline
Picnic accessories - what do you take with you to a picnic?