Plump pudding in English style
The plum pudding is part of the traditional Christmas festival in Great Britain like the Christmas stollen here - with this plum pudding recipe you can make your own Christmas pudding, and maybe a little tastier than this traditional dessert is generally said. Because not even the British agree whether the plum pudding tastes good or not, Even though more than 60 millions of Englishmen, Iren and Scots Staying true to this tradition, it is said that it tastes more like a frayed car tire than a cake. Or do you want to buy plum pudding online? This is quite simple here *.
Discover 19 Best Places to Spend Christmas in Europe here.
A Christmas dessert that was not originally one
Already since the 14. In the 19th century, it exists. If the plump pudding at that time also nothing Christmas had to do. Instead, the British ate him during Lent before Christmas. At first it was nothing more than a thick soup, in which beef and mutton was cooked until it fell apart. Seasoned with raisins, prunes, wine and various spices.
Over the centuries, this porridge has been refined with eggs, bread crumbs, beer and lots of alcohol to such an extent that it is more reminiscent of today's Christmas pudding. However, it was precisely the alcohol content that led the Puritans and Quakers under Oliver Cromwell in the 17th century to ban the plum pudding. It was considered a "sinfully rich" judgment that decent Christian people should not consume. No wonder you read traditional recipes for the brown dough pile. In addition to kidney fat, flour, sugar, breadcrumbs, raisins, sultanas, almonds, eggs, cinnamon, ginger and cloves, incredible amounts of beer and various types of alcohol are part of it. It's no wonder that some partiers reacted more cheerfully than they should.
Only King George I made him finally acceptable. On his first English Christmas after his arrival from Hannover he was presented with the specialty as a Christmas dessert. And since he was not averse to culinary delights anyway, he took good care. Charles Dickens also helped the plum pudding to literary honors in his Christmas story. But now for the plump pudding recipe.
Tasty plump pudding recipe
This recipe kindly has us Azlin Bloor from Linsfood made available. She was born in Singapore but has been living in England for many years and is married to an Englishman. She has adapted the traditional ingredients to today's taste so that it is no longer the original recipe. But it tastes better.
Instead of the traditional kidney suet she uses vegetable fat (eg palm fat). And the Guinness in the original recipe was replaced with sweet sherry and brandy. Over the years, further changes were added. But just try it yourself. And let us know how you like this plum pudding recipe.
So you can do Christmas pudding yourself
Ingredients for plum pudding
200g cane sugar
100g breadcrumbs
100g chipped palm fat
1 tea spoon Milled Mixed Spices
1 / 8 tea spoon Milled Cinnamon
A pinch of freshly ground nutmeg
200g Sultania
250g raisins
40g Orangeate and citrate chopped and mixed
50g roasted almonds, finely chopped
1 medium sized cooking apple, unpeeled, chopped
grated peel of two lemons
120ml sweet sherry or - alcohol free - 100 ml of orange juice
4 table spoons of brandy or - alcohol free - light Earl Gray tea
2 eggs, lightly beaten, in a separate bowl
50g flour with a pinch of baking soda
Preparing your plum pudding
Take a large mixing bowl and add sugar, palm oil, breadcrumbs and spices and mix well.
Add the dried fruits, orange peel and lemon peel, almonds, apple and lemon peel. Mix it well.
Add the alcohol to the beaten egg and stir well. Then add it to the other ingredients.
Mix everything together. It should be a loose mix. Cover it with cling film and leave it overnight.
The next day
Stir the flour into the plum pudding mixture and stir well.
Put the mixture in a greased pudding dish and pack well.
Cover with a layer of baking paper, then with aluminum foil, leaving some space for the steam. Tie it tight with a string.
Place it for eight hours in a boiling water bath for a large pudding. Or divide the amount into three smaller containers and leave them in a water bath for three hours. Make sure that the water does not evaporate.
If you do not have a steamer, use a saucepan with an inverted saucer. Place the pudding on the saucer and fill it with half full of boiling water. Cover it with the saucepan lid and let the water boil.
Then let the pudding cool down completely. This usually takes one day. Then replace the baking paper and foil with new covers.
Store it in a cool, dark place.
On Christmas day, place the larger pudding for 2 hours, the smaller pudding for 1 hour into the water bath.
By the way, you already know: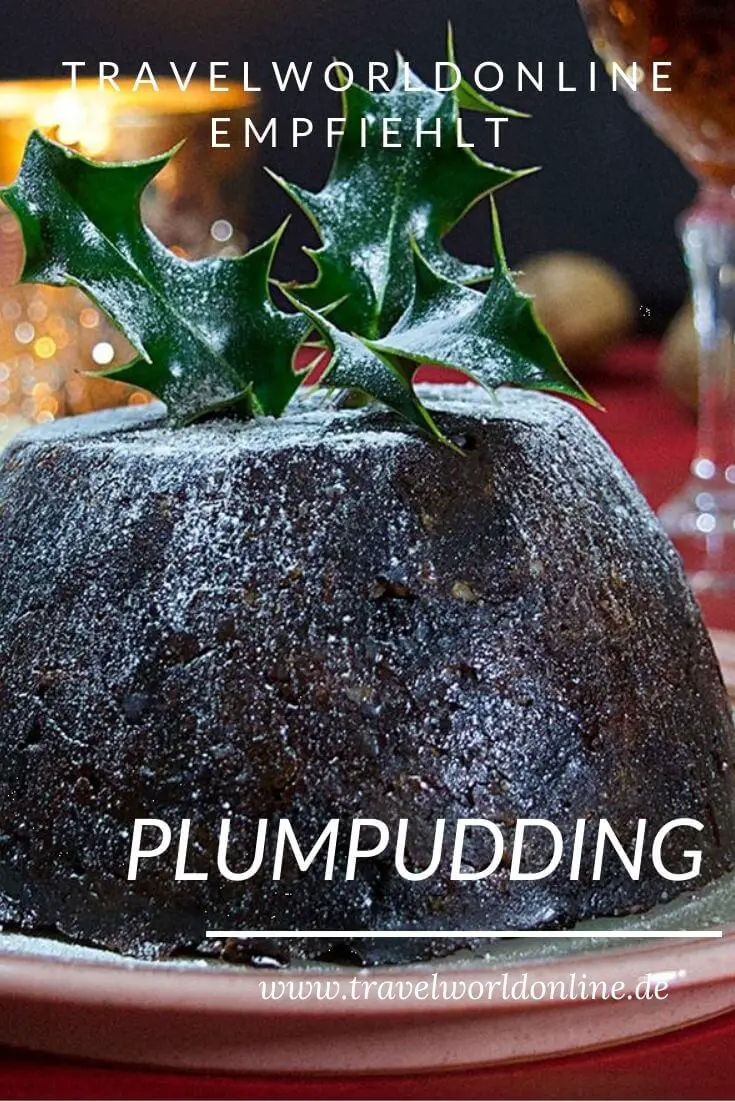 Source for the article "Plum Pudding Recipe - Homemade Christmas Pudding - Buy Plum Pudding Online": Azlin Bloor's own research and recipe.
Text: © Copyright Monika Fuchs, TravelWorldOnline
Photos: © Copyright Azlin Bloor, Linsfood
Plum Pudding Recipe - How to prepare Christmas Pudding