Portable grill for picnic and camping
Picnic and Camping are trendy. Then what's better than a portable grill that you can just take with you. There are disposable grills that are offered at many petrol stations. However, who more often in nature grilling or his grill in the Motorhome vacation or if you want to take it with you to camping, it is worth buying a grill especially for these purposes. Cook your steak while you are picknick experience nature. When your food sizzles over the fire, you can relax by the lake, enjoy the view of the mountains or relax on a road trip at a rest area. Pamper yourself and your family on excursions into nature.
Charcoal grills are best
For a barbecue on an excursion, it is best to use a charcoal grill. Electric grills are not suitable for this, because where can you find suitable power sources in nature? It is best to fill in the charcoal at home. Then you just have to light it on site and the barbecue can begin. When buying a grill, you should make sure that the device stands securely on uneven ground.
Portable grills tested
On testreports.de there is a test for mini grills. You can order the test winners here.
There are even bags in which you can easily transport your portable grill. It couldn't be more practical. The device must cool down well after use before you pack it again. You simply dispose of the used coal and ash in the waste paper basket as soon as it has cooled down.
With the size, you should pay attention to the occasion on which you want to use the grill. in the Caravan you have more space than in the trunk of a car. It is also important how many people you want to grill for. A mini grill usually offers space for two people to grill. But if you want a T-bone steak or two, the grill area on such a grill is hardly enough for two people, let alone for a whole family. In this case you either take two devices with you or a larger one. If you want to have a barbecue on vacation and take the device with you in the car, you should consider that other items of luggage are also stored in the trunk.
More portable grills

Portable and pluggable charcoal grill
It takes less than a minute to set up. The charcoal is ready for grilling in fifteen minutes.
Order here *

Stainless steel charcoal grill, foldable
When folded, the grill is flat. It comes with a windshield and a charcoal bag for the charcoal.
Order here *

Grill grate Dismountable mini grill
This mini grill weighs only 340 grams. This makes it the perfect companion on a hike and fits in any backpack.
Order here *

Camping wood stove
Foldable with carry bag suitable for picnic, BBQ, cooking, hiking, backpacking outdoors. The ideal companion for an outdoor adventure.
Order here *
An extensive selection of Take away charcoal grills are available here *.
Grill Accessories
The perfect complement to a portable grill is a Dutch Oven. You can put it on the grill and cook outdoors. Dutch oven accessories here.
With this camping cookware* you can cook your food on the grill.
With this grill mat* you prevent your grilled food from frying on the grate. It is reusable, easy to clean and can be used on charcoal grills as well as gas grills.
Tips for your picnic: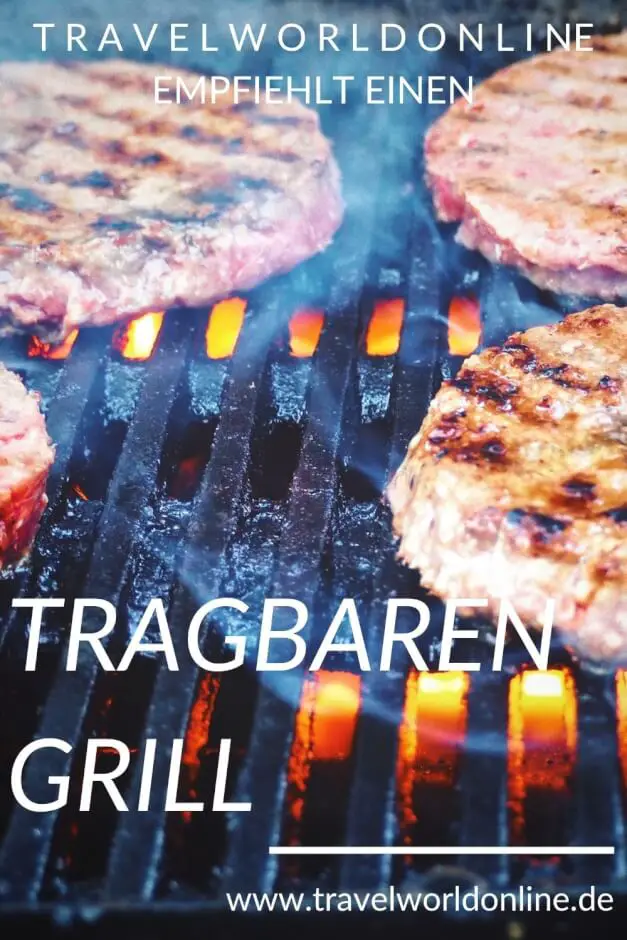 Do you already know:
Source: own research
Text: Monika Fuchs, TravelWorldOnline
Photos: Amazon and Canva
Portable grill for picnic or camping