The Portoroz Lifeclass hotels

Have you ever enjoyed an anti-aging lunch in the Portoroz Lifeclass hotels? Neither do I. At least not before our stay this year. Actually, I had never heard of it before our stay at Hotel Apollo and did not know that there was such a thing. The Hotel Apollo is one of the Portoroz Lifeclass Hotels on the Adriatic coast in Slovenia, I was all the more curious about what awaits us. Not only the lunch should slow down the aging. The entire concept of Portoroz Lifeclass Hotels is designed to spend a holiday on the Slovenian coast, which makes you younger. At the same time, the guest should take home some of this lifestyle.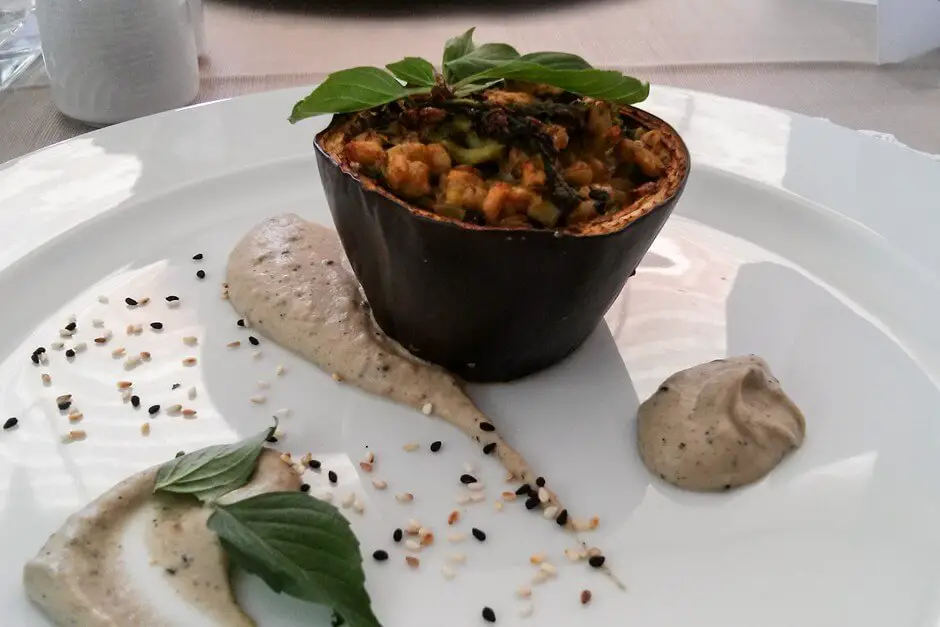 How the Portoroz Lifeclass Hotels propagate anti-aging
Normally I am very skeptical when it comes to stopping natural processes like aging. What is not there for promises! Magazines, commercials on radio and television, billboards and drugstores are overflowing with offers and claims that this or that means can stop the aging process. I do not believe any of them. After all, aging is a process that nobody can stop. Nobody can escape that.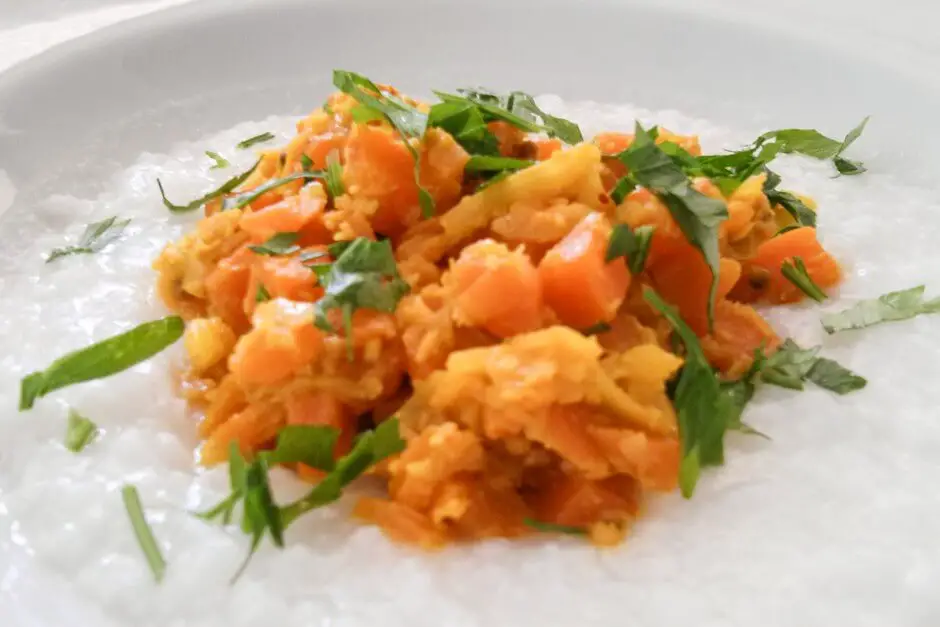 In the Lifeclass Hotels you will learn to eat a healthy diet
However, one can try to eat healthily and consciously. You can train your musculoskeletal system by moving daily or at least a few times a week for at least 30 minutes. You can also counteract with massages or baths tension. These can - if they become chronic - make the aging process painful. Such approaches make the Portoroz Lifeclass hotels tasteful to their guests and show them how to do it.
That's how it's done
We start our stay at the Portoroz Lifeclass Hotels with an appointment with a therapist. This determines our body type. At the same time, she gives us a list of dishes and dishes. We should eat what is written on it. In doing so, she draws on Ayurvedic principles that aim at the well-being of people. We are divided into the three doshas, ​​which means "that which can cause problems". There are three of them: Vata, Pitta and Kapha. Each of us is born with a mix of them. The medicine of Ayurveda aims to form the three doshas as a whole and thus help people to feel good.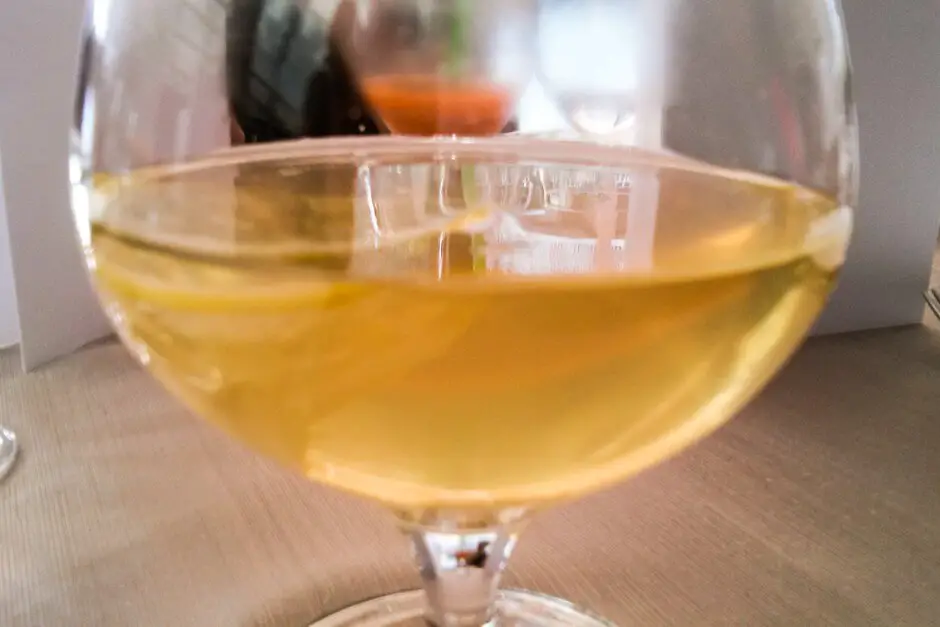 Breakfast in the Portoroz Lifeclass hotels
It starts with food that is tailored to your personal needs. The Apollo Hotel starts the day with a buffet. However, this is very different from the ones we usually experience on our travels. There are no sausages or eggs with bacon. Instead, there are smoothies made from vegetables and fruits, as well as local fruits. In the bread offer you will find rusk and crispbread next to wholegrain breads. The cereal offer consists of cereal mixtures with dried fruit. There is sausage and meat, but little. Cakes are gluten-free or baked with local fruits. And at the kitchen there is omelette with ham and cheese or vegetables. Everything fresh and lean, of course.
... and dinner
That's exactly what the evening buffet looks like. There you prepare the salad with oils and vinegar to a salad to taste. Fish dominates the offer and meat is mainly meat such as chicken or pork tenderloin.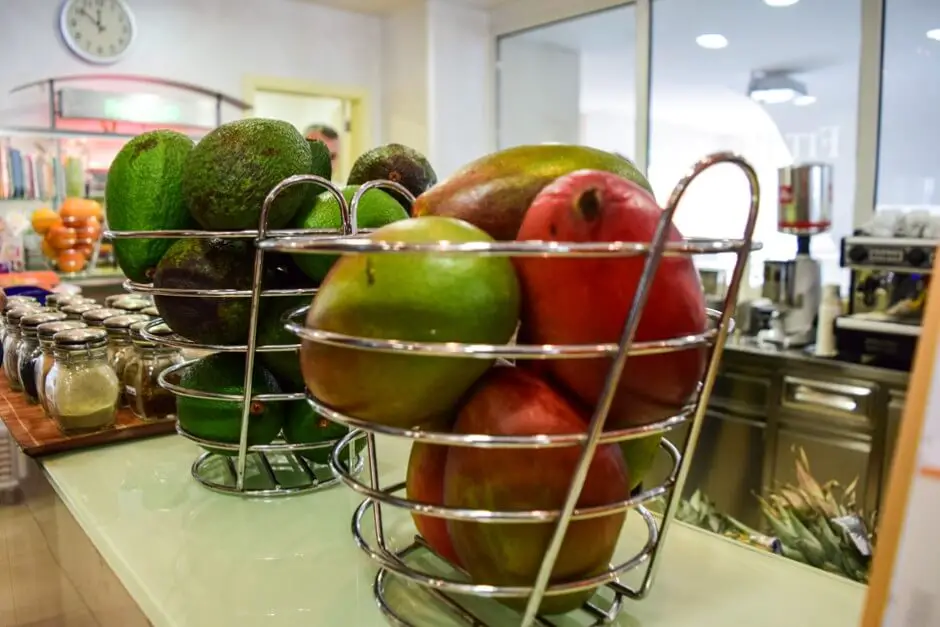 Anti-aging lunch
Interesting is the anti-aging lunch, which is presented to us on our first day at the Hotel Apollo. It starts with a glass of carrot juice and eggplants filled with spelled, lentils and vegetables. This is followed by a rice soup and Carrot Thoran. Unsalted, because you should avoid salt, if you want to stop the aging process. Carrot Thoran is made from carrots, cabbage, mustard seeds, coconut oil, coconut flour and turmeric. Finally, Lassi - a type of yoghurt cream with cucumber and mint - and Kapha tea is served.
... makes me easy and carefree
Although this type of food will certainly not be part of my everyday food - I miss the flavors of spices - I have to admit that I felt easy and carefree afterwards. Instead of salt, many of the foods and drinks were flavored with ginger, which is arguably the most important flavor supplier of this type of food.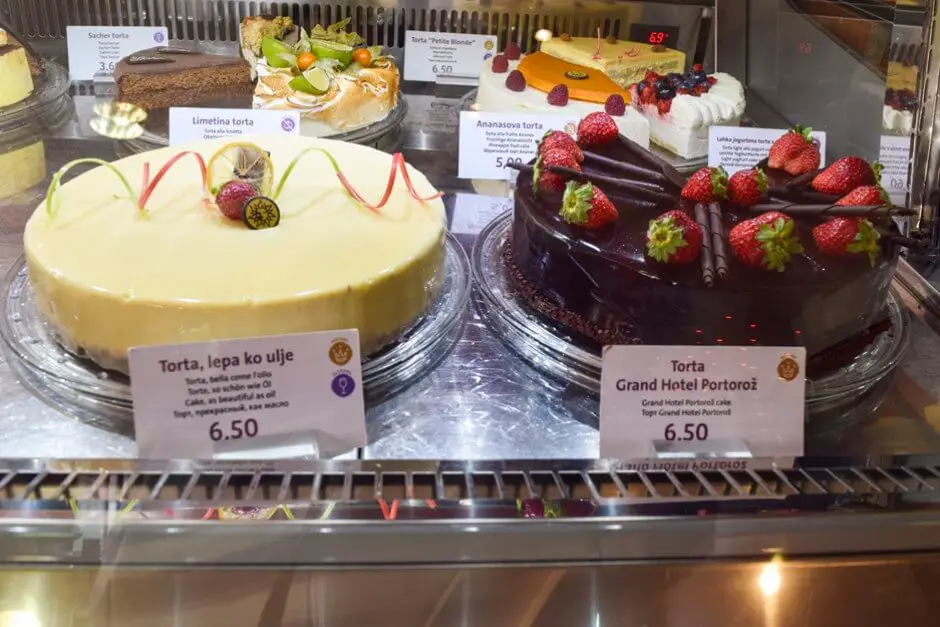 Movement in the Portoroz Lifeclass hotels
The neighboring hotel of the Hotel Apollo, the Hotel Neptun, is under the motto of exercise and sport. Each floor of the hotel advertises a different kind of sport and in the stairwell the guests are told about their preferences by means of diagrams and information boards.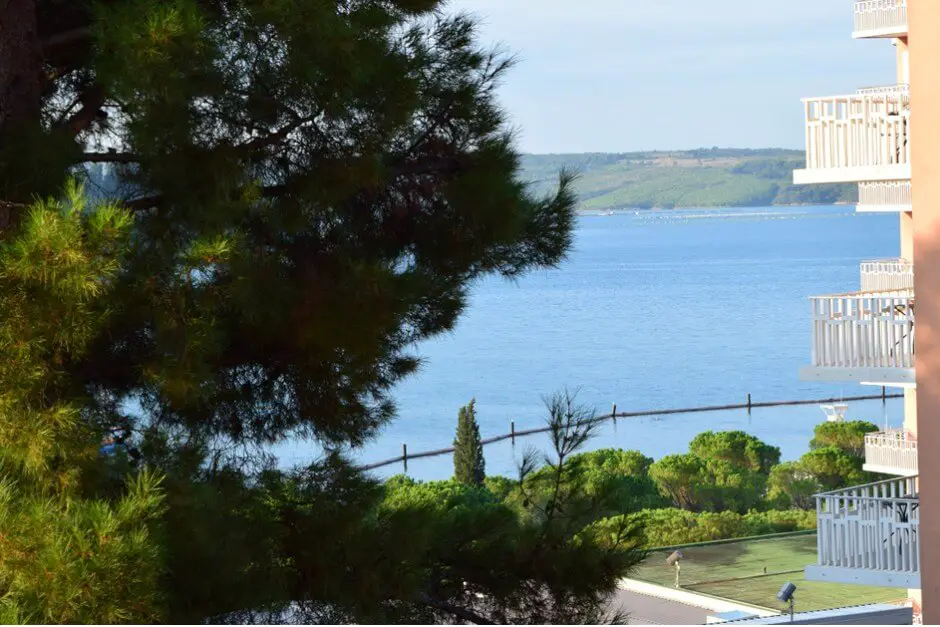 Portoroz offers many opportunities to live a healthy life
In Portoroz, there are countless ways to move. These range from standup paddling to kite surfing, mountain biking or enjoyment cycling along the Adriatic coast to the town of Piran. This attracts with its history and good food. If you want, you can swim in the sea or use the pools in the Portoroz Lifeclass hotels, which include the thermal baths of Portoroz. In one, guests can swim in the waters of a prehistoric sea. This has been discovered in the depths of the earth beneath the city. Its water should be especially healthy. Or you choose the seawater swimming pool in another part of the spa area.
---
You can book a room at Grand Hotel Portoroz here:
Grand Hotel Portoroz
Obala 33
6320 Portorož
Slovenia
further information, current availability query and easy online booking *
---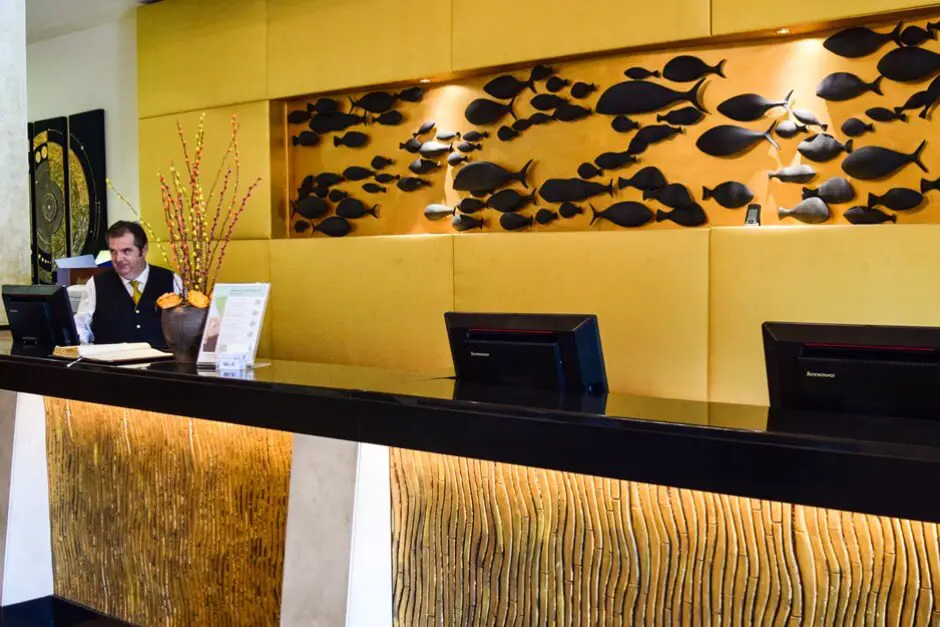 Wellness and spa areas of the Lifeclass hotels
If you want to have your body treated, there are wellness and spa areas available. We were allowed to choose between an Ayurveda and a Thai massage. Petar chose the Thai massage at the Wai-Thai Spa at Hotel Riviera. He told me afterwards that his Thai masseuse could not handle his tensions on the back with hand massages. Therefore, she climbed abruptly on his back and massaged him with his feet. I tried an Ayurvedic massage that uses oils. These are massaged into the skin - so strong that I even felt sore muscles the next day. You should not be squeamish, if you want to enjoy the anti-aging treatments in the Portoroz Lifeclass hotels.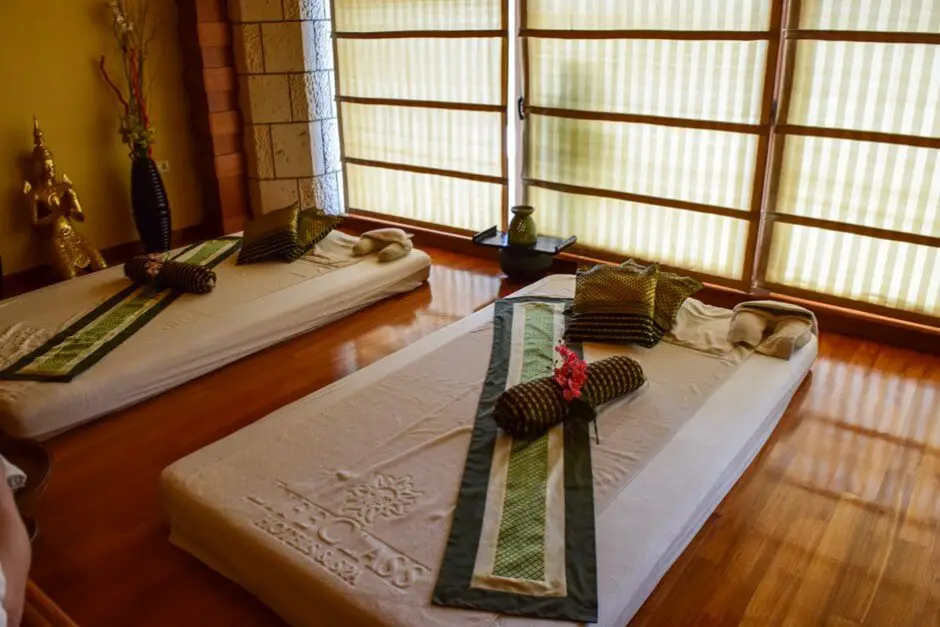 We spent three nights in the Portoroz Lifeclass hotels. I must say, the treatments and the food in the Hotel Apollo, in the Grand Hotel Portoroz and in the Hotel Riviera caused something. I felt afterwards as well and easy as long ago. A longer stay at the Portoroz Lifeclass hotels is certainly good for your health. You feel regenerated and maybe rejuvenated. We are already planning our next visit to the Portoroz Lifeclass hotels for the next round of regenerative treatments.
Other spas, which we can recommend
You can find the travel reports of the other travel bloggers here:
Do you already know:
Source: own research on site. We thank you for the invitation Slovenia.info and Lifeclass hotels.
Text: © Copyright Monika Fuchs, TravelWorldOnline
Photos: © Copyright Monika Fuchs, TravelWorldOnline
Portoroz Lifeclass Hotels - where anti aging is cult