Recipe for Linzer Cookies
While researching this recipe for Linzer Cookies, I discovered that these cookies are actually called Linzer Augen. So far I can only call them "Linzer Cookies" or "Rogues". The recipe comes from the city of Linz. The cookies are smaller forms of the Linzer Torte for which the place is famous. They consist of two cookies, the top one with one or three holes. In it you can see which jam the cookies are filled with. if it is red, it is mostly currant jam. If it is yellow, the baker has traditionally used apricot jam. My mother often filled them with raspberry jam too. "Real" rascals are actually balls of dough that are pressed in the middle. The recess is then filled with hot jam.
Ingredients for 25 Linz cookies:
100 g icing sugar
200 g butter
300 g flour (405), sifted
one egg
a tablespoon of vanilla sugar
grated lemon peel
Jam for filling (traditionally apricot or currant jam is used for Linzer cookies)
Powdered sugar for sprinkling
Preparation of the Linzer Cookie:
Mix the powdered sugar, butter and flour. Add egg, vanilla sugar and lemon zest. Knead everything together. Then wrap the dough in cling film and refrigerate.
Then you roll out the dough about three millimeters thick. From this you cut out approx. 6 cm large shapes. Traditionally, these are round circles. Heart shapes or flower shapes as shown in the picture above are also possible. In half of the Linz cookies you poke another hole or three. These pieces of dough are baked in the oven at 180 degrees (convection 160 degrees) on a baking sheet lined with baking paper until they are golden yellow. This takes between 7-10 minutes.
After baking the Linzer biscuits, the halves of the biscuits are left to cool. Then you brush them with jam. Finally, dust them thickly with powdered sugar, which is best passed through a sieve. This distributes it evenly over the cookies.
In these cookbooks you will find cookie recipes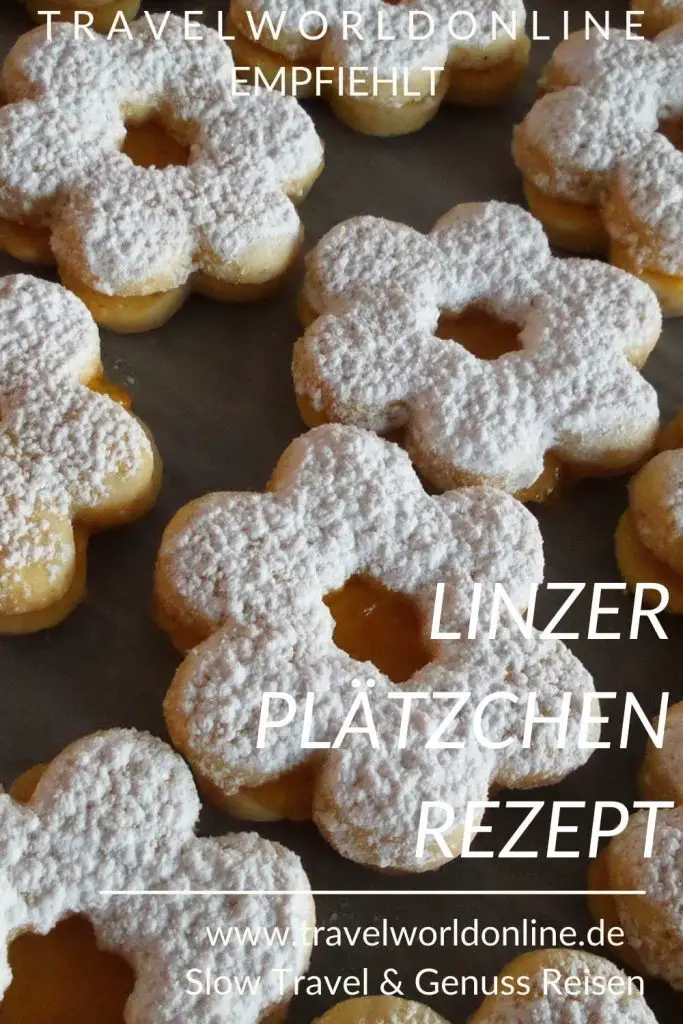 Do you already know:
Source recipe Linzer Cookies: own research
Text recipe Linzer Cookies: © Copyright Monika Fuchs, TravelWorldOnline
Photos recipe Linzer biscuits: © Copyright Canva
Recipe for Linzer Cookies