Three restaurants in Kühlungsborn
We have tested these three restaurants in Kühlungsborn and can recommend them. Regional, fine or unusual restaurants are almost always on our itinerary. This is no different on our trip through Baltic Sea locations. We look at ours Trips to Savor gladly into the saucepans on site, as this often allows an insight into the habits and the way of life of the people. Traditional dishes play just as important a role as gourmet cuisine or street food. The amazing thing about our travels as potters is that we always learn something new - be it ingredients, recipes or pairings. That was also on our trip through Mecklenburg-Vorpommern the case after Kühlungsborn on the Baltic Sea. We particularly noticed three restaurants that we would like to introduce to you. Here are our three restaurant tips in the Ostseebad Kühlungsborn: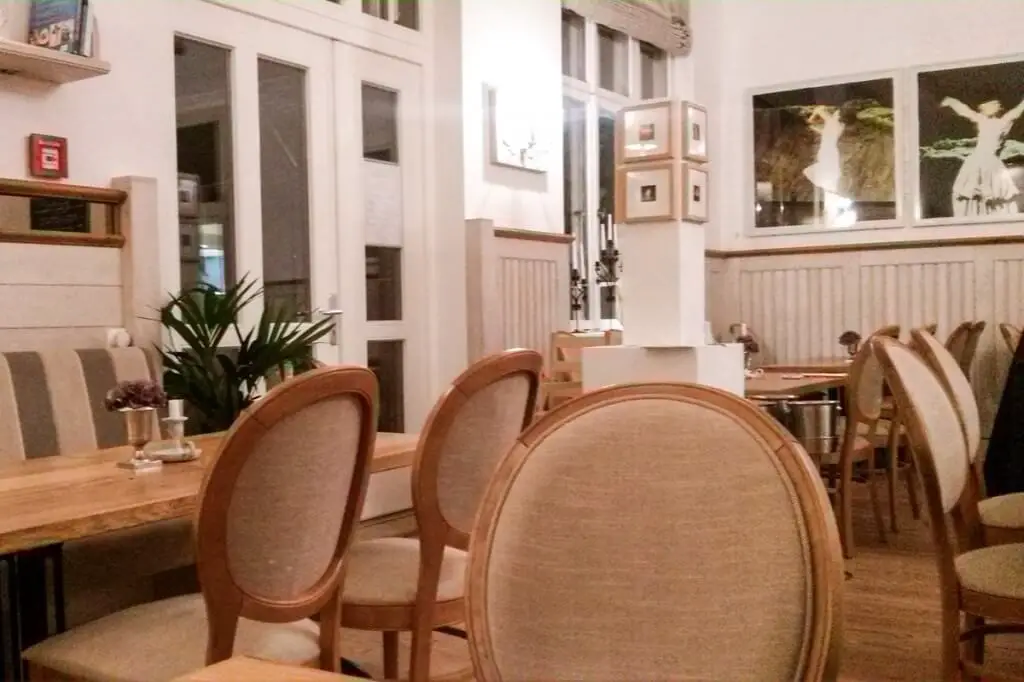 Because of overkandid
In Tillmann Hahn's Inn in the Villa Astoria in Kühlungsborn we found out. Darmstadt has been considered one of the best chefs in Mecklenburg-Western Pomerania not only since Tillmann Hahn cooked up the greats of politics from all over the world at the G8 summit in Heiligendamm. We were in his restaurant on Ostseeallee in Kuehlungsborn for dinner, an inn in whose ambience we immediately feel comfortable. No wonder. We always feel good in decor as in Scandinavia.
We really like the atmosphere in this inn: the guests have a muffled conversation while enjoying their evening. Nothing is overkill here, like in some other gourmet restaurants. Instead, we can watch the chefs in the kitchen through the serving hatch as they prepare our food without any hassle. Every now and then a laugh comes out of the kitchen. The chefs also feel at home here.
The eyes eat in the restaurants in Kühlungsborn
The food that comes on the table consists of the products Mecklenburg Western Pomerania and is down-to-earth, fresh and lovingly prepared. Here the eye eats too. Flowers as decoration in the soup and on the roast pork are eye-catchers. A service island is available for the service staff, where they can find everything that is necessary for the well-being of the restaurant visitors. We almost feel like we are in a somewhat large kitchen.
The waitresses read every wish from our lips and serve us a menu with potato foam soup, a rosemary pork fillet on pumpkin with a sauce, the taste of which I will never forget, and a dessert that Petar and I share. Clearly the top tip of our three restaurant tips in Ostseebad Kühlungsborn!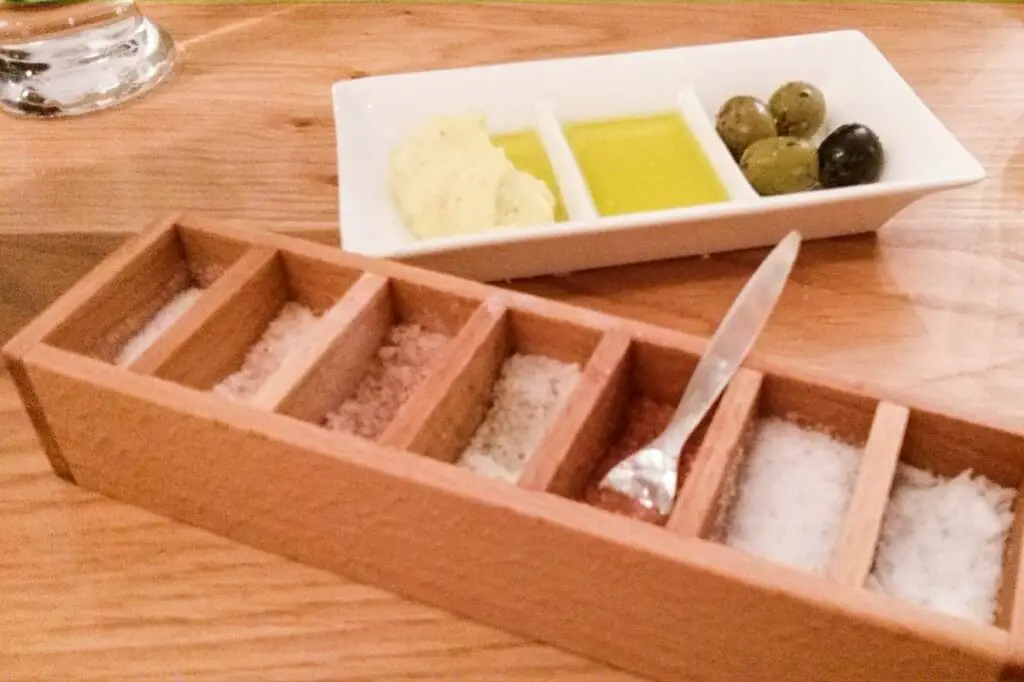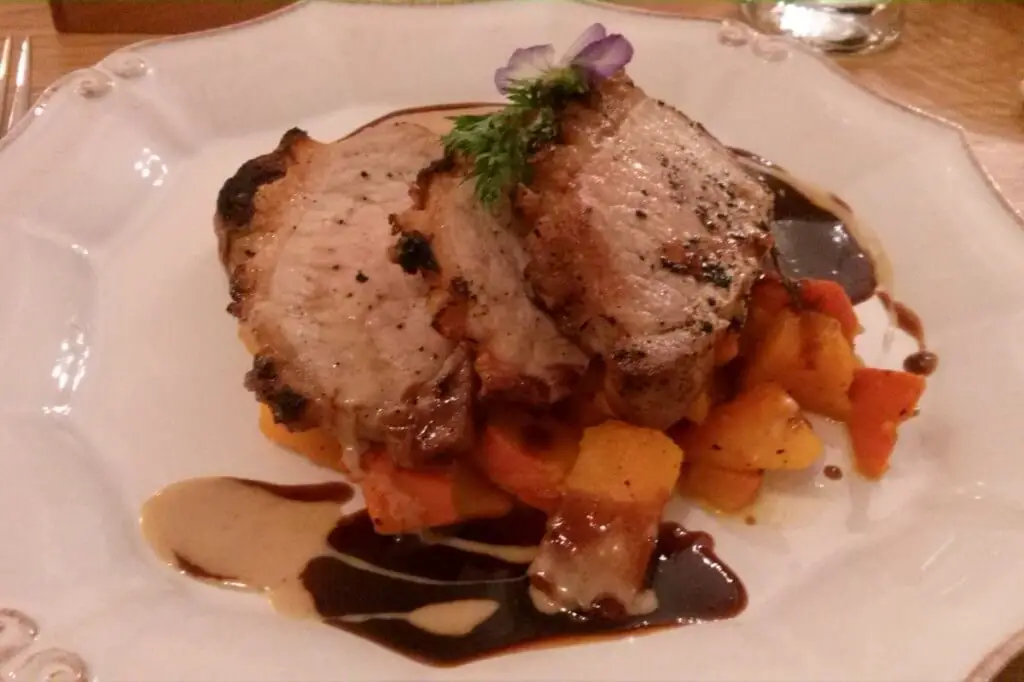 Did you know that salt can taste different?
I remember not only the atmosphere and the food from Tillmann Hahn's Gasthaus, but also an intermediate course whose ingredients surprise me: after the soup we are served a basket of bread. Of course it's homemade. Our waiter will provide us with a bowl olive oil, olives and a cheese cream on the table and a wooden container with spices. We spread the spreads on our bread and season them one by one to taste the spices. Each one tastes different: sometimes milder, sometimes hotter, sometimes more intense, sometimes spicier.
Because of the colors, I think they are home-made seasonings and I ask our waitress about them. But she laughs and says: "No. These are salts from regions of the world. That comes from Hawaii, this from India and that from Cyprus. "And she lists all the places of origin from which the salts come. This experience alone is worth a visit to Tillmann Hahn's Gasthaus. Who would have thought that salt would make this restaurant the top tip of our three restaurant tips in Ostseebad Kühlungsborn? Give it a try!
Tillmann Hahn's Inn in the Villa Astoria
Baltic alder 2
18225 Kühlungsborn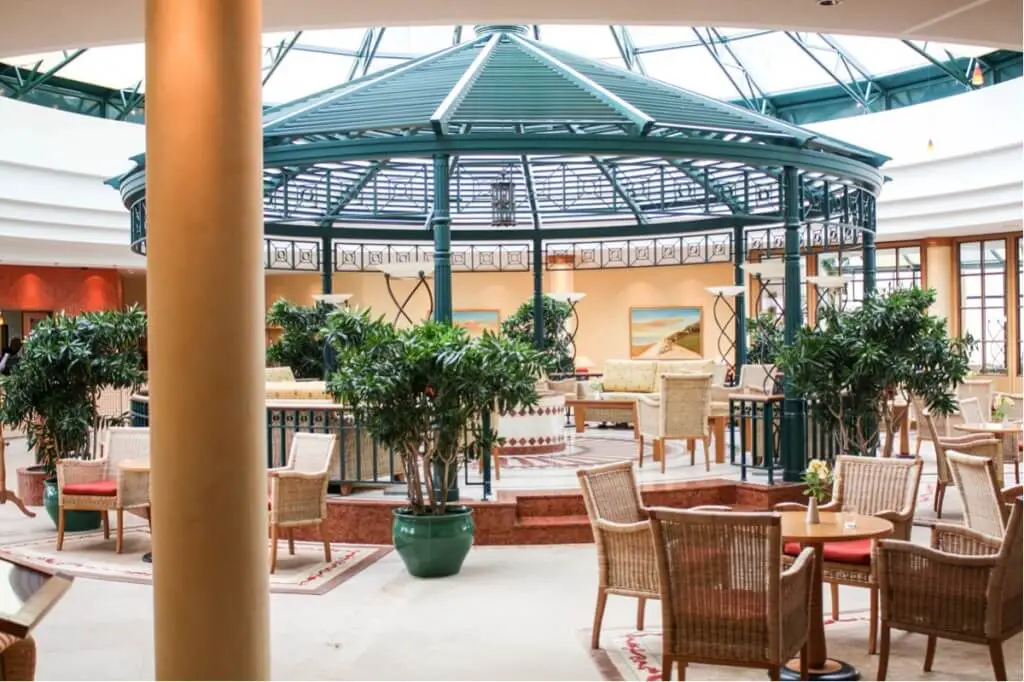 Some restaurants in Kühlungsborn serve good tea
I'm usually a big coffee drinker, and I tend to associate tea with colds and coughs. Those are the only times I drink tea at home. Oddly enough, tea tastes better on the Baltic Sea with its sea air and almost constant wind. In all places on our journey along the Baltic Sea coast instead of a coffee break, there was a cup of tea after our walks along the lake. Why is that? No idea. In any case, I really enjoyed our tea breaks with a view of the sea.
Tea break at the Travel Charme Ostseehotel
One of the most pleasant and - if I include the chocolate cake with a poppy-cherry filling and marzipan coating - we experience the most delicious tea breaks in the Café des Travel Charme Ostseehotel Kuehlungsborn *. In the afternoon, tea and coffee is served there in the winter garden, where we enjoy a nice hour in wicker chairs under a glass roof and with a view of the Baltic Sea and the pier of Kühlungsborn. While the wind is increasing outside the window and raindrops are falling from the sky, we sit comfortably in front of our cup of tea and enjoy the cake. This combination of cake and tea deserves second place in our three restaurant tips in Ostseebad Kühlungsborn.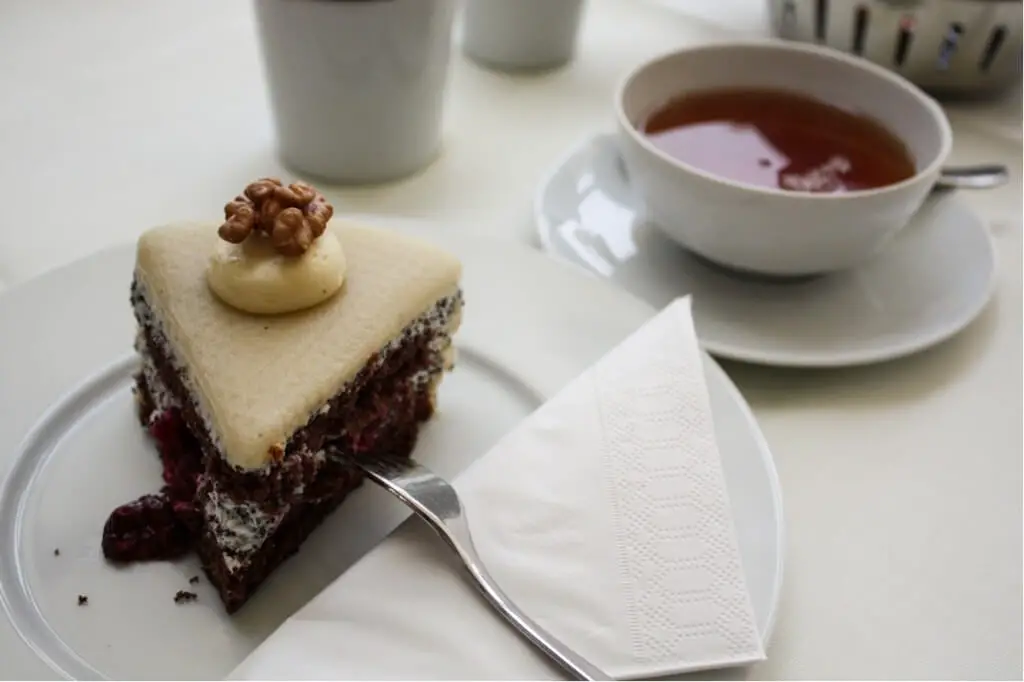 In addition to us, our table neighbor makes an appointment with the restaurant manager for an event that she would like to organize here. And café guests keep coming in from the street who want to enjoy the view. A good idea, we think. In any case, our tea break in the Travel Charme Ostseehotel is one of the culinary experiences that we bring home from this Baltic Sea resort. The second of our three restaurant tips in Ostseebad Kühlungsborn.
Travel Charme Ostseehotel Kühlungsborn
Zur Seebrücke 1
D-18225 Ostseebad Kühlungsborn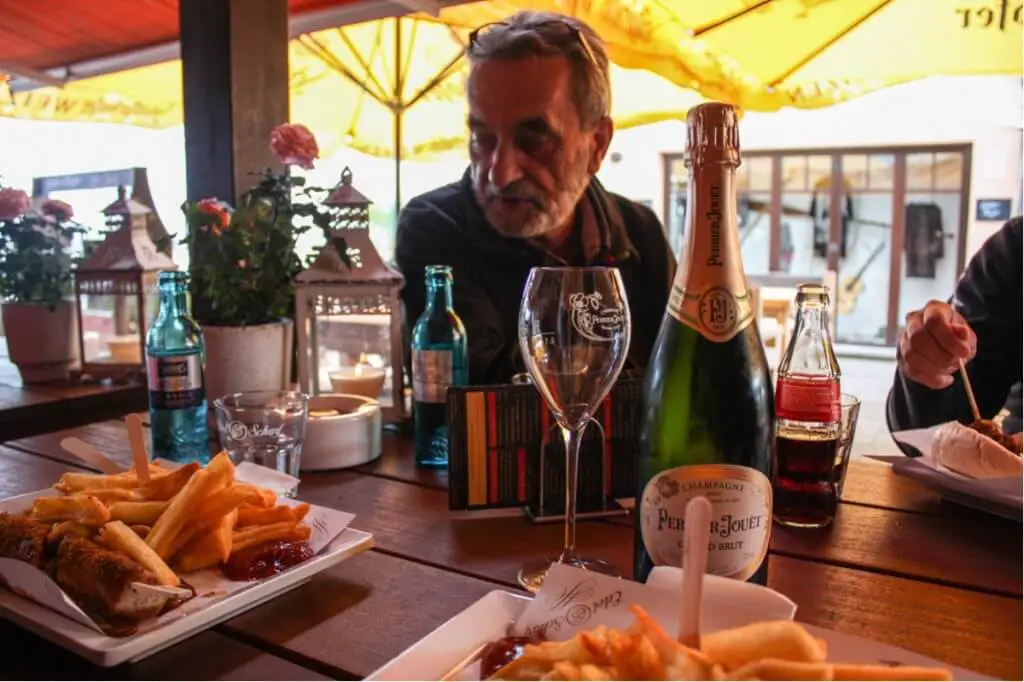 Currywurst with champagne is available in restaurants in Kühlungsborn
At first I thought I wasn't reading properly. Currywurst is served in the Beach Bistro by Edel and Scharf with Champagne. We are invited there for lunch and meet the senior boss Gerd Erdmann. He tells us his story. After reunification, he began selling currywurst in his hometown in the hinterland of the Baltic Sea coast. In the course of time he gained a regular clientele who regularly stopped by his restaurant. "But there were no new guests," he says. "And we couldn't grow any further."
A good idea
That's why he decided to sell his village pub and moved to Kühlungsborn, where he opened a bistro at the marina. In this he continues to offer his sausages with tomato sauce and curry. You just shouldn't expect the sausage in the paper plate here. At Edel and Scharf, currywurst is refined with specially cut fries that taste spicy. There is - you can hardly believe it - champagne. "We buy the most expensive fries that can be bought in Germany," explains Gerd Erdmann. "This is the only way we can ensure the taste." And we can determine for ourselves that they are good.
"And how do you get the idea to serve champagne with it?" I want to know. Gerd Erdmann laughs and says: "It was actually intended as an advertising stunt. But it struck so badly that it is now on the menu. "Currywurst Noblesse, well. You should definitely try it once when you are in Kühlungsborn. Currywurst doesn't usually suit my taste, but the combination of noble and spicy has a kick. Therefore, this is the third of our restaurant tips in the Ostseebad Kühlungsborn.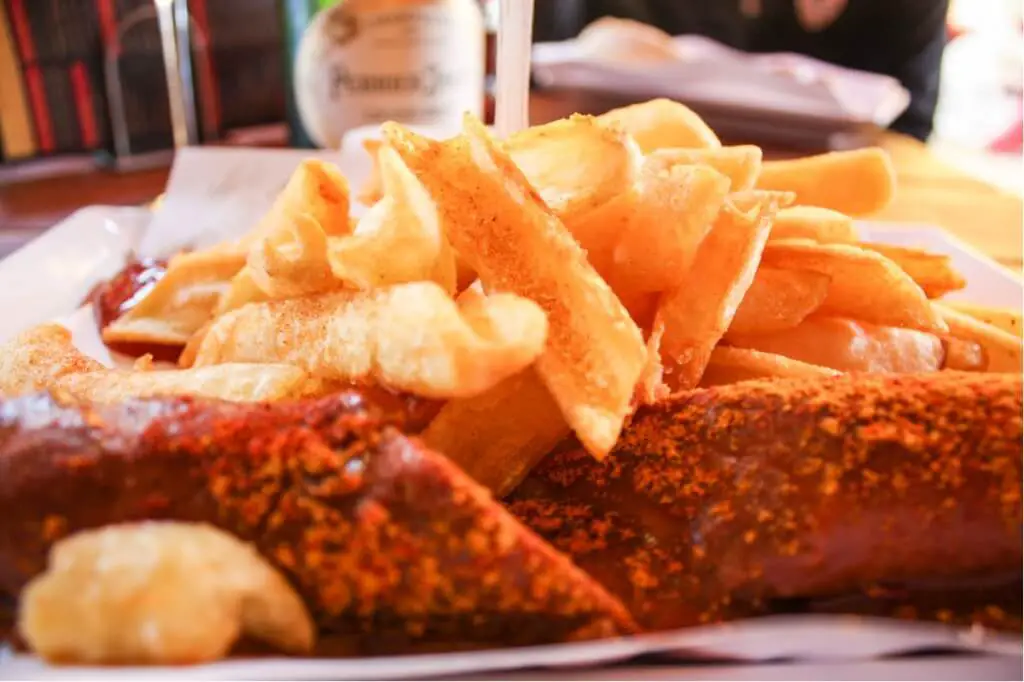 Noble & sharp on the beach
Beach promenade 11
D- 18225 Ostseebad Kühlungsborn
Do you like to travel by motorhome?
Conclusion - three good restaurants in Kühlungsborn:
Our restaurant tips in Ostseebad Kühlungsborn could hardly be more diverse. But they have one thing in common. They offer enjoyment experiences during our stay in Ostseebad Kühlungsborn. Maybe you also like it? If you want to get to know Kühlungsborn's chefs and their culinary art better, then come in November. Then you will find them there Gourmet days under the motto "Kühlungsborn cooks" instead of. Culinary workshops, tastings and a menu with a pre-set shopping cart are just some of the offers available during these days.
What you need for a visit to Kühlungsborn
Do you already know:
Source: On-site research. We would like to thank Touristik Service Kühlungsborn for the invitation to this trip and the opportunity to test our three restaurant tips in the Baltic Sea resort of Kühlungsborn. However, our opinion remains our own.
Text: © Copyright Monika Fuchs and TravelWorldOnline
Photos: © Copyright Monika Fuchs and TravelWorldOnline
Three restaurants in Kühlungsborn for every taste