Rhubarb Crumble recipe

With this Rhubarb Crumble recipe, you'll even convince the biggest doubters that you can eat well in the UK. We tried it at home today because we bought fresh rhubarb at the weekend. Rhubarb I like since childhood. However, he must be fresh and crisp. That's why we put it on our menu today.
I had already chosen a recipe before. On LinsFood, an English food blog, I discovered it. It belongs to a Google+ girlfriend who is the most successful in England besides her food blog Foodie + Community on Google+ operates. Azlin gives her recipe ginger powder and corn flour to the small rhubarb. However, since I had no powder in stock, I took a piece of fresh ginger (about as big as my thumb tip). This I cut very fine and added it to the mix of rhubarb, sugar and cornmeal. The result was delicious! In the future, I will only use fresh ginger when cooking this dish.
But now to the recipe - in a slightly modified form of Azlin's recipe, since we do not get all the ingredients from us. However, this is very close to the taste of the original recipe.
Ingredients for the Rhubarb Crumble recipe:
3 rods rhubarb
60 g of white sugar
a piece of fresh ginger, finely chopped
1 TL cornmeal
streusel:
200 g flour
150 g margarine
100 g sugar
1 cup whipped cream
Preparation Rhubarb Crumble Recipe:
Peel rhubarb and cut into pieces about 2 cm long. Put in a fireproof mold. Dust with sugar, chopped ginger and cornmeal and mix well. Then set aside.
Sift flour in a separate bowl. Cut the margarine into small pieces and add. Sprinkle with sugar. Mix roughly with two forks until crumbles have formed to the desired size. If you want, you can do that with the dough hook of the mixer. However, I prefer the fork method because it keeps the crumbles of different sizes and afterwards gives the dish a more attractive appearance.
Then spread the crumble evenly over the rhubarb with a spoon.
Bake in the oven at 200° for about 35 to 45 minutes. Enjoy the rhubarb crumble recipe.
It goes well with custard, vanilla ice cream or whipped cream, which I use instead of the clotted cream served in England.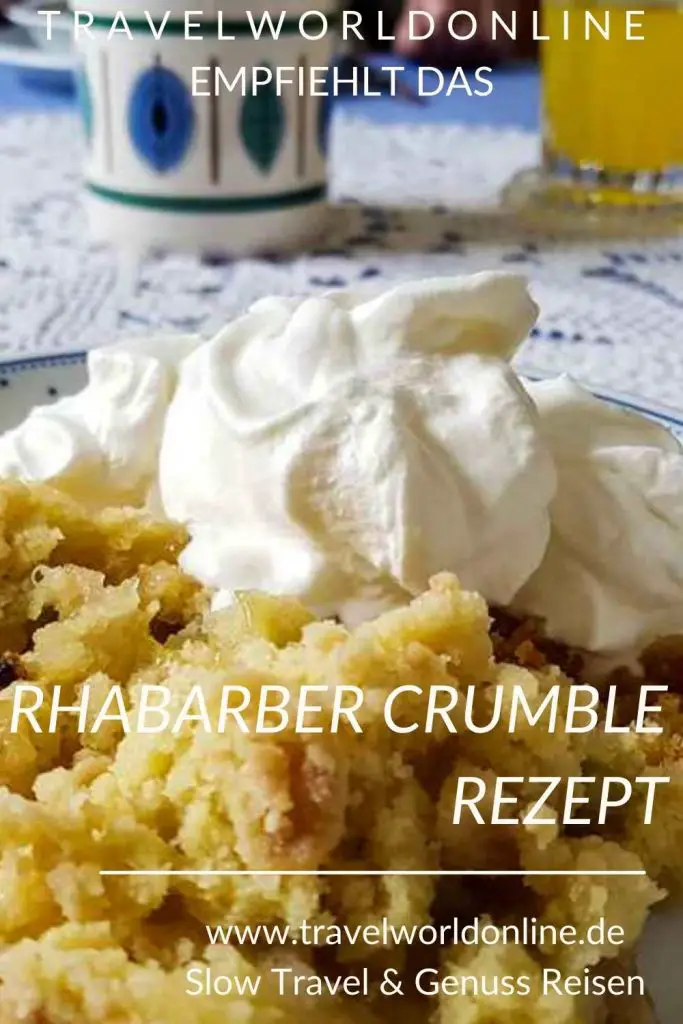 Do you already know:
Find more Recipes can be found here. Do you already know our Strawberry Rhubarb Tiramisu? Or ours Plum cake from a tin with sprinkles?
Text Rhubarb Crumble Recipe: © Copyright Monika Fuchs, TravelWorldOnline
Photos: © Copyright Monika Fuchs, TravelWorldOnline
Rhubarb Crumble Recipe - Enjoy British