The Ritz-Carlton Toronto offers top service
It doesn't get any better than that! The Ritz-Carlton Toronto near Roy Thompson Hall in downtown Toronto is arguably one of the best hotels in the city. There are many reasons for this: its location opposite one of the city's most important event venues plays just as important a role as the view from the rooms on the south side of the hotel of the CN Tower and Lake Ontario directly behind - a view that will make anyone think catches his breath as he enters his south-facing room. The view through the window front, which stretches across the entire width of the room, is automatically drawn to what was once the tallest building in the world, which rises to its still impressive 553 meters directly in front of the hotel. Next to it we look at the Rogers Centre, one of the largest sports centers in Canada.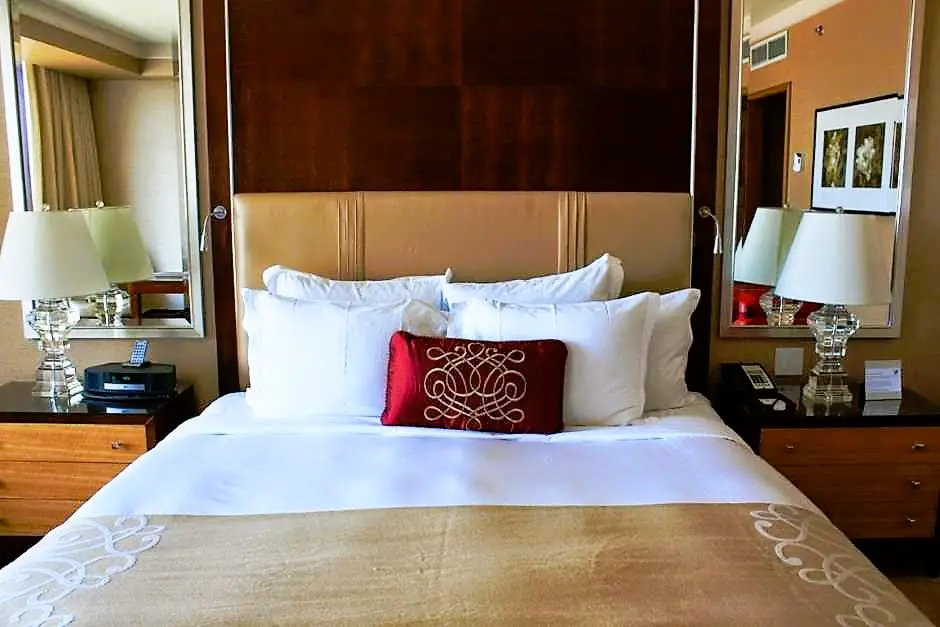 Perfectly equipped rooms at the Ritz-Carlton Toronto
If it were just those points alone, there would be other hotels in Toronto that offered similar, if perhaps a little less spectacular, qualities. But the Ritz-Carlton Hotel convinces us in other categories. The room furnishings are optimally thought out - so well that we as guests don't really need anything else than our clothes. Everything else is available in this room: in addition to the usual furnishings of a hotel room, many small details have been thought of that make the special difference. A clothes brush, a shoehorn and an umbrella hang in the closet next to the iron and ironing board. In addition to the well-stocked minibar, there is a well-assorted selection of bottled spirits on the board above, which far exceeds the usual minibar sizes. Here we can make our own Cocktails mix. There is also an espresso machine and an extensive collection of different types of coffee.
A bathroom in a class of its own
The best part of our room is the bathroom. It is as big as some other hotel rooms and actually consists of three parts: a walk-in shower with large shower head and a mirror, a separate toilet that secures privacy, and a bath and two sinks that leave nothing to be desired. When brushing your teeth, we can inform you about the weather of the following days via a TV in the mirror. The most pleasant detail in our bathroom, however, is the underfloor heating, which we - energy-saving - can turn on as needed. It turns off automatically after one hour. Energy efficiency is a big issue in this room: all the lights and switches are equipped with motion detectors and turn off automatically as soon as the guest leaves the room.
Exquisite breakfast at the Ritz-Carlton Toronto
Exquisite is the breakfast we take as guests of the Club Lounge on the top floor of the Ritz-Carlton Hotel the next morning. We are almost the only guests in this elegant lounge and choose a two-table by the window overlooking the tower and lake. Shawn Chisholm, the helpful concierge of the lounge, who helped us so well the day before, to find out the best route for our sightseeing tour, greets us like two old acquaintances and pours us a cup of coffee without being asked, although that is not one of his duties.
While we walk in amazement around the table on which the breakfast buffet is set up, he comes up to me again and offers me his business card. "The next time you come to Toronto, get in touch. I'm happy to help you plan your stay, even if you're not staying at our hotel. Just call me," with these words he says goodbye to us and leaves me completely perplexed by so much willingness to help.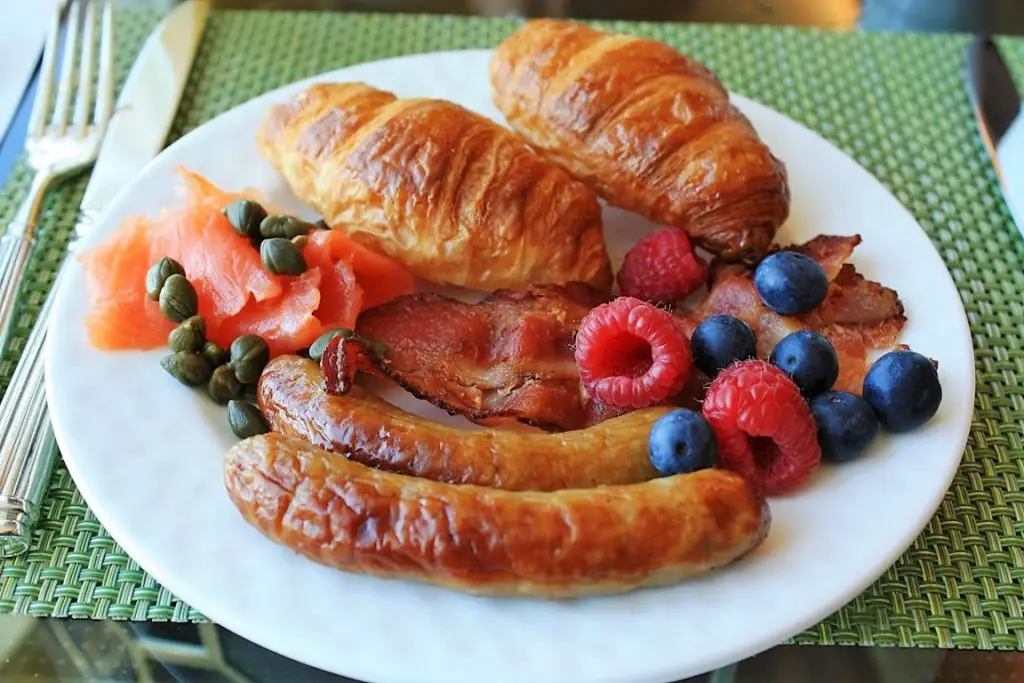 A continental breakfast that exceeds all expectations
The breakfast buffet matches the impressions we have gathered so far at the Ritz-Carlton: the "Continental Breakfast", the part without hot dishes, is so rich that we cannot try everything: croissants, bagels, toast, raisin rolls and cakes are available in addition to a selection of fresh berries, pineapples, apples or bananas. There are various types of spreads and plates with sausage, cheese or smoked salmon. There is also a table with hot dishes: eggs of all kinds - we can even find boiled eggs that are not common in Canada - and sausages or bacon, oatmeal or porridge and much, much more.
The Wine Storage at the Ritz-Carlton Toronto
In the afternoon we return from our sightseeing tour of Toronto to the Ritz-Carlton Hotel to collect our bags and to have a look at the "Cheese Cave", the cheese cave. The Maître d'Hotel first leads us to the wine store, which restaurant guests can see through glass doors, and shows us its wine treasures from all over the world. These include wines that cost several hundred dollars a bottle. On the other side of the restaurant is the mysterious "Cheese-Cave", a storage room, also encased in glass and at a perfect temperature, in which excellent cheeses from Ontario, Quebec or Europe ripen on decorative wooden shelves until they can be consumed. Among them is a loaf of Parmesan cheese from Italy, which alone is worth $ 1.200. We can only estimate the value of the other cheeses: in any case it is worth closing the cheese cave again after our visit.
The Ritz-Carlton Hotel proves itself during our stay as a modern, extremely hospitable hotel, in which each guest must feel comfortable. Service of this quality has its price, but this is worth every penny.
The Ritz-Carlton Toronto *****
181 Wellington St. West
Toronto, ON, M5V 3G7
Information, availability query and online booking *
---
Travel Arrangements:
Parking at the airport
Here you can reserve your parking space at the airport.
Check in:
Arrival by plane, bus or train*. Air Canada, Lufthansa, Condor and Icelandair fly from Germany Toronto.
Car Rentals:
Cheap car hire - book quickly and easily!
Camper Rentals:
Transfers:
Conveniently from the airport to the city center bring you these transfers *.
Hotels:
hotels in Toronto * You can also book through our partner booking.com.
Sightseeing tours
Bay here your sightseeing Tours in Toronto or a trip to Niagara Falls * through our partner Get your Guide.
Travel guide for your Toronto vacation in Canada:
Toronto Travel Guide *
 You can also order from Amazon.de to prepare for your holiday.
---
Do you also know:
Source: On-site research. The trip was hosted by Ontario Tourism. However, the opinions in this article remain our own.
Text The Ritz-Carlton Toronto: © Copyright Monika Fuchs and TravelWorldOnline
Photo: © Copyright by Monika Fuchs and TravelWorldOnline
Video: © Copyright by Petar Fuchs and TravelWorldOnline