The Ritz-Carlton Toronto bietet Top Service
Besser geht es kaum! The Ritz-Carlton Toronto nahe der Roy Thompson Hall in der Innenstadt von Toronto ist unbestreitbar eines der besten Hotels der Stadt. Die Gründe dafür sind vielfältig: seine Lage gegenüber einem der wichtigsten Veranstaltungsorte der Stadt spielt dabei eine genauso große Rolle wie der Ausblick von den Zimmern an der Südseite des Hotels auf den CN Tower und den Ontariosee direkt dahinter – eine Aussicht, die jedem erst einmal den Atem nimmt, wenn er sein nach Süden gerichtetes Zimmer betritt. Der Blick durch die Fensterfront, die sich über die gesamte Zimmerbreite erstreckt, wird automatisch vom einst höchsten Gebäude der Welt angezogen, das sich unmittelbar vor dem Hotel zu seinen immer noch beachtlichen 553 Metern Höhe erhebt. Daneben blicken wir auf das Rogers Centre, eines der größten Sportzentren in Kanada.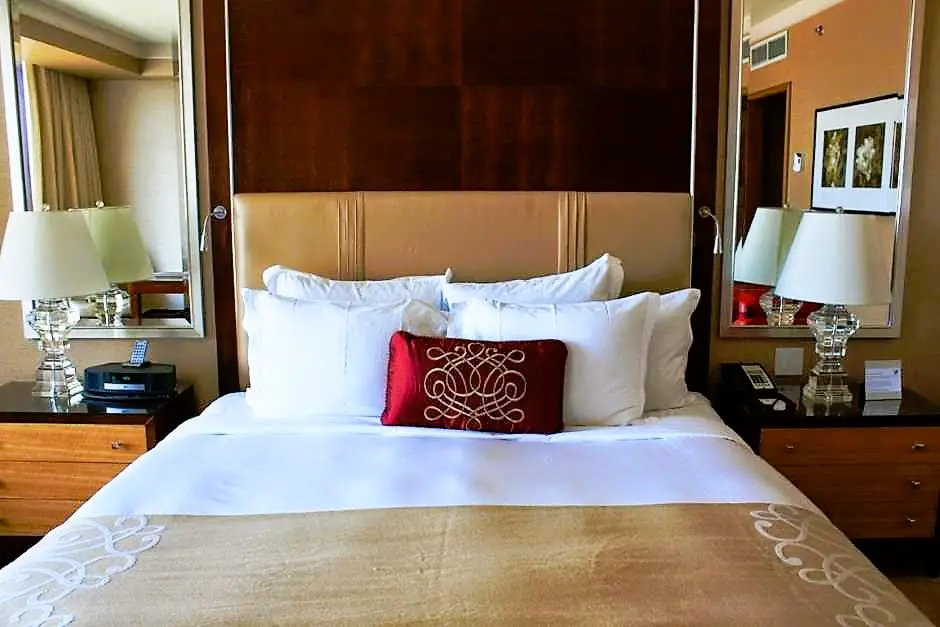 Perfekte Ausstattung der Zimmer im Ritz-Carlton Toronto
If it were just those points alone, there would be other hotels in Toronto that offered similar, if perhaps a little less spectacular, qualities. But the Ritz-Carlton Hotel convinces us in other categories. The room furnishings are optimally thought out - so well that we as guests don't really need anything else than our clothes. Everything else is available in this room: in addition to the usual furnishings of a hotel room, many small details have been thought of that make the special difference. A clothes brush, a shoehorn and an umbrella hang in the closet next to the iron and ironing board. In addition to the well-stocked minibar, there is a well-assorted selection of bottled spirits on the board above, which far exceeds the usual minibar sizes. Here we can make our own Cocktails mix. There is also an espresso machine and an extensive collection of different types of coffee.
Ein Badezimmer der Extraklasse
The best part of our room is the bathroom. It is as big as some other hotel rooms and actually consists of three parts: a walk-in shower with large shower head and a mirror, a separate toilet that secures privacy, and a bath and two sinks that leave nothing to be desired. When brushing your teeth, we can inform you about the weather of the following days via a TV in the mirror. The most pleasant detail in our bathroom, however, is the underfloor heating, which we - energy-saving - can turn on as needed. It turns off automatically after one hour. Energy efficiency is a big issue in this room: all the lights and switches are equipped with motion detectors and turn off automatically as soon as the guest leaves the room.
Exquisites Frühstück im Ritz-Carlton Toronto
Exquisite is the breakfast we take as guests of the Club Lounge on the top floor of the Ritz-Carlton Hotel the next morning. We are almost the only guests in this elegant lounge and choose a two-table by the window overlooking the tower and lake. Shawn Chisholm, the helpful concierge of the lounge, who helped us so well the day before, die beste Route für unsere Besichtigungstour herauszufinden, begrüßt uns wie zwei alte Bekannte und schenkt uns ungefragt eine Tasse Kaffee ein, obwohl das gar nicht zu seinen Aufgaben zählt.
Während wir staunend um den Tisch herum gehen, auf dem das Frühstücksbuffet aufgebaut ist, kommt er noch einmal zu mir und streckt mir seine Visitenkarte entgegen. "Wenn Ihr das nächste Mal nach Toronto kommt, dann meldet Euch. Ich helfe Euch gerne bei der Planung Eures Aufenthalts, auch wenn Ihr nicht in unserem Hotel übernachtet. Ruft mich einfach an," mit diesen Worten verabschiedet er sich von uns und lässt mich, völlig perplex von soviel Hilfsbereitschaft, zurück.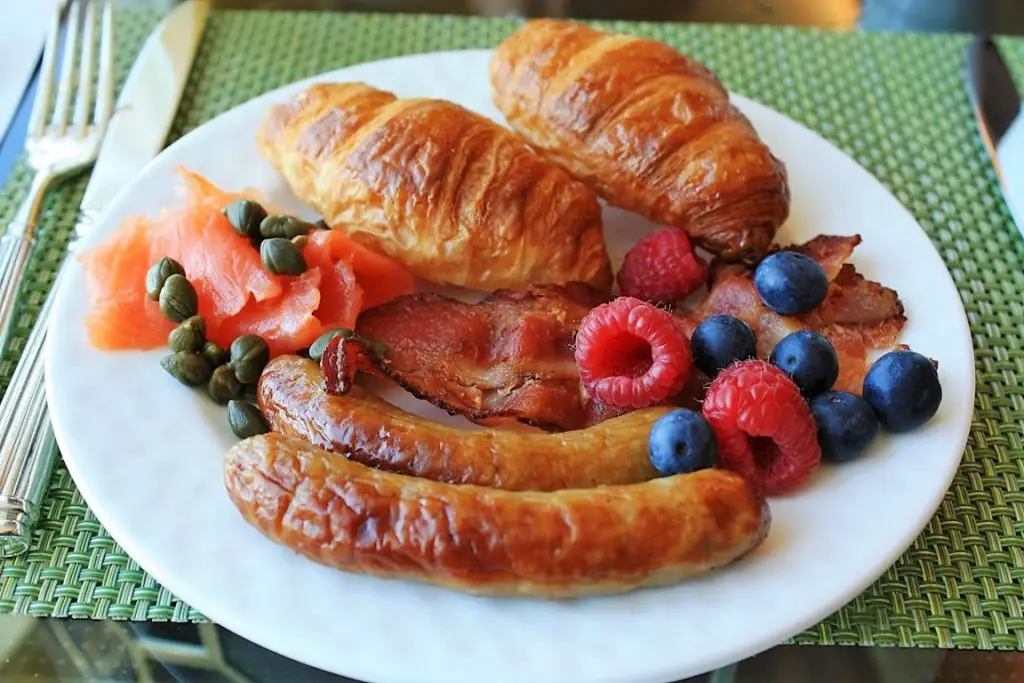 Ein kontinentales Frühstück, das alle Erwartungen übertrifft
The breakfast buffet matches the impressions we have gathered so far at the Ritz-Carlton: the "Continental Breakfast", the part without hot dishes, is so rich that we cannot try everything: croissants, bagels, toast, raisin rolls and cakes are available in addition to a selection of fresh berries, pineapples, apples or bananas. There are various types of spreads and plates with sausage, cheese or smoked salmon. There is also a table with hot dishes: eggs of all kinds - we can even find boiled eggs that are not common in Canada - and sausages or bacon, oatmeal or porridge and much, much more.
Das Weinlager im Ritz-Carlton Toronto
In the afternoon we return from our sightseeing tour of Toronto to the Ritz-Carlton Hotel to collect our bags and to have a look at the "Cheese Cave", the cheese cave. The Maître d'Hotel first leads us to the wine store, which restaurant guests can see through glass doors, and shows us its wine treasures from all over the world. These include wines that cost several hundred dollars a bottle. On the other side of the restaurant is the mysterious "Cheese-Cave", a storage room, also encased in glass and at a perfect temperature, in which excellent cheeses from Ontario, Quebec or Europe ripen on decorative wooden shelves until they can be consumed. Among them is a loaf of Parmesan cheese from Italy, which alone is worth $ 1.200. We can only estimate the value of the other cheeses: in any case it is worth closing the cheese cave again after our visit.
The Ritz-Carlton Hotel proves itself during our stay as a modern, extremely hospitable hotel, in which each guest must feel comfortable. Service of this quality has its price, but this is worth every penny.
The Ritz-Carlton Toronto *****
181 Wellington St. West
Toronto, ON, M5V 3G7
Information, availability query and online booking *
---
Travel Arrangements:
Check in:
Arrival by plane, bus or train*. Air Canada, Lufthansa, Condor and Icelandair fly from Germany Toronto.
Car Rentals:
Cheap Car Hire - Book Fast and Easy! *
Camper Rentals:
Transfers:
Conveniently from the airport to the city center bring you these transfers *.
Hotels:
Hotels in Toronto * You can also book through our partner booking.com.
Sightseeing tours in and around Toronto
Bay here your sightseeing Tours in Toronto or a trip to Niagara Falls * through our partner Get your Guide.
---
Do you already know:
Quelle: Recherchen vor Ort. Die Reise fand statt auf Einladung von Ontario Tourism. Die Meinungen in diesem Artikel bleiben jedoch unsere eigenen.
Text The Ritz-Carlton Toronto: © Copyright Monika Fuchs sowie TravelWorldOnline
Photo: © Copyright by Monika Fuchs and TravelWorldOnline
Video: © Copyright by Petar Fuchs and TravelWorldOnline