Three beautiful inns in New Brunswick

Traveling is a hectic business for us: we are constantly searching for the most beautiful photo opportunities, the most interesting video sequences, the most exciting sights and the most interesting people we can introduce to you. There is hardly any time to rest during the day. Therefore, the more important we are in the evening accommodation, where we can recover from the stress of the day, and where we feel comfortable in a pleasant room. So we like to stay in small inns, bed and breakfasts or hotels that offer something special: be it a beautiful environment, a particularly stylish interior or an excellent restaurant. We met three such accommodations on our last trip through New Brunswick.
Rossmount Inn in St Andrews-by-the-Sea
The Rossmount Inn in St Andrews-by-the-Sea, west of New Brunswick is a hotel where we feel very comfortable. It is located a few miles out of town on a gentle hill and offers a wonderful view of the Passamaquoddy Bay and offshore Minister's Island. The house is one of the historic buildings in the region and looks back already on a longer history than the inn. For some years now, it has been run by a Swiss couple who made it a real gem: furnished with furniture from a former luxury hotel in St. John's, guests sleep on thick mattresses and look out on the bay or the well-kept, depending on the room Surroundings of the hotel. We end our evening at this hotel with a Canadian-style gourmet meal: fresh halibut with local root vegetables and a chocolate mousse that I can still taste on the palate today.
Rossmount Inn
4599 Route 127
PO Box 3911
ST Andrews, NB E5B 3S7
Canada
Email: rossmountinn@nb.aibn.com
The Tidal Watch Inn in St. Martins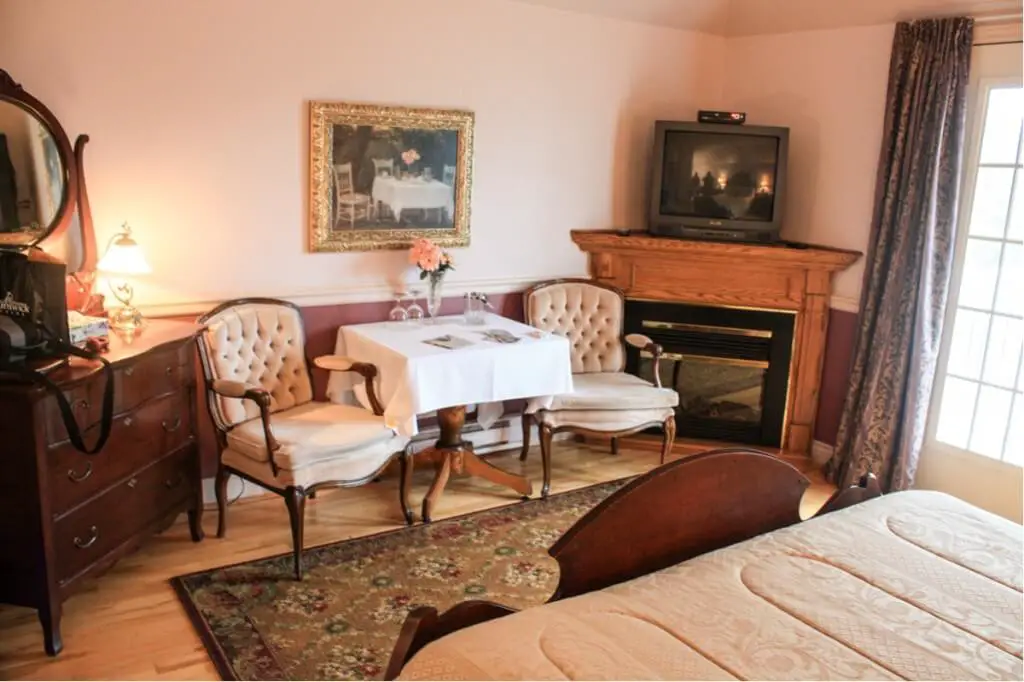 Cozy is the Tidal Watch Inn in the small town of St. Martins west of the Fundy National Park. From here it is only a few miles to the beginning of the Fundy Trail, a very beautiful route along the cliffs on the north shore of the Bay of Fundy at New Brunswick. Our room reminds me with its antiques and the large bed with elaborate carving on the bedroom of my grandparents. Because there is thick fog outside, we are glad about the fireplace, whose warming (electric) fire makes us enjoy the stay in this room all the more. So even bad weather can be a pleasure.
Pleasant is our dinner in the small restaurant of the inn. Our - unmistakably - from England coming Ober takes, without batting an eyelash, the wine glasses from the table, as we, still used to the beer pleasure from Newfoundland, a fresh beer order. He adds to this, perfectly formed, starter, main course and dessert, all of which are excellently prepared: seafood salad, lobster terrine and Digby shells and crème caramel. The muted conversation of the other guests ends soon as they pull back, and so we soon have the entire restaurant for a leisurely and restful evening for us.
Tidal Watch Inn
16 Beach Street
E5R 1C7 Saint Martins
further information, current availability query and easy online booking *
The Maison Tait House in Shediac
The undisputably best inn on our New Brunswick trip is the Maison Tait House in Shediac. As the bellboy, who helps us with the transport of our luggage, opens the door to our room, we catch our breath at the sight of our bedroom: a huge four-poster bed with light, white bed curtains occupies almost the entire room. In front of it are two elegant, white chairs in front of an open fireplace. And in a bay window at the window is a huge bathtub built, which looks very tempting after a day full of new impressions. Thankfully, there's plenty of time left before dinner to try them out!
The restaurant in the Maison Tait House is obviously very popular in Shediac, because there are always new guests coming out of town who have dressed up for food. There is clearly "fine dining" here, a meal in an elegant setting, even if it is a bit noisy. The guests at the other tables in the restaurant are having a good time. A table party from the mid-forties seems to be celebrating an anniversary. At the next table, an older gentleman leads a younger lady - a prankster who thinks bad things. And at the table opposite is a couple in their mid-fifties, who are obviously also celebrating an extraordinary event - the waiter is particularly concerned about the two. While we are waiting to place our dinner order, you can do some wonderful character studies here!
The bellhop, who took us to our room a few hours beforehand, has put on white gloves and explains to us with a wicked smile what is particularly recommended today: we choose mussels as a starter and are served a huge bowl of them that is enough for dinner . We end the day in this highly recommended hotel with a juicy steak and a light fruit salad.

Maison Tait House
293 Main Street
Shediac E4P 2A8
further information, current availability query and easy online booking *
---
Travel Arrangements:
Check in:
Book yours here Arrival by plane, bus or train*. Air Canada, Condor and Icelandair fly from Germany to various airports in eastern Canada.
Car Rentals:
Cheap car hire - book quickly and easily!
Hotels:
Other hotels in New Brunswick* You can book through our partner booking.com.
---
Do you already know:
Source: own site research courtesy of Tourism New Brunswick and the Canadian Tourism Commission
Text: © Monika Fuchs, TravelWorldOnline
Photos: © Copyright Monika and Petar Fuchs, TravelWorldOnline
Three beautiful inns in New Brunswick