Italian hard cheese from Emilia Romagna

From the region around Sogliano al Rubicone comes an Italian hard cheese. Fossa cheese is a special cheese, which owes its name to the way it is made. We are interested in the Slow Food Emilia Romagna in the surroundings of Cesenatico. If we have the opportunity on our trips to taste <a href="https://dianashealthyliving.com/traditional-italian-food/" target="_blank" rel="noopener nofollow">regional food</a>, take a look behind the scenes of the producers or get to know new specialties, we always do it.
In doing so, we not only get to know new dishes, ingredients and production methods, but above all the people who deal with them, their way of life and the things they do in everyday life. For us, this is a way to look into strange cooking pots, and an excellent opportunity to get in touch with our hosts and their way of live. This is how we get to know our travel destinations and their people. In addition we discover the local culinary delicacies.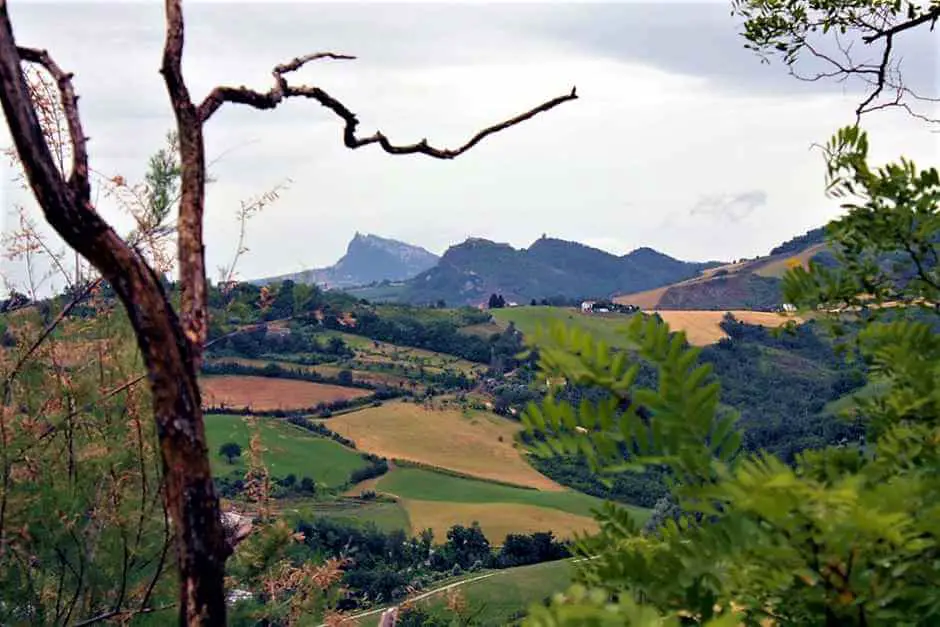 Slow Food Emilia Romagna
One trend that we came across in our research is the Slow Food movementthat originated in Italy. This movement is about preserving regional cuisine and local and traditional production of local animal and plant products. "Good, clean and fair" should be the products that belong to this new gastronomy. Traditional production methods should be continued and the taste of regional dishes should be maintained. It does not always have to be tasty for everyone. As is well known, one can argue about taste. But that's the way it should be, because the Slow Food Movement is about protecting regional peculiarities in food and protecting them from destruction.
If you want to learn more about food in the region, you will get tips in this one Emilia Romagna Food Guide.
A very exciting approach that we come across again and again on our travels and that has already given us many interesting insights into the kitchens and the lives of the people on site. In Emilia Romagna in Italy it was no different. Here we were lucky enough to get closer to the Fossa cheese, an Italian cheese specialty from the hinterland Cesenatico to deal with.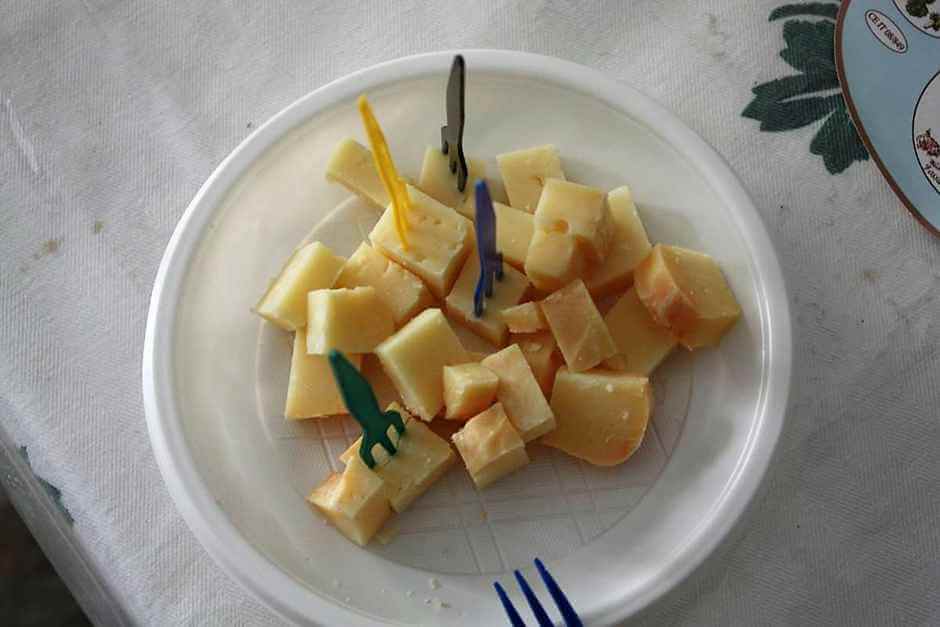 Fossa cheese - Italian hard cheese from Sogliano al Rubicone
Before our visit to Marco Pellegrini in Sogliano al Rubicone we had never heard of Fossa cheese. This Italian hard cheese is only produced in the town of Sogliano al Rubicone in the hills behind Cesenatico and in the valleys of Rubicone and Marecchia on the border of Emilia Romagna and the Marche region. That is, the cheese is actually made by the farmer himself. It is made from goat, sheep or cow's milk. The farmer brings his cheese wheels in the period from August 16th to September 1st to a fossa. These are pits dug into the rocks in the village of Sogliano. Many pits date probably back to the Middle Ages. How long Fossa cheese is produced, is not known. This type of cheese making was first mentioned in the 15th century.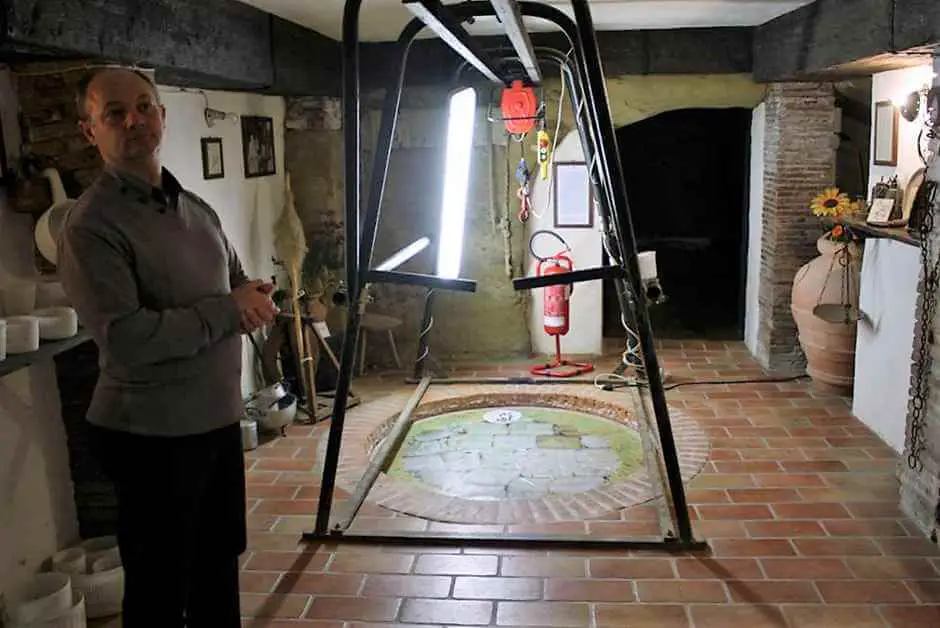 This is how Fossa cheese is made
The pits in which the cheese ripens and where it gets its intense taste can be of different shapes and sizes. Marco Pellegrini, who discovered some of the oldest fossa pits on his property and made them available to the surrounding farmers, shows us one of them. This was dug in a cave below his house. It measures about two meters in diameter at the base and is about three meters high. "Before the farmers deliver their cheese, we have to clean the fossa. We used to do this with straw. We set it on fire in the pits. In this way we removed the residual moisture in the pit and sterilized it against germs. They can prevent normal fermentation of the cheese, "he explains. "Today we clean the walls of the fossa with fire."
"We need a day to prepare the fossa for the cheese," says Marco Pellegrini. His father started producing fossa after he discovered the pits. Then the walls of the tufa pit are lined with a layer of straw about ten centimeters thick. Finally, a wooden pallet is placed on the bottom of the pit, through which the fat from the cheese can drip into a hollow below.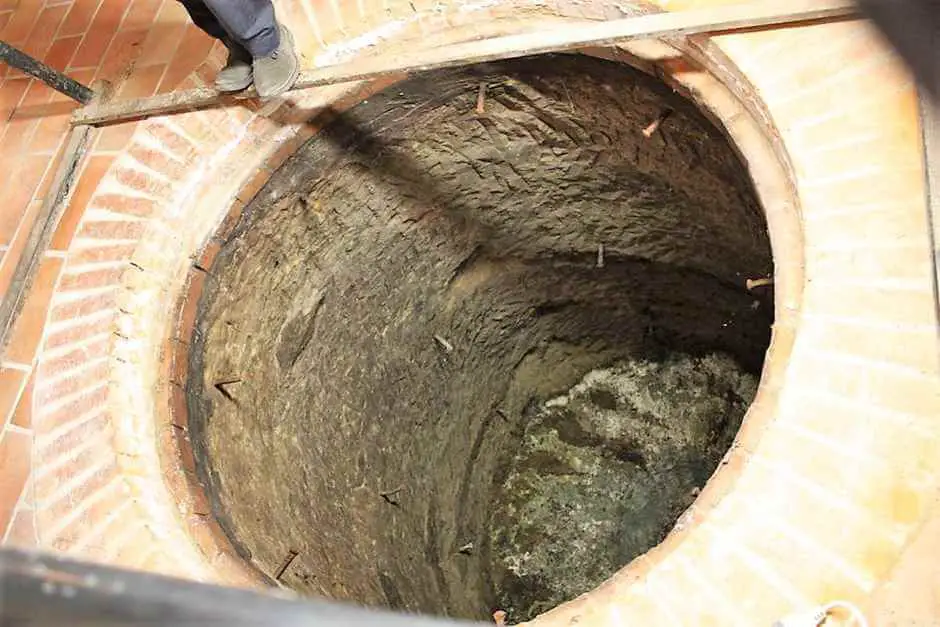 The farmers pick up their cheese again at the end of November
The farmers from the area give their cheese to Marco at the end of August. He wraps the cheese in cotton towels. Then he writes the weight of the cheese and a code number for the owner on it and stacks the cheese packages on top of one another. The Fosse will be closed on September 1st and will not reopen until about three months later. During this time the cheese loses its fat and ferments in the pits. It also loses weight and gains its unmistakable taste and aroma as "formaggio di fossa", as Fossa cheese. The cheese owners can only pick up their bags at the end of November and beginning of December and receive a strong smelling cheese back. Due to its storage in the fossa, it has lost its original round shape and has assumed an irregular shape. The firmness of the cheese can be hard or semi-hard, its color is straw yellow.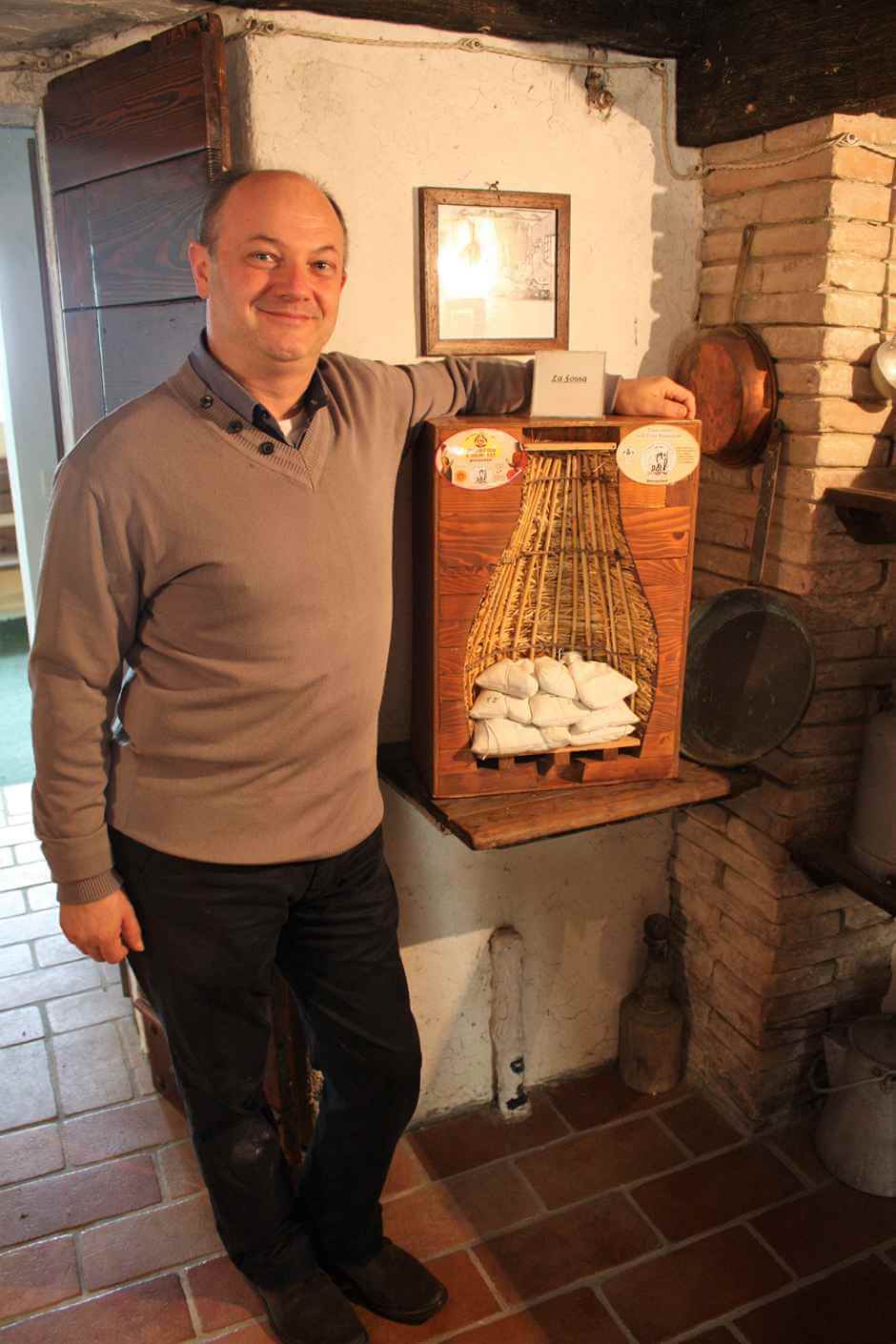 In any case, researchers have found that Fossa cheese is healthy. This is because it does not contain any pathogenic germs. These are harmful to health. Italian hard cheese is easier to digest because it contains bacteria that break down fats. They are also responsible for the taste and pungent smell that are typical of Fossa cheese.
This is how Italian hard cheese from Rubicone tastes
How did we like the Fossa cheese? It is more intense than the normal cheese that goes into the pit. This is how you can imagine a pecorino with a classy taste. This is stronger than the cheese we know. It also goes very well with dry wine with bread and ham. Therefore it can be served well with antipasti. Marco gives us a fig must, which goes well with the strong taste of the cheese. I like the combination of spicy cheese and sweet chutney best. Without a side dish, however, it is too dominant for me. But that's certainly a matter of taste.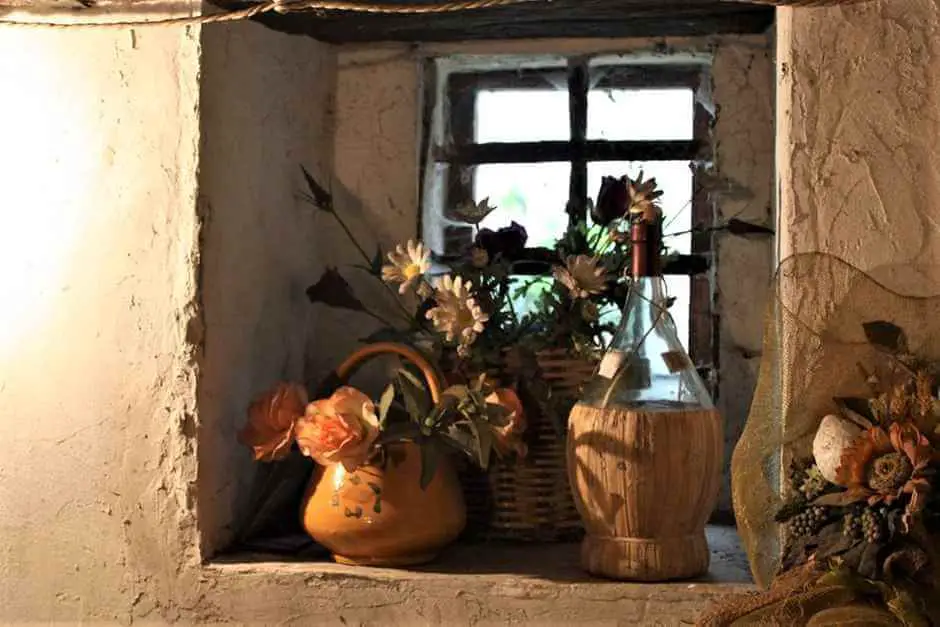 Where to get the Fossa cheese in the Cesenatico area?
We travel from Cesenatico and the journey takes about an hour. Incidentally, the drive into the mountains alone is worthwhile, because the higher we get, the better the views of the hills. Villages and castles lie like eagle nests on top of the mountain peaks. There are pit cheese makers in Sogliano al Rubicone that you can visit. However, they run the business on a part-time basis. You are therefore not always on site. That's why it's best to make an appointment for a visit. In this way you make sure that you meet someone on site. We visited Marco Pellegrini in the
Fossa Pellegrini
Via Le Greppe n. 14
Tel./Fax. 0541/948542, 0541/948409
Find more information on www.formaggiodifossa.it

In Sogliano al Rubicone there are also other fossas where cheese is made:
Antiche Fosse
Via Pascole n. 8
Tel. n/a
Casa del Formaggio di Fossa
Via XX Settembre n. 2
Tel./Fax: 0541/948556, Mobile: 338/4943398
Fossa Bianoclina
Via Rontagnano-Biancolino n. 86
Tel: 0541/940017
Fossa Brandinelli
Via XX Settembre n. 2/b
Tel./Fax. 0541/948068, Mobile 333/6817248
Fosse Tera sas
Via XX Settembre n. 14
Tel. n/a
Fosse venturi
Via Roma n. 67
Tel. n/a
By the way:
If you are in Sogliano al Rubicone, we also recommend a visit to Music museum.
Good wines grow in the hills above Cesenatico. It is definitely worth discovering. They go well with the cheese specialties.
Want even more about Slow Food from Emilia Romagna Find out, then visit Yummy Travel. Jessica has put together quite a few tips for slow food lovers.
---
Travel Arrangements:
Arrival by plane or train
Book yours here Arrival by plane, bus or train*. Lufthansa and Air Dolomiti fly to Bologna. It is possible to travel to Cesena by train.
Car Rentals:
Cheap car hire - book quickly and easily!
Hotels in Cesenatico:
Hotels in Cesenatico * You can book through our partner booking.com at this link.
Camping in Cesenatico:
One campsite is the Cesenatico Camping Village, Viale Giuseppe Mazzini, 182, 47042 Cesenatico FC, Italy. A Rent a motorhome you can here. Or would you rather stay in one  roof tent on the car? Also the overnight stay in  camping tents is possible. With our Motorhome packing list You'll never forget anything again.
---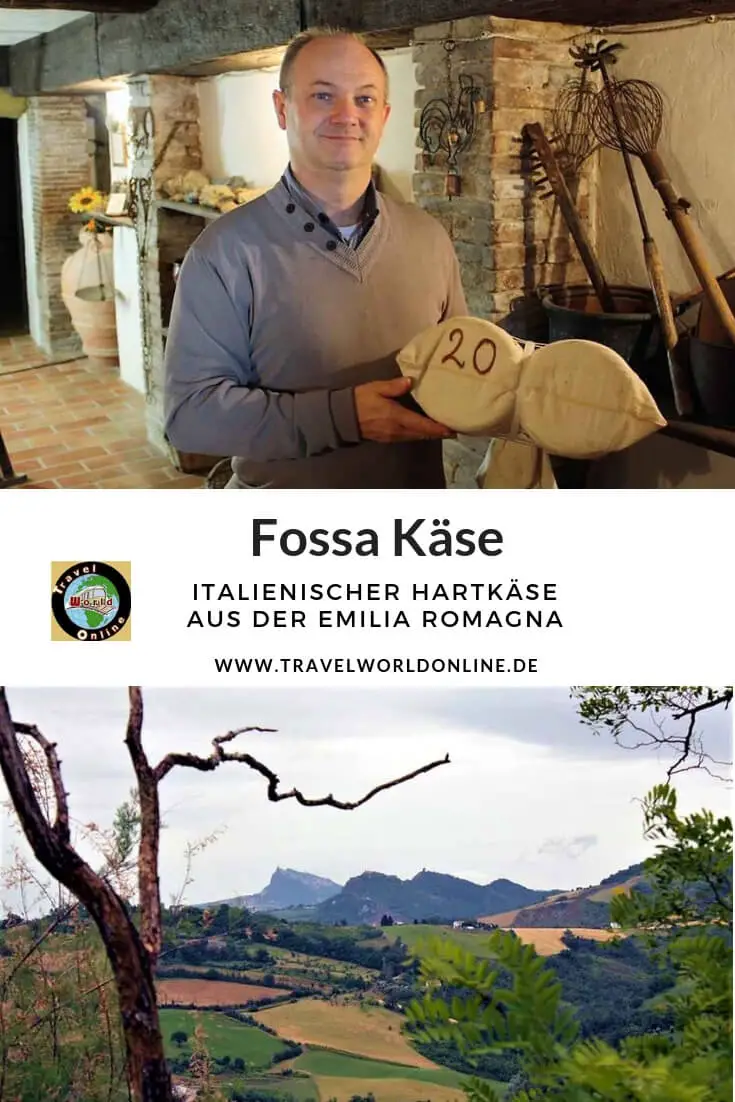 Do you already know:
You can also find travel tips on cuisine and enjoyment in our TravelWorldOnline.
Source cheese from Emilia Romagna: research on site. We thank the Cesenatico Bella Vita Unionwho hosted us and who also organized the Slow Food Emilia Romagna Blog Tour, in cooperation with 21 grammy.
Text Fossa cheese: © Copyright Monika Fuchs, TravelWorldOnline
Photos Fossa cheese: © Copyright Monika Fuchs, TravelWorldOnline
Video Fossa cheese: © Copyright Petar Fuchs, TravelWorldOnline
Italian hard cheese from Emilia Romagna