Slow Travel the Art of Travel
Slow Travel is the art of Travel with pleasure? The concept of slow travel goes back to Dan Kieran's book Slow Travel: The Art of Traveling *. For Kieran, slow travel is slower travel. We asked four travel bloggers what slow travel means to them. In Kieran's travel stories, he tells of trips he made by train. Or how he traveled to England with a milk truck. Kieran's trigger for his slow journeys was his fear of flying. While his friends got on the plane to get to a travel destination, he chose the train. Traveled slowly. Slow Travel means for him to have leisure for a trip. Get on the train. To travel alone. Take time to travel. Then experiences follow all by themselves. Unplanned. Unexpectedly. Diversified. Even adventurous.
Slow Travel to Savor
For us trips to savor and slow travel are inseparable. This is because slow travel already is a kind of trip you savor. You take your time. Have leisure to experience your environment. If we travel on foot, by boat or other slow means of transportation, we enjoy the landscape, nature, the environment. This also brings us closer to the people we meet on the way.
To Travel slow gives you Time to meet People
For us therefore means Slow Travel with pleasure that we not only deal with being on the move, but also with the people we meet on the way. Your way of life to get to know. To learn how they think. To learn how they work. Discover, what they eat and how they make their food, For us the term Slow Travel is ambiguously ambiguous: once in the sense of Kieran as decelerated travel with leisure for the way. On the other hand, traveling with time for the people we meet on the way. Slow Food and Slow Life are just as important to us. Your food plays a big role for us. Because nowhere do you get to know people easier than when eating. If you take your time. Talk to them. Cooks with them. Or learn from them how to make the ingredients for it. Helps you with the harvest.
We enjoy Slow Travel in France
For us, France is a destination par excellence for Slow Travel to savor. Not only because the French cuisine entices us. That too. We admit. After all, French cuisine is legendary. What we like best about it, is the down to earth nature of French food. Eggplants, tomatoes, zucchini mixed with seafood or meats from the farm. Together with a skilful mixture of herbs, aromas are created that make your mouth water. Figs, olives, wine and other products from the country add to the tasty moments we experience in French kitchens.
Our neighboring country in the west does not only offer pleasure for the palate. Its cities, villages, rivers and mountains offer an incredible number of opportunities to enjoy slow travel. No matter whether we are with the Houseboat in Franche Comté or on the Mayenne in the Pays de la Loire. Travel the Rhone by ship. Discover Lyon, Avignon or the Camargue. Or by small ones Villages on the Saone Strolling. If we take the time to enjoy, each of these places will become a perfect travel destination for slow travelers and connoisseurs.
Do others see Slow Travel as the Art to Travel to Savor?
We wanted to find out and asked four travel blogger colleagues who also write about Slow Travel. Included are Janna von Janna, Slow Travel & Microaventures, Marc of 1 Thing to Do, Matthias von TravelTelling and Gregory of Something new in the East. It is interesting how they define the term enjoyment. Pashmina also has her own definition of Slow Travel. But read for yourself: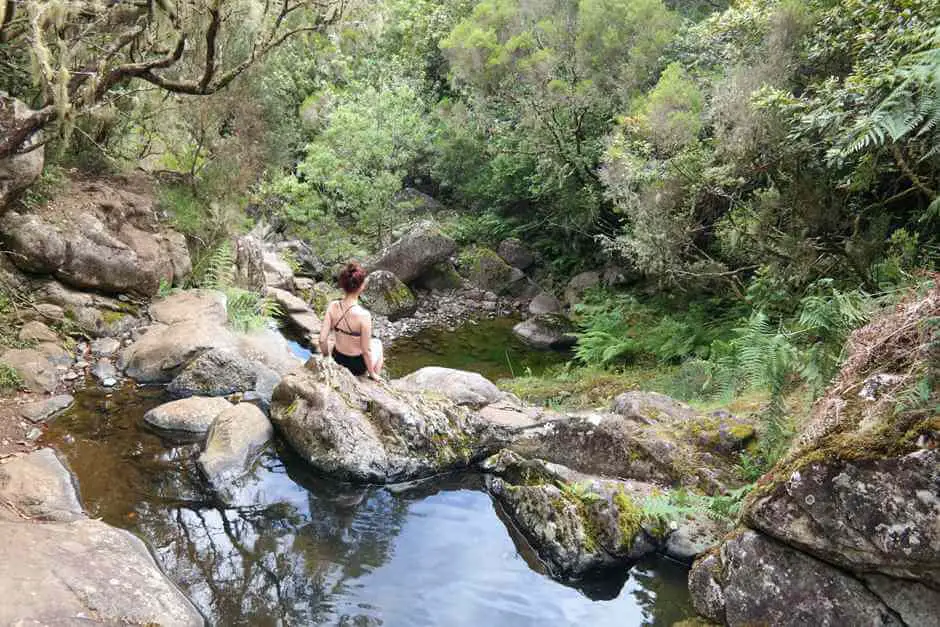 About Janna and her travel blog
Janna Kamphof is an 22 year old adventurer with Dutch roots. Long hikes, swimming in icy lakes, hidden cafés, overnight stays in special locations and freshly baked bread make her happy. On her bilingual travel blog, she writes about her slow travels and micro-adventures. She likes to show, that you do not always have to make far, long and expensive trips to have nice experiences.
Madeira: not to savor it, is impossible
Rarely have I experienced so many moments to savor on a journey as during our trip to Madeira. And that was not only the incredibly good food ;). We had taken quite a lot of time to get to know the Portuguese island: 2,5 weeks. Thus we did not have to rush from one hotspot to the next, but had time to hitchhike over the island and stop wherever we wanted. Just stop for two hours during a hike in the mountains to swim in a natural pool in the mountains near Ribeiro Frio?
It takes Time for Savor
Of course, we could continue the hike later. Stop at the hidden bakery "Rodi Pan", because the Polish couple, who took us in the car, recommended it to us? Sure, we can go to the viewpoint later. Because we took a lot of time and barely made plans, we have seen very special corners of the island, met great people and enjoyed every moment.
For me, to savor a trip means taking the time to get to know a place, talk to people, just have a coffee and see what's going on around us. In combination with the relaxed and leisurely lifestyle of the inhabitants of Madeira, this leads to a journey full of pleasure.
I can especially recommend this experience in Madeira ...
Should you travel to Madeira, I can recommend a drive in the morning to the natural pools of Seixal. Before 11 am you have the pools all to yourself and can enjoy the sound of the waves and the clear, blue water even more. Then take a short walk to Las Caraibas, where you should definitely try the homemade fish soup in bread.
Slow Travel for 1 Thing to Do
Slow Travel means experiencing a destination as consciously as possible, getting to know a region without a to-do list in your head, and rather take a wrong turn more than once, to travel in the true sense of the word. We, John and Marc from Berlin, live this philosophy since 2015 on our travel blog 1 THING TO DO, on which you find numerous descriptions of our Caucasus trip to Georgia, Armenia and Azerbaijan.
How to let Georgia melt on your Tongue
A capital whose old town is crumbling away in many places. Rugged mountain landscapes, accessed by wobbly tracks. Food that seems more overpowering than delicate. No, Georgia is not initially seen as a destination to savor. However, when Monika and Petar asked us about our tip for trips to savor, Georgia entered our thoughts again and again. And the longer we think about it, the more we realize that the country between Europe and Asia was perhaps our most enjoyable destination so far.
We were already enthusiastic about the Georgian cuisine on site. Of course: Especially after strenuous hikes, the dishes, which are mostly rich in carbohydrates and fats, are just right. Even the chicken in the "chicken salad" swims in mayonnaise. But appearances are deceptive: at least since we bought a Georgian cookbook afterwards, we have known how much manual work and sophistication are hidden behind all solidity.
Eat Georgian
Chkmeruli, for example, one of our favorite dishes, describes plucked chicken in a creamy garlic sauce, refined with cloves, cinnamon and coriander. Adjaruli Khachapuri is a boat-shaped cheese flatbread on which, while still hot from the oven, an egg is fried. And then there are, of course, the khinkali, twirled dumplings, sometimes with meat, sometimes vegetarian, which are only really tasty, when the broth inside makes them particularly juicy.
Regardless of whether you are a slow traveler or not: it is often culinary moments that make us go down a gear while traveling. On top of that, let's dive deeper into the culture of a travel destination. This is particularly true in Georgia: eating together is practically a lubricant for society. All dishes are divided and also enriched with nutty pastes and spicy salads. We do not want to hide from the fact that as hypothermic "westerners" the hospitality that came with it sometimes challenged us. But if you let them melt in your mouth, you will quickly see how you can enjoy Georgia.
To Savor Travel means Time, Peace and Flexibility for TravelTelling
Hi, I'm Matthias and I report on Slow Travel on TravelTelling. For me, this way of being on the road means about as much as traveling with pleasure. Slowly, flexibly, with light luggage and without time pressure, but at the same time also happy to be active and a little adventurous. For example, by car, train, on the water or by bike. Preferably in the nature and far away from the mass tourism paths.
This is, what Slow Travel to Savor means for TravelTelling
Since I'm a big fan of variety, I sometimes need a trip to a larger metropolis to enjoy the benefits of urban infrastructure. Such a stay can take up to two or three weeks, in order to have enough time to get to know the city in peace and maybe even mix a little with the locals.
Matthias recommends Austria or the Balkans
Can I recommend regions or countries for an enjoyable trip? Everyone has their own taste. I like Austria very much, for example. However, Eastern Europe did me even more. Compared to Western European countries, here you can find originality much more often and less overrun destinations with partly non-existent tourist infrastructure. In other words, everything is somehow still very real and authentic. Serbia and Bulgaria in particular have emerged as my personal favorites. This type of travel, especially in countries that have not yet been conquered by tourism, makes it much easier to come into contact with the people who live here.
A few years ago, my last girlfriend and I cycled from Austria to Romania. We both totally loved these two countries. To undertake such an intensive and long journey by bicycle was both pleasure and adventure.
Travel with Leisure and Flexibility
I especially liked the aspect to savor here, because we did not submit ourselves to a strict schedule and thus enjoyed full flexibility. If we liked it somewhere, we just stayed a bit longer. I believe that this is the core idea of ​​travel. Accordingly, our final destination was also not set in stone. Originally we wanted to cycle to Greece, but ended up in Romania. All thanks to our generous timetable and the non-binding route we had worked out for this trip.
That is exactly what traveling with pleasure means to me. Whether active in nature, relaxed in the city or an extended stay in a beautiful (wellness) hotel. Having time results in rest, and rest brings relaxation. Relaxation and joy. Amen!
Im Osten was Neues by Gregor Rahn
For some, the East is old guard. Well traveled and appreciated. For many, however, "the East" is still an unknown travel destination. That's why Im Osten was Neues exists, and also to inspire traveling near our home. The nice thing is, that you can tackle it slowly. Active, decelerated and calm go together and are my interpretation of slow travel.
Slow Travel is the Art of Travel by taking your Time
Surely everyone defines travel pleasure in their own way. The real enjoyment according to my own definition, however, depends on the right attitude. You cannot savor an ingenious restaurant full of mind-robbing scents, if you have to visit it in a hurry. Even a perfect hiking day does not unfold its full potential, when we rush through the gorge. And so I come to the conclusion, that it takes time to be able to enjoy. "No appointments and a little befuddled" was, how Harald Juhnke famously defined happiness.
My most enjoyable "journey" was therefore a time without pressure. There is no place that I recommend for a pleasurable journey, but an attitude as a basis to really savor a trip. Be it a drink, the next hike, or a book. It's a bit like going to a club in the youth: to get to know somebody under pressure this evening, you rarely meet an exciting person, but liberated from everything, something magical happens.
A Journey to Savor through Timelessness in Siberia
I experienced a real trip to savor through timelessness. It was a mindset. With all the time in the world I was allowed to travel through Russia. Thus, the few self-imposed pressures put me in a position to approach everything in a relaxed manner: freezing cold, steaming borscht and long walks through sun drenched Sibirian mountains. I could enjoy everything, because time was not a problem.
Closely interlinked with time is our means of transport. "A journey by train makes the journey a pleasure", that's my thesis. As a matter of fact, railroads have us falling into a seat, when we enter them, adjusting to the world rushing by. We look out the window and let the landscape pass us by. But no, we will not let her pass! We literally absorb it - with the right attitude. I like to call it "traveling with the landscape". Traveling with the landscape is an attitude toward ourselves and how we enjoy traveling. When we get off the train, we understand where to get off. A train journey puts us in the position to enjoy the true pleasure of a destination. Yes, my eyes got a bit wet when I saw Lake Baikal on the horizon after 40 days.
Conclusion: it takes Time to savor Slow Travel
As different as the experiences and travel destinations are that we all recommend for our slow travel trips, they all have one thing in common. It takes time to enjoy them. None of us ticks off highlights or places "that you have to see". Instead, we let travel come to us. We also accept that our travel plans change. For some, even the entire route. The way is the goal, and the people we meet along the way. This makes traveling a real experience. Unforgettable. Impressively. With impressions that will stay in your memory. We are very happy to present these perspectives of slow travel to you, and thank Janna, Marc, Matthias and Gregor for their insightful contributions. It's worth taking a look at their travel blogs.
Do you already know:
Text: © Copyright Monika Fuchs, TravelWorldOnline and Janna, Marc, Matthias and Gregor.
Photos: © Copyright by Monika Fuchs, TravelWorldOnline and Janna, Marc, Matthias and Gregor
Is Slow Travel the Art of Travel to Savor?