I actually didn't want to publish my recipe for strawberry rhubarb tiramisu at all. No sooner had I posted a photo of it on Instagram than the first question about the recipe. I don't want to say no. It also fits well into our new series "Country life and enjoyment".
Our strawberry rhubarb tiramisu
When the strawberries are ripe in May and June, we have many dishes with the berries. Petar and I like fresh fruit, especially strawberries. However, they have to smell and taste good. Therefore we can hardly wait for the strawberry season in spring. We think that only the fruits that are harvested in the region have the perfect taste. Imported strawberries rarely taste that good. Therefore, when buying, we always make sure that they come from growing areas as close as possible. Of course, it is even better if you harvest the strawberries in your own garden.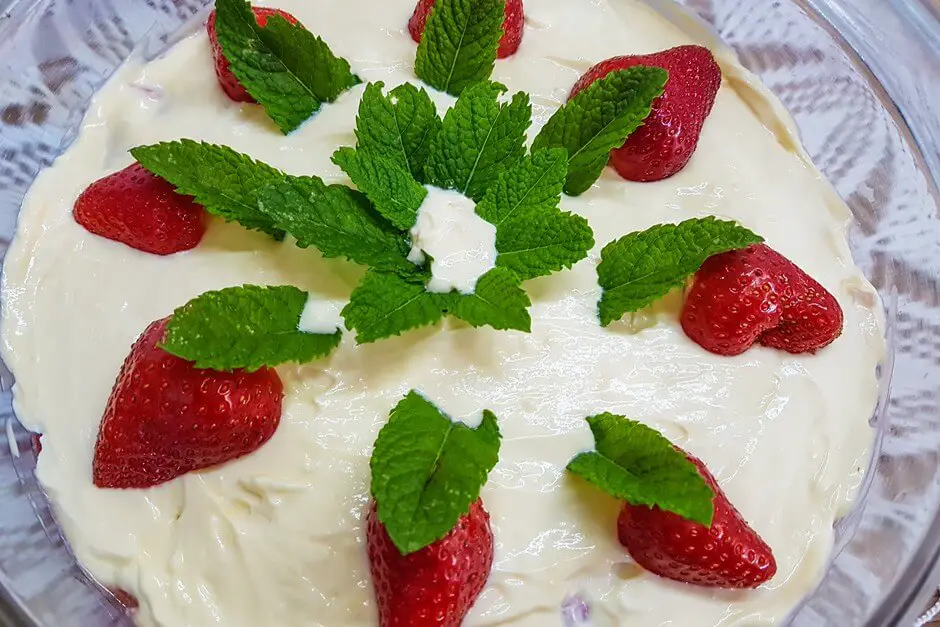 When the strawberries are ripe, the rhubarb harvest season also begins. Because the two fruits harmonize very well with each other. we like to combine them in dishes. One of them is our strawberry rhubarb tiramisu. This is how we prepare this:
Ingredients for 4 persons
200 g strawberries
200 g rhubarb
4 beaten egg yolk
100 g sugar
500 g Mascarpone
200 g whipped cream
some white wine
Sugar to taste
Bourbon vanilla
1 Pack of Sponge Biscuits
In Addition:
Strawberries and a few leaves of mint for garnish
Preparation of strawberry rhubarb tiramisu
Cut strawberries and rhubarb into small cubes.
Boil a dash of good (!) White wine with 1-2 EL sugar. Add the rhubarb cubes. When these are almost cooked add the strawberries. Remove from the heat and stir in the bourbon vanilla. Leave to stand and then drain the fruit in a sieve.
In the meantime, place the spoonfuls in a mold and drizzle with white wine.
Beat egg yolk and sugar until creamy. Stir in the mascarpone and lift the whipped cream underneath.
Half of the cream is now distributed on the spoon biscuits. Then spread the cooked fruits and finish with another layer of cream.
For decoration, I finally distribute a few beautiful strawberry halves and mint leaves on the Tiramisu.
Who does not like it so lush, can take instead of the mascarpone also cream cheese.
Let us know in the comments how you like it.
Do you already know:
Source strawberry rhubarb tiramisu: own recipe
Text strawberry rhubarb tiramisu: © Copyright Monika Fuchs, TravelWorldOnline
Photos Strawberry Rhubarb Tiramisu © Copyright Monika Fuchs, TravelWorldOnline
Pure enjoyment - strawberry rhubarb tiramisu