English muffins

These tea time muffins are perfect for celebrating a tea time at home. That we the English Tea Time We have already proved this on our travels. Again and again we like to go to tearooms or hotels, where you can enjoy the tea in such an elegant way. However, we do not find that so often in Germany. Therefore, we have begun to self-zealous tea once in a while. This works great with these tea-time muffins. They taste best when they are just coming out of the oven. Add a cup of Darjeeling tea and the Tea Time is perfect. In addition, our recipe for tea-time muffins is easy to make yourself.
Tea Time Muffins
Ingredients
150 ml of milk
10 g of yeast (dry)
60 g sugar
280 g flour
80 g butter
a pinch of salt
30 g raisins
30 g chopped almonds
15 g Orangeat
15 g citron
1 egg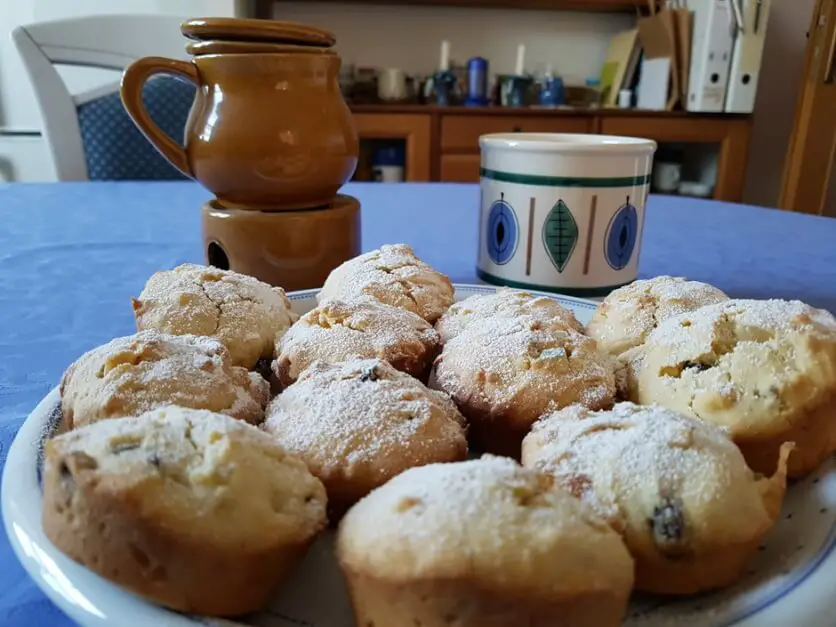 Preparation
Heat the milk, but do not cook. Stir the yeast with three tablespoons of warm milk, one tablespoon of sugar and 2 TL flour and then let it rest for about 20 min.
Then the restilche flour, the Hefeteiglein together with butter, sugar, salt, raisins, almonds, orange peel, lemon and the egg in a bowl. Pour over the remaining milk and stir well. Then let the dough again go for about half an hour.
In the meantime, I butter out the muffin tin and preheat the oven to 180 ° C. Then I distribute the dough evenly in the muffin cups. If you want, you can spread the batter with a beaten egg yolk and add almonds and sugar. However, we prefer to dust the muffins only with powdered sugar as soon as they come out of the oven.
baking time
Bake the muffins for about 25 minutes. Then let cool for about five minutes and serve best immediately.
Of course with a good cup of tea.
Do you already know:
Text: © Copyright Monika Fuchs, TravelWorldOnline
Photos © Copyright Monika Fox, TravelWorldOnline
English Tea Time with Tea Time Muffins