Slovenian food
Discovering Europe while traveling also means trying the specialties on site. Slovenian food was one of the themes of our trip from the Alps to the Adriatic. We were curious and wanted to know more about it. We had already gathered impressions on ours in spring Travel to Kamnik. This time we also wanted the kitchen Slovenia discover. It quickly became clear that Slovenian food is influenced by many nations. No wonder! After all, Italians, Austrians, Hungarians and Croats played a major role in the country's history. They all left their mark on Slovenian cooking pots, and not just in them Ljubljana's kitchens. These specialties can also be found in the country, and even in the kitchens of Star chefs.
Slovenian food is farm food
Typical Slovenian food is farmer's food. In any case, this is on the table in country inns. Therefore, in Gostilnas, the inns in the country, one often eats best. We got to know several on our trip. We can therefore recommend these from our own experience: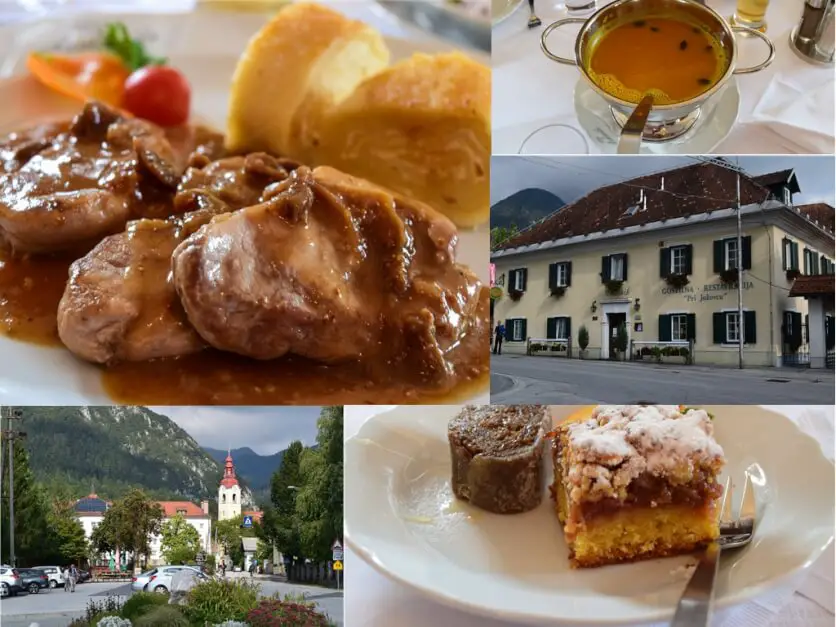 The Gostilna Avsenik in Begunje na Gorenjskem
The inn in Begunje na Gorenjskem belongs to the descendants of Slavko Avsenik. This started his music career in this place. This resulted in a worldwide success. Although his music does not match our taste in music, his achievements are impressive. After all, he has sold more than 40.000.000 (40 million!) Records around the world. However, we were there to try Slovenian food. And that's definitely delicious. The pumpkin soup could not deny its Styrian influences. Just as little as the cheese strudel with pork tenderloin. The fig sauce from regional fruits tasted especially good. By the way, strudels are an integral part of Slovenian cuisine. They are available in all variations, from sweet to spicy. Once again, culinary influences from neighboring Austria play a role. For dessert we were served a strudel made from buckwheat flour. Together with the nut filling this is a substantial dessert. There was also a piece of apple pie.
After this meal we are more than fed up. In general, the amount of food in Slovenian inns is not saved. Nobody stands here hungry from the table. That may be because the food was meant for farmers. The hard work in the field calls for strong food. In any case, you should expect large portions.
Begunje 21
4275 Begunje na Gorenjskem
Slovenia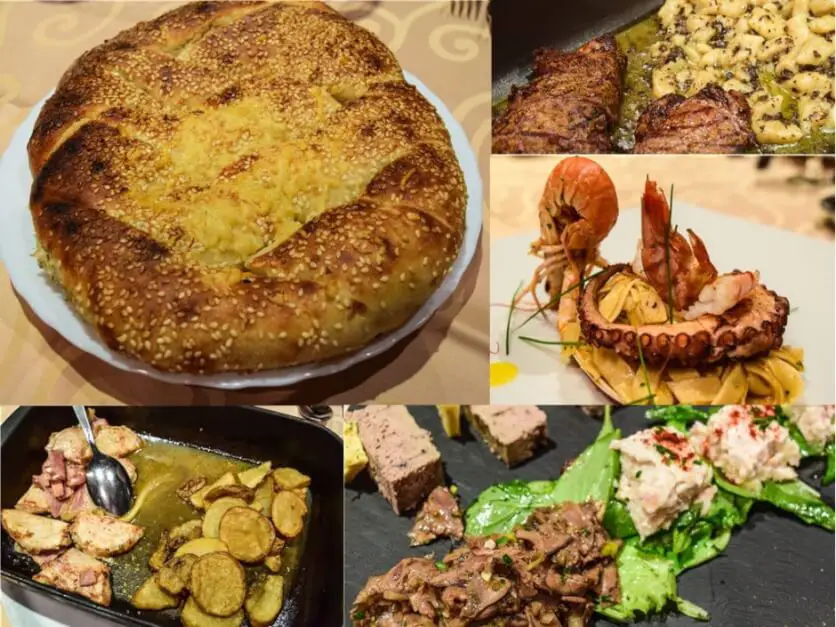 Gostilna Javornik in Šentrupert - homemade Slovenian food
Admittedly, the Javornik restaurant in Šentrupert doesn't look very much. This is the case with many inns in Slovenia. Most of them are simple inns. But the Slovenian food we are served there is quite impressive. Domaca kuhinja, "local cuisine", that's what this is all about. It starts with home-baked sesame bread. This perfectly complements the chicken pie, ox meat salad and fish salad. The second course is homemade pasta with langostino, shrimp and fried octopus. A poem! I especially like the octopus. This is followed by a buttery Angus beef steak with gnocchi, pork with fried potatoes and potato gratin. Since the portions are again large here, we forego dessert this time. Mediterranean and Italian influences are mainly represented at this meal.
Gostilna Javornik
Goran Pevec sp
Rakovnik 6
8232 Šentrupert
Phone: +386 (0) 7 34 34 534
gostilna.javornik@siol.net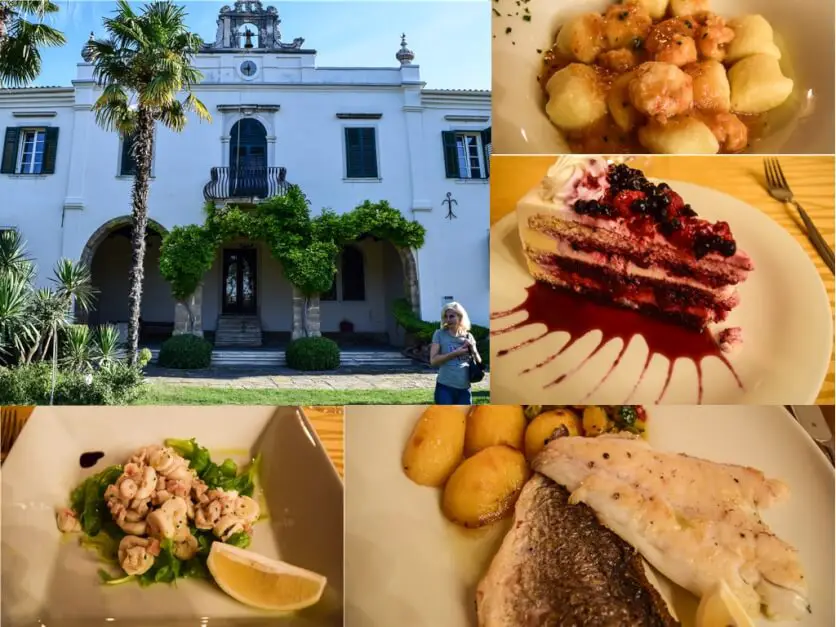 Restaurant Convent in Ankaran
The Slovenian food in the Convent restaurant in Ankaran is inspired by Mediterranean-Italian influences. Unlike the first two restaurants, this is a hotel restaurant in a former Benedictine monastery. The hotel is just a few steps from the sea. Therefore, fish dishes and seafood are ideal. An octopus salad as a starter sets the mood for the fish meal. This is followed by Italian-Slovenian gnocchi in fish sauce. The gnocchi are slightly larger than their Italian cousins. The main course is sea bass with potatoes and vegetables. And finally a berry cake follows. This restaurant is only two kilometers from the Italian border. Therefore, the Italian influences are hardly surprising. Scampi, mussels or sea bass are also often on the menu here.
Incidentally, you can spend the night at the Hotel Convent. The rooms in the historical part are on the first floor (without elevator). The annex has modern accommodation. In addition, it is possible to sleep in small holiday homes by the sea. Or you can use the beautifully situated campsite with the camper. You can book via our partner Booking.com:
Jadranska c. 25
6280 Ankaran
Slovenia
By the way, during our trip through Slovenia we never met Cevapcici or Raznici. Minced sausages and pork skewers from southern Yugoslavia are now being offered less and less frequently. In contrast, we also have an insight into the fine cuisine of Slovenia receive. However, we present these in a second article. Because it is worth it that we report in detail about it. Gourmets can also be pampered wonderfully in Slovenia.
In her article "Lisa explains how you can experience Slovenian food in Ljubljana"What to Eat in Slovenia" in front. There are great tips. It's worth a look. Further Enjoyment tips for travelers here.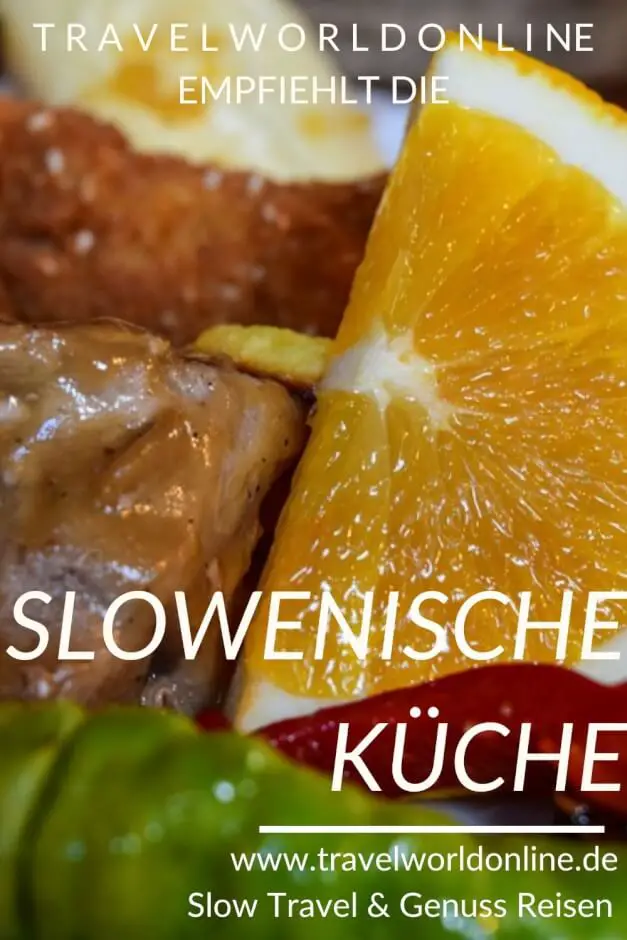 Do you already know:
Source: own research on site. We would like to thank Best Press Story for inviting us to this trip. Nevertheless, our opinion remains our own as always.
Text: © Copyright Monika Fuchs, TravelWorldOnline
Photos: © Copyright Monika Fuchs, TravelWorldOnline
This is how Slovenian food tastes