Romantic sitting area at The Ivy in Toronto © Copyright Monika Fuchs, TravelWorldOnline
What could be nicer than enjoying a trip for two in romantic hotels and B & Bs? It doesn't necessarily need a special occasion or Valentine's Day. We have been doing this for years and are always looking for particularly romantic accommodations on our travels. In the course of time we have discovered a number of hotels, inns and B & Bs in Ontario that have met our requirements for a romantic stay for two in a very special way. We present three of the most beautiful of these romantic hotels, inns and bed and breakfasts from Ontario here:
Romantic Dinner at the eTerra Inn in Tobermory © Copyright eTerra Inn
The most romantic of all - the ETerra Inn on Georgian Bay
It has been several years since we were there, but the ETerra Inn near Tobermory is still the most romantic Inn ontario we have ever stayed in. Its hidden location in the middle of the forest on Georgian Bay - the address and phone number of the inn will be issued as soon as a booking has been made - will ensure that the inn's guests have their own wonderful surroundings. There is nothing better than watching the sun from the deck below the Inn in the evening as it sinks over the Georgian Bay islands. Laurie Adams, the owner, is a passionate hostess and a gracious cook who celebrates with love all the food she serves to her guests. She understands that her guests feel at home with her after only a few hours.
Sitting area for two at The Ivy in Toronto © Copyright Monika Fuchs, TravelWorldOnline
Insider tip for romantics in Toronto
Similarly exclusive - and a close second in our ranking of the most romantic hotels in Ontario - is The Ivy at Verity in Toronto. This hotel, if you like to call it that with its four rooms, is located in a former chocolate factory that has been converted into an exclusive spa for women. At one end of the building, four guest rooms have been created for hotel guests, providing a romantic retreat from the hustle and bustle of the big city. If you want, you can spend a wonderful time in these rooms for two in large rooms with perfectly equipped wellness baths. After ten o'clock in the evening, the gentlemen also have access to the spa of the spa - and you have this (almost) to yourself!
Further information about the Ivy at Verity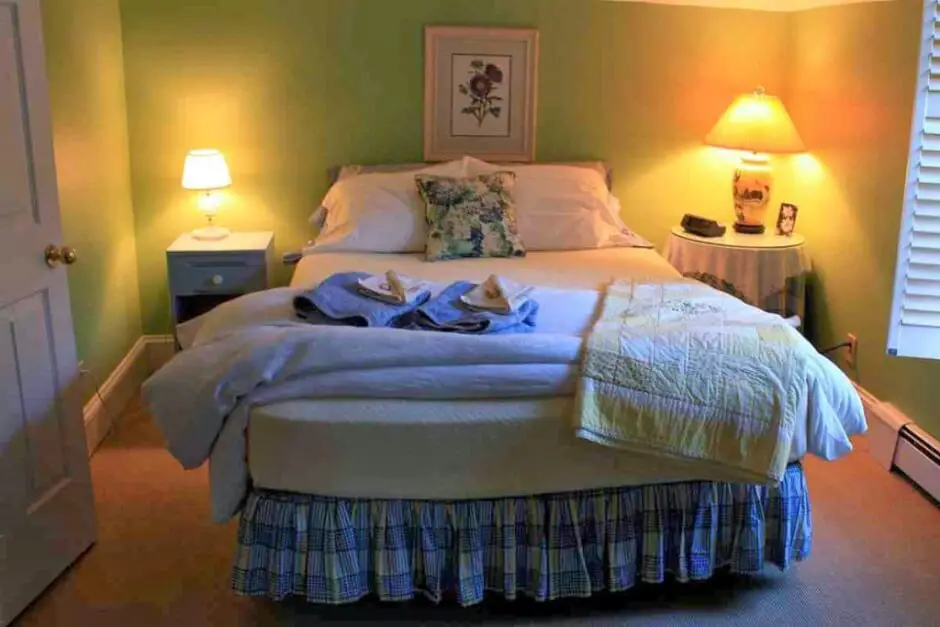 The Blaincroft B&B in Gravenhurst, Ontario © Copyright Monika Fuchs, TravelWorldOnline
Romantic B&B in the Muskoka region of Ontario
Blaincroft B&B in Gravenhurst in Ontario's Muskoka region guarantees a romantic getaway. Comfortably furnished rooms with a bed to dream about, a sitting area that invites you to relax, and hosts such as Marsha and Bryan Blain who prepare a wonderful breakfast to order ensure that guests feel comfortable in one of their two guest rooms. For us this B&B was one of the highlights of our trip through the autumnal beautiful Muskoka region in Ontario.
More information about Blaincroft B&B
If you are looking for a romantic accommodation on your travels through Ontario, then you are well advised with these. We felt very well in each and can recommend you from your own experience for a romantic experience.
Source: own research on site with the kind support of Tourism Ontario and CTC
Text: © Copyright Monika Fuchs, TravelWorldOnline
Photos © Copyright Monika Fuchs, TravelWorldOnline
Three romantic hotels, inns and B & Bs in Ontario