How do you survive long-distance flights?
Our seven tips for long-haul flights will help you survive a long-haul flight. You should consider this: You sit for a long time and hardly move. The seats are narrow and often uncomfortable. Extending legs is difficult in some aircraft types. The air in the plane is dry and takes a toll on your skin and nose. Flights are not always on time. However, there are things you can do to make your Long-haul flight can survive well. We got our tips on flights to the USA, to Canada or after South Africa, Russia or even Australia collected.
Seven tips for long-haul flights
1. Plan the journey, so that you feel fit when getting on the plane
One thing that stresses us on long-haul flights is, when we do not plan enough time to get to the airport. If that's the case, the flight starts with stress, and we're already tired, before we get on the plane. Therefore, one of our tips for long-haul flights, not to schedule trips before a flight, that are time-consuming. Often it is difficult to judge, what can delay the journey. Therefore, we prefer to spend the night before the flight either at an airport hotel or at least in the city, where the airport is located.
Do you travel with children? Then these are Activities with children on flights helpful. How stressful a flight with children can be, you can find out here.
Tips for long-haul flights - Know your Rights as a Passenger
Nevertheless, when traveling by air, it happens again and again that you miss your connecting flight. As a passenger, however, you have rights that you can use. One of our tips for long-haul flights: use your rights. If the connecting flight is missed, you are entitled to compensation. There are various companies that can help you enforce your rights. Some even go to court for you if need be. They offer the most stress-free and safest way to enforce your rights as a passenger. The best thing about it: You only pay if you are successful.
2. What to Wear on a long Flight?
On long-haul flights you sit in a tight seat for hours. You usually sleep several hours on this flight. In addition, occasionally turbulence, which sometimes causes sauce or soup to drip on clothing. We therefore do not recommend elegant clothing for long-haul flights. One of our tips for long-haul flights is instead to wear the most comfortable clothes possible. Our long-haul outfit is always one comfortable pants *that still looks good when sleeping in all possible positions. We wear loose-fitting shirts or sweatshirts, in which not every movement leaves wrinkles. So you can survive a long-distance flight well and look good even after that.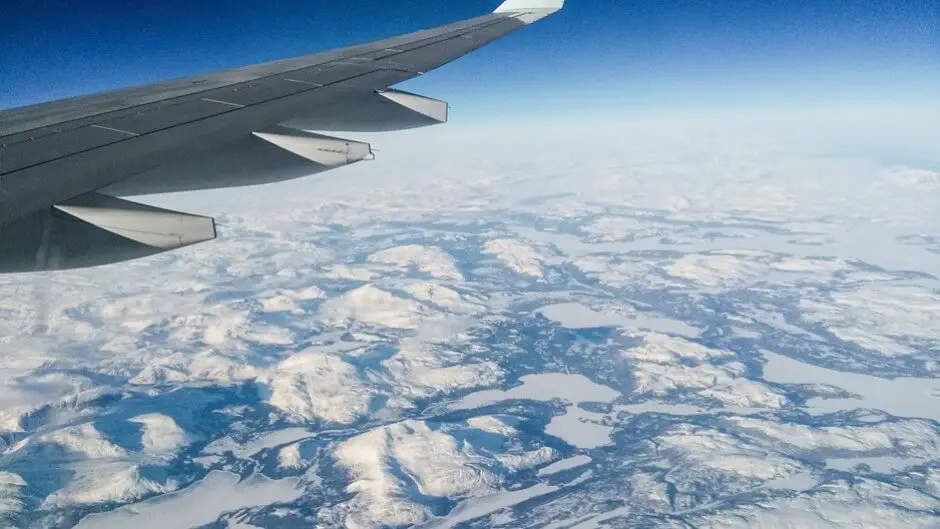 3. Which Shoes are Suitable for a long-haul Flight?
On long-haul flights, I often have the problem of my feet and ankles swelling during the flight. Having swollen legs on a long-haul flight is especially uncomfortable, when you wear shoes, that are too tight. Two of my personal tips for long-haul flights: I usually take off my shoes on such flights. If I want to put them on again before arrival, it is important that they are big enough, so that I can put them on again with swollen legs. That's why I prefer to wear comfortable shoes for wide feet. If the journey goes to a region, where we spend a lot of time in nature, I often put on hiking boots. These are bigger than elegant street shoes. Wearing them on the flight, is also useful, because I do not have to carry them in my suitcase.
4. Which Stockings are Suitable for long-haul Flights?
If your legs swell slightly on long flights, then you should consider whether you want to wear compression stockings on a long-haul flight. These ensure that the blood is better transported through the veins and prevent the legs from swelling. Here you can Order compression stockings *.
5. Tips for long-haul Flights - The best Seats on long-haul Flights
As Economy Class seats are tight in most types of aircraft and offer little legroom, we always try to reserve the optimum seats. On our travels it turned out, that these are the seats at the emergency exits. These have greater legroom in front of the seats, because they provide access to the emergency exits. However, you should understand the language of the airline. The on-board personnel usually informs passengers in the emergency exit seats and asks them, if they understand the instructions for opening the emergency exit doors.
6. Sleep on a long-haul Flight
We usually try to sleep long on long-haul flights. Then time passes faster and we are rested on the spot. However, we refrain from sleeping pills. Instead, we take our own inflatable neck pillow * Meanwhile, there are those even with hoods that reach over the eyes. No light disturbs sleep anymore. Others can warm up in the neck area to prevent neck pain. We like the cervical pillows because they keep the head and neck in a comfortable position even in the most uncomfortable aircraft seats and avoid waking up with a sore neck after sleep.
7. Packing List for a long-haul Flight
Here are our recommendations for the things that make a long-haul flight more comfortable. In our backpack or our carry-on baggage we always have with us:
comfortable stockings or compression stockings
a neck pillow.
comfortable pants
loose shirts or sweatshirts
wide shoes that can be worn well with swollen legs after a flight.
Do you need more Recommendations for long haul flights?
tina has 10 tips on how to make your flight pleasant.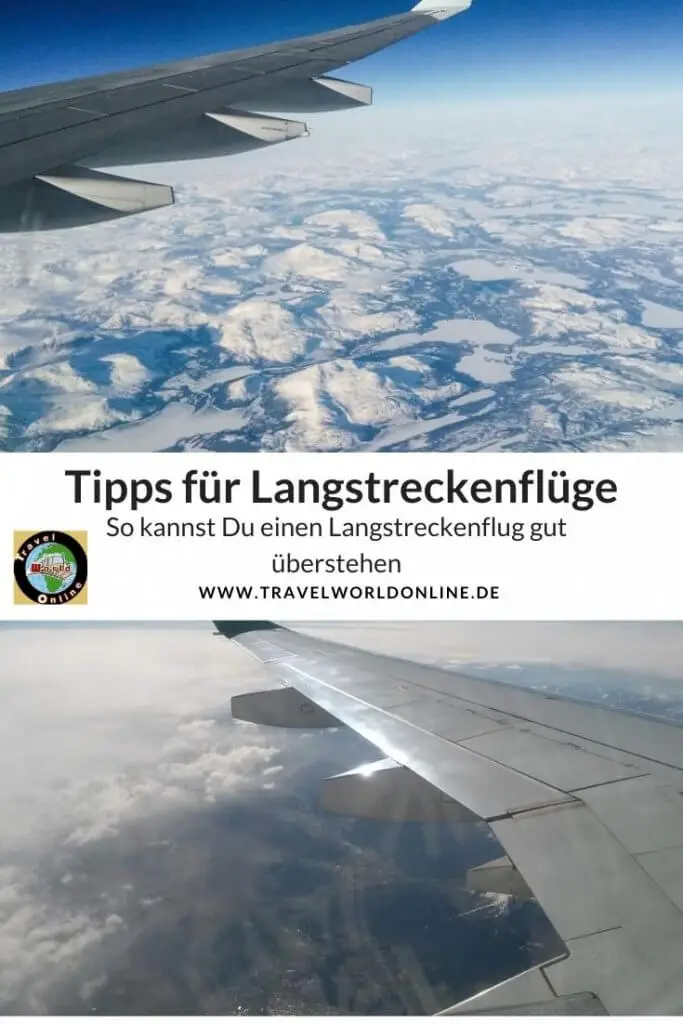 Source: Research on intercontinental flights.
Text: © Copyright Monika Fuchs, TravelWorldOnline
Photos © Copyright Monika Fuchs, TravelWorldOnline
Seven tips for long-haul flights