Torrone - white nougat from Italy
The Arabs invented this specialty. They brought the white nougat with nuts to Spain. There it is called turrón. There are different types of nougat in Spain. One of the most famous is the Alicante turrón. The sweet spread from Spain via France to Italy and even to Turkey. French white nougat is sold in the markets in the south of France. We also got to know the white nougat on our travels in Northern Europe. In Aachen the Nougatier Dresse Dutch nougat. White nougat is also known in Belgium. Italian nougat is often placed between wafers. You can buy torrone. You can also make it yourself with our torrone recipe. The preparation is easy.
Buy torrone
Nougat is very popular in Sicily. This shot shows how differently nougat can be prepared. Pistachios, peanuts, hazelnuts or almonds were used here. There is also soft nougat or hard nougat. What kind of torrone you like is a matter of taste.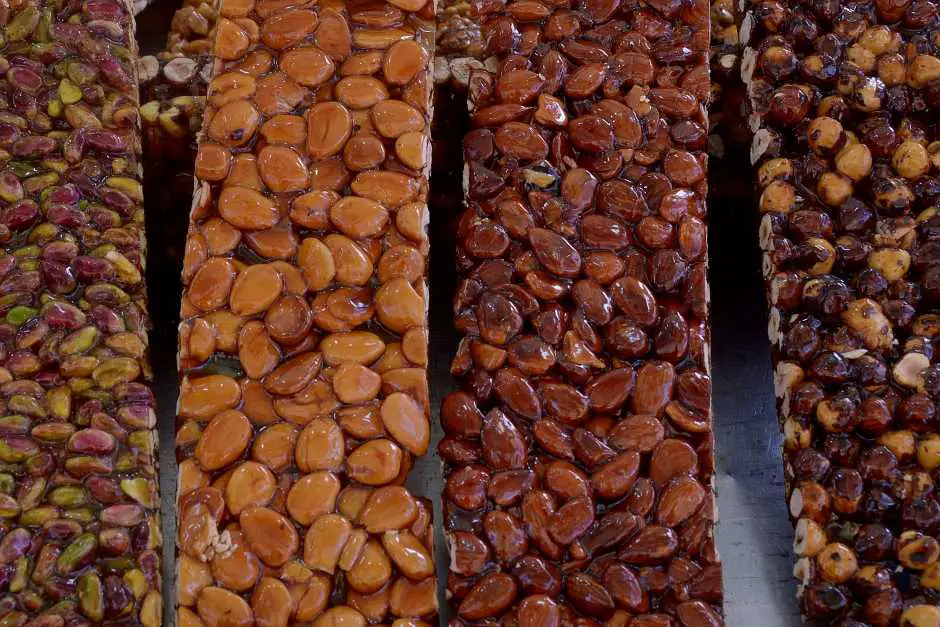 Torrone is traditionally made from almonds, egg white, honey and sugar. They are used to make tablets or cakes. Other flavor ingredients are possible. For this you use chocolate (as a coating), candied fruit or nut varieties.
If you want to make white nougat yourself, this is very easy. You can easily try this out with our torrone recipe.
Make white nougat yourself
Ingredients for 40 pieces:
550 grams of sugar
200 grams of light honey
four tablespoons of water
two egg whites
two pinches of salt
500 grams of skinless almonds
eight square baking wafers
Preparation:
Heat the sugar, honey, and water to 145 degrees Celsius while stirring, until the sugar has melted. The mixture shouldn't get hotter because the sugar shouldn't caramelize. The best way to control the heat is with a kitchen thermometer.
Now you beat the egg whites with the salt until a knife cut is visible. Then you slowly stir the hot sugar liquid underneath with the whisk. Then you lift the almonds underneath.
Let the dough cool down a bit and then use the rolling pin to spread the mixture on the wafers. Then you cover the dough with a second wafer. Finally, cut the nougat bar into small pieces with a sharp knife.
No matter whether you make or buy torrone yourself, the white nougat is definitely a good ingredient for the pastry plate - whether at Christmas time or during the year.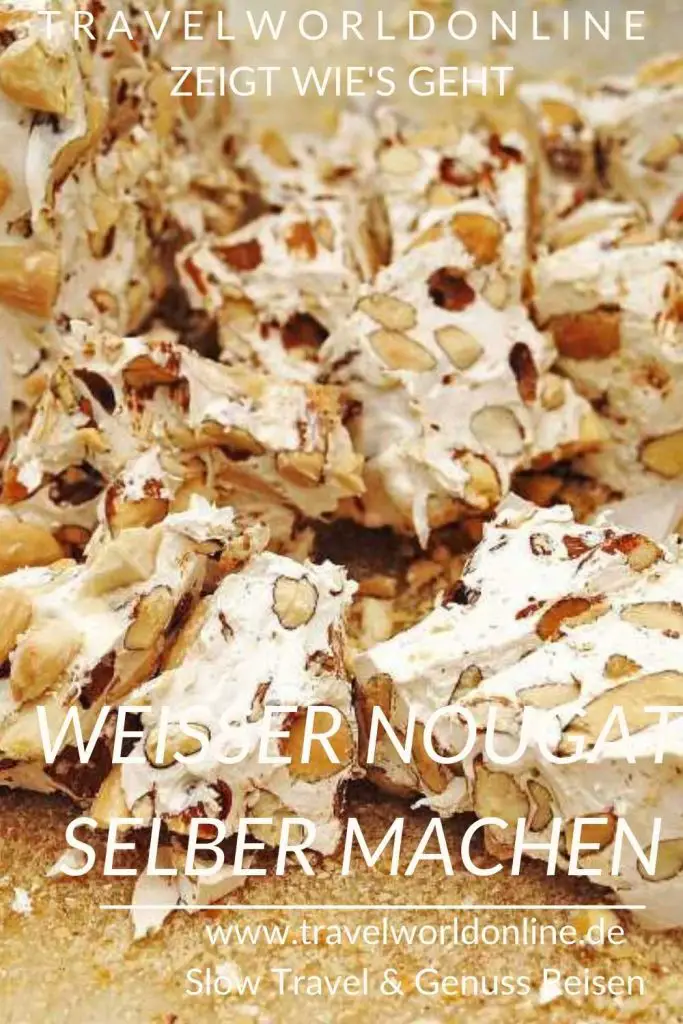 Do you already know:
Source: own research on site
Text: © Copyright Monika Fuchs, TravelWorldOnline
Photos: © Copyright Amazon and see image description. The photo above is from Alberto Piso, CC BY-SA 2.0, via Wikimedia Commons
Video: © Copyright Petar Fuchs, TravelWorldOnline
Torrone - white nougat from Italy