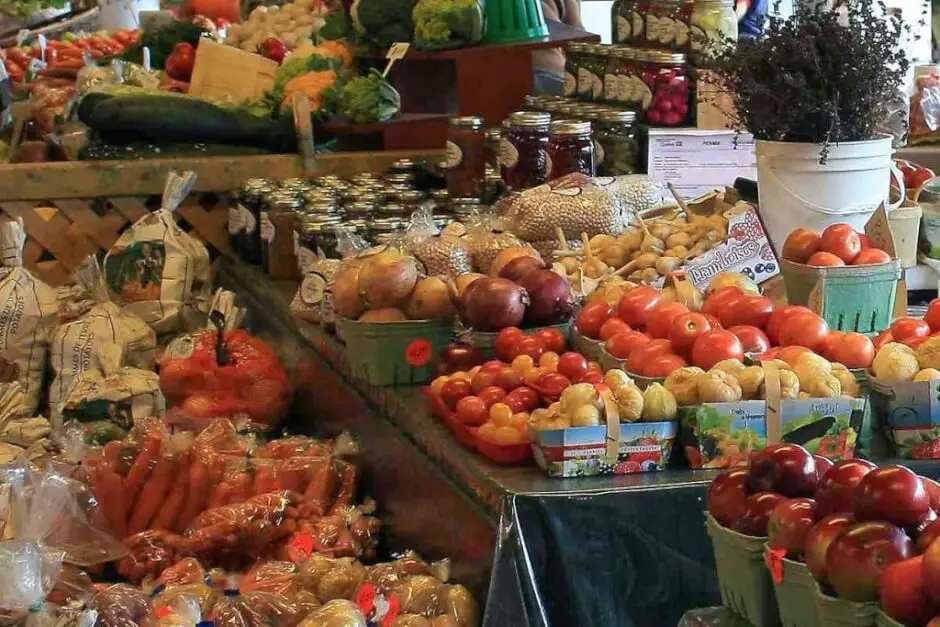 Fruit and vegetables from the market - Slow food at its finest © Copyright Monika Fuchs, TravelWorldOnline
One of the must-sees on any of our visits to Vancouver, Canada is the Granville Island public market: we just can't resist the fresh variety of fruits and vegetables, sausages and freshly caught fish from the ocean on our doorstep. It is located on an island in False Creek, where products used to be waiting in the warehouses for shipping to other parts of the world. Today the warehouses are still standing, but they are home to dozens of boutiques, galleries and restaurants. And one of them - easily recognizable by the large sign that hangs over the entrance - is home to the Public Market, Vancouver's largest food market.
A picnic of fresh ingredients from the Public Market
We always take the time to do this when we are in Vancouver - be it for an extended lunch break, during which we only get everything we need in the market. The choice is huge: sometimes we have an appetite for the delicious breads fresh from the oven of La Baguette et L'Échalote. And no, this is neither German rye bread nor the white bread otherwise common in Canada. The baker from the public market "designs" his own bread, often even from home-grown and ground grain - it couldn't be fresher. And not tastier either!
In addition we get homemade sausage from Oyama Sausage, which ripens for months and develops its spicy taste, before it is freshly cut before us and tastes wonderful on our still warm bread.
For our dessert, we just need to switch to the other side of the aisle, where just a Chinese baker is taking invitingly fragrant donuts out of the oven, which are the perfect dessert for our self-made lunch. And there's a delicious tea or coffee from one of the specialty shops on the market.
Videos are subject to copyright
... or warm food from the ethnic market stalls?
If we have a little more time, then we go on a tour of the ethnic kitchens on the Public Market. There you can find everything from Italian pizza to Polish Kielbasa or Pierogi filled with various ingredients to freshly prepared in the wok Chinese vegetable dishes. Sometimes we put together a wild mix across the cultural pots of the Public Market, another time we choose a starter, main and dessert from an ethnic kitchen.
When the weather is fine, we look for an outdoor seating spot on False Creek, where music groups often show their skills at lunchtime or street performers entertain viewers. And if we are overcrowded there, we wrap up our food and walk a few steps to the ferry station of the small, colorful False Creek Ferries, which at irregular intervals carry new visitors to the island. There we eat our delicious lunch with a view that takes our breath away again and again: on the skyscraper backdrop of downtown Vancouver. Only when we have this sight in front of us, we know that we have arrived in one of the most beautiful cities in the world.
Source: own research on site
Text: © Copyright Monika Fuchs, TravelWorldOnline
Photos: © Copyright Monika Fuchs, TravelWorldOnline
Video: © Copyright Petar Fuchs, TravelWorldOnline