Are you looking for a special holiday experience and want to rent a Tenerife finca? During our stay we were in a hotel. However, we will rent a Tenerife finca next time we visit. In the hotels on the beach there is too much hustle and bustle for us. A finca holiday allows closer contact with the locals. At the same time, it provides an authentic experience of the island. In this article we introduce you to Tenerife fincas that you can rent on the island.
But what exactly is a finca? Basically it is a traditional Spanish country house. On a finca you live in a rural area away from the tourist strongholds and, depending on the accommodation, you also have access to the locals. Tenerife fincas are often surrounded by nature. They offer an authentic and idyllic holiday experience. Compared to a hotel stay, a finca holiday differs primarily in its privacy and tranquility. You can enjoy your own little paradise for a while without having to deal with other guests in the hotel. In addition, you can often use a fully equipped kitchen in a finca to cook for yourself and thus enjoy even more freedom and flexibility.
Discover here handpicked holiday farms and fincas on Tenerife, where you can experience a relaxing holiday outside of the tourist strongholds!
Rent fincas in Tenerife in the south of the island
In these holiday farms you can spend your finca holiday in the mountainous region above the beaches in Tenerife South. Beaches, banana plantations and tourist centers are usually only a few minutes' drive away. Nevertheless, you can enjoy your holiday here in quiet surroundings in the countryside. You can rent your Tenerife finca privately here:
Sweet Home Masca – rent a Tenerife finca in the Masca Gorge
This accommodation is not a Tenerife finca, but a holiday farm. You can either rent a double room without a kitchen or an apartment with a private kitchen. The house is surrounded by nature and offers spectacular views of the Masca valley, the village and the mountains. The owners live in the same house. The location is remote but you can walk to the nearest village in about 20 minutes which has restaurants. The hostess also provides light meals, from a filled fruit basket to wine and a small bar.
The accommodation is very nice and clean with fast internet and a small but nice bathroom. Everything you need for breakfast coffee or snacks is available. And the best thing is that from the terrace you have a breathtaking view of the Guergues cliffs and the Masca village.
If you're staying here, be sure to stay longer and try the restaurants in the nearby village of El Palmar. The Meson del Norte, Rincón de Abu, El Palmar and Barracan are highly recommended. And in Masca itself you should visit Casa Riquelme. Don't forget to reserve before you go!
Sweet Home Masca also offers many amenities including free Wi-Fi, parking, minibar and an outdoor dining area. If you like being active, there are many activities in the area such as cycling and hiking. If you are looking for an authentic and unforgettable stay in Tenerife, then Sweet Home Masca is the perfect choice for you!
Tips for things to do in Masca and the surrounding area
Casa Leandra con Jacuzzi – rent a Tenerife finca in the mountains
This Tenerife finca is an old stone house that has been completely renovated and decorated with great attention to detail. The house has a great view of the sea and the surrounding mountains. If you are looking for rest and relaxation, this is the perfect place for you. The garden is very nice and cozy, ideal for relaxing and unwinding.
The house has a bedroom, a kitchen and a bathroom, all very clean and equipped with everything you need. The highlight of the house, however, is the outdoor hot tub. There you can relax in the evening under the starry sky and enjoy the whirlpool.
The fridge of this Tenerife finca is already filled with breakfast, fruit and wine. The hosts are very friendly and helpful and are always available.
The approach to the house is a bit adventurous and you need a good car to cope with the steep path. But once you're at the top, it's totally worth it.
There are a few restaurants and bars in the area but the house is set back from the busy areas so one can really enjoy peace and quiet.
Casa Leandra con Jacuzzi is the perfect place for a romantic break or a relaxing holiday surrounded by nature.
Tips for things to do near Casa Leandra con Jacuzzi
You can visit El Duke Castle . It is about seven kilometers from your Tenerife Finca. You can get an impression of it in the linked video.
There are a number of beaches to choose from about six kilometers away.
Whale and dolphin watching from Adeje is also possible here.
The Casa Rural Tajona & Granero - one of the Tenerife fincas that you should have a look at
This finca offers beautiful views of the sea and the surrounding countryside directly from the furnished terraces. The accommodations at Tenerife Finca Casa Rural Tajona & Granero are decorated in a rustic style and feature a private garden and a terrace with a barbecue.
This Tenerife finca also offers breathtaking views of La Gomera and spectacular sunsets. It gets a bit cooler in the evenings in November, but you can use the fireplace to keep warm.
The houses are fully equipped and offer a living area with fireplace, sofas and flat-screen TV, and a kitchen with microwave, hob and washing machine. You even get a welcome basket upon arrival and a free load of firewood for the fireplace. WiFi is also available free of charge and bed linen and towels are provided.
The nearest restaurant is only one kilometer away and offers a wide range of food and drinks. If one is looking for a wider choice of shops and restaurants one can drive to Adeje which is only 15 minutes drive away. The coast and beaches are also only a 15 minute drive away. Tenerife South Airport can be reached in just 20 minutes by car via the TF1 motorway.
Tenerife Finca Casa Rural Tajona & Granero suits anyone looking for idyllic accommodation that offers peace and tranquility in a stunning setting. However, a rental car is essential to explore the area and take advantage of all amenities.
Tips for things to do near the Tenerife Finca Casa Rural Tajona & Granero
From here, too, El Duque Castle is only eight kilometers away.
It is a maximum of five kilometers to the beach.
Since Adeje is also nearby, you can also watch whales and dolphins on boat tours here.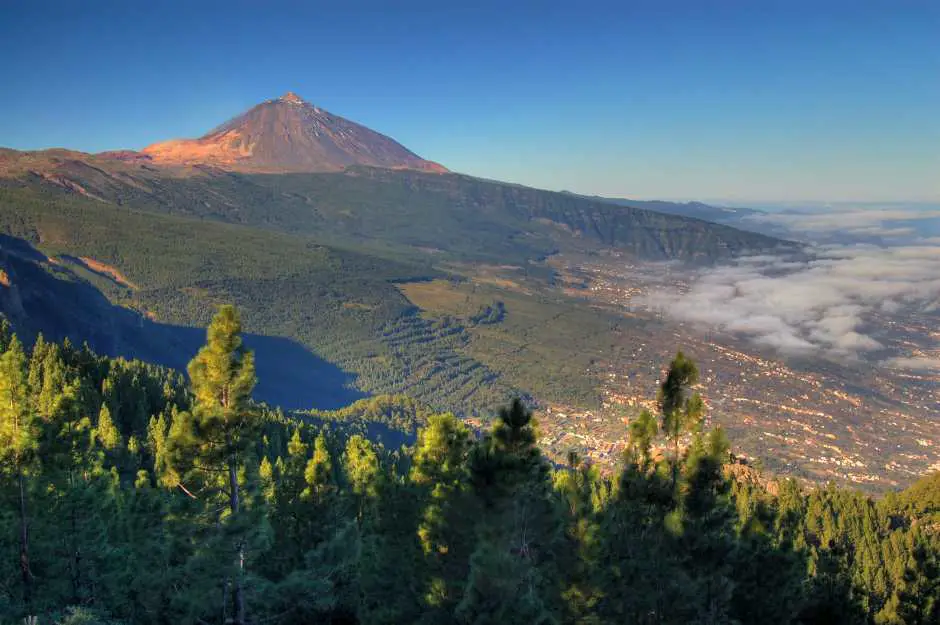 Rent fincas in Tenerife North
The Casonas de Marengo - rent a Tenerife finca with a view of Mount Teide
Casonas de Marengo Tenerife fincas are set in 30.000m² of gardens outside the village of Cueva del Viento in Icod de los Vinos. The apartments are housed in traditional 18th-century Canarian buildings, with yellow facades and wood-beamed ceilings.
Each apartment has either access to its own terrace or to a shared terrace overlooking the Teide Mountain. The surrounding gardens have fruit trees and paths for walking. There are also patios, BBQ grills, and free Wi-Fi in public areas.
The houses have a well equipped kitchen. Supermarkets and restaurants are only 5-10 minutes away by car. I think Casonas de Marengo is perfect if you want to get away from mass tourism and explore the north side of the island. Europe's longest lava cave, the Cueva del Viento, can be reached in less than 5 minutes by car and Icod de los Vinos can be reached in 15 minutes by car. The coast is around 6 km from the Marengo.
There are a variety of amenities such as an outdoor pool, free WiFi, free parking, family rooms, facilities for disabled guests, room service and a fitness center.
Tips for things to do near the Tenerife Fincas Casonas de Marengo
We recommend a trip to the Botanical Garden in Puerto de la Cruz. This is about 18 km away.
For those who like it a little more adventurous, there are the Cuevas del Viento (Caves of the Wind). This is Europe's longest lava cave. You can reach them in five minutes by car.
Casas Rurales Los Guinderos – rent a Tenerife finca that is perfect for hikers
The Tenerife Finca Casa Rurales Los Guinderos is located in a beautiful area. It has spacious accommodations. The finca offers everything you need for a relaxing holiday - from a seasonal outdoor pool to a well-equipped kitchenette and free WiFi. Particularly impressive is the view from the upper house, which is simply breathtaking. You can see the sea and Mount Teide. The outdoor area with communal pool and whirlpool is also a highlight.
However, the drive to the property is not for the faint of heart. The trail is a bit bumpy and steep but definitely worth it. The secluded location ensures absolute peace and relaxation. However, you should know that due to the location in the north of the island, it is often colder and cloudier than in the south. But that doesn't bother you if you like hiking. The surroundings are just beautiful.
There are also some restaurants and shops in the neighborhood. This is useful if you don't want to cook yourself. Casas Rurales Los Guinderos can be recommended if you want to spend a quiet and relaxing holiday in beautiful surroundings.
Tips for things to do from the Tenerife Fincas Casas Rurales Los Guinderos
The Drago Park in Icod de Los Vinos with its 800 year old dragon tree is worth a trip.
You drive between three and eight kilometers to the nearest beaches.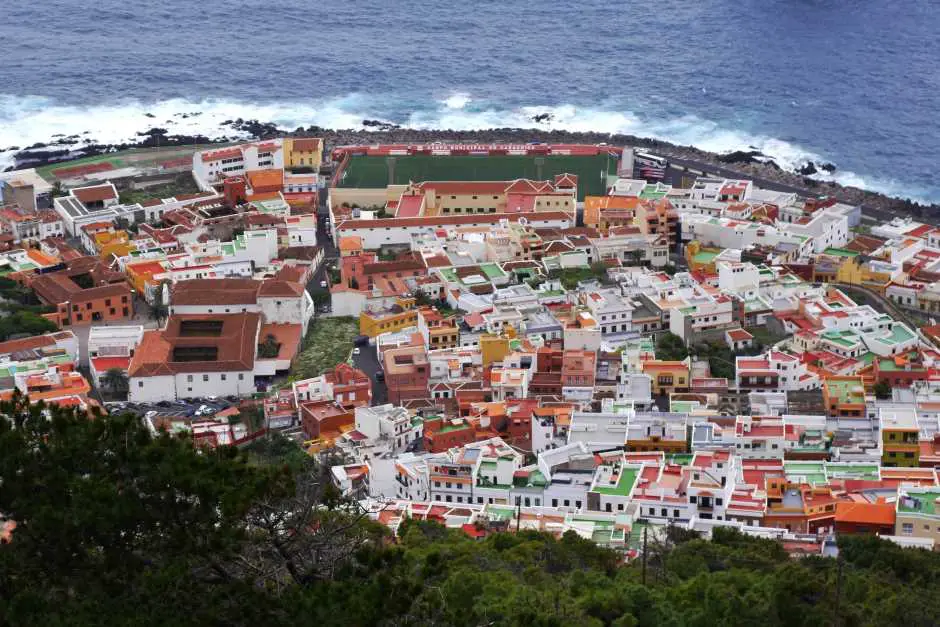 Finca el Castillo – rent a Tenerife finca near the golf course with views of Teide and the sea
The apartments at Finca el Castillo in Buenavista del Norte are self-catering and have everything you need. From the living room with sofa to the washing machine and kitchen with microwave and oven. But the best thing was the terrace overlooking the Teide or the Golf course, depending on which apartment you have. Sunsets over the sea included!
You can relax on the furnished terrace and enjoy the garden and the shared outdoor pool. A barbecue area is also available so that you can prepare and enjoy your meals outdoors. The apartments are perfect for a family holiday or for couples.
If you don't want to relax, you can practice various leisure activities such as golf, cycling or fishing. The Buenavista golf course is also only one kilometer away.
The property also offers WiFi and free private parking. In the area there are also many opportunities for activities such as hiking or snorkeling.
All in all, a stay at Finca el Castillo is perfect for anyone who wants to use the leisure facilities of the tourist resorts but is still looking for peace and quiet. Staying at Finca de Castillo is a great way to experience the beauty of Tenerife while also relaxing.
Tips for things to do from the Tenerife Finca del Castillo
From here you can take a trip to the Punta Teno Lighthouse , which stands on a cape in the extreme south-west of Tenerife. It is about 8 km away from the finca.
A trip to the village Garachico is worth the time. It is one of the most beautiful villages in Spain.
You should pay attention to this when booking Tenerife fincas
If you want to book a finca in Tenerife, there are a few things to consider. First of all, you should be clear about what equipment you need. For example, would you like to have a pool or a terrace? Location is also important as you may need a car to get to attractions and restaurants. Also pay attention to whether there are shops near the finca. Finally, you should read the reviews of other guests to ensure that the finca meets your expectations. Book early so that the finca you want is available.
Preparation for a finca holiday in Tenerife:
Packing list: Make one Packing Listto make sure you bring all the necessary items with you. These include, for example, a travel guide (see below), mosquito net*, sunscreen, swimwear, walking boots and a flashlight*.
Check-in times: Clarify check-in times in advance to ensure you won't find the door locked when you arrive.
Groceries: If you want to cook for yourself on site, check if there is a fully equipped kitchen. If not, plan accordingly and bring supplies and ingredients. Spices are particularly good for this. These are lacking in most cottage kitchens.
Climate: Find out about the climate in Tenerifeto dress appropriately and be prepared. Temperatures can vary greatly at different altitudes and regions.
Contact: Before you leave, make sure you get the landlord's contact details if you have any questions or problems.
And finally ...
A vacation on a finca in Tenerife can be a very authentic way of travelling. A rental car is usually necessary, as many of these country houses are located in nature away from the tourist resorts. You usually stay in the countryside or at least away from the big tourist hotels. On a finca you often have contact with the landlords, who can give you tips for activities in the area in addition to the information in the travel guides. Ask about restaurants where the locals eat. Then you can taste the specialties of the region. Get tips for hiking trails tailored to your ability. Discover insider tips that the locals love. You will be surprised what you can discover.
---
Travel Arrangements
Arrival to the Tenerife fincas
Arrival by plane*. There is an airport in the north and in the south of the island.
Car Rentals:
Cheap Car Hire - Book Fast and Easy! *
What needs to be in the  suitcase for a trip to Tenerife?
Our Vacation packing list helps with packing your suitcase.
You need walking shoes for wide feet  if you like hiking. The Canary Island offers numerous good opportunities for this.
A  a daypack is enough., if you like to go hiking. In it you can pack a snack and accommodate everything you need for the day.
On Tenerife you certainly want to enjoy the beaches. With our packing list for the beach vacation you are guaranteed not to forget anything.
Remember to bring a  light jacket to protect you against wind and rain. This is needed from time to time in the higher regions of the island.
You can also find more information about the area in these travel guides:
Travel Know-How Guide Tenerife
MARCO POLO Travel Guide Tenerife: Travel with insider tips. Including free tour app
Tenerife travel guide Michael Müller Verlag: Individual travel with lots of practical tips (MM-Reisen)
Experience Tenerife - The great Tenerife travel guide with 55 unforgettable experiences on the largest Canary Island (Gamikaze Reiseverlag)
Baedeker Travel Guide Tenerife: with a practical EASY ZIP map
Travel Know-How Guide Tenerife
MARCO POLO Travel Guide Tenerife: Travel with insider tips. Including free tour app
Tenerife travel guide Michael Müller Verlag: Individual travel with lots of practical tips (MM-Reisen)
Experience Tenerife - The great Tenerife travel guide with 55 unforgettable experiences on the largest Canary Island (Gamikaze Reiseverlag)
Baedeker Travel Guide Tenerife: with a practical EASY ZIP map
---
Do you also know:
Source Tenerife fincas: own research on site. In any case, our opinion remains our own.
Text finca vacation Tenerife: © Copyright Monika Fuchs and TravelWorldOnline
Photos: © Copyright Pixabay and Wikimedia Commons public domain
Fincas Tenerife - A selection of the best
Last update on 1.06.2023/XNUMX/XNUMX / Affiliate links / Images from the Amazon Product Advertising API