I thought so far, I know what wellness is, but that Hotel Post in Lermoos * taught me otherwise. We spend three days in this hotel below the Zugspitze more Austrian Page. From our balcony we have a direct view of the Zugspitze on our left and the Wetterstein Mountains on the right. When we arrive, all the mountains can be seen cloudless, a sight that can hardly be more beautiful. The Hotel Post, built from scratch in 2006, is located in the center of Lermoos and is built in such a way that one side has the best view of the mountains and the Austrian side of the Zugspitze.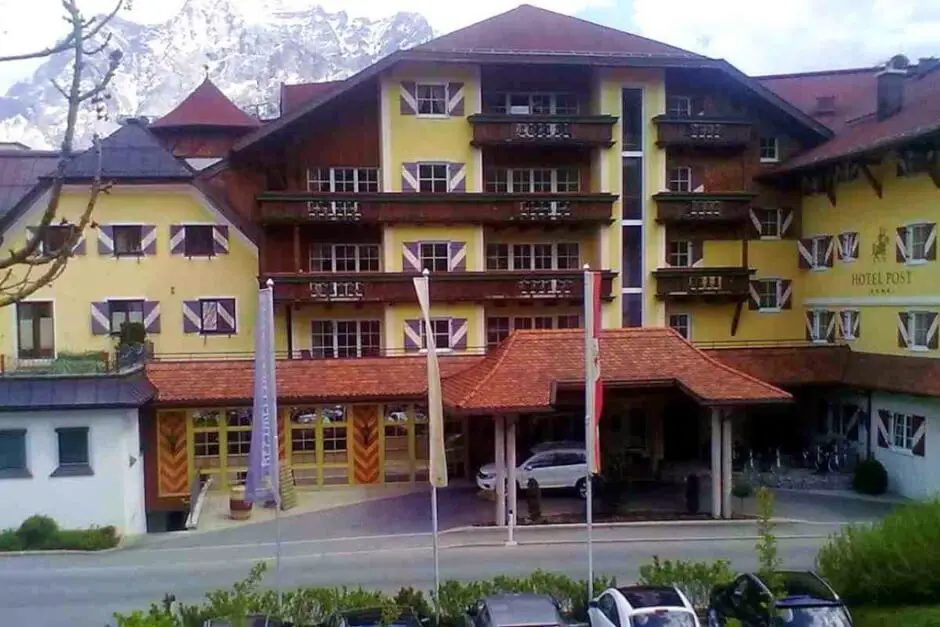 Gourmet cuisine in the Hotel Post in Lermoos
Already on the first evening, we get to know the culinary art of Michael Kramer, who, together with his team, is currently probably the youngest kitchen team in Austria. Everyone, including the chef, is - at least now - under or about thirty years old. Unbelievable, considering that Kramer, who hails from Heiterwang, has already cooked in eight different hotels and restaurants in Europe and a restaurant in New York. His cuisine has a refreshingly creative touch, as he combines international cuisine with traditional Tyrolean food in his gourmet menus, creating a wonderful symbiosis, as we already find out in our first dinner at the Hotel Post. Director and sommelier Markus Saletz recommends the matching wines, which are all from Burgenland this evening, because we are on the occasion of the Pannobile Wine Tasting at the Hotel Post.
Wine from the Burgenland of Pannobile
Pannobile is a vintners' association of Burgenland winegrowers from the region east of Lake Neusiedl between Neusiedl and Gols, an area that we explored a little more closely last year. We know how good the wines from this wine-growing area are and look forward to getting to know and tasting the young wines from 2011. One of them is the Sarastro, which Pannobile describes as "wine with a social soul". The reason for this nickname is that the participating winemakers each contribute a barrel of their best wine and work together on a wine creation until a very special drop is created Burgenland Pannobile winemakers present their latest wines at a wine tasting the next day.
Wine wellness in the 2000 m² Spa
In general, the topic of wine: this also plays an important role in the 2000 square meter spa of the hotel, because it uses the Austrian spa products from Vignoble, which are made on the basis of wine. I am allowed to try this myself on a face massage that shows me muscles that I did not know before. While the young masseuse delicately massages my nostrils and cheeks with almost butterfly-like movements, the pleasant scent of the wine care products rises to my nose. With a warming pad in my neck, I almost fall asleep after the massage. Pure relaxation and wine enjoyment at its finest!
As befits a true wellness stay, we continue our relaxation program on the comfortable lounger on our balcony. While I watch the cloud fragments, which hang ever since the early morning again and again on the summit of the Zugspitze prevent us from going up the mountain, I listen to the gentle jazz tones of Austrian music. So it hardly bothers that the originally planned trip up to the summit of the Zugspitze literally falls into the water because of dense clouds. It's just as much fun to watch the cloud formations cling to the summit again and again blown away. Pure wellness.
Hotel Post in Lermoos - a feel-good hotel in a class of its own
And reasons to feel good in the Hotel Post in Lermoos *many offered: it starts with our gourmet breakfast, which overwhelms me already because of its extensive offer. At the attractively furnished and appetizingly decorated buffet, just about everything is offered, which is a perfect start to the day: various fruit juices, tea in all variations, pastries, bread rolls and various types of bread, jams of all kinds - and something very special: bee honey directly from honeycombs ( It is really not fresher) - sausage and ham, cheeses, a large selection of fruit, eggs to order and of course muesli with a variety of gifts that improve their selection again like dried pineapple, raisins, pits of all kinds and much more.
This is just a small taste of the dinner, which is served after our wellness program. There are cold-smoked trout with cucumber, mustard sauce and asparagus carpaccio, a galanga soup foam, a turbot sandwich with pak choi and tomato fagottini, a wonderfully mild coconut sorbet with may-thai soup, a tender chickadee tenderloin, sweet potatoes and broad beans and a creative banana dessert with mint and caramel.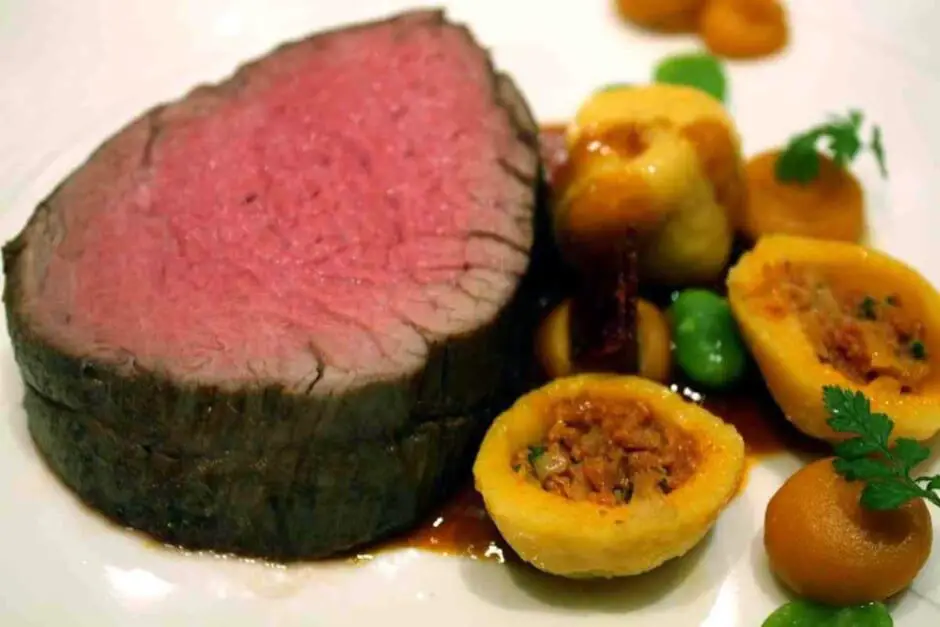 Afterwards, we look forward to our cozy suite, which is furnished in rustic alpine style with all the amenities you would expect from a four-star superior hotel: a large bathroom with separate shower and separate toilet, a comfortable sitting area with a choice invites to read books, the already mentioned large balcony with direct view of the Zugspitze and the Wettersteingebirge and - the Nonplusultra this room - our own tiled stove with stove, on which I almost wish for the winter, once to enjoy its pleasant Heat to come.
Our summary after a three-day stay at the Hotel Post in Lermoos in Tyrol: One should not be misled by the somewhat dusty name of the hotel. No traditional Alpine inn awaits the guest with the usual additions. The Hotel Post in Lermoos was built from scratch in 2006, with the old Postschlössl (on the other side of the village church) dating back to 1560. The hotel has a history of around 300 years. When the hotel was rebuilt, care was taken to mix the 450-year-old tradition of the old Post Hotels with an elegant feel-good ambience, and this was extremely successful. You can still feel the history and stories of travelers who used to come here by stagecoach, and that nobility, art, culture and science came together in this house. The most famous guests included emperors and kings, Johann Wolfgang von Goethe, Andreas Hofer and numerous Austrian presidents. The new, luxurious and elegant alpine hotel, which is one of the best wellness hotels in Austria, manages to combine its long history as a hostel with modern elegance and a very special ambience. We felt very comfortable and would love to come back. Thank you very much for the invitation!
---
You can book the hotel here:

Hotel Post
Kirchplatz 6
6631 Lermoos
Austria
further information, current availability query and convenient online booking*
Here's it other hotels in the Zugspitz Arena*
Do you already know:
---
Source: own research on the spot on friendly invitation of the Hotel Post *. Our opinion remains our own.
Text: © Copyright Monika Fuchs, TravelWorldOnline
Photos: © Copyright Monika Fuchs, TravelWorldOnline
Wellness and wine on the Zugspitze in the Hotel Post in Lermoos