The best spots for whale watching Alaska & Canada

Whale watching is definitely part of a trip to Canada or Alaska. You can enjoy nature everywhere in Canada and Alaska. No wonder. If you take a closer look at the map of Canada, you quickly realize that the densely populated regions of the country are not that big. If you leave these, you quickly reach areas that have rarely or never been changed by human hands. So it's no wonder that there are many places in Canada and Alaska that are great for spotting wildlife. This also applies to whales. These posts are the best for them Whale watching on the coasts of Canada and Alaska:
Where can you go whale watching?
Whale watching off Vancouver and Vancouver Island
The West Coast of Vancouver Island is a place to be in Autumn and in the spring it is worth keeping an eye out for whales. That is when the gray whales pass the Pacific coast on their way to the feeding grounds in the Arctic or to the waters of Central America or Hawaii, where they give birth to their young. Tofino and Ucluelet celebrate in spring every year Whale festival to return the gray whales, The south and east coast of the Vancouver Islands, on the other hand, is a good place for whale watching all year round. Before Telegraph Cove, Sayward or Victoria, Orca families romp around the year and replicate their prey in the coastal waters.
Accommodations near whale stations on Vancouver Island
Alaskan Whale Watching
Whale watching in Glacier Bay and the Inside Passage off Juneau in Alaska
Humpback whales can be seen particularly well in these regions of Alaska. With a bit of luck you can see a mother whale pushing her massive body out of the water with her offspring. Maybe she's on the lookout for the next school of fish. Or you can watch a group of humpback whales create a bubble net in which they catch thousands of small fish. With their mouths open, they dive into this net of air bubbles and quickly fill their stomachs with tons of prey.
Hotels in Juneau & near Glacier Bay
Canada Whale Watching
The Belugas - Whale Watching on the Beaufort Sea
No wonder the waters of northern Canada's Beaufort Sea around Hershel Island were once a whaling stronghold, as thousands of white beluga whales congregate here every year. However, if you want to see them, you have to fly from Inuvik to Hershel Island. With a bit of luck you can then see their white bodies in the coastal waters of the Arctic Ocean.
The whale waters in the Saint Lawrence River
East of Quebec, the St. Lawrence River widens. The Saguenay River finally joins the river at Tadoussac. There, two waters of different temperatures mix with each other. Therefore, the perfect water mixture is formed at this point, in which countless tiny sea creatures grow and thrive in abundance: the krill. This is the main food of the whales. This is the reason why you can see different types of whales at this point of the Saint Lawrence River. Here you will find minkie whales, belugas, fin whales and with a lot of luck even a blue whale from time to time.
Whale watching off Newfoundland and New Brunswick
On top of that, in summer the whales migrate off the east coast of Canada to the cold waters of the north to fill their stomachs. Then is the best time to them off the coasts of Newfoundland to observe. With a bit of luck, you can even see them from land. Then you can often find them in front of the cliffs at Canada's easternmost point, Cape Spear. However, you can get closer to them if you venture out into the waters of the Atlantic by boat. Then you hear the loud hiss they emit as they force the compressed air they breathe out through their nostrils.
Accommodation for whale watching in Newfoundland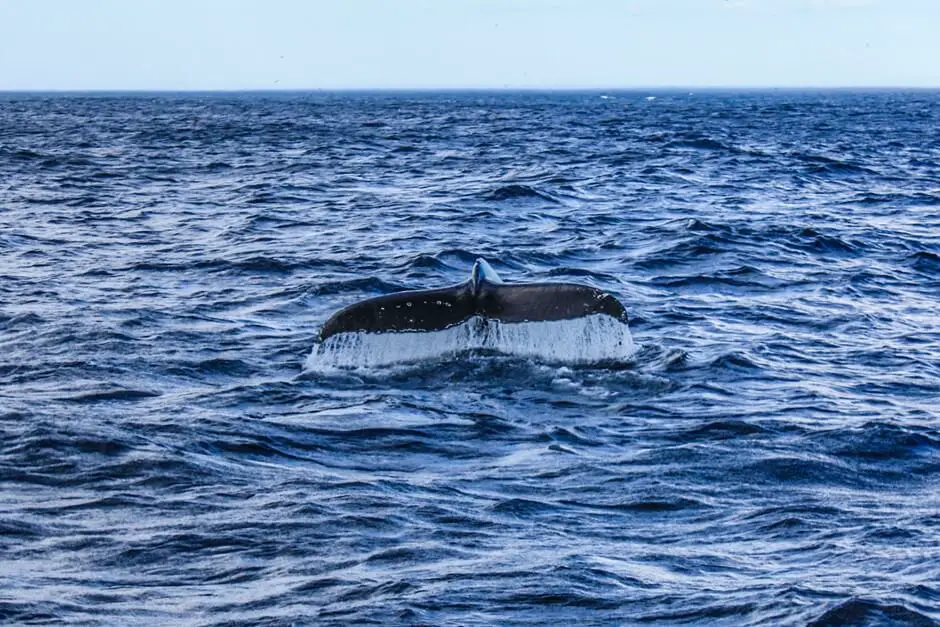 Especially at the exit of the Bay of Fundy towards New England is a good place for whale watching. From Grand Manan Island In the summer, boats leave daily for the marine mammals that like to spend their time in the deeper waters at the Bay of Fundy. It's best to reserve a spot aboard one of the whale watching vessels when you come from the ferry to Blacks Harbor.
All these places are well suited for whale watching, partly from land, but mostly from the sea, where they are definitely getting closer. A whale watching tour is an impressive experience that promises different impressions every time and should not be missed when the opportunity presents itself.
What you should know about whale watching in Canada and Alaska
When can you see whales in Canada?
It depends on the whale species and the region. In Vancouver Island, gray whales can be spotted on the Pacific coast in spring and fall. Orcas can be seen on the other side of the island all year round. Whales can be seen in Newfoundland and the St. Lawrence River during the summer months. The belugas at the Arctic Ocean can be seen mainly in summer. In the winter they keep their breathing holes clear in the ice, but you have to be very lucky to see them there.
What whales are in Alaska?
In the southern coastal waters of Alaska, humpback whales, killer whales and gray whales are most commonly seen. If you travel to the Arctic coast, you can also observe beluga whales there.
More tips for whale watching in Canada & Alaska
---
Travel Arrangements:
Parking at the airport
Here you can reserve your parking space at the airport.
Getting to Whale Watching:
Arrival by plane, bus or train*. Air Canada, Condor and Icelandair fly from Germany to various airports in Canada and Alaska.
Car Rentals:
Cheap car hire - book quickly and easily!
Hotels:
Hotels in
you can also book through our partner booking.com.
---
Do you already know:
Source: own research on site
Text: Copyright Monika Fuchs and TravelWorldOnline
Photos: Copyright Monika Fuchs and TravelWorldOnline
Whale Watching Alaska and Canada