Rain in Dublin? What now?
What to do in Dublin when it rains Quite simply: what you set out to do. At least that's the Irish motto. On Ireland travel you always have to expect rain. We are a day before a conference starts Dublin arrived. We want to take a closer look at the city and its surroundings. We are also curious and want to see the port cities in the south of Dublin Bay. Only, on the day our tour takes place, it rains. No, it pours what it takes.
"It can be cheerful," I think to myself as we wait for our guide. I look out with little confidence, where the rain is on the parking lot in front of ours Hotel has already left puddles. It pours. Plus, it doesn't look like it's going to stop anytime soon. Since we have nothing else to do that day, we pull ours raincoats an- We are well prepared for whatever comes next.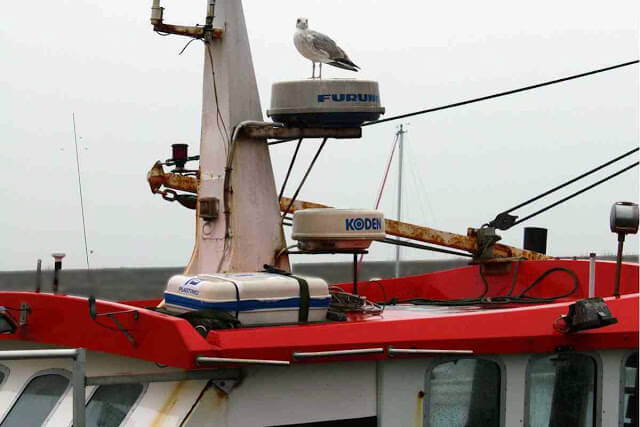 Our Dublin guides are David and Yvonne who only started their businesses a few years ago. David also works as a taxi driver and as such discovered many of the places he wants to show us on his taxi rides. Since he likes to take photos himself, he has an eye for photogenic spots. Yvonne is a bookseller. In addition to her job, she was looking for another activity in which she spends more time outdoors.
The two of them offer tours in and around Dublin that aren't so much about information about the things we see along the way. Instead, there is plenty of time to look for a photo subject. Actually a good idea, as we are not rushed from place to place here, but can enjoy the beautiful places and look for the perfect motif for our photo. If only it weren't for the rain!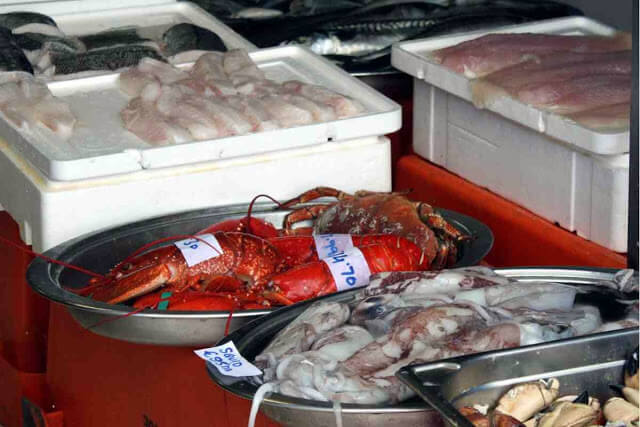 Rain in Dublin? What the hell!
But David doesn't let that get him down. Instead, he always encourages us. So we trudge after him through wet meadows and puddles on the streets to ponds, lakes and harbors, which he shows us on his four-hour tour. We meet swans, seagulls and seals. Watch tireless Irish swimmers as they enthusiastically dive into the water in the pouring rain. "We get wet while bathing anyway," laughs one of them when we ask him if the weather doesn't bother him.
You do that in Dublin when it rains
David tells us that even in the dead of winter he regularly meets bathers in the harbor bays who take their daily bath in the sea. "We definitely do that," he says. "Our winter temperatures are not as cold as you are on the mainland." And apparently bathers seem to enjoy it. Most of them are already of retirement age. "That keeps her young," laughs David.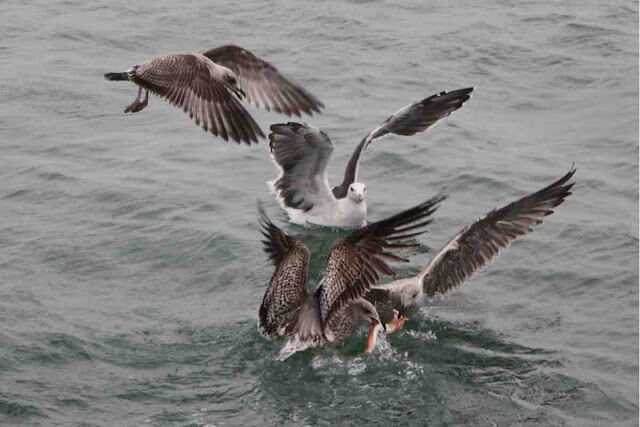 These places are beautiful even when it rains
We drive to places along the coast south of Dublin, including Killiney, Dalkey, Dun Laoghaire, Sandycove Beach, South Bull Wall and the Poolbeg Lighthouse, from which we have a view over the Dun Laoghaire ferry terminal. The rain has subsided a bit on the way and has turned into a fine drizzle. That's why we are out without an umbrella most of the time. Because the clouds hang pretty low, we don't see everything that David actually wants to show us. Instead, we discover details that we would otherwise not have paid attention to.
We watch a seal in the harbor basin as it patiently waits for snacks from the fish market, and watch how it quarrels afterwards with a flock of seagulls. In the fish market we watch how the fresh fish is sold directly from the fishing boats. And at the James Joyce Museum just a few steps from Sandycove Beach, the museum curator even takes the time to tell us about James Joyce's connection to this Martello Tower. (Joyce described a scene from his life that took place here in his work "Ulysses".)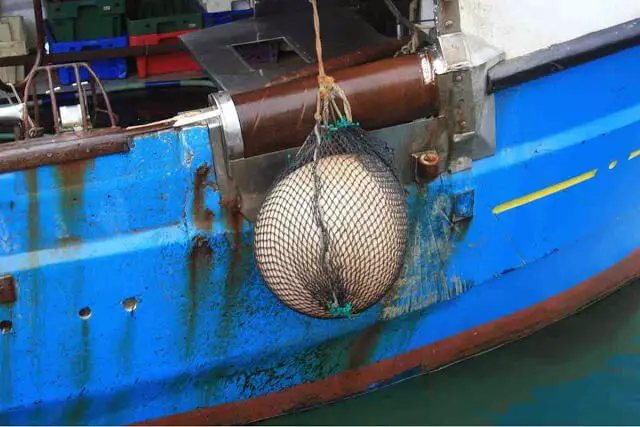 At Dun Laoghaire Ferry Terminal in the rain in Dublin
Despite the rain, we do not let ourselves be stopped from walking the South Bull Wall in the ferry terminal of Dun Laoghaire to the Poolbeg Lighthouse. The wind that blows in from the Atlantic dries our jackets quickly in the short intervals between the rain showers. Only on the way back to the car does the rain finally stop and we sit in it - soaking wet. Still, we're glad we took some good photos. At our last stop, however, we all forego the walk to the viewpoint and prefer to sit in a tea shop. There we warm up again with a hot cup of Irish tea and end our excursion in a good mood - despite the rain in Dublin.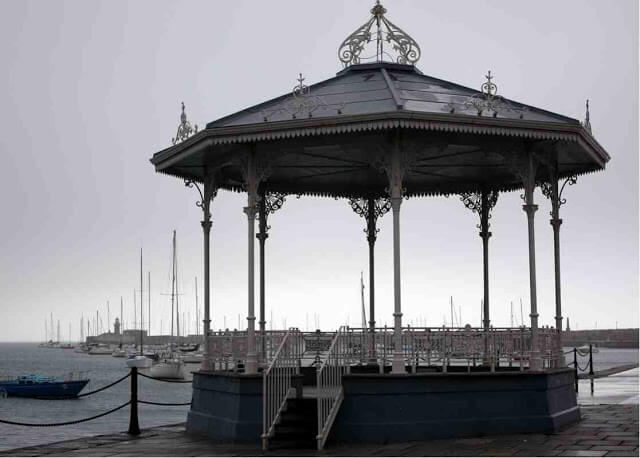 When it rains in Dublin
The conclusion of our trip to the south of Dublin: Do it like the Irish and live according to their motto: "It could be worse!" In any case, our photo tour to Dun Laoghaire and Killiney remains fond memories despite the rain, especially thanks to the good mood of David and Yvonne. If you're looking for other excursions, check out the ones Day Tours from Dublin by Bruna & Frank.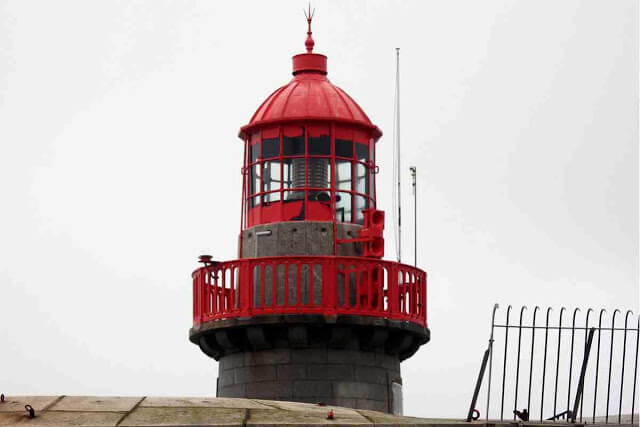 Dublin tips from travel bloggers
---
Travel Arrangements:
Parking at the airport
Here you can reserve your parking space at the airport.
Arrival
Arrival by plane, bus or train*. Lufthansa and Air Lingus will follow Dublin.
Car Rentals:
Cheap Car Hire - Book Fast and Easy! *
Accommodation in Dublin:
Dublin Hotels * you can, for example, book via our partner booking.com under this link. Hotels in Ireland * There's also this link.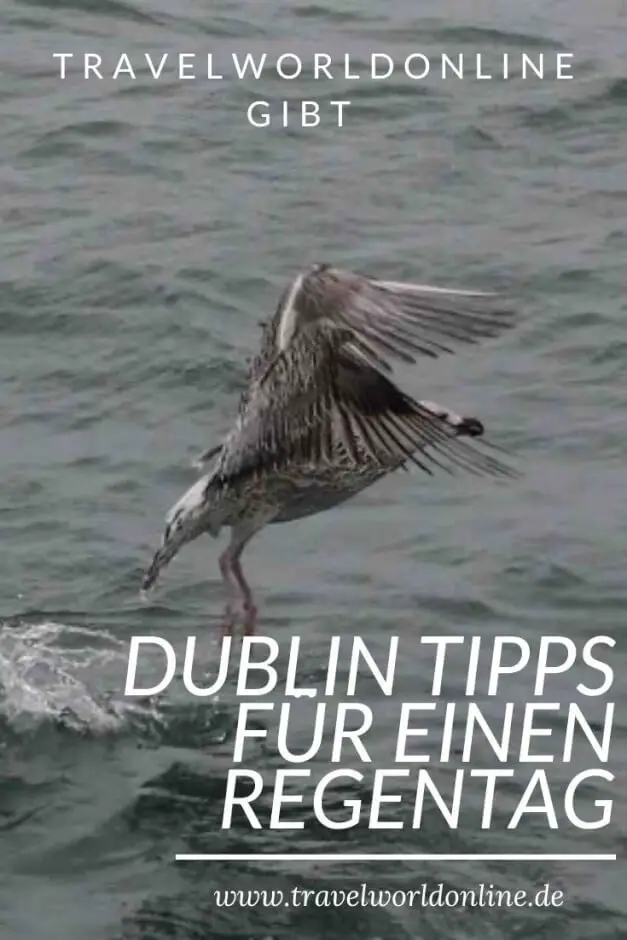 Do you also know:
---
With this contribution we participate in the blog parade "Travel tips for bad weather"By Ina von Genussbummler.
Source Rain in Dublin: Research on location at the invitation of Dawn2Dusk. However, our opinion remains our own.
Text Rain in Dublin: © Copyright Monika Fuchs and TravelWorldOnline
Photos Rain in Dublin: © Copyright Monika Fuchs and TravelWorldOnline
What to do in rainy weather in Dublin?