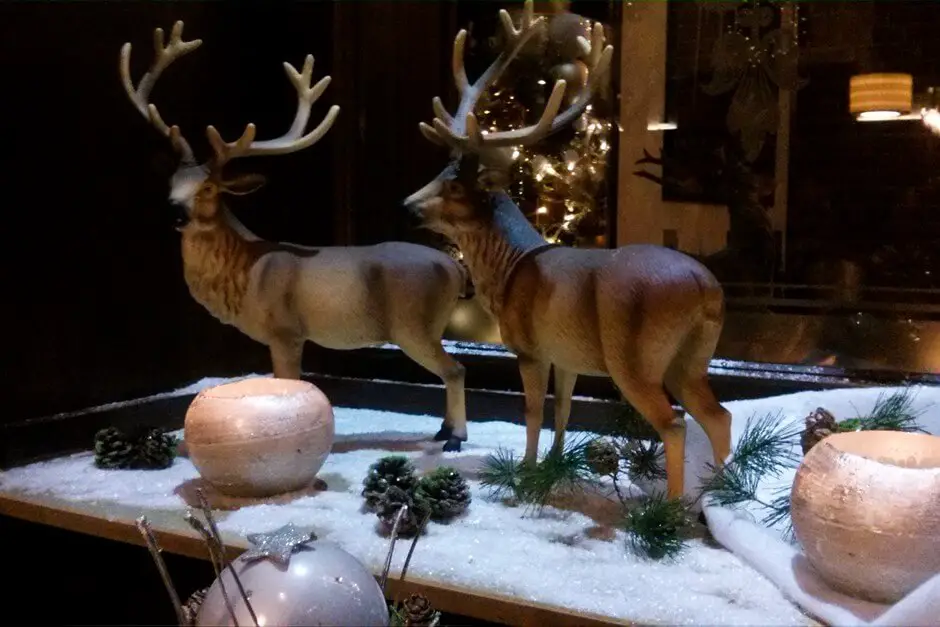 Where can you eat well in Neanderland? The answer is easy. In the Stemberg house in Velbert in Nordrhein-Westfalen. The kitchen has won the award. Sascha Stemberg, the head chef at Stemberg, cooked up a Michelin star in 2013. In the Gusto restaurant guide, he was named "Rising Star of the Year". The Stemberg house can also boast two television chefs. Sascha Stemberg has been appearing on the WDR television program "Kochalarm" on Thursdays in the Current hour on. His father Walter Stemberg, who ran the Gourmet Restaurant until 2015 with his wife Petra, is one of the pioneers of cooking shows on television. He appeared in more than a thousand cooking programs. He is also the author of numerous cookbooks. Whether you can eat well in Neanderland, we want to find out during our visit to the house Stemberg. The cooking skills of Sascha Stemberg we may during our # Winter Happiness Journey through North Rhine Westphalia tasting at a tasting menu.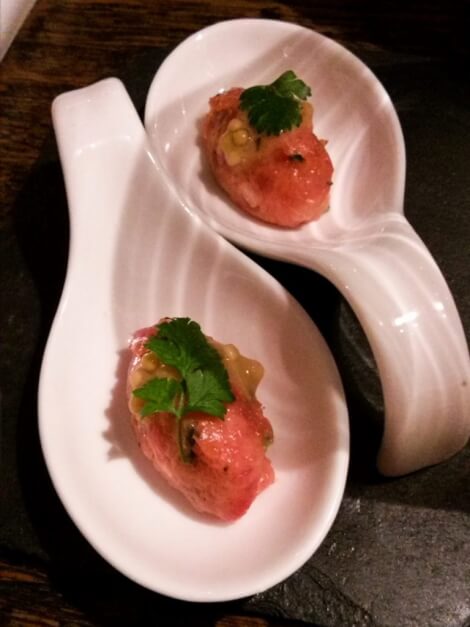 In Neanderland you can eat well in the house Stemberg in Velbert
What we particularly like about the Stemberg house apart from the culinary arts is the family atmosphere. We are greeted at the entrance by Petra Stemberg, who leads us to the table. Immediately afterwards, Walter Stemberg greets us and tells us something about the history of the restaurant. "We are the fifth generation to run Stemberg. The history of the house began in 1864 with a coaching inn run by Heinrich Stemberg. And we want to stay that way. A country inn with a star. "We feel comfortable in the hospitable atmosphere of Stemberg. And obviously it's not just us, because all the guests we watch at the next tables enjoy their evening as much as we do.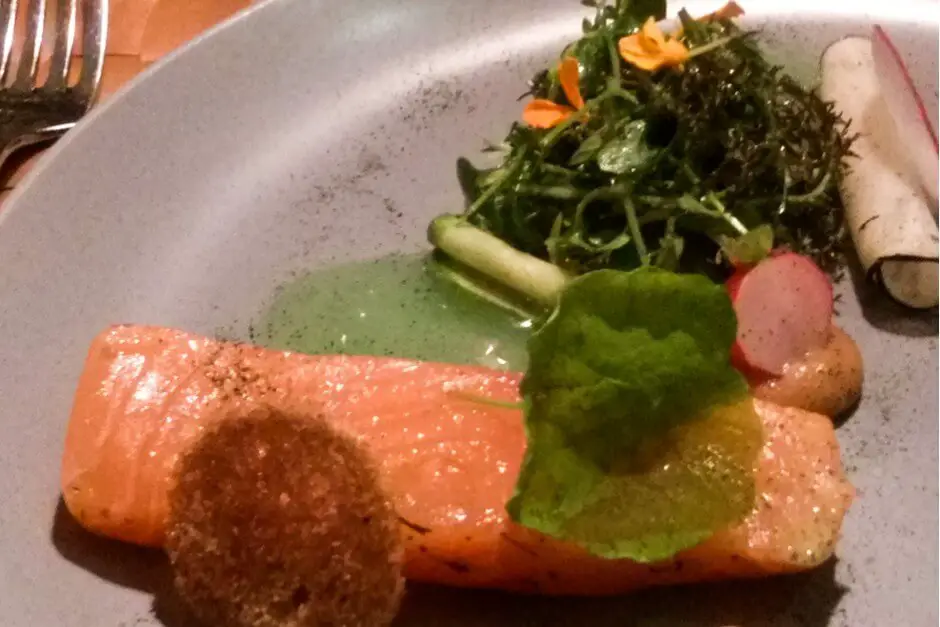 Starters
As a welcome, the chef serves us a Stemberg's Prisecco, an aperitif made from apple and pear juice, which is fermented with oak leaves and tastes delicious. At the same time comes the first greeting from the kitchen, which will follow in the course of the evening, further expand our eight-course tasting menu. The dishes are chosen so that we can enjoy them despite the many courses. Since I do not have to go by car, I choose the wine accompaniment to the food, Petar prefers a non-alcoholic juice accompaniment to the courses, which is also tuned to the food taste. First course is a Faroese salmon pickled in gin and tonic with radish, herbs, celery miso, ginger and apple horseradish sauce, which delicately melts on the tongue.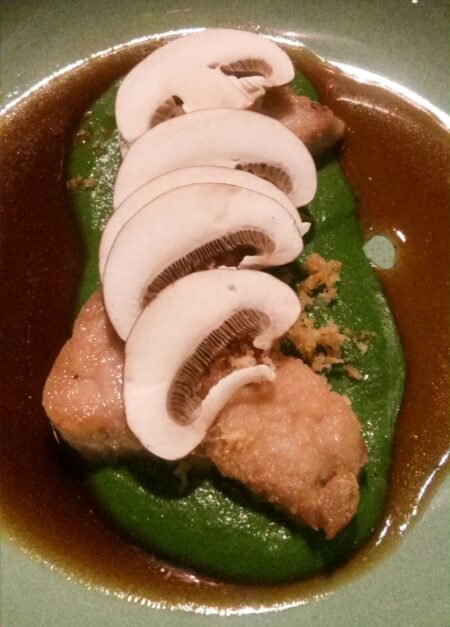 Intermediate dish and main course
This is followed by a heart calabash on kale cream with pear, roasted onions and mushrooms. As an intermediate dish Sascha Stemberg serves us a tangerine gratinée with Reisetbauer Blue Gin and foamed celery. This is followed by the main course. A deer back from Bavaria with moles, pointed cabbage cannelloni, Batatecreme, sea buckthorn, beech mushrooms, a dried fruit sandwich and sauce Rouennaise.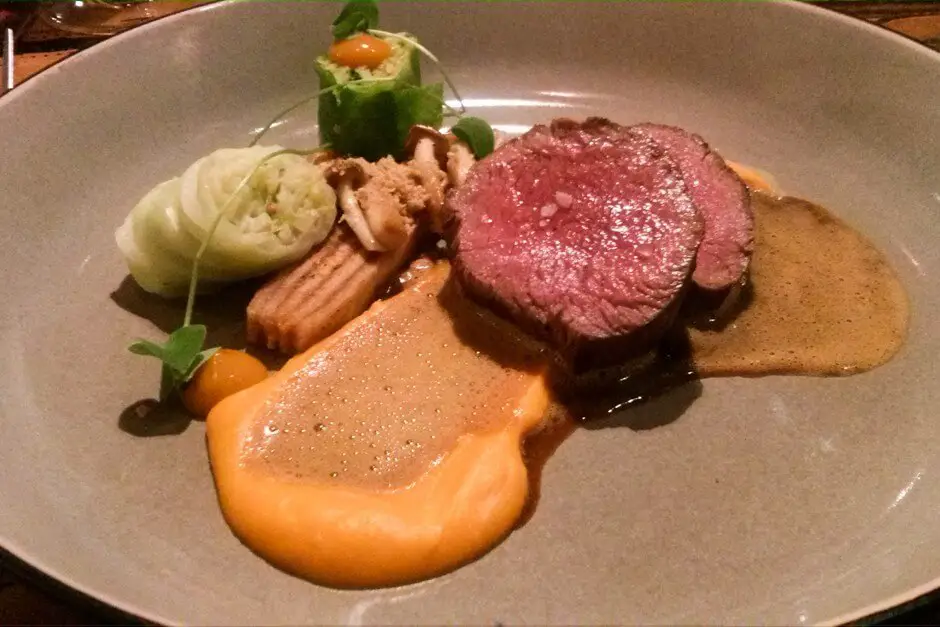 In conclusion
The menu concludes with a selection of cheeses from the Windrather organic farms with apricot confit or fig mustard and fruit bread, a baba au rhum with confit spice pineapple, mango sorbet, kaffir lime, green curry and coconut and finally espresso with a selection of Christmas cookies.
During our menu, we can not only observe what is happening in the kitchen, which runs smoothly, but also admire the way the staff treats the guests. In the Sternberg family, hospitality is definitely a top priority. Casual hospitality ensures that every guest feels comfortable. The harmony within the team is transferred to the guests, with whom the senior boss and his wife are happy to sit at the table and make them feel welcome.
If you do not want to enjoy eight courses, you can also order in Haus Stemberg from the day ticket whose prices are in the moderate range: for a Sauerbraten with red cabbage you pay 27, - Euro. A Wiener Schnitzel of veal with cranberries and potato-cucumber salad costs 24,50 Euro, a small portion of 19,50 Euro.
Our conclusion: you can eat well in Neanderland in Haus Stemberg, which offers the finest enjoyment in a hospitable ambience. It's also available at prices that everyone can afford. There's only one thing you should do. Reserve a table! Because Haus Sternberg is popular in the region. Many of the guests are already reserving a table for their next visit.
---
Travel Arrangements:
House Stemberg
Kuhlendahler street 295
42553 Velbert-Neviges
Tel 02053 / 5649
Fax: NO / NO
www.stemberg.tv
www.facebook.com/HausStemberg
Parking at the airport
Here you can reserve your parking space at the airport.
Accommodation in the area * you can also book at booking.com.
---
Do you already know:
Find more Food Travel can be found here. Discover restaurants, which we also recommend here.
Source: own research on site. We thank you The Neanderland and North Rhine Westphalia Tourism for inviting me to this trip. However, our opinion remains our own.
Text: © Copyright Monika Fuchs and TravelWorldOnline
Photos: © Copyright Monika Fuchs and TravelWorldOnline
Video: © Copyright Petar Fuchs and TravelWorldOnline
Where can you eat well in Neanderland?