Eating well in Kassel? This is possible in this Kassel restaurant
In which Kassel restaurant can you eat well in Kassel? On our visit the three UNESCO World Heritage Sites in the Kassel area we were looking for good restaurants. We found it here. At a rustic inn and a café that not only offers great cakes, but also Kasseler and Hessian Specialties. Our tip: here you can eat well in Kassel. A visit is worthwhile once you are in Kassel: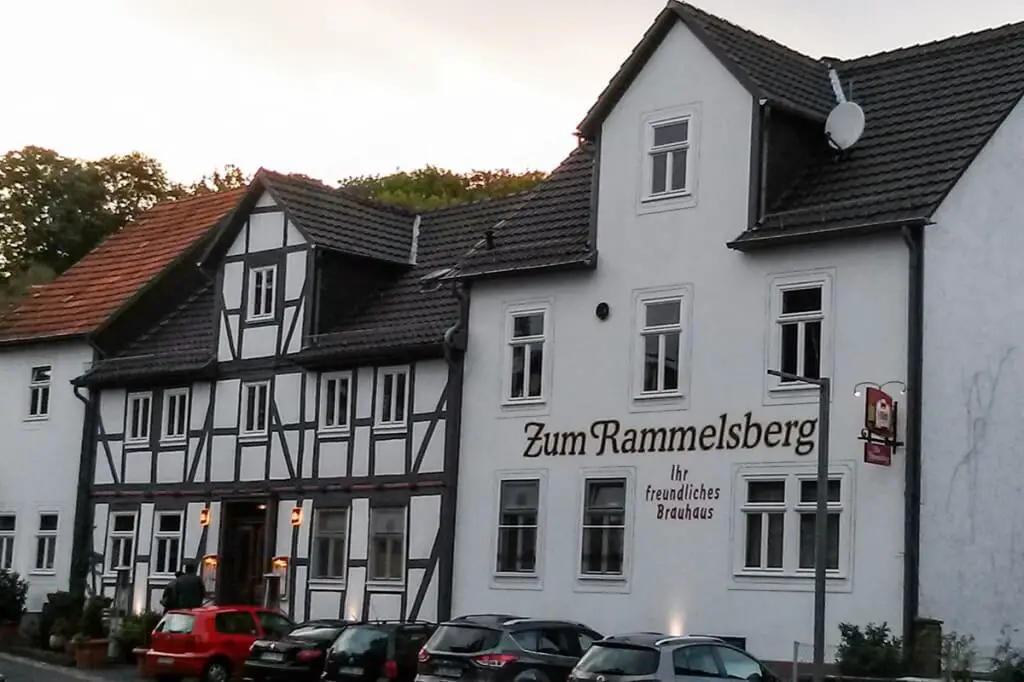 Eating well in Kassel in the brewery to Rammelsberg
Only a few minutes walk from our hotel, the Schweizer Hof at Wilhelmshöher Allee *, to the brewery to Rammelsberg in the old Kassel. The city of Kassel was almost completely destroyed during the Second World War. There are only a few remnants of the once fashionable place. For this reason alone, the rustic brewery zum Rammelsberg is worth a visit. It belongs to an ensemble of old half-timbered houses that are grouped around a square and looks very inviting with its half-timbered facade. The motto "Your friendly brewery" is also promising. This is also true - as we find out - in service.
Have a nice meal in this Kassel restaurant
We take a seat in the dining room, which is furnished in rustic style with wooden tables, wooden walls, indirect light and candelabras and is very well attended. The guests feel good. We filter not only Hessian chunks out of the confusion of voices, but also one or the other English sentence. This shows that visitors to the brewery are international. Obviously not only we want to eat well in Kassel. The atmosphere reminds me a little of one of my student pubs. In which I spent whole nights with discussions and lots of fun with my university friends. I like the atmosphere, and we're curious to see what the food is like.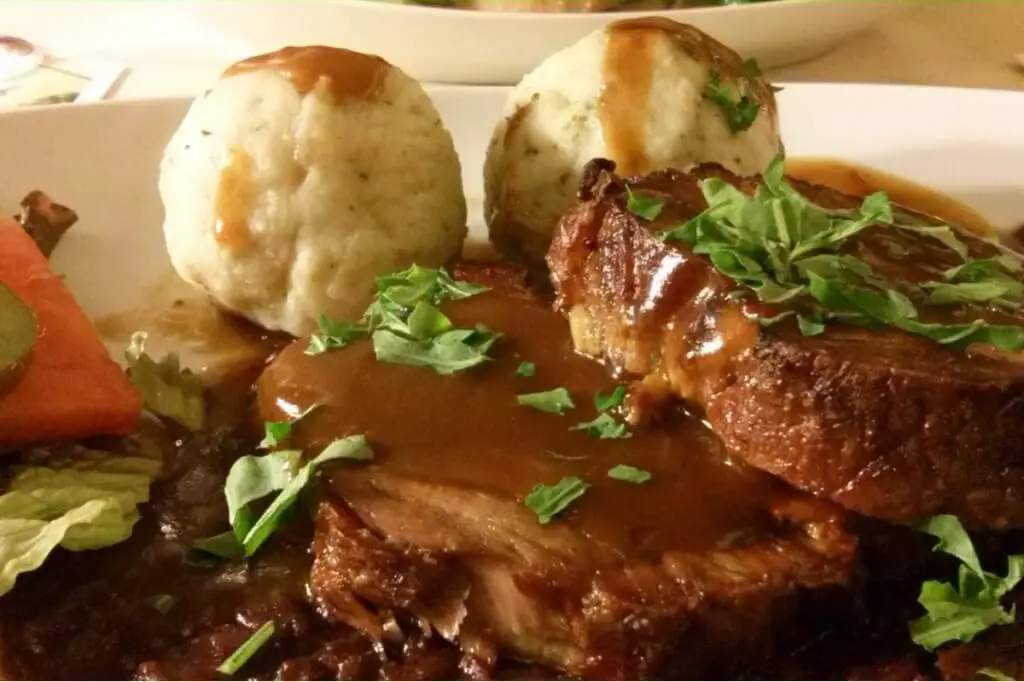 Caution: there are large portions in this Kassel restaurant
We are with ours Visit to the water features in Bergpark Wilhelmshöhe got hungry and ordered us a plate of antipasti, which we share for starters. Petar takes a beer coachman steak to the main course and I choose a roast pork with red cabbage and dumplings. Our appetizer dish is a poem. With zucchini and eggplant, olives, mushrooms, salami, vitello tonato, sun-dried tomatoes, bruschetta with diced tomatoes, and other delicacies alone the plate antipasti would have been enough to fill us up after our tour along the water features. A glass of cider, and a perfect dinner is guaranteed.
At the sight of our main courses, I know immediately that we will not be able to manage these quantities. Each of us receives two pieces of meat with vegetables and side dishes. Had we previously known how large the portions in the brewery to Rammelsberg are, we would have waived the appetizer. However, we would then have been poorer for a tasty experience. So we enjoyed this and part of our main course. Satisfied, satisfied and tired, we finally left this place, which we recommend to you. Our tip is: first order a course and then see if you are still hungry. The portions in the brewery to Rammelsberg are huge. You can eat well in Kassel here.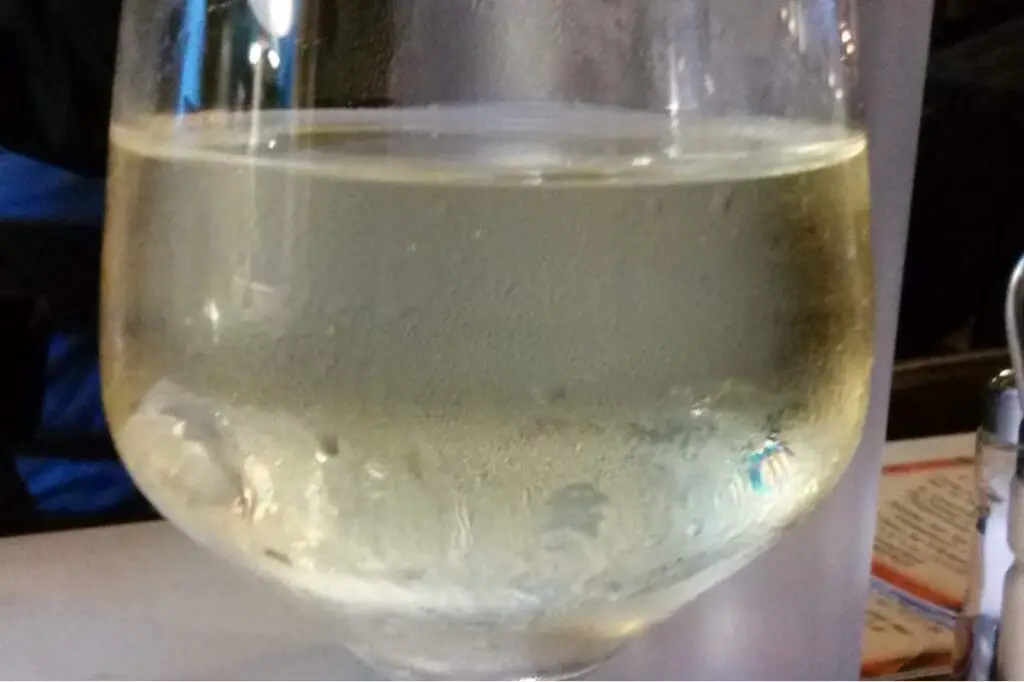 Brauhaus Zum Rammelsberg
Rammelsbergstrasse 4
34131 Kassel-Bad Wilhelmshöhe
Telephone: 0561-3162730
Email: info@zum-rammelsberg.de
www.zum-rammelsberg.de
Eating well in Kassel: Café Nenninger
A little reminds me of the Café Nenninger with its nostalgic interior and the cakes at the counter of the pastry shop to the Viennese coffee houses, The choice of cakes made sure that my mouth was watering immediately. There is a prince cake, raspberry pies, chocolate pies and a range of pies in bear or heart shape. Even a Barbie cake is offered. With this pie selection one always wins my heart.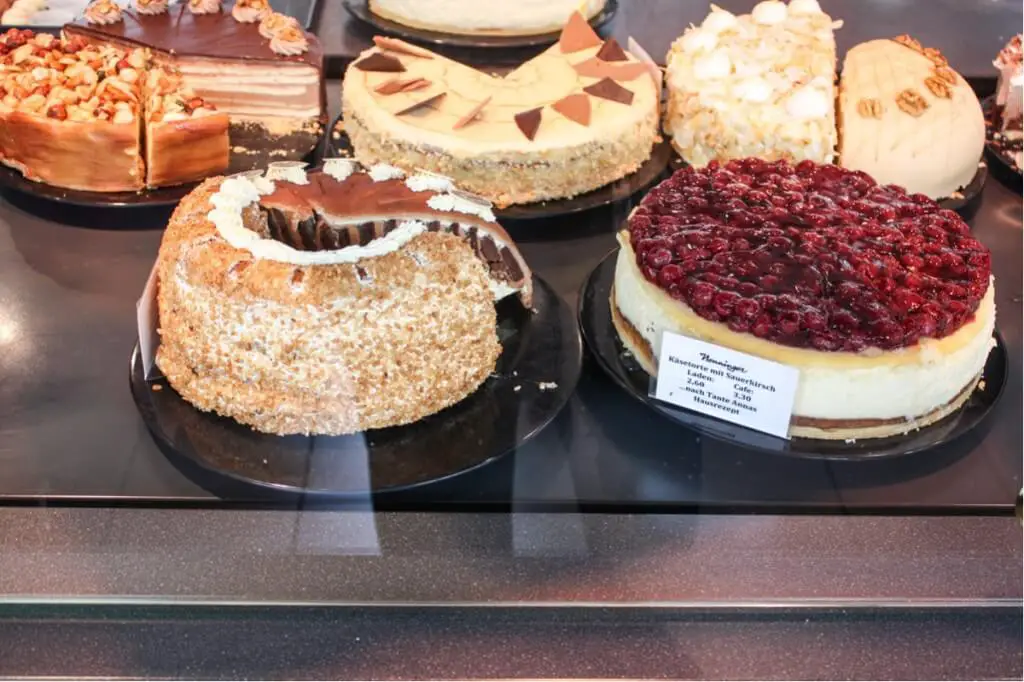 Hessian specialties
The only difference was that our conversation at the table was about Kassel and Hessian specialties, which prompted the waitress to offer us a plate of it. "This is how you can try the regional specialties," she says, and presents us with a plate of green sauce and awl sausage. Of course, as a non-Kasseler, we are interested in what you eat in this city. That turns out to be a good decision. I especially liked the green sauce, a kind of herb sauce with boiled egg and warm potato. I'll be sure to look out for that next time I visit Hesse.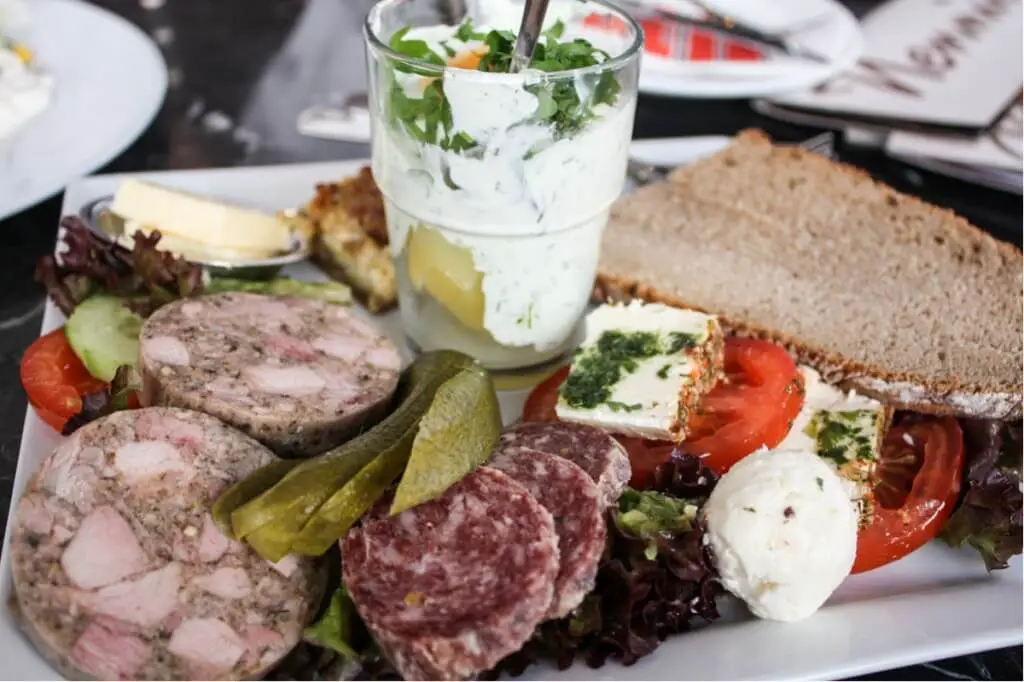 We recommend the Café Nenninger, which is located in the center of Kassel, as a perfect place for a lunch or coffee break. The service was very friendly and endeavored to our needs. And the food was good. Maybe someone of you has ever tasted the pies at Café Nenninger? Then you are welcome to tell us in the comments how you liked them.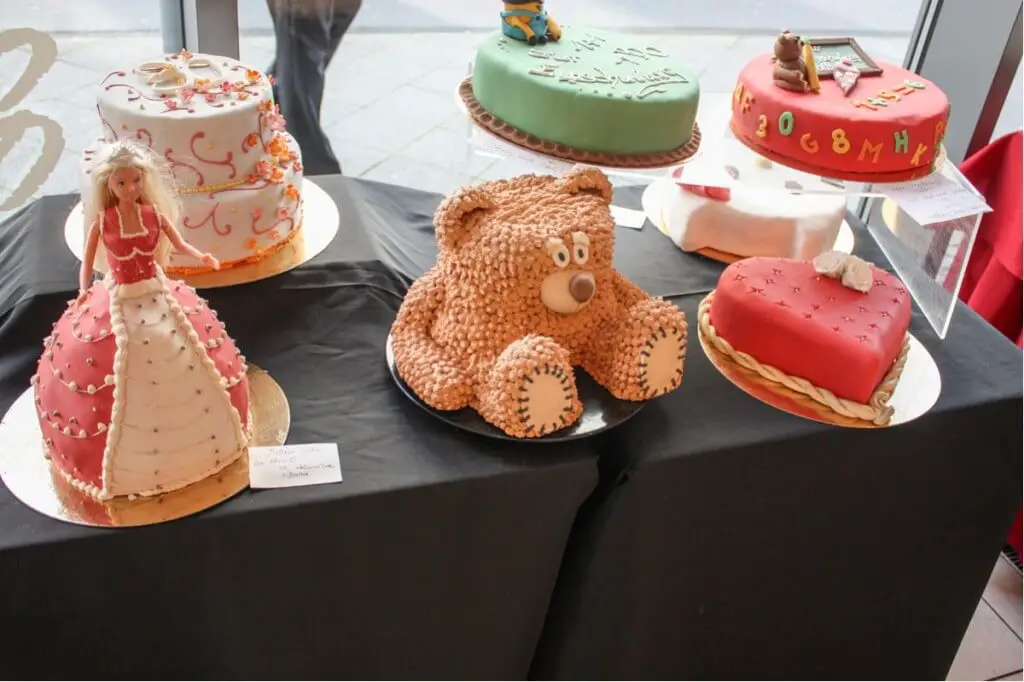 Café Nenninger
Friedrichsplatz 8, near Karlsplatz
34117 Kassel
Tel. 0561-7 66 16 90
www.cafe-nenninger.de
What you need for a visit to Kassel
---
Travel Arrangements:
Arrival by train or bus
Lufthansa and other airlines fly to Frankfurt or Hanover. Possible is the journey by train to Kassel. Conveniently located the ICE station Kassel-Wilhelmshöhe (Map). From there you are on the Wilhelmshöher road quickly on the mountain park, in which Schloss Wilhelmshöhe and the water features. information about local transport links is here. In addition, long-distance buses go to Kassel.
Cars:
Cheap Car Hire - Book Fast and Easy! *
Hotels in Kassel:
Hotels in Kassel * You can book through our partner booking.com at this link.
---
Travel Tips for Hesse
Source: own research on site. We thank the GrimmHeimat Nordhessen for the friendly invitation to this trip. Our opinion remains our own.
Text: © Copyright Monika Fuchs, TravelWorldOnline
Photos: © Copyright Monika Fuchs, TravelWorldOnline