We ask travel bloggers: where to go skiing?
Where to ski? Our series of ski and winter-We are continuing travel topics with a survey among travel bloggers. We asked them which ski area they prefer to ski in. Your answers are surprisingly diverse:
---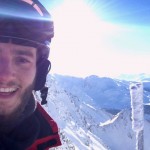 Clemens Sehi skis on the Kaunertal Glacier
Clemens Sehi of Anekdotique tells us his: "My preferred ski area is Tyrol youngest glacier, the Kaunertal Glacier, It is so beautifully located that even the journey by car on the Kaunertal Glacier Road is only to marvel. And on top of the glacier, the best snow conditions await the skier, a large selection of secluded pistes of all difficulty levels and the best: it is seldom really overcrowded. But do not tell anyone, will you?
---
The nordic family likes to go skiing in Scandinavia
In nordic family rather go skiing in Scandinavia: "As nordicfamily we have been skiing for many years in Scandinavia. There we combine alpine skiing and snowboarding with cross country tours. In addition, the ski areas are clear and very family friendly. We especially love Björkliden in Laplandwhere we were in brilliant sunshine last April in April. It is only a few hours dark at this time of year and we enjoyed the long days. It also irritated us with the opportunity to try out heliskiing, but we saved ourselves for the next time.
---
Franziska Reichel likes to go skiing near Munich
Franziska Reichel of coconut sports likes to go skiing not far from Munich: "My favorite corner for skiing is the triangle St. Johann - Kitzbühel - Fieberbrunn in Tyrol, The region can be reached from Munich in about one and a half hours and without snow chains and is thus also suitable for a day trip. All three ski areas are perfectly prepared, incredibly spacious and versatile - for beginners as well as experienced riders. By the way, you can get very good and cheap accommodation in nearby Kirchdorf. From here you can check the snow report in the morning and then drive to the valley station in the best conditions in just a few minutes. "
---
Britty Smyrnak recommends LAAX to our question: where to go skiing?
Britta Smyrnak of loop says: "My absolute favorite is LAAX, I know boarders and skiers do not always like each other, but here's the distribution around 50: 50 and that makes it more relaxed for both sides. The slopes are awesome, the ski area is huge and you can ride endless. What I especially like, because you can find great slopes elsewhere, these are the huts. I have not found anything so casual, relaxed or stylish anywhere else. Finally cool music instead of Alpengejohle, good food and great people. Unfortunately, Switzerland is not cheap, but it's worth it!
---
Melanie Jungwirth skis in the Salzburg region
Melanie Jungwirth of holiday stories moves like in the Salzburger Land Ski: "My favorite ski area is in the Salzburger Land in Austria and is small but nice. In the Gaissau-Hintersee ski area, I get everything my skier's heart desires, without being stuck in traffic jams on the motorway. Because the Gaissau-Hintersee ski area is only about half an hour's drive from the city of Salzburg. The slopes are well maintained, mainly red and blue slopes and the mountain panorama is just a dream. The prices also invite everyone to ski, because with a day ticket price of EUR 32,80 at the weekend and EUR 24,70 from MON-THU, you can ski really cheaply here. There are several ski schools, ski rentals, a boarder park and rustic huts that invite you to stop by. "
---
Katja Wegener goes skiing in the Ötztal
Katja Wegener from Wellness Bummler likes to ski in the Ötztal: "Skiing in the Ötztal
My personal favorite ski resort is moving ever further away from its old image of being the baller of white splendor.
The snow offensive in the Ötztal offers the right slopes for every wish and skill. In addition to a smaller family ski area, a total of 145 piste kilometers of mainly red and blue pistes form perfect conditions for every driving pleasure. And for all adrenaline junkies, there are many black sections available.
The snow guarantee from October to May is provided to the two adjoining glacier areas with the Rettenbach and Tiefenbach glaciers as well as the snowmaking of over 67% of the slopes.
But not only for snow is taken care of, the culinary supply is not too short. From the traditional Gampe Alm to the state-of-the-art Ice Q, there is something for every taste. And if you would like to relax afterwards in the spa, enjoy wellness in the Aqua Dome. But it is clear that snow fun in both sporting and culinary terms has its price. "
---
Anna Tillmann drives to the Zillertal
Anna Tillmann of Anemina Travels is in the winter like in Zillertal Skiing: "For a few years I've been riding snowboarding with friends for a week in the Zillertal, to be more precise, to Zell am Ziller. Incidentally, this is the only place in the world for which I make a permanent exception to my rule of visiting each place only once. The ski area is huge, it never gets boring and right on the doorstep there are not only great slopes, but for the snow guarantee also a glacier and a couple of fun parks. The Willie happy hour in the après-ski bar is not to be despised and we have taken our landlady so much into the heart that we book our holiday already in the summer, to make sure that we also get one of their apartments. "The customer review has been automatically translated from German.
---
Elena Paschinger skis in the Salzburg region
Elena of Creative Lena loves to drive in the Salzburger Land Ski: "For me, the ski area around the Hochkönig - Dienten is one of the top ski areas in Austria, because there I find a wonderful balance between tranquility, a vast natural landscape, the possibility of snowshoe or even barefoot hikes (!) And lantern hikes through the nocturnal Winter forest and beautifully developed ski areas for carving & cruising. As accommodation, I can recommend the cozy, family-run Hochkeilhaus directly on the Hochkönig at around 1700 meters above sea level with a view of the surrounding mountain landscape.
---
Christian Jannasch moves to the USA to go skiing
Christian Jannasch of My TravelWorld is looking forward to the new ones Ski resorts in Wyoming know. My previous favorites are Mount Rose in Nevada, Homewood in California (each small ski areas with a special charm), Vail in Colorado (great bowls on Back Mountain) and Park City in Utah (varied ski area with all the trimmings).
But also popular ski areas like Aspen (Colorado), Whistler (British Columbia), Lake Louise (Alberta) or Squaw Valley (California) are not to be despised. After all, there aren't any bad ski resorts in anyway North America, so that you should pack your things right away and not miss this special winter sports experience. If you have any questions, please feel free to contact me or visit my blog for the ski resort reports about Utah.
Our tip
My personal tip: Winter sports in Canada and the US can also be optimally combined with some sightseeing. Why not jet out after a week of skiing in Utah, Las Vegas and National Parks, or hang out in Canada for a few days in beautiful Vancouver? Many more tips and inspiration for North America can be found here on Monika and Petar's blog. "
---
Karina is drawn to Sweden
In Are in Sweden Karina was from Magical elsewhere the very first time on skis. The area around this beautiful winter resort is very popular with the Swedes as a ski region and to this day it is also my favorite ski area. Up there it was not overcrowded, there were numerous great ski routes, in all possible levels of difficulty. As a beginner, I had time between time to enjoy the incredible view of the valley and then it was back on the next well-groomed slope down into the valley. For me, it was a wonderful start to my very young career as a skier. If you ask me: Sweden is perfect for skiing!
---
Viktoria Urbanek attracts Kitzbühel
Viktoria Urbanek of Chronic wanderlust likes to ski here: "Kitzbühel! If not participating in the Hahnenkamm race, but waving the Streif at your own pace! What could be nicer than to see the great Kitzbühel Alps in the panorama. Do not forget delicious Kasspotzn and Kaiserschmarrn Recipe To taste! Ski Heil! "
---
That's a lot of good tips for skiers and Ski travelers to the question Where to ski?. Many thanks to all the travel bloggers who supported us so actively with their personal tips. We are very happy about it. We therefore hope that these tips will also inspire you to take a skiing or winter holiday in one of these regions. Do you still need tips? what you should pack for your winter trip? You can find it here.
Do you also know:
Photos Where to ski: © Copyright of the travel blogger. We thank Christian Jannasch for the photo from Squaw Valley.
Where to ski? – This is recommended by travel bloggers