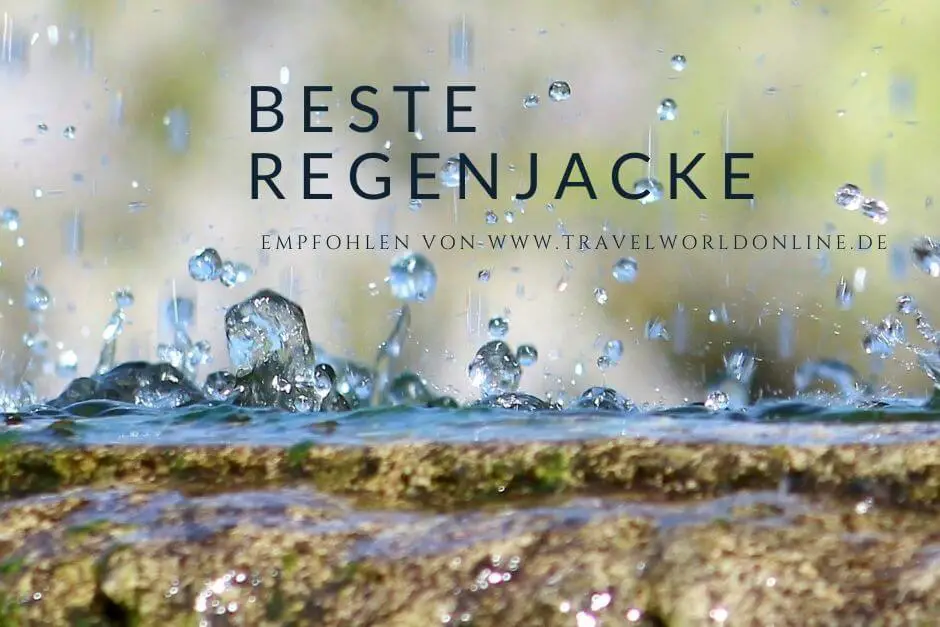 The best rain jacket for the vacation
Which rain jacket is really waterproof? This is what the rain jacket test from Stiftung Warentest determines. Some of our recommendations are based on this test by Stiftung Warentest. This packing list contains offers for rain jackets that you can order online. You don't just need this for hiking tours. There are travel destinations where rain is simply a part of it. Ireland for example. No matter if your after Dublin, Cork, Northern Ireland or the West, there is actually no travel time on the Irish island without rain. Ireland's green is only there when it rains. But you should also take suitable rain jackets with you in other regions of the world. Appropriate rain protection is therefore essential for good equipment. Depending on the region, this can be a functional jacket, a wax jacket or a Frisian ore.
What's the best way to tackle rainy travel destinations?
Which rain jacket is the best? I asked myself this question too late. Only as me Traveling in Ireland I realized that a rain jacket is more practical than an umbrella. Especially if you, like me, constantly working with camera and mobile phone, you need both hands free. Therefore, an umbrella is not as practical as a rain jacket for traveling through Ireland. For a glider you need a hand. If you wear a rain jacket, you have both hands free. This is important if I want to take photos or shoot videos on the go. In addition, the hands remain free to carry bags, suitcases or other things. However, I recommend this one rather Backpack for the city or backpack take. With such, you also have your hands free to work.
Which rain jacket is really waterproof?
Hardly anyone will experience a trip to Ireland without rain. The island's maritime climate ensures this. At the same time, however, the climate on the green island is so warm that a light functional jacket is sufficient for normal rainfall. It should protect against wind and moisture, but does not have to warm. It is usually best to dress according to the onion principle. Therefore, you should carefully consider which functional jacket to take with you on the trip. In a rain jacket test the Stiftung Warentest only withstood three out of 14 light and breathable functional jackets even after several washes. These were these rain jackets: It shows how the rain jacket test was carried out at Stiftung Warentest this video.
A functional jacket has the advantage that it can be easily transported in a suitcase. It's light and easy to pack. It does not take up much space and therefore does not have to be carried when traveling by plane.
Packing list for rainy travel destinations - what must be in the suitcase?
In addition, you should know what you want to do on the trip. Should it be more of a comfortable trip, where you stay in pleasant hotels? Do you want to spend a lot of time in the cities? Or should it be a trip where you go hiking? Or even want to experience the outdoor life on the Wild Atlantic Way in all its adventurous facets? Then you should think carefully about whether the rain jacket should be light - for city trips. Or whether she should be able to endure something instead, for example when hiking through the Connemara moors or in Donegal. There are other models for this than for a comfortable city stay. With the right equipment, a trip to rainy travel destinations becomes one Travel for connoisseurs.
What do you absolutely need - light rain jacket or heavy duty rain protection?
It is not easy to make the right choice here. Therefore, we have put together a selection here that makes your choice easier. These rain jackets can be conveniently ordered online.
Light rain jackets for the city or a road trip
We recommend this rain protection for city trips or a round trip without major hikes. Together with a large and resistant Umbrella *who can withstand one or two gusts of wind, you are adequately protected in cities. If there is heavy rainfall, you can also use one here Break in a café Insert.
Wax jacket for outdoor adventures
If you are planning longer hikes, which Ireland is ideal for, then you need stronger rain protection. So why not do it like the Irish do? They prefer to wear a wax jacket that will keep them dry in all weathers. And the waxed jackets are also chic, I think. But they shouldn't be washed. A wax jacket is also often available as a rain jacket in large sizes. A rain jacket in XXL for women is usually not that easy to find. The wax jackets for men are so chic that women can wear them too. Especially if you are out and about in rainy weather in Ireland or other northern regions, you will appreciate them.
However, one thing should be clear before buying a rain jacket like this one. A wax jacket is heavy. If you take this rain jacket with you on trips, it is recommended to wear it on the plane. It takes up too much space in the suitcase. In addition, this jacket is very heavy. So it makes sense to put them on during your journey. This leaves more space and weight for other luggage.
Or the good old Friesian ore?
Everyone who grew up at the North Sea knows the Friesennerz. The indestructible rain jacket that defies storm and rain. With rubber boots and Frisian mink you can cope with any weather at the North Sea. So why not also in rainy travel destinations around the world? Even with the Friesennerz, it takes up a lot of space in the suitcase. Its material protects against rain. However, it cannot be packed well in a suitcase. Similar to a wax jacket, it is advisable to wear it while traveling on the plane. Then there is enough space and weight for other things Case.
You can order your Friesennerz here:
Which rain jacket is suitable for city trips?
If a rain jacket test is not a prerequisite for buying your rain protection, then of course there are also stylish functional jackets or Friesian mink that look good. But you have to try whether they are just as waterproof. These rain jackets are good for city trips. So you're in Dublin even when it rains well protected. If you are planning an outdoor vacation, we recommend the above. We suggest some of the fancier rain jackets here:
Friesennerz
I like this Frisian mink because it's not only good length that protects against rain. It also has a hood, which is practical in rain and wind. This jacket is not only available in the traditional yellow of a Frisian mink. They are available in pretty colors that will drive away even the worst mood in rainy weather.
Raincoat
With this raincoat you are also well protected against moisture. It has a 8.000 mm water column and is breathable. This is very important to me when it comes to rain jackets. Because nothing is more uncomfortable than sweating under a rain jacket.
Goretex jacket
An alternative is this Goretex rain jacket. This is a hard shell jacket that is windproof, waterproof, and breathable. All prerequisites for feeling comfortable in such a jacket even when wet. It has a hood that you can close with a cord. It also has an inside pocket in which your passport, tickets and important papers are protected even when it rains. The cuffs can be adjusted with Velcro. This model is also available in different color combinations.
Men's jacket
There are also practical rain jackets for men. I really like this rain jacket from THE NORTH FACE. It actually consists of two jackets. An inner jacket that is a lightweight fleece jacket. The outer jacket made of HyVent material can be combined with this. Both jackets can be worn independently. If necessary, they can be zipped together and worn as a double jacket. This offers additional protection against wind, moisture and storms. It also looks chic.
You can do this practical rain jacket for men
Order here*
In our selection of rain jackets you will find functional jackets that have passed a rain jacket test and where we can confirm with conviction which rain jacket is really waterproof. But you will also find rain jackets that have not been subjected to any scientific test. We recommend this especially for city trips, on which there are always opportunities to seek shelter from heavy rain showers. Ultimately, it depends on where and when you need a rain jacket. We wish you a good mood and fun exploring your travel destination with these rain jackets, even in bad weather.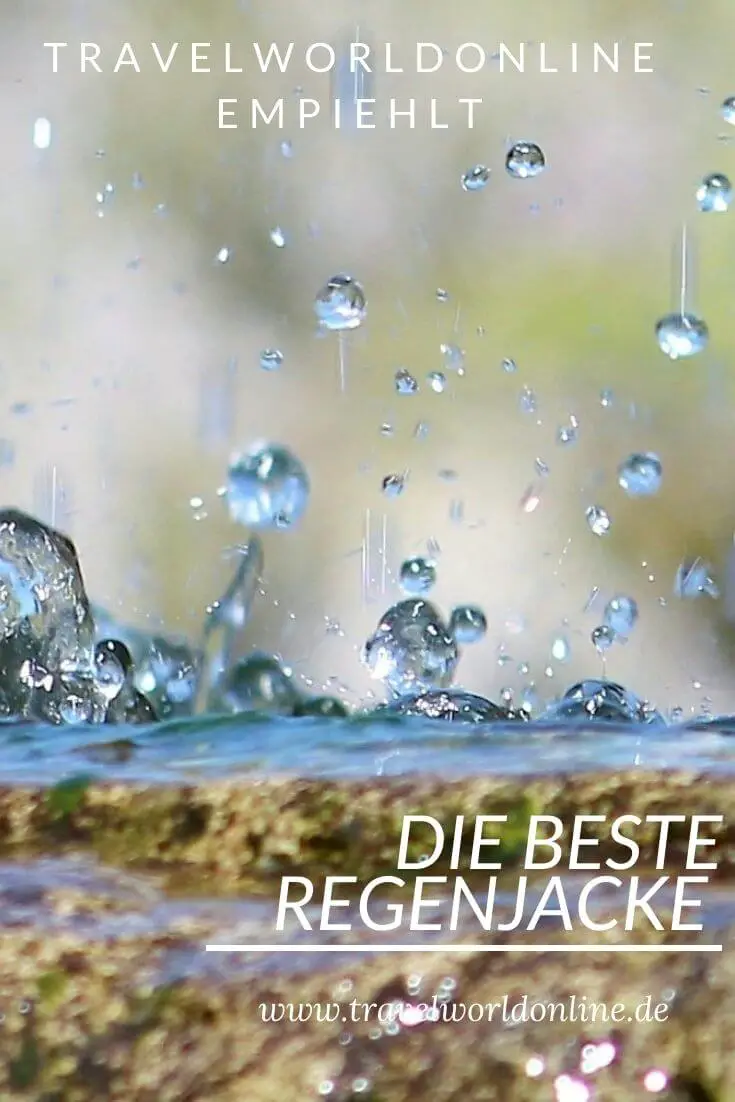 By the way: you already know
Quelle Which rain jacket is really waterproof ?: Research on site and the rain jacket test by Stiftung Warentest.
Text Which jacket is really waterproof? © Copyright Monika Fuchs, TravelWorldOnline, Travel blog for connoisseurs
Photos Which rain jacket is really waterproof: © Copyright Amazon and Canva