That's why Vancouver is worth a trip
Vancouver is considered by many to be one of the most beautiful cities in the world. I wholeheartedly agree. But what is the beauty of this city on Canada's west coast? Why is Vancouver worth a trip? Why is a Canada trip without Vancouver only half as nice? It can't be the weather, because due to its proximity to the sea, the maritime climate determines the weather conditions in Vancouver - and it can happen again and again that it rains. If you want to visit Vancouver, you better be prepared and have a program of things to do in Vancouver on a rainy day.
Vancouver is between mountains and sea
The special thing about Vancouver is its location between mountains and sea - nature is only a few steps away in this city. You can see that clearly from these Viewpoints. More tips for beautiful views of Vancouver you can discover here. In fact, if you include Stanley Park, it's right in the middle of the city. Whether you want to see the totem poles, take a tour of the Seawall with wonderful views of downtown, the harbor entrance or the mountains of north Vancouver, or visit the aquarium with its animals from the northwest coast of America - the park symbolizes what a Vancouver Reise offers: a city between wilderness and civilization. The Rockies are only two days away. tips for one Route from Vancouver to the Rockies can be found at Gepackt & Los!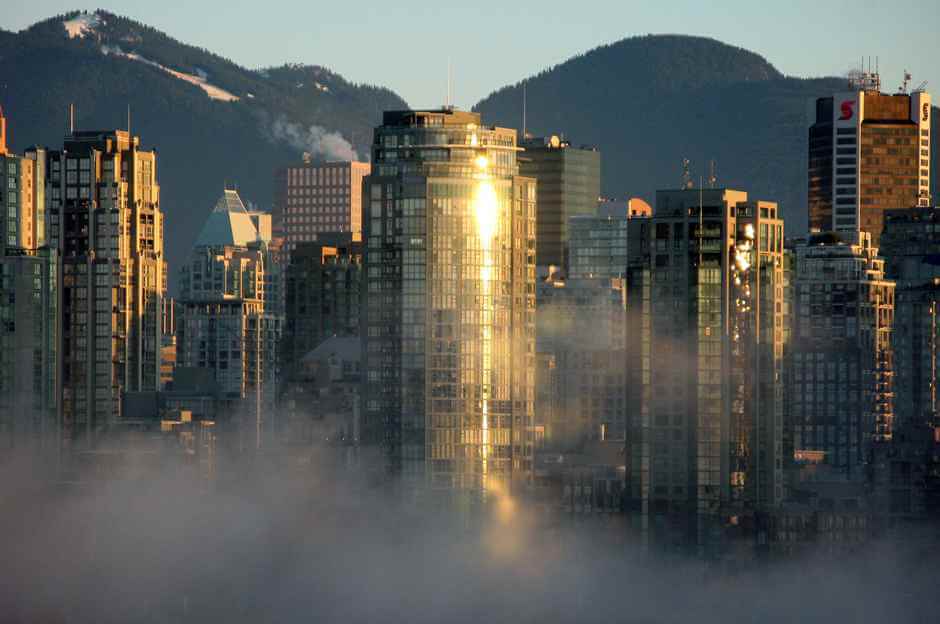 Outdoor living is very important in Vancouver
On a Vancouver trip you can experience city and nature in equal measure. This is used by locals just as much as visitors to the city. Outdoor living is "in" in Vancouver - whether it's jogging along the Seawall around Stanley Park or around False Bay south of Downtown Vancouver, whether it's over the "Grouse Grind" - the "Schinder" - that's what the steep trail up Grouse Mountain north of Vancouver is called - climbing for a wonderful view of downtown, or whether by skiing on Grouse Mountain in the winter and floodlit with views of the city and its surrounding bays and in the summer a quick dip at one of the beaches around the city – outdoor living is as much a part of Vancouver as the air you breathe.
Shopping in Vancouver
But a Vancouver trip offers even more: shopping mecca in the city center with its large department stores and the numerous shops along Robson Street, attraction for everyone who likes to look at handicrafts and galleries - and buy - on Granville Island, but also culinary destination with everything what the Vancouver and British Columbia area has to offer: fruit and wine from the Okanagan Valley, beef from the Cariboo and raspberries and vegetables from the Vancouver area. The best way to indulge in epicurean delights is at the Public Market on Granville Island, where you can feast your eyes on the lush and colorful range of market stalls.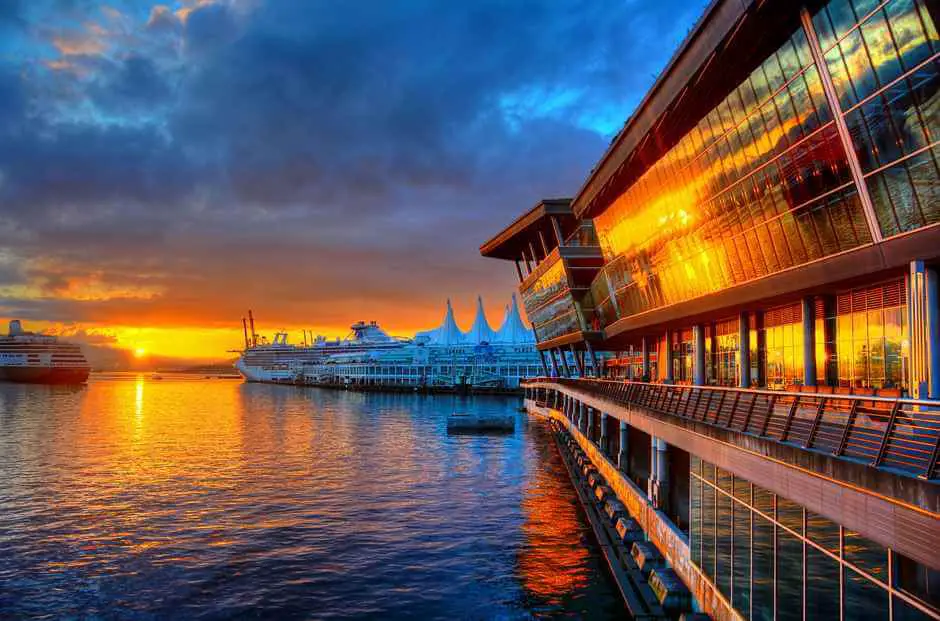 Enjoy a culinary trip to Vancouver
In general, Vancouver's culinary offerings are as diverse as its population: there is Asian cuisine as well as Indian, European cuisine as well as slow food or excellent modern culinary creations that testify to the quality of Vancouver's chefs. A stroll through the restaurant world of Vancouver is definitely worth a stay of several days in the city - and if you want, you can combine this with wonderful views of the bays or the surrounding mountains. Many of these restaurants not only offer excellent food, but also offer unforgettable views of the beautiful surroundings of Vancouver. The Michelin Guide has also been making awards since 2022 Vancouver restaurants with its stars.
Vancouver Travel with Culture
A trip to Vancouver can be combined with culture: musicals and shows as well as opera performances at BC Place. In the city's museums you can find out about the culture of the Northwest Coast Indians (eg in the recommended Museum of Anthropology on the university campus) or about the history of the development of the Northwest Passage in the Vancouver Maritime Museum.
Anyone planning a Canada Vancouver trip should take one thing into account: plan plenty of time for your stay in the metropolis on the west coast, because there is always more and something new to discover in this incomparable city in western Canada.
Vancouver as a gateway to the national parks in Western Canada
For Europeans, Vancouver is also the perfect base for exploring Western Canada's national parks. Not only the Pacific Rim National Park can be easily reached from here. Wells Gray Provincial Park, Jasper National Park, Yoho National Park and Banff National Park are also ideal for a round trip from Vancouver. One Overview of these national parks can be found at Travelsanne.
---
Travel organization of your Vancouver trip:
Parking at the airport
Here you can reserve your parking space at the airport.
Arrival:
Arrival by plane, bus or train*. Vancouver has an international airport where direct flights from Germany and Europe land.
Rental car for your Vancouver trip :
Cheap Car Hire - Book Fast and Easy! *
Camper Rentals:
Compare motorhome prices here.
Hotels:
Accommodation in vancouver* You can book through our partner booking.com.
Travel Guide:
---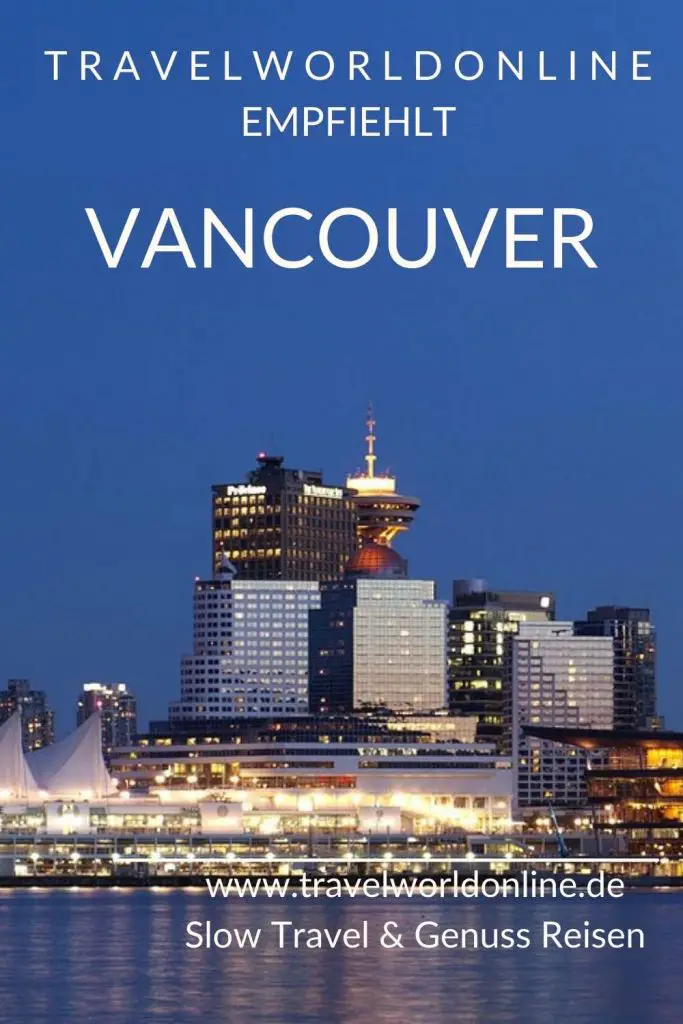 Do you also know:
Text canada travel vancouver: © Copyright Monika Fuchs and TravelWorldOnline
Why Vancouver is worth the trip