So you eat lobster to New Brunswick style

Eating lobster is part of every trip through Atlantic Canada. If you don't try it at least once, you cannot say that you have got to know this region. Because lobster is a popular food in Canada's Atlantic regions. On Prince Edward Island, it was once the "poor people's meal". It used to be brought to the table there every day. Lobster traps are placed in all regions of Eastern Canada that border the sea or the St. Lawrence River. How to get the crustaceans from the ocean on the dining table. In supermarkets, lobsters are packed in foil, frozen or still alive in water tanks. New Brunswick's residents boast of knowing best how to get the tender lobster out of its hard shell. And it's not that easy!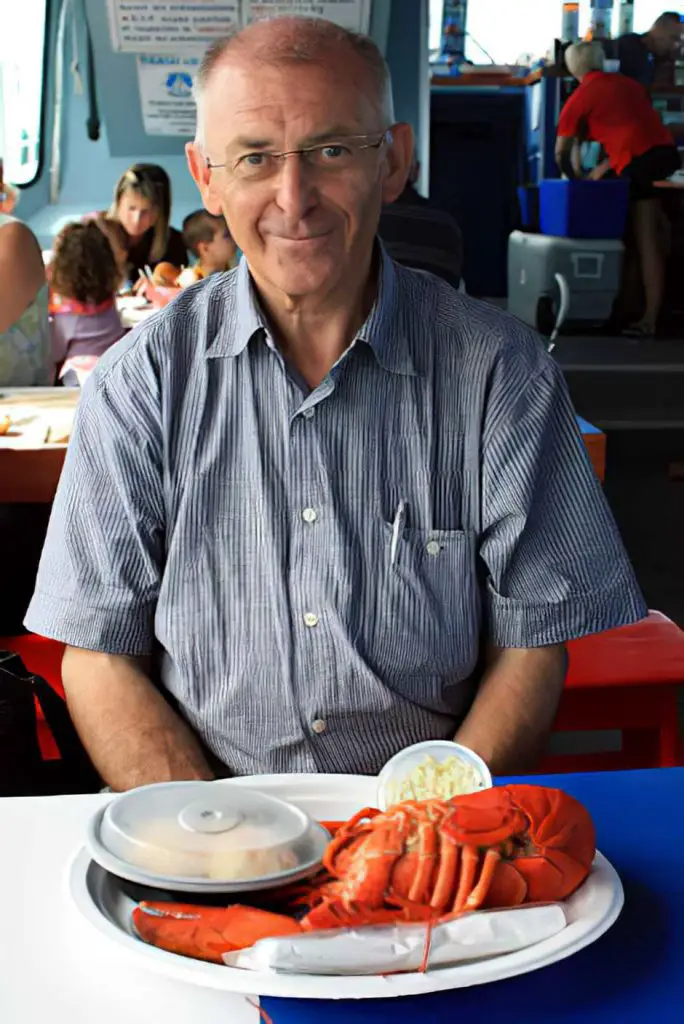 Lobster Tales in Shediac - here you can eat lobster
Even though my better half in this picture looks like he's not sure if he dare dissect a lobster with his bare hands, he embarked on the adventure. And he tasted it very much. Throughout Eastern Canada you are welcome to give tips for beginners who are eating a lobster for the first time. Often you get in restaurants even a description of how to do that. It is simply explained by the Lobster Tales in ShediacWhere the guests go out by boat, watch a live lobster being fetched from the sea, and then be shown in detail how to skilfully get to the tasty pieces of meat of the crustacean.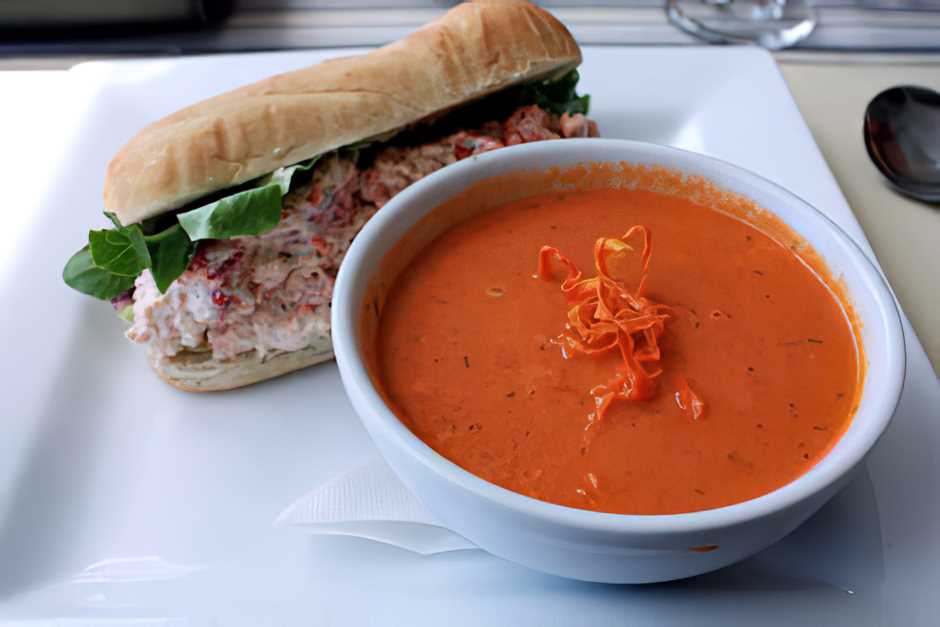 Lobster is served in different ways
Eating lobster doesn't have to be that difficult, however. On the contrary! In Canada, lobsters are cooked in a variety of ways. Lobster rolls are a type of lobster fast food, the lobster rolls that are usually served for lunch. To do this, simply add a lot of lobster meat to a dry bun, a leaf of lettuce and maybe a little mayonnaise, and a delicious and light lunch dish is ready. Especially recommended for beginners!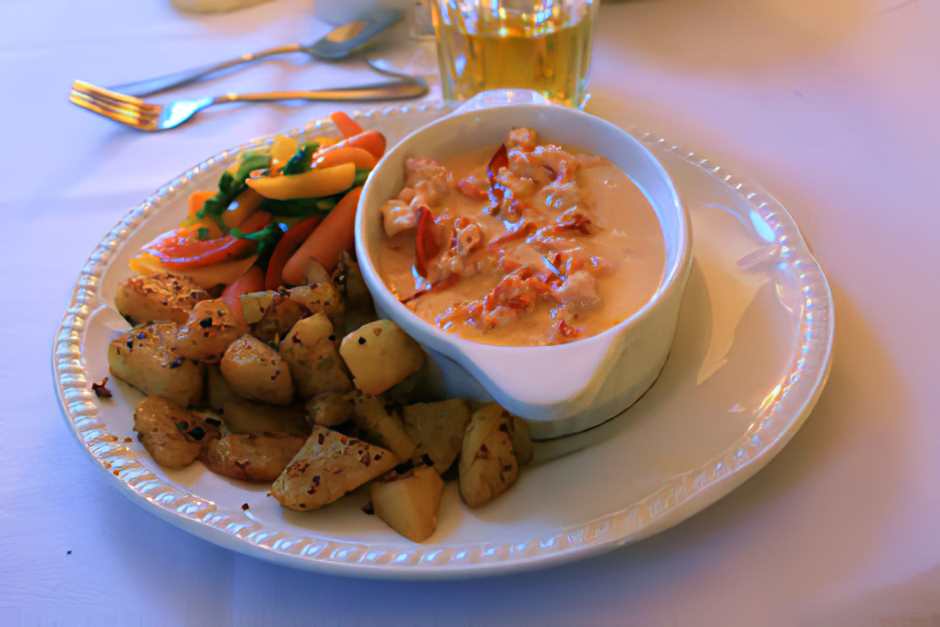 Lobster terrine, or rather lobster soup?
If you prefer warm, decide for one Lobster terrinein which the lobster meat also floats already in the soup, or a lobster bisque, a soup that is prepared with lobster. These two dishes are perfect for a light lunch. But it is still different - and much finer!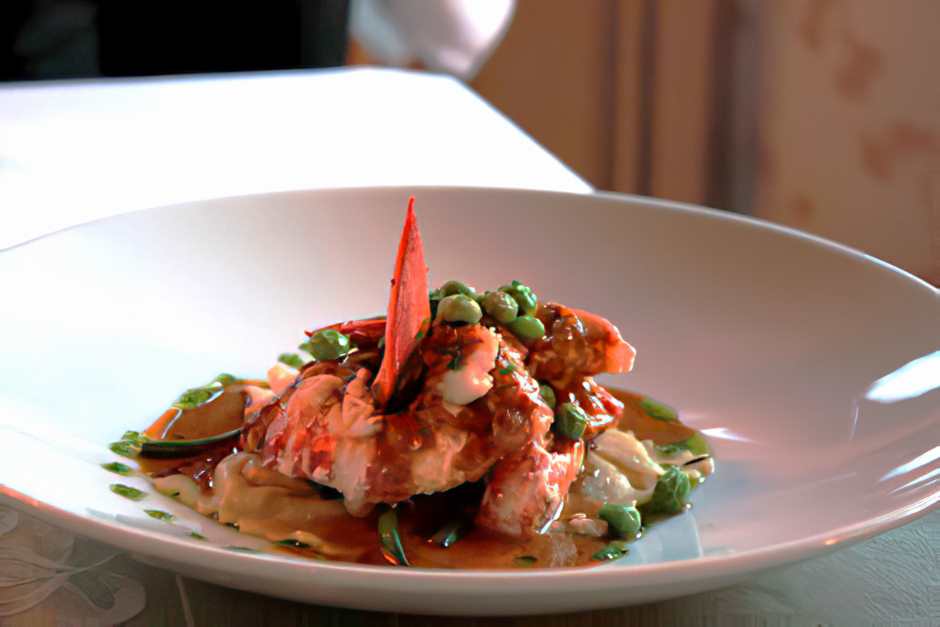 What is a "naked lobster"?
Chef Chris Aerni im Rossmount Inn In the pretty resort of St. Andrews-by-the-Sea in New Brunswick, just a few kilometers from the Maine border, which is one of Canada's best chefs, serves its guests a "naked lobster" - a shelled lobster. Practical for everyone who wants to eat lobster in dignity and with little effort, and by the way, these are not just newbies. Old hands in lobster food also do this. Our companion Darrell, who grew up in New Brunswick and ate lobster from childhood, admits to me that he only ate his first lobster in his bowl when he was over fifty. By the way, Chris Aerni's delicacies are available every evening with other types of vegetables - depending on what the vegetable and herb garden of his inn or the surrounding nature are giving fresh greenery.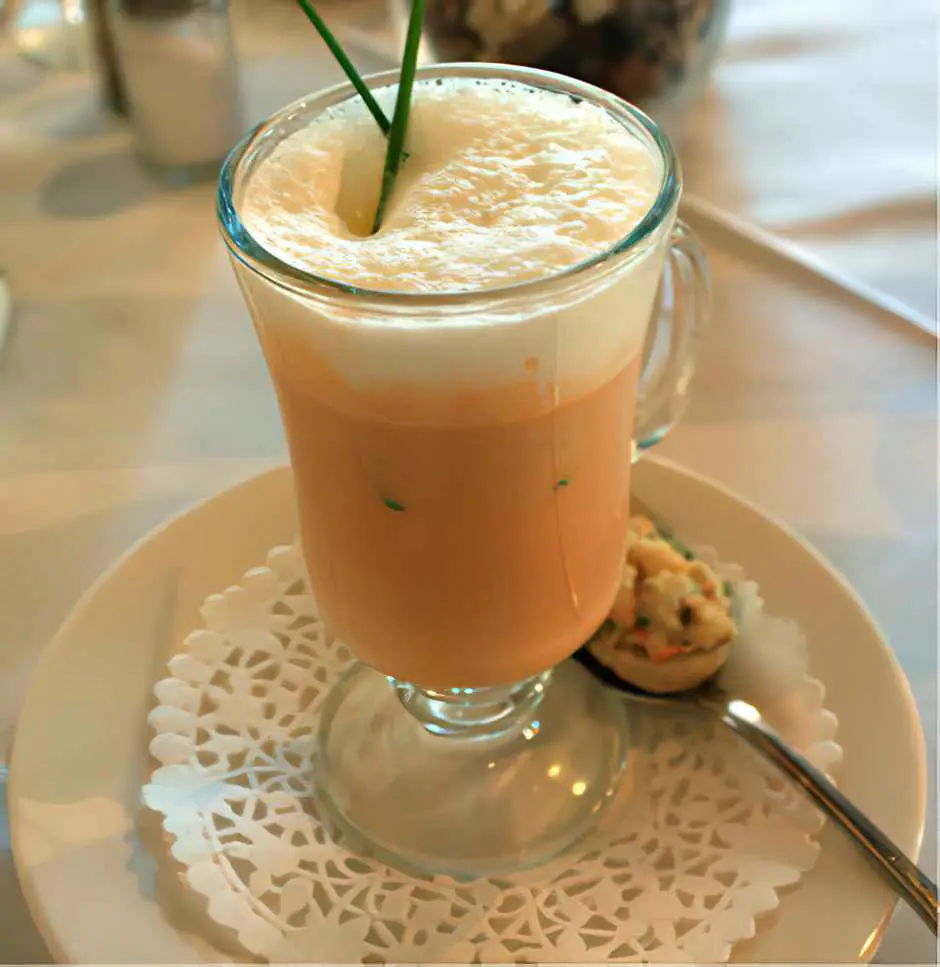 Or would you rather eat a lobster latte than lobster?
The lobster is served particularly extravagantly in the restaurant of the Europa Inn in St. Andrews-by-the-Sea in New Brunswick. Chef and inn owner Markus Ritter, who emigrated from Germany to Canada a few years ago, serves his guests a "lobster latte" - a foamed lobster soup that flows gently down the palate. If you want to be pampered, it is best to order the seven-course surprise dinner from Markus, in which he surprisingly reinterprets regional and local dishes. Quasi the kitchen of Atlantic Canada in a modern way! And don't be afraid! The dishes and ingredients are put together so well that you still feel good after seven courses. No wonder, since Markus Ritter worked for many years as a chef on cruise ships, where he perfected his craft.
---
Travel Arrangements:
Parking at the airport
Here you can reserve your parking space at the airport.
Check in:
Book yours here Arrival by plane, bus or train*. Air Canada, Condor and Icelandair fly from Germany to various airports in eastern Canada.
Car Rentals:
Cheap car hire - book quickly and easily!
Hotels:
hotels in New Brunswick * You can book through our partner booking.com.
---
Source: own on-site research courtesy of the Canadian Tourism Commission, Tourism Newfoundland, Tourism Nova Scotia and Tourism New Brunswick. Our opinion remains our own.
Text: © Monika Fuchs, TravelWorldOnline
Photos: Copyright Monika Fuchs, TravelWorldOnline
Lobsters eat in Atlantic Canada