How is the weather in December in Miami?

We fly to Miami in December. At the end of December we get the usual winter blues. Christmas is just over. It will be months before the first spring flowers peak through the snow. We are starved for sun. So what to do? Only one thing helps: fly in the sun. Miami Beach weather in December is the answer. Temperatures in Miami in December average 25° Celsius according to long-term weather measurements. On average, the sun shines 7 hours a day. 4-5 rainy days are expected throughout December. And the water temperatures are around 25 degrees. We can confirm this after our trip. We gathered experiences in Miami in December that make a beach holiday there tempting for us. That's why we take our time for Miami and Miami Beach. Slow Travel in Florida. At the end of December, we decided to get on the plane to Miami and go on a two-week Florida road trip Sunshine State on. Let's test if it's true that the winters are so enjoyable there.
While we're in Frankfurt together with hundreds of other sun-hungry passengers waiting to board our giant plane, it storms and snows on the flight paths in front of the large windows of the hangar. We are flying for the first time with a Lufthansa A380. "Miami cannot be worse than here", I think to myself while looking at the capricious weather in front of the airport windows. We board the plane surprisingly quickly, despite the crowds who are escaping the winter with us. Miami in December is sure to be a good idea.
You shouldn't forget that
The beaches of Miami Beach tempt you to go swimming. Use our checklistto make sure you pack everything you need suitcase .
You'll be walking a lot in Miami and Miami Beach. We therefore recommend comfortable shoes to take with you, which are suitable for city and beach walks.
Miami in December
After crossing the Atlantic, our plane flies along the east coast of America. The further south we go, the more the thick clouds break up below us. Between the clouds we can see the sea more and more often. Deep blue, it extends into the distance. Small white crests on the waves indicate that we are still away from the coast. Miami in December - we look forward to it. We follow our trajectory via the on-board camera, which is probably attached to the upper end of the rear of the aircraft. Thus we watch the plane follow its invisible paths above the clouds. Shortly before landing, our pilot flies a curve over the Atlantic. Then he heads inland over the elongated peninsula of Miami Beach with its skyscrapers and sandy beaches, the Port of Miami and its downtown. Our plane descends deeper and deeper.
Pleasant temperatures in Miami in December
At pleasant temperatures of 26 degrees Celsius, a light wind and in bright sunshine, we leave our giant aircraft. We pick up our rental car for the next two weeks and drive past downtown Miami and the docks. There are some cruise ships ready to take off to their destinations in the Caribbean. Our goal is Miami Beach, where we will spend the first days of our trip in one of the Art Deco hotels in South Beach .
Weather in Miami Beach in December - perfect for a beach vacation
After the first few days, we already know that the season is perfect for a winter trip into the sun. With summer temperatures in Miami in December, vacationers sunbathe on the beaches of Miami Beach. The children play in the water. We use one of our days in Miami Beach for a fast ride in a zodiac through the waters off Miami, We let the fresh wind blow around our nose. It also brings a pleasant cooling from the warm midday temperatures.
Do you like to travel by motorhome?
Do you want to rent a motorhome? Then you will find information and a selection in these  booking options.
Check our packing list for campers to see whether you have packed everything for your motorhome tour.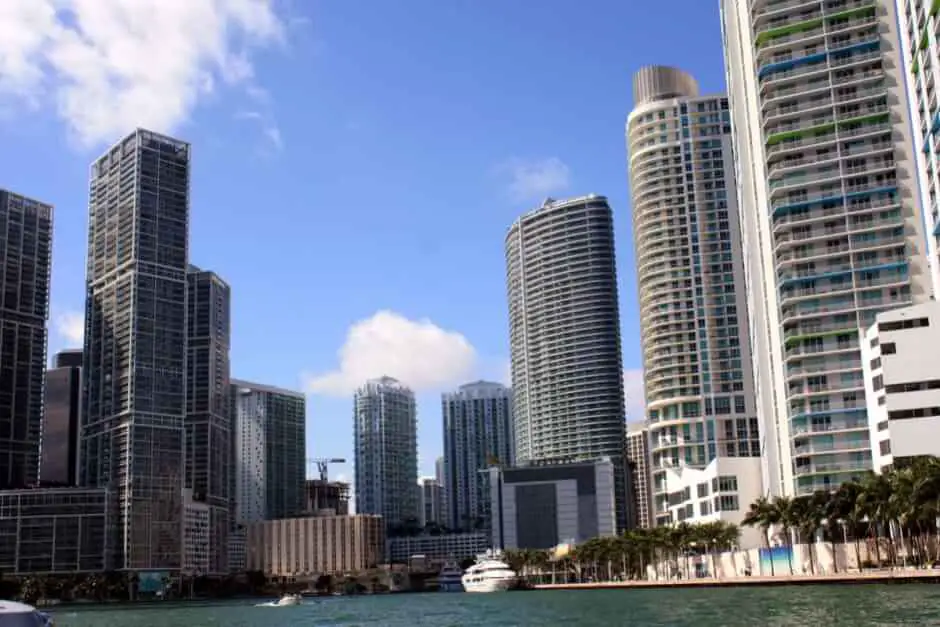 What you can do in Miami in December
Travel tips from travel bloggers
You should pack this for a trip to Florida suitcase
---
Travel Arrangements
Parking at the airport
Here you can reserve your parking space at the airport.
Arrival to Miami in December
Book yours here Arrival by plane, bus or train*. Various airlines fly to Miami including Lufthansa, United Airlines and others
Rental car
Price comparison for rental cars for Miami
Hotels and accommodations
Accommodation in Miami Beach * you can also book here.
Miami accommodations * you can also find here.
Trips in and around Miami in December
Find numerous tours in and around Miami * here.
These trips and tours can be booked online at Get Your Guide if you click on these links (we get a small commission, but the tours cost you no more than booking directly).
Find more Slow Travel Tipsand Cities in the USA here. Maybe you are also interested in a beach vacation in California?
Do you already know:
Source Miami in December Experience: On-site research for the article Miami in December with the support of the trip from Visit Florida. The temperatures in Miami in December are perfect for a vacation.
Text: © Copyright Monika Fuchs, TravelWorldOnline
Photo: © Copyright by Monika Fuchs, TravelWorldOnline
Video: © Copyright by Petar Fuchs, TravelWorldOnline
Miami in December / January: enjoy the winter in Florida