Nothing grows here
Everyone had told him: "Nothing grows here". Even his grandmother was convinced that, as a newcomer, she had tried for years to prove to the locals that a garden in the Kleinwalsertal in Austria is possible. Vain! All of their attempts to grow vegetables or fruit in this high valley were doomed to failure. The Kleinwalsertal has always kept it that way in their enjoyment region, which is dedicated to game and cattle: two products that are grown in this valley in the Vorarlberg Mountains are traditionally at home. Andi Haller has proven to everyone that it is possible in his permaculture garden in Kleinwalsertal. If you only use the right methods, he succeeds in growing fruit and vegetables under the harsh conditions at an altitude of 1100 meters.
A permaculture garden in Kleinwalsertal that nobody thought possible
Winters are long and cold in the Kleinwalsertal. The snow falls early in this high mountain valley on the northern border of Austria and stays there until well into spring. One reason why the Farms in the Kleinwalsertal specialized in animal husbandry. Therefore, the growing season is short and it is difficult to create a fertile garden in these climates. Andi Haller knew that, as he grew up in this region and witnessed his grandmother's attempts. Perhaps this is where his interest in gardening comes from.
He began to deal with it more intensively and came across permaculture, a type of horticulture that relies on natural planting and care methods. He had to ask his grandmother for a long time until she gave in and left him a piece on her meadow to experiment. "At first there was only a small piece of land that I was allowed to use," laughs the young man, who proudly shows us the fruits of his labor in the Schwendle region below Mittelberg at the end of the Kleinwalsertal. "A garden in the Kleinwalsertal? Nobody believed in that. Especially not my grandmother. In the meantime the garden has been enlarged several times. And I have more plans. "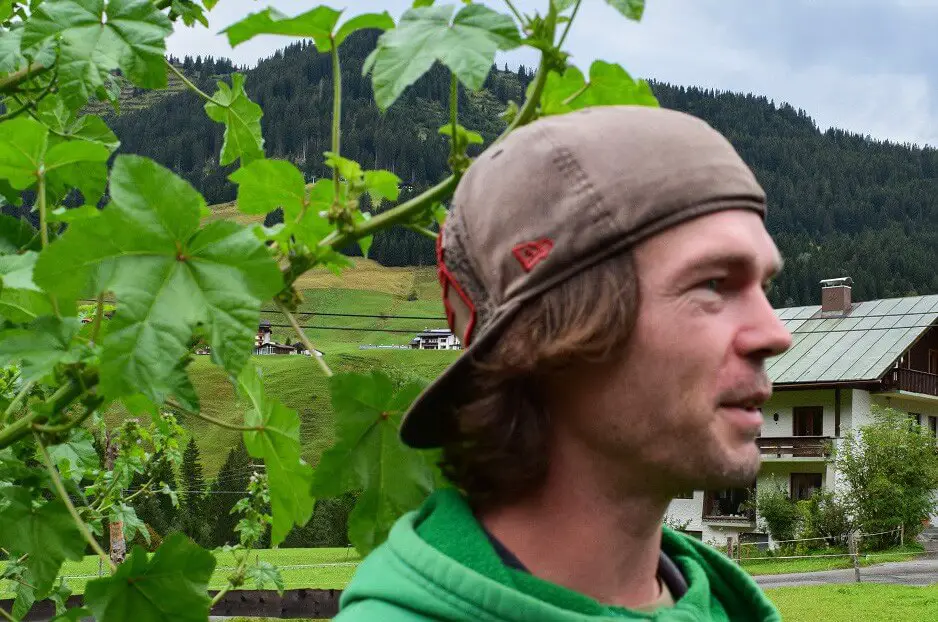 A permaculture garden in the Kleinwalsertal that attracts attention
His garden was already on ours Road trip through the Kleinwalsertal noticed. We did not suspect it was the Permaculture garden we were supposed to visit a day later. It lies in the midst of a mountain meadow in the Schwendle region and attracts attention with its lush plant growth. Unusual in a region where otherwise only pastures and forest can be seen. Somehow he seems alien to the surrounding Alpine alpine world. Or maybe it's the Tibetan prayer flags that Andi attached to his garden shed. These flutter colorfully in the wind and give the garden an exotic look.
You have to be careful with nature
Together with fairy of Fairy is my name Her sister Lara and a journalist from Salzburg we visit Andi Haller the next day. He looks down to earth. And is convinced that he can make a difference with his garden in the valley. "I think we should be careful with what nature gives us," he says. And he does. He shows it to us on our two-hour walk through his garden. He used plants to keep the spring and autumn winds out. There are walls that serve the same purpose. Some vegetables grow in raised beds. He planted potatoes so that they grow upwards in a grid.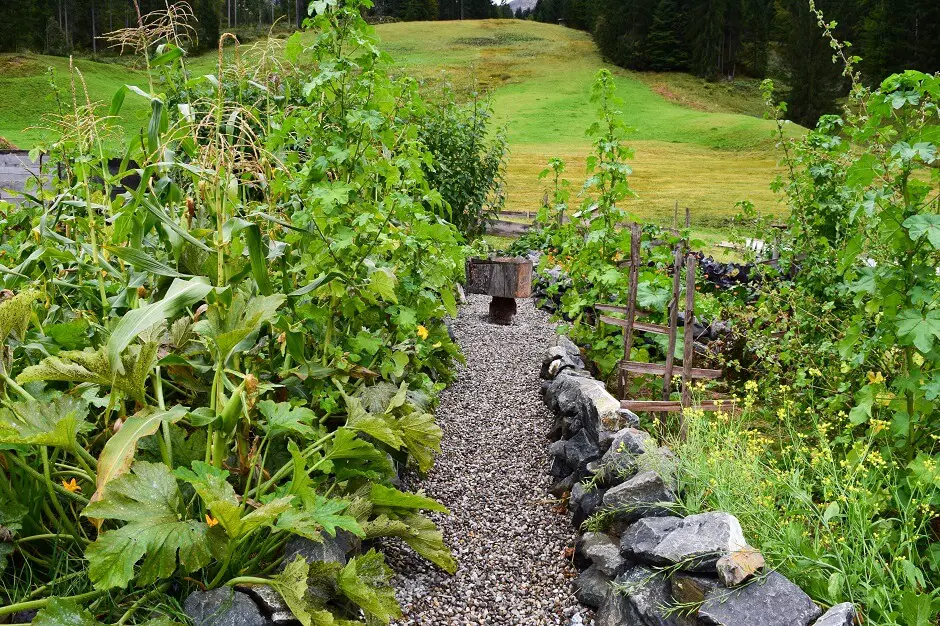 Weed weed? Does not have to be
He does not pull weeds. "This is the natural compost for the soil." This makes the garden look a bit overgrown. But his successes prove him right. We're here at the end of late summer. Two days after we leave the Kleinwalsertal, the first snow falls on the mountains. Nevertheless, we can still taste thick fresh raspberries from its bushes. Strong-looking Swiss chard laughs at me in a raised bed. And the huge cabbages in the neighboring bed remind me of the huge specimens that I have only seen in Alaska so far.
Behind his garden shed he has created a narrow bed of wildflowers that are still in full bloom. Next to his garden shed there is a compost heap in which big snails cavort. "They are simply part of the garden. There is no weed kill or snail poison in my garden. "Instead, he sets up snail traps: stone or wooden slabs that he simply throws on the ground in a selected corner of the garden, under which the snails collect.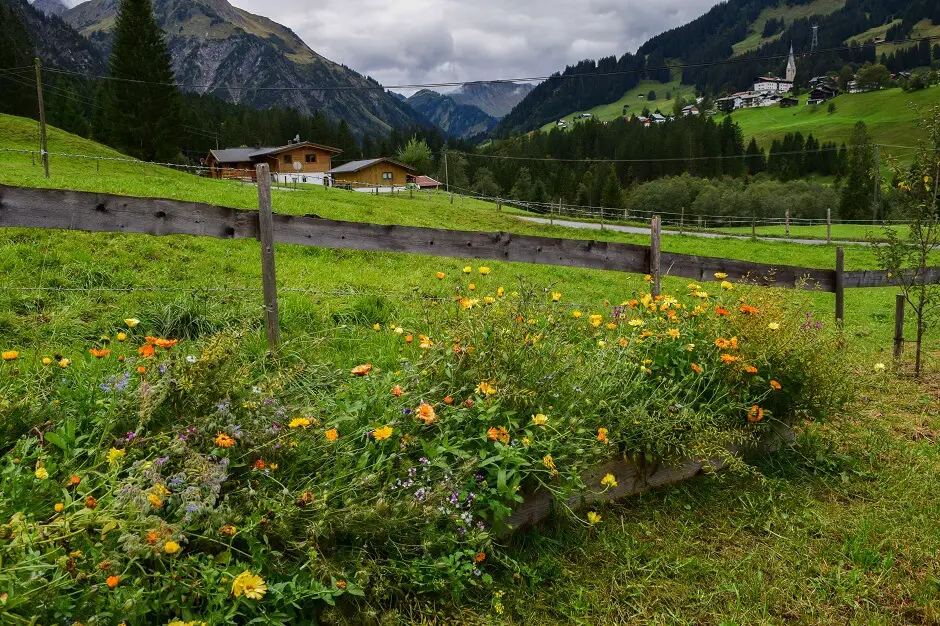 Everything in the permaculture garden in Kleinwalsertal serves a purpose
Everything in this permaculture garden in Kleinwalsertal serves some purpose: the flowers are planted to attract bees. Stone walls are used as wind protection. Snails decompose the garbage in the garden. "And if they eat certain crops, they won't fit in my garden." Andi doesn't mow grass. Instead, it falls over in the course of the year and serves as a natural moisture store for its beds. "I don't water all year," he laughs. Amazing when you see how successful he is with his methods.
Andi Haller's permaculture garden in Kleinwalsertal is now well known. He is happy to take interested people there and show them how to get vegetables and fruit from the stubborn nature of the mountain valley. Now he even harvests so much that he can sell some of it or exchange it for other plants. It is his dream to live entirely from his garden and what he gives. He has convinced us that one day he will succeed. Thank you very much, Andi, for showing us your great garden.
---
In summer - from June to October - you can visit Andi Haller's permaculture garden in Kleinwalsertal.
More travel tips for the Kleinwalsertal (with accommodation tips) can be found here.
This is what you need for a trip to Kleinwalsertal Vorarlberg
---
Travel Arrangements
Arrival by plane, car, bus and train

Book yours here Arrival by plane, bus or train*. The nearest airport is Munich. Arrival by train is also possible. The train goes to Oberstdorf. From there, bus #1 will take you to Kleinwalsertal.
Car Rentals:
Cheap car hire - book quickly and easily!
Rent Motorhomes:
Book Motorhomes in Europe here! *  Or do you like to travel with him in a roof tent on the car? Also the overnight stay in camping tents is possible. At Alpencamping Haller, Köpfleweg 10a, 6991 Riezlern, Austria, you will find a campsite. With our Motorhome packing list You'll never forget anything again.
Accommodations in the region:
Accommodation for online booking is also available in Kleinwalsertal* via Booking.com.
---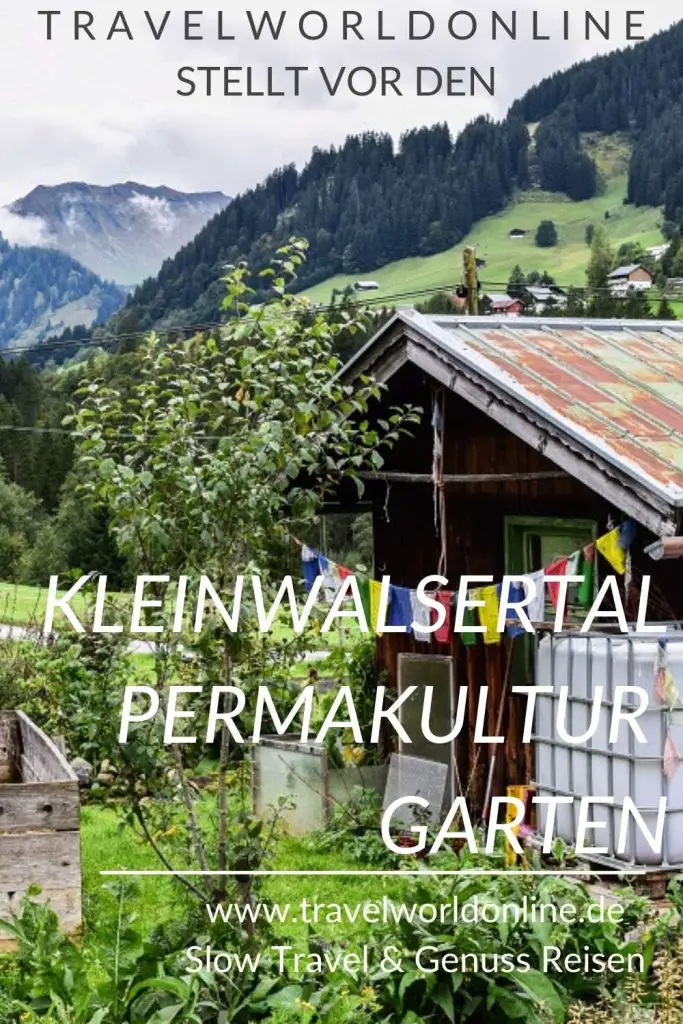 Do you already know:
---
Source Permaculture Garden in Kleinwalsertal: own research on site with the kind support of Kleinwalsertal Tourismus. A garden in Kleinwalsertal expresses our own opinion.
Text Permaculture Garden in Kleinwalsertal: © Copyright Monika Fuchs, TravelWorldOnline
Photos permaculture garden in Kleinwalsertal: © Copyright Monika Fuchs, TravelWorldOnline
A permaculture garden in the Kleinwalsertal