Nothing grows here
Everyone had told him: "Nothing grows here". Even his grandmother was convinced that, as a newcomer, she had tried for years to prove to the locals that a garden in the Kleinwalsertal in Austria is possible. Vain! All of their attempts to grow vegetables or fruit in this high valley were doomed to failure. The Kleinwalsertal has always kept it that way in their enjoyment region, which is dedicated to game and cattle: two products that are grown in this valley in the Vorarlberg Mountains are traditionally at home. Andi Haller has proven to everyone that it is possible in his permaculture garden in Kleinwalsertal. If you only use the right methods, he succeeds in growing fruit and vegetables under the harsh conditions at an altitude of 1100 meters.
A permaculture garden in Kleinwalsertal that nobody thought possible
Winters are long and cold in the Kleinwalsertal. The snow falls early in this high mountain valley on the northern border of Austria and stays there until well into spring. One reason why the Farms in the Kleinwalsertal specialized in livestock breeding. Therefore, the growing season is short and it is difficult to grow a garden in these climatic conditions. Andi Haller knew this, as he grew up in this region and witnessed his grandmother's experiments. This may be where his interest in gardening comes from.
He began to deal with it more intensively and came across permaculture, a type of horticulture that relies on natural planting and care methods. He had to ask his grandmother for a long time until she gave in and left him a piece on her meadow to experiment. "At first there was only a small piece of land that I was allowed to use," laughs the young man, who proudly shows us the fruits of his labor in the Schwendle region below Mittelberg at the end of the Kleinwalsertal. "A garden in the Kleinwalsertal? Nobody believed in that. Especially not my grandmother. In the meantime the garden has been enlarged several times. And I have more plans. "
Andi Haller: A pioneer of permaculture in Kleinwalsertal
Andi Haller is fully committed to permaculture, a method that not only nourishes the soil but also the soul. Permaculture is more than just gardening. It is a way of life based on the principles of sustainability and respect for nature. Andi Haller does not see the earth as a resource, but as a partner. He works with nature, not against it.
Garden practices
In Andi Haller's garden you will find a variety of plants, from vegetables to medicinal herbs. He relies on mixed cultures and thus creates a stable ecosystem. By applying permaculture principles such as creating microclimates and using compost, it promotes soil health and biodiversity.
More than just a gardener
Andi is also a teacher and a role model. He offers tours of his garden and enjoys sharing his knowledge with others. His goal is to inspire more people to adopt a sustainable lifestyle. He shows that permaculture can be applied not only in the garden, but also in everyday life.
A permaculture garden in the Kleinwalsertal that attracts attention
His garden was already on ours Road trip through the Kleinwalsertal noticed. We did not suspect it was the Permaculture garden we were supposed to visit a day later. It lies in the midst of a mountain meadow in the Schwendle region and attracts attention with its lush plant growth. Unusual in a region where otherwise only pastures and forest can be seen. Somehow he seems alien to the surrounding Alpine alpine world. Or maybe it's the Tibetan prayer flags that Andi attached to his garden shed. These flutter colorfully in the wind and give the garden an exotic look.
You have to be careful with nature
Together with fairy of Fairy is my name her sister Lara, and a journalist from Salzburg, we visit Andi Haller the next day. He seems down-to-earth. And he is convinced that he can make a difference with his garden in the valley. "I think we should be careful with what nature gives us," he says. He definitely does. He shows us on our two-hour walk through his garden. He used plants to block the spring and autumn winds. There are walls that serve the same purpose. Some vegetables grow in raised beds. He planted potatoes so that they grow upwards in a trellis.
Weed weed? It doesn't have to be in the permaculture garden in Kleinwalsertal
He doesn't pull weeds. "This is the natural compost for the soil." This does make the garden look a bit overgrown. But his successes prove him right. We are here at the end of late summer. Two days after we leave Kleinwalsertal, the first snow is already falling on the mountains. Nevertheless, we can still taste thick, fresh raspberries from its bushes. Strong chard smiles at me in a raised bed. And the huge heads of cabbage in the neighboring bed remind me of the enormous specimens that I have only ever seen in Alaska.
Behind his garden shed he has created a narrow bed of wildflowers that are still in full bloom. Next to his garden shed there is a compost heap in which big snails cavort. "They are simply part of the garden. There is no weed kill or snail poison in my garden. "Instead, he sets up snail traps: stone or wooden slabs that he simply throws on the ground in a selected corner of the garden, under which the snails collect.
Everything in the permaculture garden in Kleinwalsertal serves a purpose
Everything in this permaculture garden in Kleinwalsertal serves some purpose: the flowers are planted to attract bees. Stone walls are used as wind protection. Snails decompose the garbage in the garden. "And if they eat certain crops, they won't fit in my garden." Andi doesn't mow grass. Instead, it falls over in the course of the year and serves as a natural moisture store for its beds. "I don't water all year," he laughs. Amazing when you see how successful he is with his methods.
Andi Haller: Practical tips from a permaculture garden in Kleinwalsertal
Gardeners will be interested to know that Andi Haller offers valuable tips and instructions for anyone interested in sustainable agriculture. Here's some practical advice straight from Andi's garden.
Create mixed cultures
Andi recommends planting different types of plants next to each other. This not only promotes soil health, but also keeps pests away.
Use compost
Instead of chemical fertilizers, Andi uses compost. This is not only good for the soil, but also for your wallet.
Create microclimate zones
In his garden, Andi places particular emphasis on creating microclimate zones. This means he designs small areas that are specifically tailored to the needs of certain plants.
Use local resources
Andi shows how to garden effectively using simple tools available in the area. So, look around and use what nature offers you.
Andi Haller has created a space in Kleinwalsertal where people and nature live together in harmony. His approach to permaculture shows how we can all benefit from a more sustainable way of life. So if you're looking for inspiration to live more sustainably yourself, you should definitely take a closer look at Andi Haller's work.
Andi Haller: Discover permaculture in Kleinwalsertal through special events
Are you interested in sustainable agriculture and want to find out more about it? Andi Haller offers just the thing for you. He regularly organizes garden tours where you can experience first hand what permaculture looks like in practice.
During these tours, Andi shows how he grows a variety of plants, from vegetables to medicinal herbs, in a sustainable way. You'll also get insights into his ecological footprint and find out how he supplies the local gastronomy with fresh products. As a special extra, a small snack is even included.
So if you're looking for an educational and inspiring experience, don't miss these events. They also provide a great opportunity to learn more about sustainable agriculture and the philosophy of permaculture.
You can find out more about this at NARANDI, his native school of life. There you can also find the current dates for Andi Haller's seminars and working groups.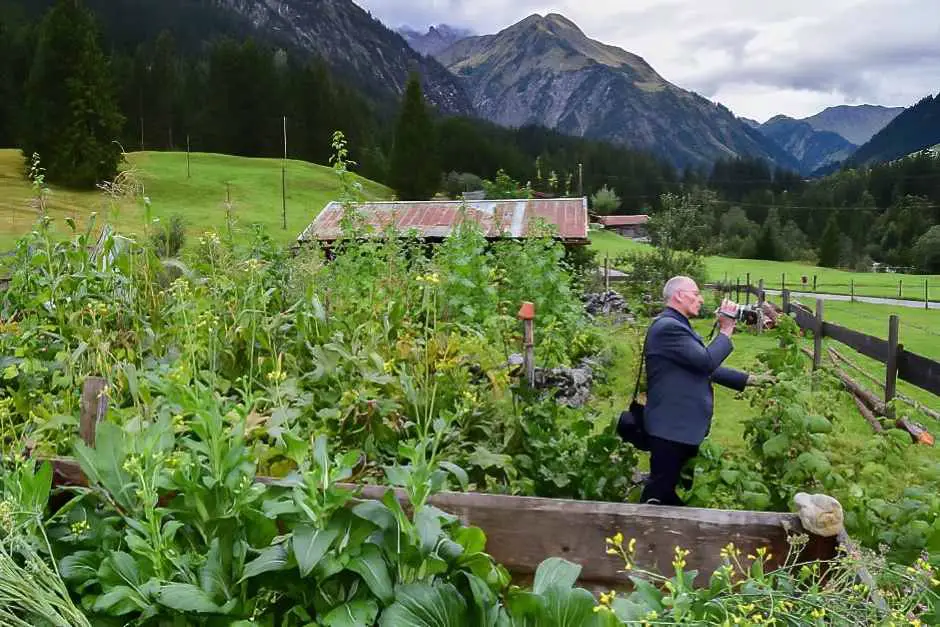 ---
In summer - from June to October - you can visit Andi Haller's permaculture garden in Kleinwalsertal.
Travel tips for Kleinwalsertal (as well as hotel tips) can also be found here.
This is what you need for a trip to the permaculture garden in Kleinwalsertal Vorarlberg
---
Travel Arrangements
Parking at the airport
Here you can reserve your parking space at the airport.
Arrival by plane, car, bus and train

Book yours here Arrival by plane, bus or train*. The nearest airport is Munich. Arrival by train is also possible. The train goes to Oberstdorf. From there, bus #1 will take you to Kleinwalsertal.
Car Rentals:
Cheap car hire - book quickly and easily!
Rent Motorhomes:
Book Motorhomes in Europe here! *  Or do you like to travel with him roof tent on the car? In addition, the overnight stay in camping tents possible. Here you can, for example Book campsites in Kleinwalsertal*. With our Motorhome packing list Plus, you'll never forget anything again.
Hotels in the region:
Hotels can be booked online Kleinwalsertal* for example via Booking.com.
---
Do you also know:
---
Source Permaculture Garden in Kleinwalsertal: On-site research with the support of Kleinwalsertal Tourismus. However, a garden in Kleinwalsertal expresses our own opinion.
Text Permaculture Garden in Kleinwalsertal: © Copyright Monika Fuchs and TWO
Photos permaculture garden in Kleinwalsertal: © Copyright Monika Fuchs and TWO
Permaculture garden in Kleinwalsertal by Andi Haller