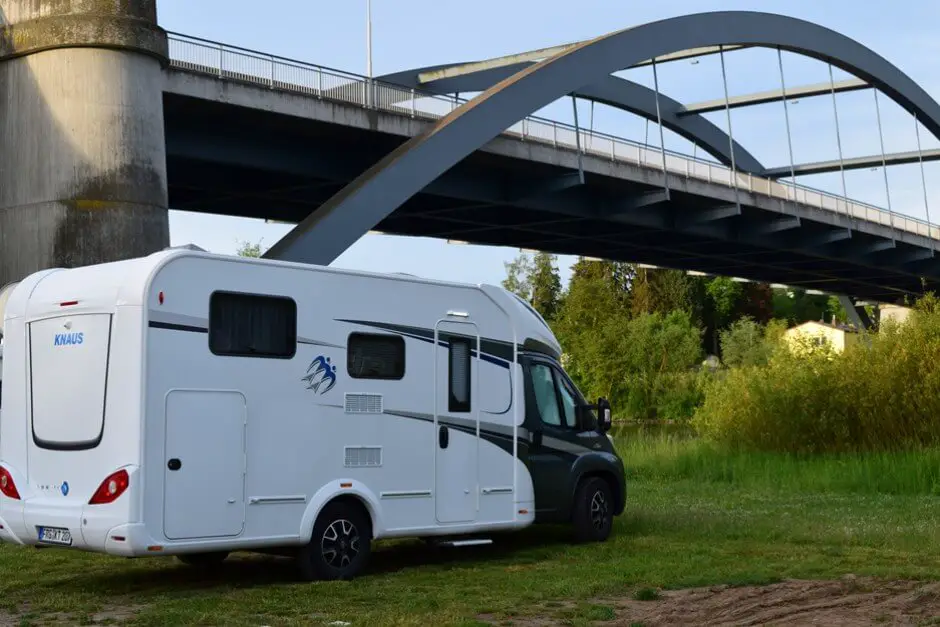 Packing list motorhome - have you thought of everything?
Use the camper packing list as a checklist before your camper trip. Our packing list camper will help you if you still need equipment. Motorhomes that you rent already have most of their equipment. However, during our motorhome trip we found that certain things were missing. With this list you can check whether everything you need is available in your motorhome Motorhome trip you need. If necessary, you can still get the rest. We have linked some of the equipment. You can order this online using the link. As a check, you can find the checklist here to check everything again: you can download the RV packing list pdf here print.
When buying groceries, it is worthwhile to make sure that you rarely have to shop on the go. Most RVs are big. We have found that shopping facilities do not always have parking spaces where you can easily park a motorhome. Even in downtown areas of larger cities, it is often difficult to get a parking space. We have repeatedly seen that we had to park the motorhome outside of the city. Far from shopping. Therefore, we take care to take food that is as durable as possible when traveling with the motor home.
Durable foods for your motorhome trip
Trinkwasser
Drinks
UHT milk
Tea / coffee / espresso / cocoa
Salt / sugar / pepper
Spices / With Spice Blends. * you can easily cook international dishes.
Vinegar oil
Muesli / oatmeal
Whole grain bread / crispbread
Jam / Honey / Nutella
Cookies / Chocolate / Chips
Flour (in a can)
Pasta / rice
Tomato sauces * in various flavors
Ready meals * (maybe the farm shop or the butcher also offers something?)
bun
Fresh food - packing list camper
milk
Butter / margarine
Bread (possibly for freezing)
Eggs
Ham / sausage vacuum packed
Sausages a. in the can
Salami / pepper biter or similar
fresh vegetables / fruit
Meat (vacuum packed)
Space is also limited in larger motorhomes. For the kitchen equipment, this means paying close attention to what is used for what. Can you perhaps replace an item with a smaller one? We use a pasta spoon to replace the sieve. We also use it to protect the pipes in the motorhome. We have crockery, glasses, cups and cutlery 2-3 times per person. So we don't have to rinse after every meal. We then do the washing up in a bowl that we use at the campsite.
Kitchen equipment - packing list camper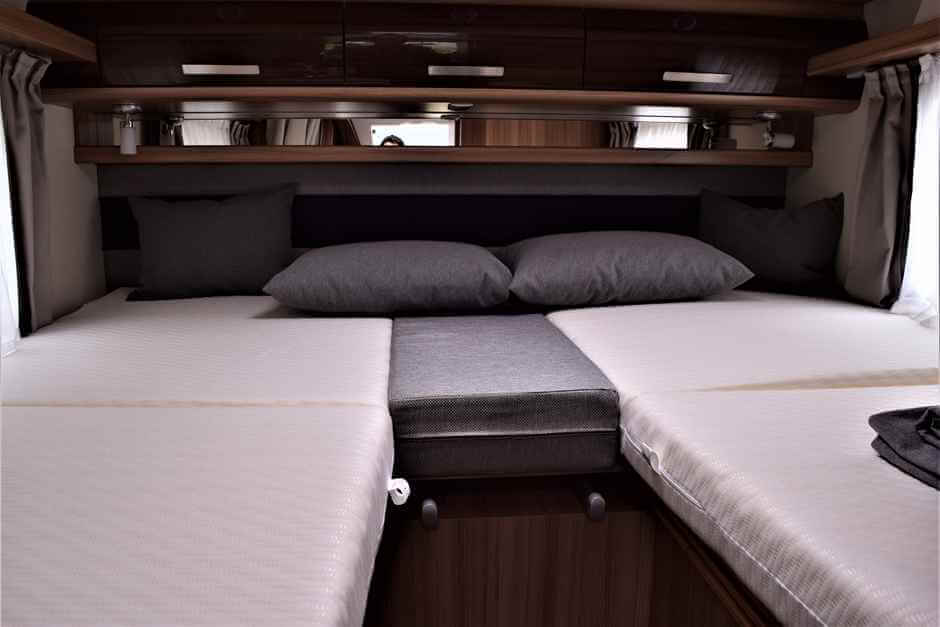 Normal bedding and covers are sufficient for motorhome trips in summer. In autumn or spring, however, there can be nights that are still quite cold. Then we are happy to have extra blankets for cold nights. We only take a sleeping bag and pillow with us at winter camping. These provide additional warmth when the outside temperature is cold. For the bathing bag for showering at the campsite, we take waterproof bags that you can hang up in the shower cubicles. So we have all bathing accessories at hand.
Equipment for sleeping and living
Click on the video and leaf through the motorhome packing list.
We make sure that the equipment is as practical as possible. A flashlight and headlamp have proven to be indispensable. If you have to leave the motorhome again at night, a flashlight is good to illuminate the paths. We also take a headlamp with us when we have to work on the camper at night. This leaves us both hands free for work.
Household and tool - packing list camper
Lighter / matches
Garbage bags
Dish soap
Dish bowl
Dishcloths
oven cloth
wipes
Disinfectant / spray
kitchen roll
Broom & shovel
rubber gloves
Toilet paper
freeze bag
Rag to clean
Handkerchiefs
Motorhome Travel Software - Motorhome Packing List
App for smartphone (Waze with traffic jam info)
Camping app (e.g. Promobil / ADAC)
map
A cable drum should be available in every motorhome. The nearest socket is not always close. It does good service there. The same applies to watering can and water hose. Sometimes the parking space is further away from the tap than the hose is long. In such cases, a watering can helps. With a water hose, it is essential to ensure that it is available with tap connectors of different sizes. Only then can you be sure that you can connect the hose to the tap anywhere. Ramps are useful when the surface of the parking space is uneven. With this you straighten the motorhome. Brake chocks let us sleep more peacefully, the camper stands on a mountain slope. The level check for the gas bottle is also important. This tells you how much gas is still available. On hot summer days, an odor improver is good for wastewater. Otherwise smells can quickly become unpleasant.
What you need for camping and parking space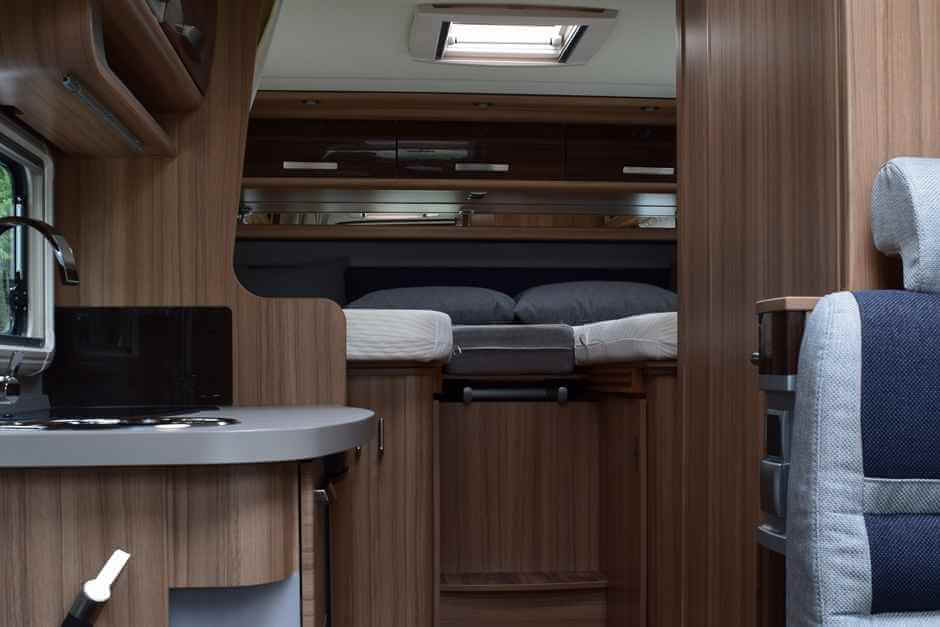 If you are planning another or longer trip with the motorhome, it is worth taking camping chairs and a camping table with you. So you can make yourself comfortable in front of the camper. This is perfect with an awning carpet and an awning that protects against the sun. What is a camping tour without a barbecue? You should make sure that not every campsite allows the use of charcoal grills. With a gas grill you are on the safe side.
Equipment for being a camper
Breakdown and security equipment
A solar power bank has often served us well on our travels. We always have them with us. Also on city tours or hikes. Since it constantly charges itself, we never run out of power for electronic and digital devices. In cities, it often proves helpful to have a scooter or bike with you. Campsites or parking spaces are usually located on the outskirts or outside the city. If you want to buy fresh bread or fruit and vegetables, it is practical to be able to do this with a mobile stand. Otherwise there are often long footpaths with heavy shopping bags.
Also important
Solar power bank * for cell phones, cameras & Co.
Headlamp
Scooter * or bike
Waterproof doormat for rainy days
Crockery box with lid
Hot water bottle for cold nights
Waschmittel
travel pharmacy
Charging cable and adapter
Sunscreen / sunglasses
Bug spray
umbrella
dress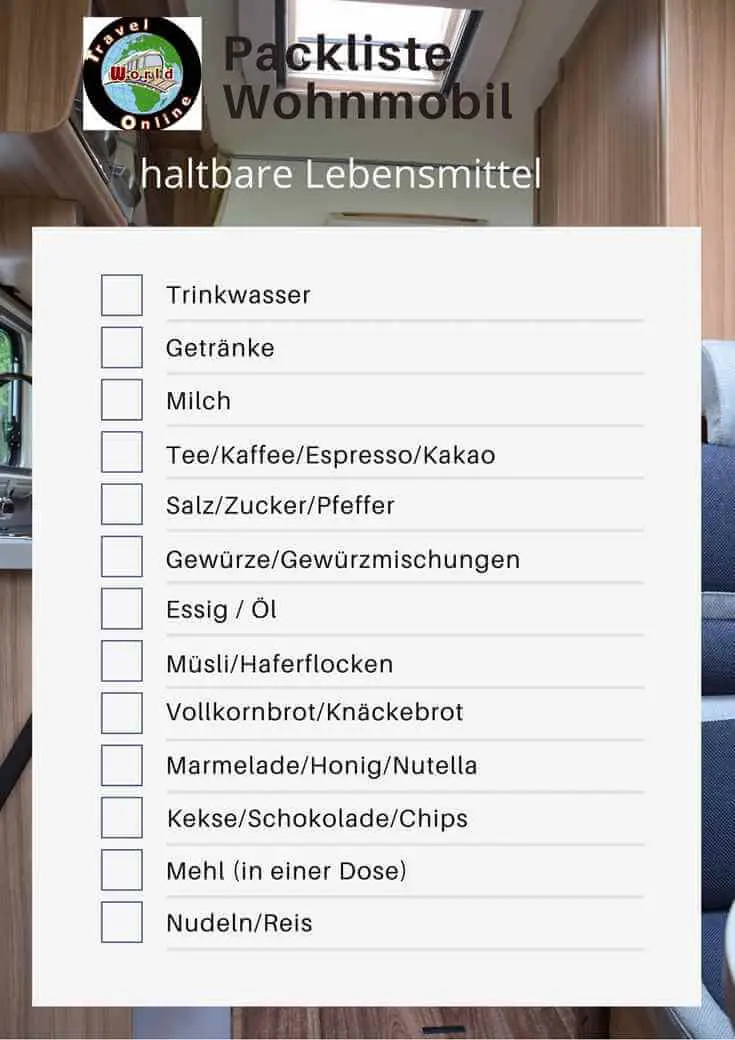 Source motorhome packing list pdf research on site
Text: © Copyright Monika Fuchs
Photos: © Copyright Monika Fuchs, TravelWorldOnline