Winter camping Bavaria - is that even possible?
The cold season is just around the corner. So we asked ourselves whether winter camping in Bavaria is possible. Since we haven't tried it out ourselves, we get advice from Lena Stoffel, who as a freerider goes on tour with her camper van in winter too. For them, winter camping right on the slopes is a matter of course.
What do you have to consider when camping in Bavaria?
Modern vehicles are ideally equipped for every season. But with winter temperatures there are a few things to keep an eye on. We asked SUNLIGHT Adventure Crew member, professional freerider (and professional winter camper) Lena Stoffel to unpack her tips for a perfect winter camping trip.
"For someone like me who travels after the snow, the camper van is the ideal solution. I am as flexible as possible, have everything I need on board and can go straight to the best spots. Winter camping is misjudged by many. It's a dream - but of course you have to pay attention to a few things! "
Lena Stoffel, freerider
 Heat source
The smooth supply of gas is the alpha and omega of winter camping. The gas bottles must be sufficiently filled - after all, the heating, hot water and cooking hobs in the camping vehicles feed themselves. The heater not only ensures that it stays cozy and warm in the vehicle, but also protects the fresh water tank from freezing. In the SUNLIGHT fleet, the heaters run on 2 × 11 liter propane cylinders (with the exception of the CLIFF 601, which uses 2 × 5 liters of gas). Depending on the outside temperature and the size of the vehicle, one bottle is enough for two to five days in winter.
My tip: Make sure you check your gas supplies regularly!
That works fine with one Level meter for gas bottles *.
Winter suitability
All SUNLIGHT models are suitable for winter use, i.e. they are equipped with heating and insulated against the cold. The brand's camper van range is even available winter-proof with the special equipment with an insulated and heated waste water tank. Winter tires are of course mandatory for every vehicle in winter.
Important: If you are not sure whether the streets have been cleared to the intended parking space or whether you are going on a ski holiday over passes, you should definitely have snow chains in your luggage.
Are suitable for this extra strong snow chains * like these.
Water check
Water is an important issue when winter camping. In winter vehicles you have to make sure that the water pipes do not freeze at temperatures around or below zero degrees. The fresh water tank is protected from frost by the on-board heater. With the water pipes, it is advisable, depending on the model, to check whether they cannot freeze.
My tip: Always have the tank 2/3 full, as the water takes longer to freeze and it does not freeze due to the movements in the vehicle.
Frost protection monitor
The boilers in motorhomes and camper vans suitable for winter have a so-called frost protection monitor. This means: the heater has a frost valve that opens automatically and lets the water run out before it freezes.
My tip for cold temperatures: turn on the on-board heater an hour before filling with water so that the frost protection monitor does not become active.
Save electricity
Electricity consumption is higher in winter than in summer. It gets dark earlier and you spend a lot more time in the vehicle. It is therefore advisable to connect to shore power because the on-board battery is less powerful at temperatures below zero.
"When I am traveling with another SUNLIGHT motorhome and not with the CLIFF, I leave the refrigerator running on external power as soon as I have a power connection in order to save my gas for heating. With my camper van, the refrigerator runs exclusively on electricity anyway. "
Keep dry
SUNLIGHT equips its integrated, semi-integrated, VANs and alcoves with rear garages of different sizes, depending on the vehicle size. These not only offer plenty of space for equipment, but are also suitable for drying damp ski equipment or clothing. If you pack the things in the rear garage, the moisture does not get into the living area. And in winter the general rule on board: regular ventilation so that it doesn't get steamy and damp.
My tip: In some models there is even a socket in the rear garage. Here I connect my ski boot dryer - and the next morning I slip not only into dry but also warm ski boots.
This Shoe dryer * is also suitable for Winter shoes, Textiles and gloves.
Winter outfit for motorhomes and camper vans
Cold bridges can be counteracted in motorhomes and camper vans with special insulation and thermal hoods. The fit is important - for most models, SUNLIGHT offers tailor-made solutions and clever accessories such as thermal window mats or suitable insulation for rear doors.
I give my CLIFF thermal insulation at the rear when it gets really cold outside. So it stays cozy and warm all night in the sleeping area in the back of the camper van.
An Tarpaulin for the motorhome * you can order here. There are also Thermal mats for inside * and for the windshield outside * , A larger tarpaulin * you can order here. So that winter camping in Bavaria is cozy and warm even when it's cold.
Choice of pitch for winter camping in Bavaria
Campsites that are open all year round are well prepared and offer comfort with heated sanitary facilities, cozy lounges or even a sauna area. If you are at the campsite for the first time in winter, you will quickly notice that things are quieter and more leisurely. There are fewer guests on site and the campers spend a lot of time in the vehicles.
I always keep an eye on the weather forecast in winter! Extreme temperatures or heavy snowfall play an important role in winter camping - you can always get snowed in: It is therefore mandatory to have a shovel with you.
With this Snow shovel * you free your motorhome from snow.
Winter camping in Bavaria, not only in the ski area
Winter camping in Bavaria is not only possible on the ski slopes, they show Campsites at Waginger See in Chiemgau, which are open all year round. At Strandcamping Waging you also have access to the lake in winter. Ideal for trying your hand at curling. Or do you prefer to skate on the lake? There are many ways where you can go winter camping in Bavaria.
Warm clothes are important
So that you stay warm on excursions, ski tours or snow hikes, you should definitely pay attention to clothing that keeps you warm. We went to the winter a few years ago Winterlude in Canada. There we experienced temperatures of down to minus 33 degrees Celsius. During our visit, we followed the advice our friends from Canada gave us. Like you stay warm in such sub-zero temperatures, will also help you with a winter holiday in a mobile home. Thermal underwear keeps you warm even in extreme cold. Also are warm winter boots a must.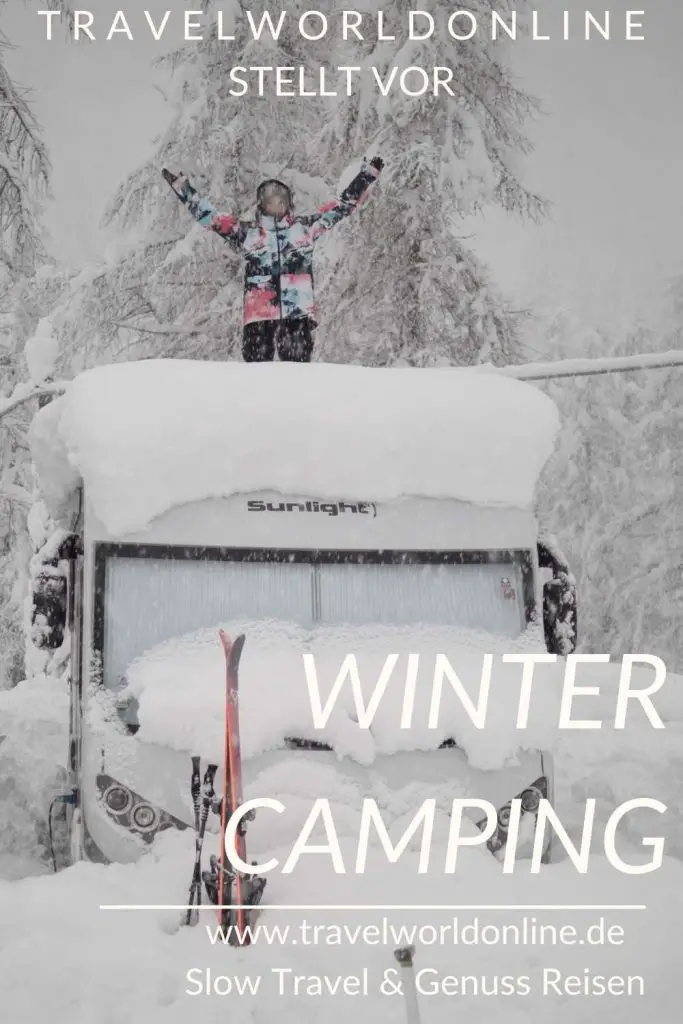 Do you already know:
Source Wintercamping Bayern: Research plus interview with Lena Stoffel, Sunlight
Text Winter Camping Bayern: Copyright Monika Fuchs, TravelWorldOnline
Photos Wintercamping Bayern: Source Sunlight
Winter camping Bavaria - what should you watch out for?