Salzburg specialties
Salzburg is so well known that almost everyone knows some of Salzburg's specialties. If you Salzburg visit, you can hardly avoid some of them. Either the waiter in your restaurant praises them. Or you stumble across it in the town's souvenir shops. Nevertheless, there are some special features in the culinary arts of Salzburg that you have probably not heard of. Salzburg Essen is typical of the border area between Bavaria and Austria. Pastries and sweets are part of the city's food. Nevertheless, let yourself be surprised what else is being served in Salzburg and the surrounding area. But first I will introduce you to the typical Salzburg food. You have probably heard of them.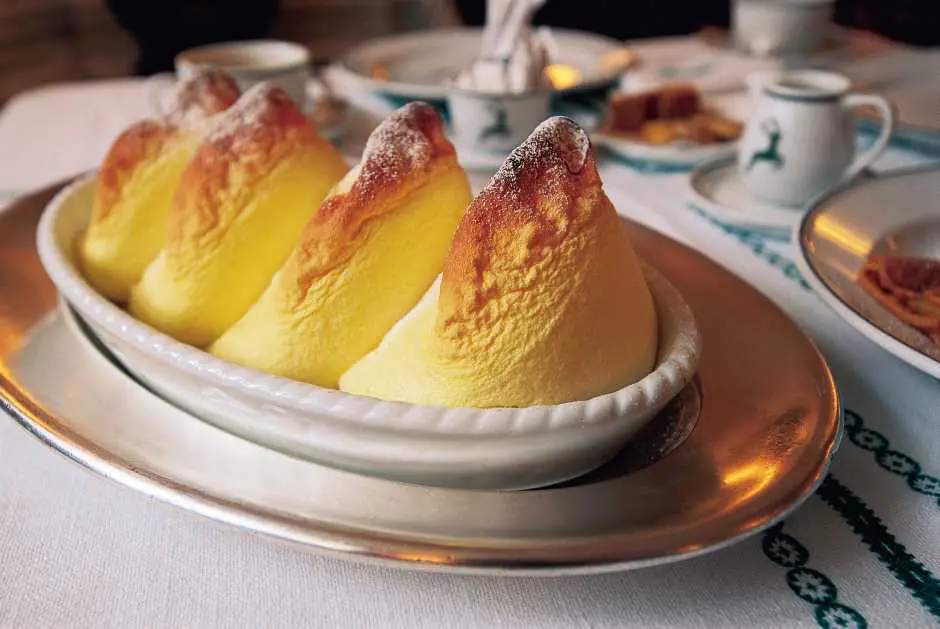 Book your hotel in Salzburg here
In these hotels you can not only stay well, but also eat well:
Salzburg dumplings
For me there is hardly any Salzburg food that is as typical for the city as Salzburger Nockerln. They are arguably one of those dishes that every visitor to the city must try. I can hardly remember one of our visits to the city on the Salzach where we didn't come across them on the menu. However, you should have time if you want to try this soufflé. Because Salzburger Nockerl must always be freshly made. That takes time. Once they're out of the oven, it's time to eat. Because the fluffy pastry collapses just as quickly as it rises in the oven.
You can of course also make the Salzburger Nockerln at home with this one
Salzburger Nockerl recipe
That's what you need for this Salzburg specialty
7 protein
100 grams of sugar very fine
2 beaten egg yolk
20 grams of flour (sifted)
a packet of vanilla sugar
butter for the form
Powdered sugar for sprinkling
How to prepare the Salzburg specialty:
Beat the egg whites and slowly add the sugar. Gently stir in the egg yolks and vanilla sugar. Raise the flour underneath. Then you fill the dough in three piles in a buttered tin. The heaps are important because they are supposed to symbolize the three local mountains of Salzburg: the Gaisberg, the Kapuzinerberg and the Mönchsberg.
Then you put the mold in the oven at 220 ″ Celsius for nine minutes.
Sprinkle the dumplings with powdered sugar. Then you have to be quick with serving. Because the dish quickly collapses.
Chocolates are among the Salzburg specialties
Sweets are also typical of Salzburg food. Who doesn't know him: Wolfgang Amadeus Mozart? No wonder one of the Salzburg specialties is named after him. In his honor, confectioner Paul Fürst invented the Salzburg Mozartkugeln. Using marzipan, pistachios, nougat and chocolate, he created the praline that Salzburg is famous for. However, his neighbor Josef Holzermayr, who also ran a confectionery shop, was there and also offered his Mozartkugel. This led to a dispute between the two candy shops that continues to this day. It's about who can claim the Mozartkugel. The whole thing was solved by the Fürsts offering them as "Original Salzburger Mozartkugel". Holzermayers, on the other hand, sell the "Real Salzburg Mozartkugel". Which one tastes better now is best for you to try out for yourself. Mozartkugeln are also well suited as a souvenir of Salzburg specialties.
Experience Salzburg's cuisine
The Salzburg specialties are not all sweet
There is also spicy Salzburg food, which is typical of the city on the Salzach. The Bosna proves that the specialties from Salzburg are not all sweet. This is a bratwurst that is sold in a snack bar in one of the passageways through the old town of Salzburg. I am sure that its inventor, the butcher Zanko Todoroff, could not have imagined the success of his sausage roll. Word quickly got around from his snack bar how good his sausage rolls taste. He found the perfect clientele for them near the University of Salzburg. In the meantime, Salzburgers and visitors to the city are lining up at lunchtime to try his Bratwurst To Go.
Almost everyone has heard of at least one of these free Salzburg specialties. But I bet that will no longer be the case with the next products from the city on the Salzach.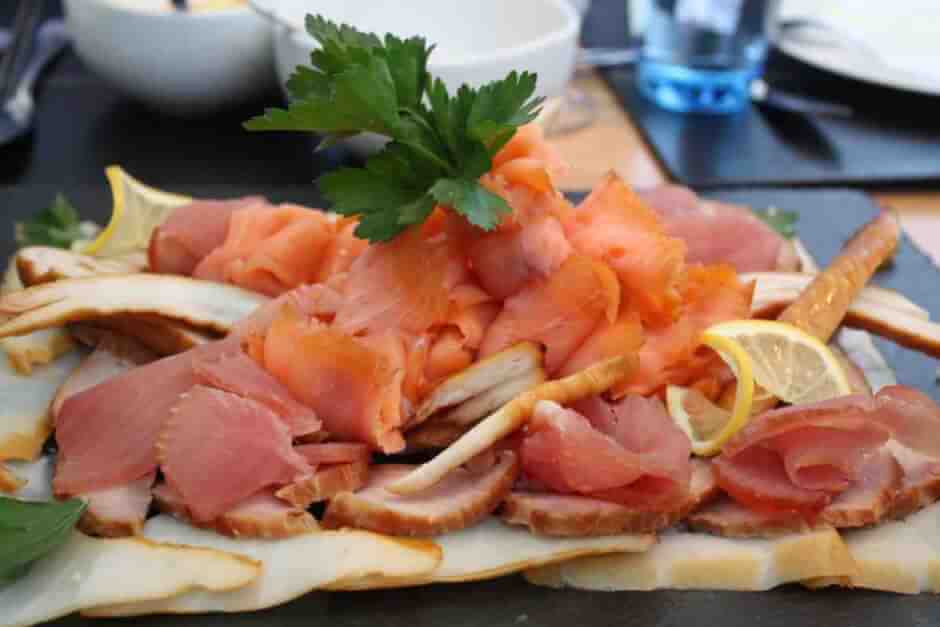 Fish and the most expensive caviar in the world
Not everyone who travels to Salzburg thinks of fish. We neither. It was only when we visited the eat and meet festival in Salzburg a few years ago that we were taught better. Among other things, we visited the Fishmonger Walter Grüll in Groedig. The place is not far from Hellbrunn Palace south of Salzburg. From the outside, his fish shop looks like any other fish shop. However, if you agree to a tasting, it quickly becomes clear that Walter Grüll's products are something special.
Not only does he breed many of the types of fish he sells in his shop himself. He is also one of only 30 breeders worldwide breeding albino white sturgeon. Because of its rarity, their caviar is one of the most valuable foods in the world. And one of the most expensive. A gram of white caviar costs up to 35 cents. Therefore, sales already start with cans from ten grams. Not much. You definitely can't get enough of it. But the jars always offer an opportunity to try this delicacy.
Moor bread - an extraordinary Salzburg specialty
I'm pretty sure that you don't know the next Salzburg specialty from a suburb of Salzburg either. Or have you tried moor bread before? Before our visit to the SonnenMoor company in Anthering, we had no idea that such bread even existed. It is baked with drinking moor, which is made from the peat that is found in the region north of Salzburg. You can find out more about the SonnenMoor company and its history in this article. If you want to try the moor bread yourself, a visit to SonnenMoor is worthwhile. In the moor and herb adventure world (Landstraße 14, 5102 Anthering) you can find out more about the processing of the moor and the history of the company. Anthering is about 15 minutes from Salzburg.
From Monday to Friday there are guided tours for 10 or more people.
09.30 clock and 14.00 clock
Duration: approx. 2 hours
Costs: € 6 pp including refreshments and gift
Typical Salzburg dishes are also these specialties from Salzburg
It's worth looking out for on restaurant menus.
Kasnocken - These are savory dumplings made of dough with cheese gratin, which are usually garnished with roasted onions and chives. They are special because they are a typical Austrian specialty and in Salzburg they are often prepared with homemade cheese.
Tafelspitz – This is a boiled beef that is often served with vegetables and potatoes in Salzburg. It is special because it is a traditional Austrian dish and in Salzburg it is often served with a hearty beef soup as a starter.
Salzburg beer – Salzburg has a long brewing tradition and many different breweries that produce their own beer. The Stiegl beer, which has been brewed since 1492, is particularly well known. It is special because it has a long history and is often served as an accompaniment to hearty dishes in Salzburg.
This is what you need for a city trip to Salzburg
Enjoy Salzburg specialties
We hope you enjoy trying out the specialties from Salzburg. With these tips you can expand your tasting of Salzburg to the surrounding area and learn more about the city and the region. Let us know how you liked the Salzburg specialties.
---
Travel Arrangements:
Arrival by plane, train and bus
Arrival by plane, bus or train*. Lufthansa, Austrian Airlines and other airlines fly to Salzburg. It is possible to travel to Salzburg by train. Also drive Long-distance buses * to Salzburg.
Rental car:
Cheap rental cars and e-cars - book here! *
Camper Rentals:
Book yours Caravan here. Or do you prefer to travel with him in a roof tent on the car? Also the overnight stay in camping tents is possible.
Accommodation in Salzburg
Hotels in Salzburg * Book online via booking.com.
Camping in Salzburg
A campsite is, for example, Salzburg Panorama Camping, Rauchbichlerstrasse 21, 5020 Salzburg, Austria. A Rent a motorhome you can here. With our Motorhome packing list You'll never forget anything again.
Our travel tips for Salzburg
These travel tips we tested ourselves. Maybe there is something for you?
---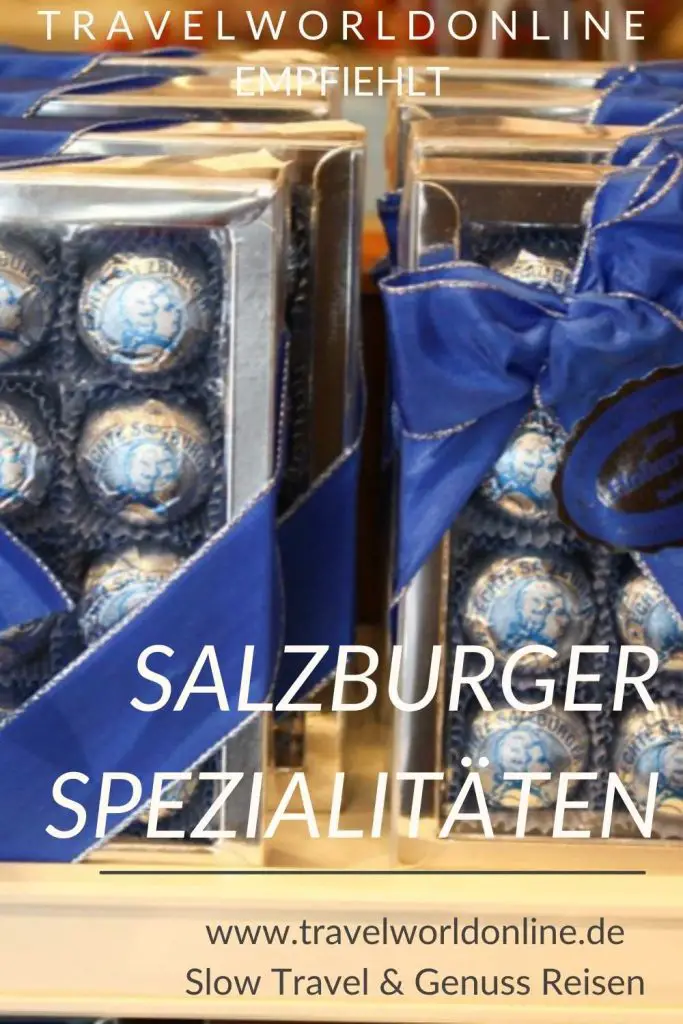 Do you also know:
Find more Food Travel There's also here.
Source for the article Salzburg specialties: research on site at the invitation of Salzburg Tourism. However, our opinion remains our own.
Text: © Copyright Monika Fuchs and TravelWorldOnline
Photos: © Copyright Monika Fuchs and TravelWorldOnline and see captions
Salzburg specialties that (not) everyone knows