Dinner at the Hotel Restaurant Rheingerbe in Stein am Rhein

Actually, I discovered it by accident. During my research before our short trip to the Untersee region of Lake Constance, I came across an advertisement on one of the tourism websites. You know, the ones that list all the local attractions, accommodation, and restaurants. An advertisement on the edge of this website aroused my interest. It was said there that the Hotel Restaurant Rheingerbe in Stein am Rhein offers a pilgrim's meal in Stein am Rhein. That sounded interesting. Different from what is usually served in restaurants. Since we always like to try something new and unusual on our travels, that was it the village of Stein am Rhein and his restaurant Rheingerbe landed on our itinerary. A stroke of luck for more than one reason. But more of that later! First of all, this is about the culinary things that we discovered on this trip.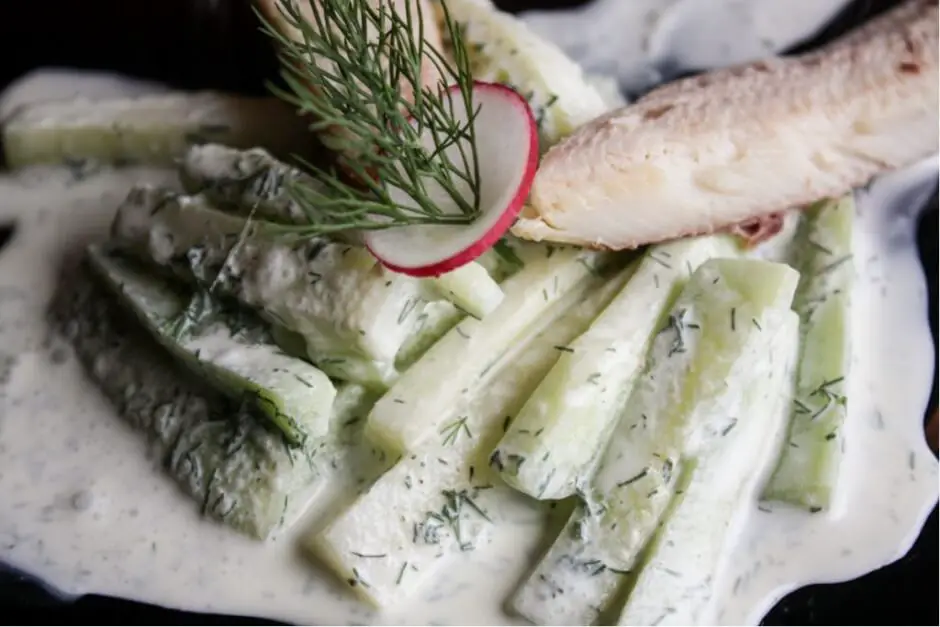 Where does the name Rheingerbe come from?
The name of the restaurant goes back to the 15th century history of the house. "On the ground floor, where our tavern is today, animal skins used to dry and were tanned either red or white," says Mrs. Meier, who runs this restaurant together with her husband. "Today you don't see that anymore, but the name of our restaurant goes back to this tannery."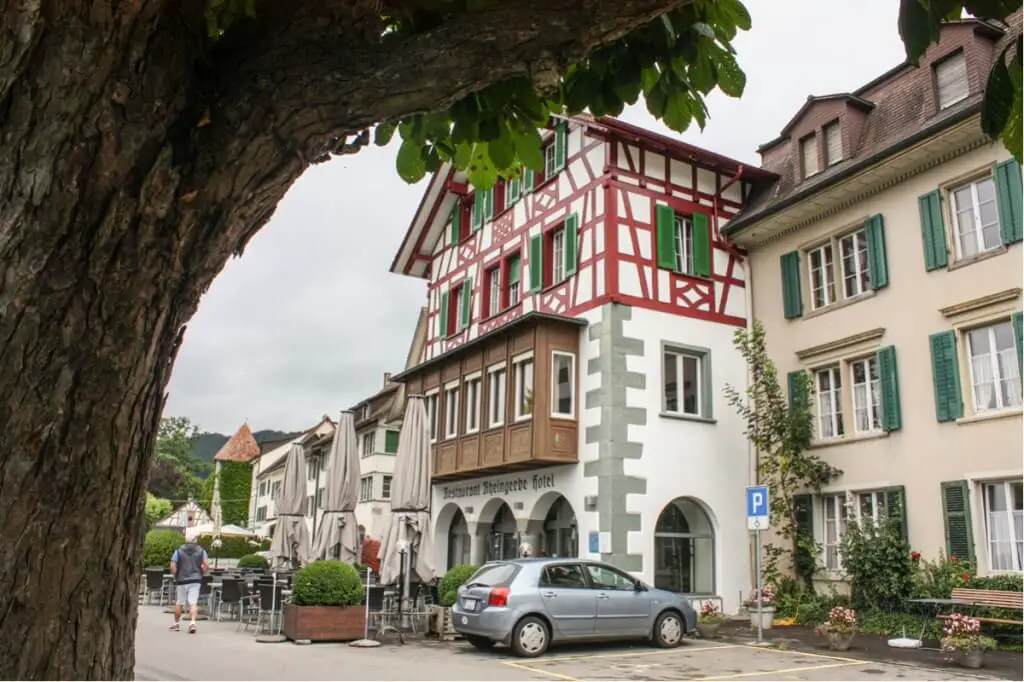 A pilgrim meal in the Rheingerbe restaurant
What initially sounds very sparse and meager turns out to be an experience for the palate in the Rheingerbe restaurant. The pilgrim's meal that the Meier couple serves us is something very special. On the occasion of 600. Anniversaries of the Council of Constance they came up with something extraordinary in the kitchen of the restaurant. The restaurant's guests were offered a menu consisting exclusively of ingredients that were known in the region 600 years ago.
If you yourself Look at Constance then you will find tips in this article from Tanjas Life in a Box.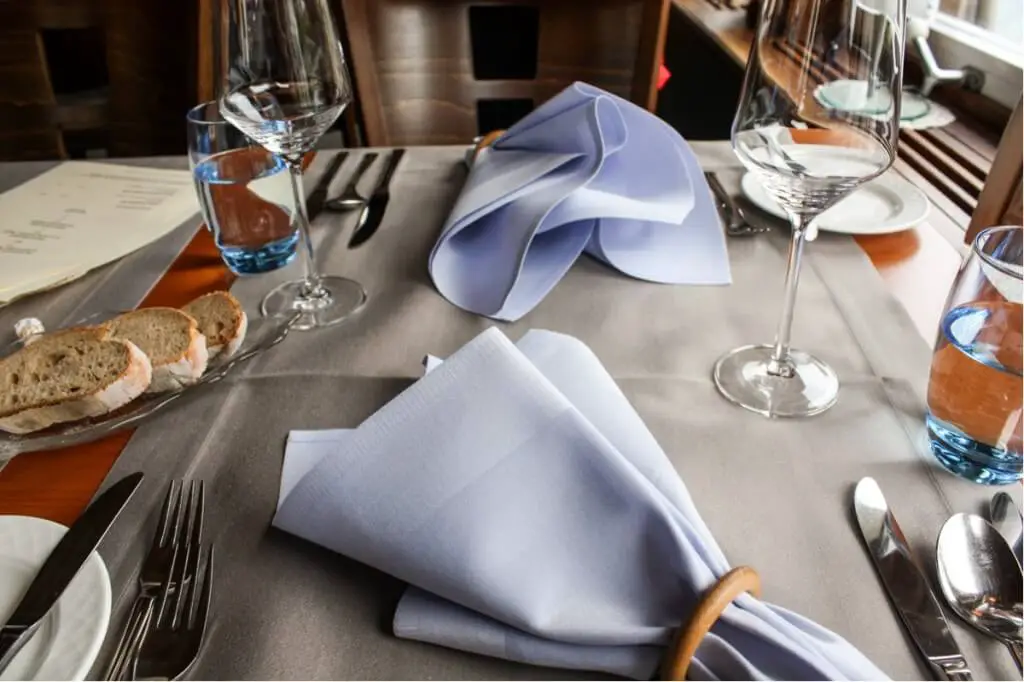 What was served to pilgrims 600 years ago?
"It wasn't easy at all to find the dishes for it. At that time America was not yet known. There were no potatoes, tomatoes or peppers," laughs Ms. Meier. "First of all, we had to find something together that we could use to prepare this meal." I want to know where she got the recipes from, and she says: "We looked in part from old sources, but we simply have a lot in our kitchen tried out. We tested which herbs and spices go best with which vegetables, meat or fish and tested what we liked best."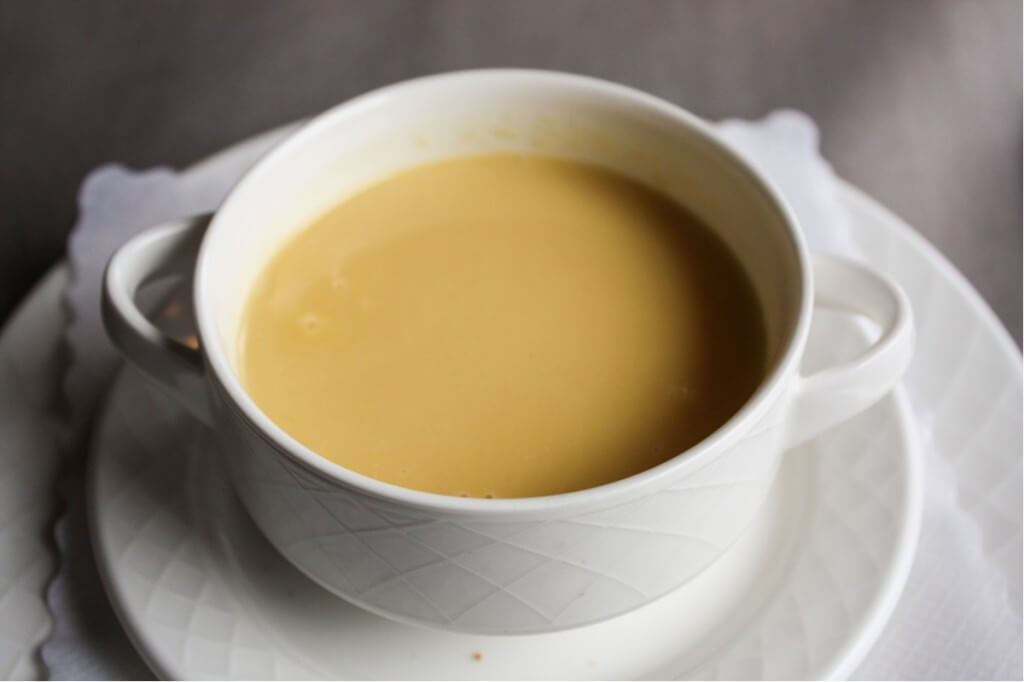 Cooking like in the old days in the Rheingerbe restaurant on the commemoration day of the Council of Constance
Our pilgrim meal begins with a cucumber salad in a sour cream sauce with smoked whitefish from Lake Constance. The sauce is seasoned with dill. The flavor of each ingredient is emphasized in this light and flavorful appetizer, and this continues throughout the pilgrim meal. The dishes emphasize the natural taste of the dishes, whether it's the freshness of the cucumbers or the sweetness of the turnips, which we are then presented with in the form of turnip soup flavored with saffron. Nothing hides the original taste of the vegetables - and this is a very unusual palate experience, but very tasty.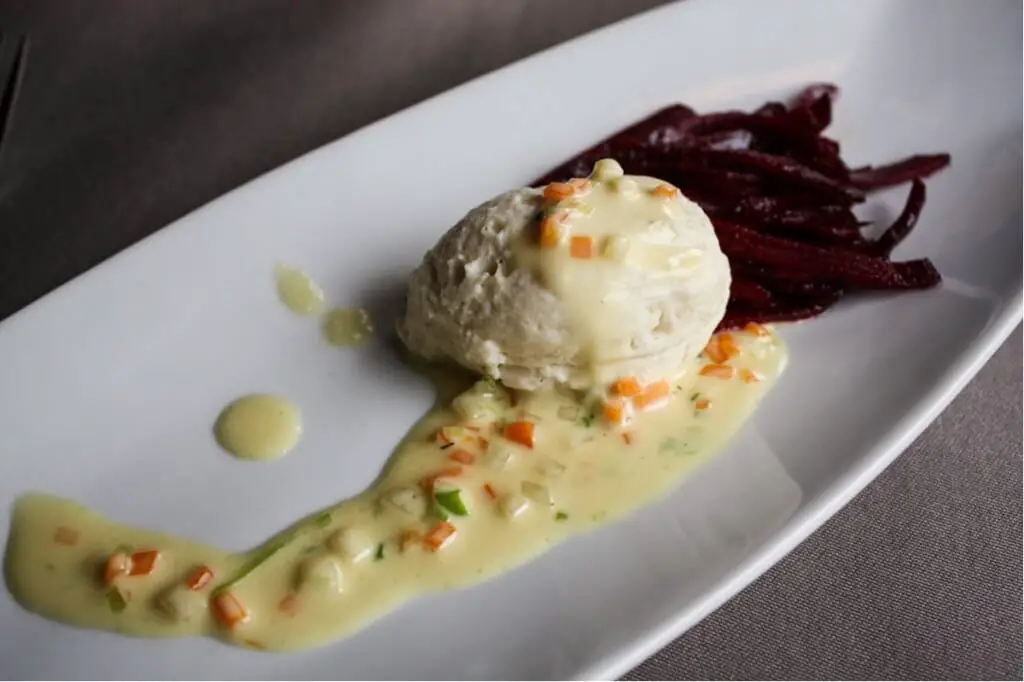 Fish from Lake Constance in the Rheingerbe restaurant
Petar asks Ms. Meier which dishes are typical for this region of Lake Constance, and she succinctly says: "Fish in all variations. We live on a lake where there are all kinds of fish. So there is often fish on the lunch table here. "No wonder there is another course with fish: the pike dumpling melts on the tongue, while the red beetroot strips are firm and crunchy with the vegetable and herb sauce seasoned with saffron.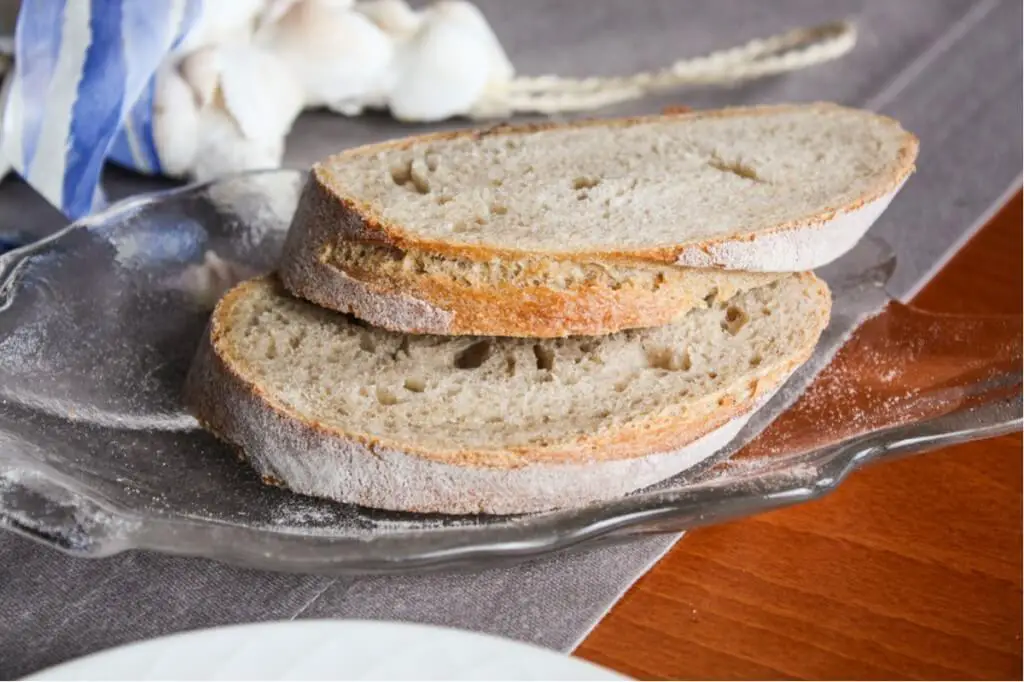 Sourdough bread from the bakery around the corner
There is fresh sourdough bread with all starters. When asked whether they bake it themselves, Ms. Meier laughs and says: "No, that's available from our baker around the corner." In any case, it goes wonderfully with the light starters and gives them a filling base.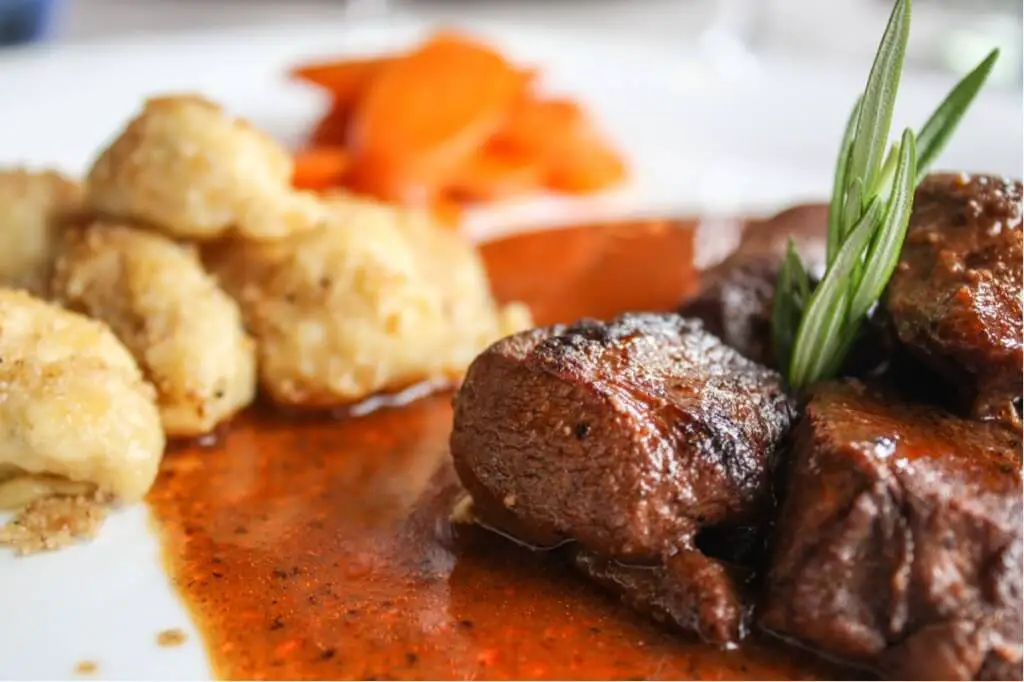 Venison goulash at Hotel Restaurant Rheingerbe in Stein am Rhein
The best of our pilgrim meal comes next: "Today we prepared a venison goulash for you. My husband killed the game himself." I think to myself, just like in the days when the pilgrims went to the Council of Constance. Instead of potato side dishes, there are flour dumplings steamed in breadcrumbs and a sauce that wonderfully emphasizes the taste of the venison. The perfect complement to this are the carrots glazed in honey, which add a crunchy finish.
"People in the 15th century didn't live too badly without potatoes, tomatoes and peppers," I think to myself while I enjoy this goulash. Our game goulash is juicy, tender and delicious complemented with the side dishes. When I asked Ms. Meier how they developed this great dish, she laughed and said: "We tested and tasted it until we liked it ourselves. Then we put it on our menu." The couple have definitely succeeded!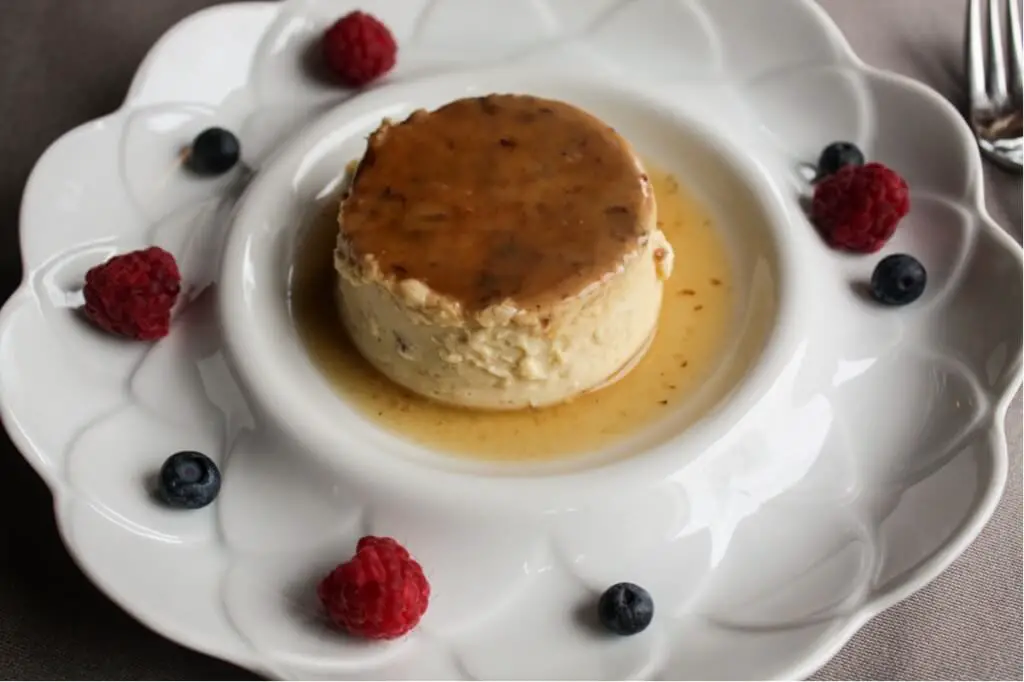 Hazelnut pudding for dessert
The delicious end of our pilgrim's meal is a very nutty-tasting hazelnut pudding in which the coarsely chopped nuts set the flavor. With a sauce of honey and fresh raspberries and blueberries, this dessert was the perfect end to our not-so-Spartan pilgrim meal. The Pilgrim Meal in the restaurant Rheingerbe was definitely a very unusual taste experience that you should not miss. It has pushed the taste of the ingredients back into our consciousness and tasted delicious.
Restaurant Rheingerbe
Schiffländi 5
CH - 8260 Stein am Rhein
Tel. + 41 (0) 52 - 741 29 91
---
Travel Arrangements:
Check in:
Book yours here Arrival by plane, bus or train*. The nearest international airport is Zurich. It is also possible to travel to Stein am Rhein by train.
Car Rentals:
Cheap Car Hire - Book Fast and Easy! *
Hotels in Stein am Rhein:
Accommodation in Stein am Rhein* you can book here.
Are you traveling to Stein am Rhein by motorhome?
---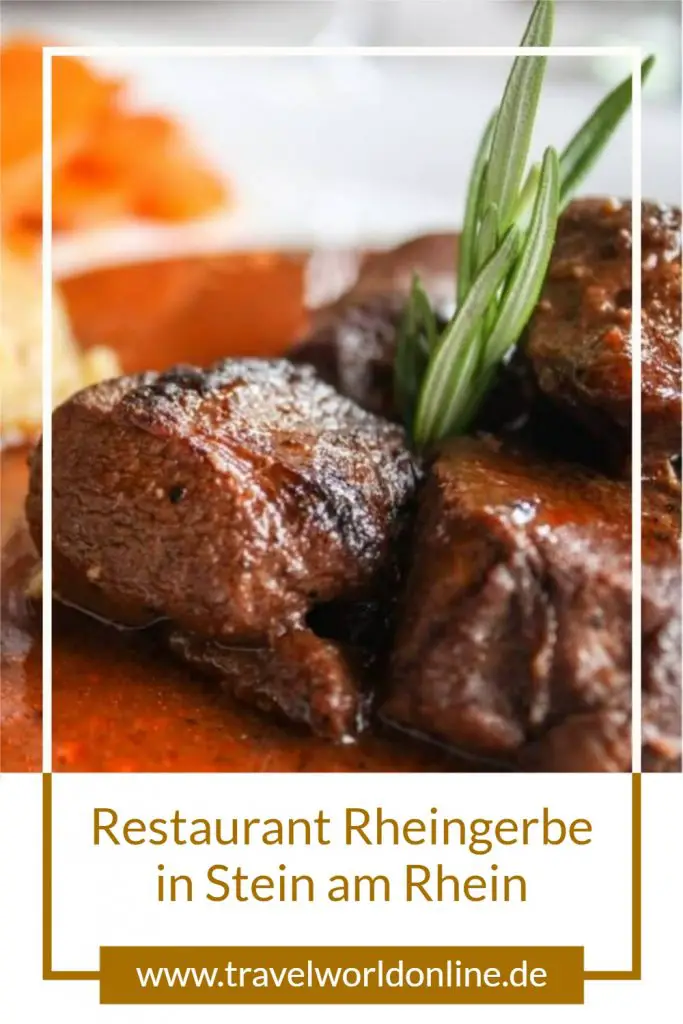 Do you already know:
Source: On-site research. We would like to thank Tourismus Untersee for the invitation.
Text: © Copyright Monika Fuchs, TravelWorldOnline
Photos: © Copyright Monika Fuchs, TravelWorldOnline
Restaurant Rheingerbe – eat like the pilgrims of yore in Stein am Rhein