Time out in the monastery in Stams Abbey in Tyrol
(Advertisement) We were guests at Stift Stams monastery for a few days Tyrol. There are few places where you can relax as easily as in a monastery. monasteries are ideal places to withdraw from the hustle and bustle of everyday life. This is relaxation for body and soul! However, nowhere else have we experienced breaks in the monastery as varied as in Stams Abbey in Tyrol. However, one should not confuse the monastery with a hotel. The experience is completely different. You shouldn't expect luxury. But all the more silence, rest and relaxation.
We want to introduce you to people we met during our stay. They spend their own personal time off in the monastery in Stams Abbey. Some of them do this over and over again. Others on time. This gives you an insight into what life looks like behind monastery walls. Since this is not only possible for monks, you will also find people here that you meet in and around the monastery.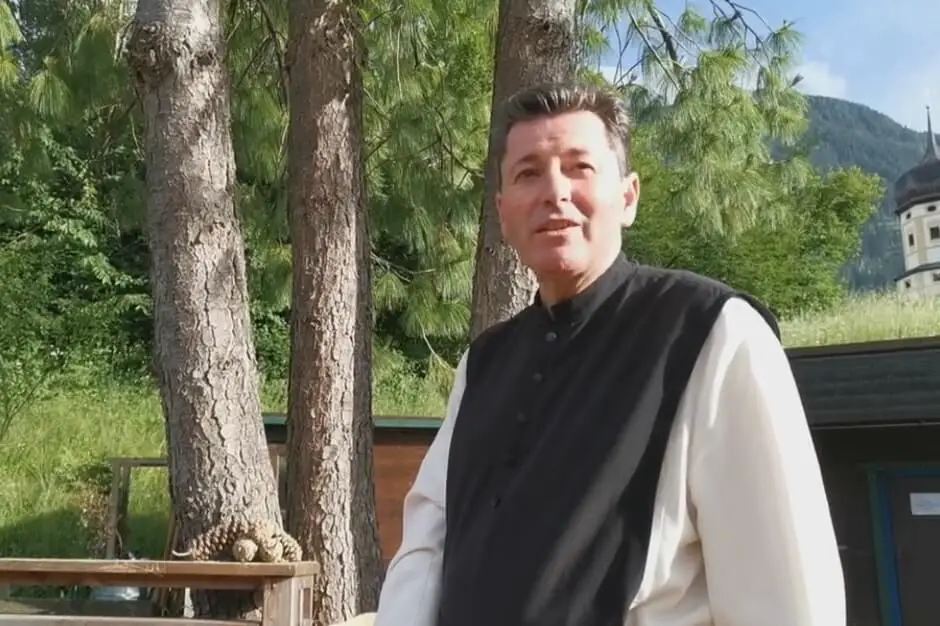 Brother Lukas - our host
He welcomes us as guests at Stams Abbey and shows us around the Abbey during our stay. Brother Lukas has only been living in the monastery for some time. Until then, his path was like that of many others. From Tyrol he first moved to Munich, where he did public relations for car companies in an agency for many years. Only over time did he realize that this is not the way of life he envisions for the rest of his life. He was drawn to the monastery, and today he says: "Here I will stay - and if I am the last monk in Stams Abbey." His break in the monastery took place after careful consideration and, as he says, is permanent. A rarity in monasteries. Like many other monasteries, there are only a few young men in Stams Abbey who choose monastery life.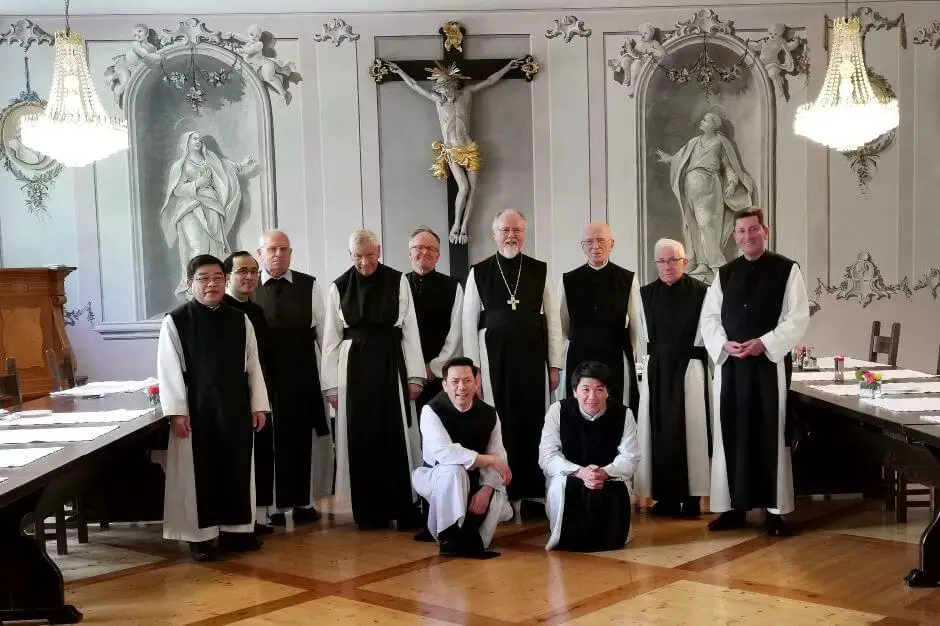 Five guest monks from Vietnam
Nevertheless, we meet young monks during our visit. These come from Vietnam. The situation there is different in the monasteries. There are no problems with young talent there. The five guest monks in Stams Abbey have been sent from their monastery to Stams. You are studying theology in Innsbruck, which is only a few kilometers away. Most of them stay at the Stams Abbey until the end of their studies. One of them is now thinking about staying in the Stams monastery permanently. His break at Stams Monastery may turn into a permanent stay.
Abbot German Erd
Abbot German Erd's path is completely different. He already attended high school in Stams Abbey. It was clear early on that he would continue his life in the monastery. However, he had originally planned to study in Innsbruck before entering the monastery. He wanted a break from the monastery before entering. It should turn out differently. His advisers at Stams Abbey advised against it. After graduating from high school, he entered the monastery. As a monk, he eventually studied theology and English.
As part of his education, he spent a year in Oxford and toured the United States when Nixon's Watergate fiasco struck America. Today he is still in contact with the people he met on these trips. However, he himself moved back to Stams Abbey after completing his studies. There he initially taught English and religion in the collegiate high school. The monks later elected him abbot. This office he still holds today. His break was a break from the monastery, during which he perfected his English skills in England and the USA.
Brother Franz - the baker
We hear from Frater Franz already in the monastery shop. There is fresh bread every Monday, Wednesday and Friday. We are only allowed to visit him in his kingdom in the evening. Then his working day begins. This sometimes lasts until four in the morning. The monastery bakery is his work area. As a trained baker, he was already earning a living before entering the monastery. After a while, however, he became allergic to flour and was no longer able to do his job. After joining the monastery, he first looked after the animals and the gardens in Stams monastery. Eventually it turned out that his allergy was gone again. Since then he has set up a bakery in the monastery basement. There he now bakes bread three times a week, which is sold in the monastery shop. At breakfast we enjoy his brioches and bread during our visit to the monastery.
Father Norbert - the beekeeper
Actually, Father Norbert is already retired. Like Abbot German, he once taught at grammar school. He later worked as a curator in the monastery museum. In the meantime, however, the herb garden and the bees that live in it are his main task. The bees deliver honey, which it collects in their honeycombs. To do this, he weighs the honeycombs. As soon as these have reached a certain weight, he knows that it is time to harvest the honey. In his wild herb garden below the monastery, he plants herbs that he knows bees like.
Pilgrim Jörg
Jörg Krasser takes a very special break in the monastery. He is currently on his "Walkabout Austria", a pilgrimage through Austria. We meet in the monastery park and he tells me his amazing life story. Jörg used to work as a cameraman for television. Extreme sport was his elixir of life. He rode a bike and was a trail runner. With his bike he took 1st and 2nd place at the Iditabike Alaska. In this extreme bike race, you follow the tracks of the dog sleds at the Iditarod race in Alaska. He climbed mountains like that Mt Denali in Alaska and Kilimanjaro in Africa. Until a brain abscess put an end to all of this in 2016. He was in the hospital for five months. Since then he has had to relearn everything: walking, thinking, speaking, writing. When he was able to take a few steps, his doctors said he couldn't go any further.
But Jörg Krasser is a man with a strong will. He's fighting his way back to life. In doing so, he discovered pilgrimage. He went on his first pilgrimage on the Camino de Santiago in Spain without knowing whether he would make it. "I can't run, so I go - step by step," he says. "It's more of a shuffle. But I probably shuffle faster than some others. "That must be the case, because just two days after we met in Stams Abbey, he had already reached South Tyrol via the Brenner Pass. He is on his way back to his homeland, Styria.
If you want to find out more about Jörg Krasser's path, you can visit his blog From 0 to 101 follow his path. If you yourself want to spend the night as a pilgrim in Stams Abbey, that is also possible. Just send an email a few days in advance and register.
The black fishermen - time out in the monastery for connoisseurs
In the past, monks from Stams Abbey looked after the fish ponds below the monastery. Today their number is too small. There is a lack of monks who can take on this task. That is why Fabio and Maria Birlmair leased the ponds. They offer their visitors a break in the monastery of a different kind. Species of trout swim in their ponds. There are even two sturgeons at home. On the banks of the ponds we watch herons hoping to catch one of the fish from the pond. While we're there, however, hope remains.
It looks different for hobby anglers. Fabio and Maria offer their customers the opportunity to fish their fresh trout out of the water themselves. If you wish, they can then disassemble it. You can also smoke it. The two want to open a restaurant by their ponds in 2022. After studying biology, Fabio switched to Koch. In recent years he has been cooking in the Stiar gourmet restaurant in Ischgl. Before that he was in the Chambre Séparée in Gent, Belgium. He learned to cook in the Sitzwohl restaurant in Innsbruck. Visitors can look forward to gourmet meals with fresh fish. Until then, they serve their fish on beer tables right by the monastery ponds. Maria is a qualified bartender. She says: "I can't wait to serve my own creations."
On Website of the black fishermen you can find their current information and prices.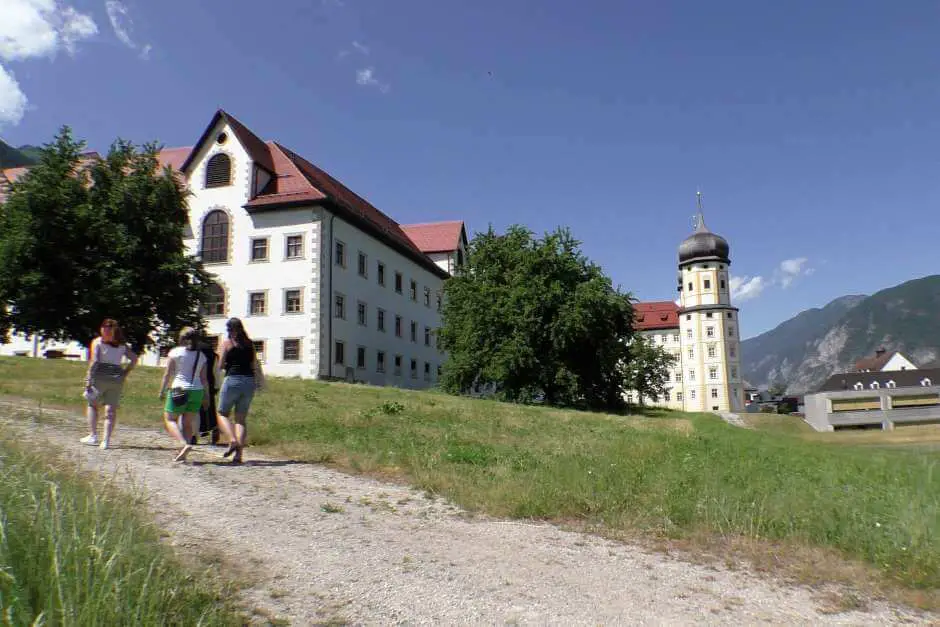 A break in the monastery as a guest
You can also do it like us and experience a break in the monastery as a guest. A stay like this in the monastery is, however, something different than a stay in a hotel. You stay in the monastery. Stams Abbey does not currently offer a guest house for this. Instead, the monks open their living quarters to guests. This is something that we have never experienced in this form in any other monastery. The exam is usually not open to guests. The special thing about it is the silence. In the exam, it is important to have a rest. You can only speak in the corridors again when you leave the exam. It is this calm that lets you come to yourself.
We spend the night in a monk's cell. The term "cell" is not really appropriate. I would almost call it a suite, albeit a simple one. Because each of us has two rooms available - a bedroom with a small bathroom. We also have a lounge with a desk and sitting area. There are no double rooms. So Petar and I are housed in two separate rooms.
You can't book a break in the monastery like in a hotel. We see how Frater Lukas rejects a family from Holland who simply rings the doorbell at the monastery gate and wants to spend the night there. If you are planning such a stay, you can inquire via the website of the monastery. Brother Lukas will then get in touch with you and discuss everything else. To what extent you want to participate in monastery life is up to you.
You need this if you want to hike during a break in the monastery in Stams Abbey
Visit Stams Abbey during a break in the monastery
You don't necessarily have to spend the night in the monastery to see Stams Abbey. You can also visit it as a day guest and, for example, take part in a guided tour. You can also register for a guided tour online. With a guided tour you will see the basilica, the cloister, the Bernardisaal and the museum. We provide this to you in a second article in front. You can also contact us in Petar's video about our visit to Stams Abbey consequences.
Our tip is also a visit to the restaurant in the orangery. On the Terrace you can eat well with a view of the monastery and the monastery park.
Stams Abbey
Stiftshof 1
A-6422 Stams
Tyrol
Austria
Website: Stams Abbey
Questions and answers about time out in the Stams monastery
What is Stams Abbey in Tyrol?
Stams Abbey is an abbey and monastery in Tyrol, Austria. It was founded in 1273 by Count Meinhard II of Gorizia-Tyrol.
Who is German Erd and what role did he play in Stams Abbey?
German Erd is the abbot of Stams Abbey. He modernized the abbey and served as headmaster.
What is the Blackfisher Stams?
The Schwarzfischer Stams is a fishery below Stams Abbey. In the restaurant you can enjoy fresh fish from the fish ponds.
What is Stams Monastery?
Stams Abbey is an abbey and monastery in Tyrol, Austria. It was founded in 1273 by Count Meinhard II of Gorizia-Tyrol and has been an important place of Catholic faith in the region ever since.
Who are the monks of Stams Abbey?
Stams Abbey is a Cistercian monastery, a Catholic religious order. The monks live together in the monastery and devote themselves to worship, pastoral care and work in the community.
---
Travel Arrangements:
Parking at the airport
Here you can reserve your parking space at the airport.
Arrival by plane, train and long-distance bus for your time out in the monastery
Arrival by plane, bus or train*. Lufthansa, Austrian Airlines and other airlines fly to Innsbruck. It is possible to travel by train to Innsbruck and on to Stams. Also drive Long-distance buses * to Innsbruck. From Innsbruck you can travel to Stams by train or rental car. You can also take the REX 1 and REX 2 S-Bahn trains from Innsbruck to Stams Abbey.
Car Rentals:
Cheap Car Hire - Book Fast and Easy! *
You don't want to spend the night in Stams Abbey, but still want to see the monastery? With our partner booking.com you can easily book hotels and accommodations online. Just click on the link above.
This is how our companions experienced the stay:
Do you also know:
Source time-outs in the monastery: research on site
Text time out in the monastery: (c) Copyright Monika Fuchs and TravelWorldOnline. All rights reserved.
Photos time out in the monastery: (c) Copyright Monika Fuchs and Petar Fuchs as well as TravelWorldOnline. All rights reserved.
We thank you Klösterreich for the invitation to this press trip.
Time out in the monastery in Stams Abbey in Tyrol