Mt Denali - best viewpoints - cover photo of Mt Denali by Madeleine Deaton
Why you rarely see Mt Denali

Who ever in Alaska was on the way, knows that Mt. Denali is one of those mountains that you absolutely want to see. Why? Because he doesn't show up often. Our USA travel tip: try several places. Everyone wants to come home and say, "I've seen it!" It is said that there are even Alaskans who have lived there all their lives and have not yet seen the mountain. The six-thousander usually hides behind a thick blanket of clouds that likes to cling to its mountain walls. No wonder! It towers over the surrounding mountains of the Alaska Range by several thousand meters. When he shows up, you understand why that is so.

Those of our readers who have been following us for a long time know that I have led tour groups through Alaska for 17 years. With several trips to Alaska each year, we approached Mt Denali - or Mt. McKinley - from a different angle. That's why I haven't seen the mountain more often, but always from a different location. In the course of time I got to know a number of viewpoints that offered me alternatives if Mt. Denali was hidden from us at one point. Maybe there was an opportunity to see him somewhere else. Trying to try was never wrong. Sometimes we were lucky, and "the big one" finally showed up.
Lookouts on Mt Denali
In Denali National Park, there are few places for most visitors to see Mt Denali. Anyone who hopes to see him on a ride on the National Park buses often has to turn around again when things have not been done. Because on the way into the park you can only see it at the Eielson Visitor Center. The buses often turn back earlier because the mountain is hiding. If you have more time, you can spend a few nights at Wonder Lake and hope there will be a glimpse of Mt. Denali if you stay for several days. How to organize that Kathrin of Miss Outside well put together.
There are also other options along the access roads to Denali National Park, where - with a little luck - Mt Denali will show its hopeful viewers:
Mt Denali from the Glenn Highway and the George Parks Highway
If you travel from Anchorage to Denali National Park, you only have a few places on the way where you can see Mt Denali with a clear view. You have a good opportunity when you leave the city of Anchorage. With luck you can see behind Eklutna how Mt. Denali rises above the surrounding Alaska Range. The sight from this place is so unexpected that it is often mistaken for a white cloud that hovers over the mountain range.
On the George Parks Highway between Talkeetna and Denali National Park, it is worth paying attention to small signs with a camera. These announce downhill runs or street bays, from which Mt Denali can be seen. One of these exits has a large information board, which also explains all the surrounding mountains. From this point the mountain is quite far away, so that it does not look very impressive. The view is obscured by the nearby mountains of the Alaska Range.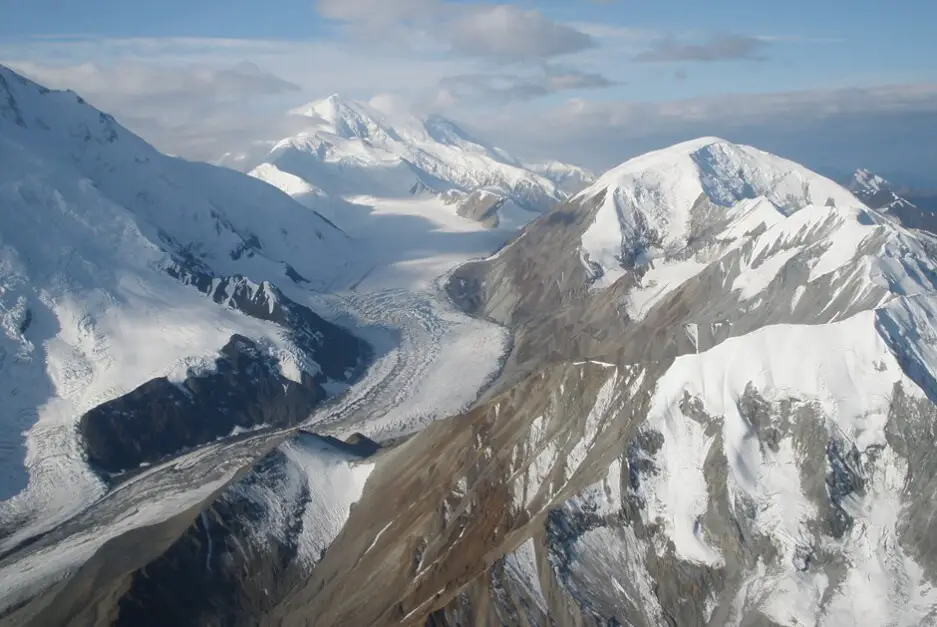 Mt Denali from Talkeetna Alaskan Lodge
If you want to wait for Mt Denali in peace, you should spend a few days in the Talkeetna Alaskan Lodge. From there you can go on excursions in the area and maybe even take a flight to Mt. Denali. From Talkeetna various sightseeing flights with small planes are offered, one of them with a landing on the glacier. If that's too much for you, you can just make yourself comfortable on the terrace of the lodge and wait for Mt. Denali to show up. The view from this point is breathtakingly beautiful!
Mt Denali from the Denali Highway
If you choose the adventurous route via the Denali Highway for the journey to Denali National Park, you should only do this with rental vehicles where the landlord allows the journey on this route. Many RV rental companies don't. If you are traveling with a vehicle that is approved for this route, you may be lucky enough to see the mountain in the distance on the last section of the route between the Susitna River and Cantwell on the George Parks Highway. Similar to the George Parks Highway, you are also quite far away from Mt Denali, so the view is rather disappointing.
From Fairbanks
If your about the Alaska Hwy travels to Fairbanks, you can see Mt. Denali from the Museum of the University of Alaska see well. The museum is worth a visit on its own, because it explains many things that travel in Alaska. Especially worth a visit in good weather. Then you can see the Mt. Denali from the parking lot in front of the museum.
From Denali National Park
In Denali National Park There are several ways to see the mountain. All require entry into the park with public park buses offering different packages. Private vehicles are not allowed to cross the Savage River. You can only see the mountain when you are much deeper in the park:
There are buses that take a guided game viewing tour. These continue in good visibility until the Stony Hill Overlook at Mile 62. From there you have the first view of Mt. Denali.
There are also transfer buses connecting the visitor center at the entrance to the park with Wonder Lake (Campground) and Kantishna Lodge at the end of Parkstraße. These pass through the lookout point on Stony Hill and the Eielson Visitor Center and drive to the end of the road, where you have a wonderful view of Mt. Denali.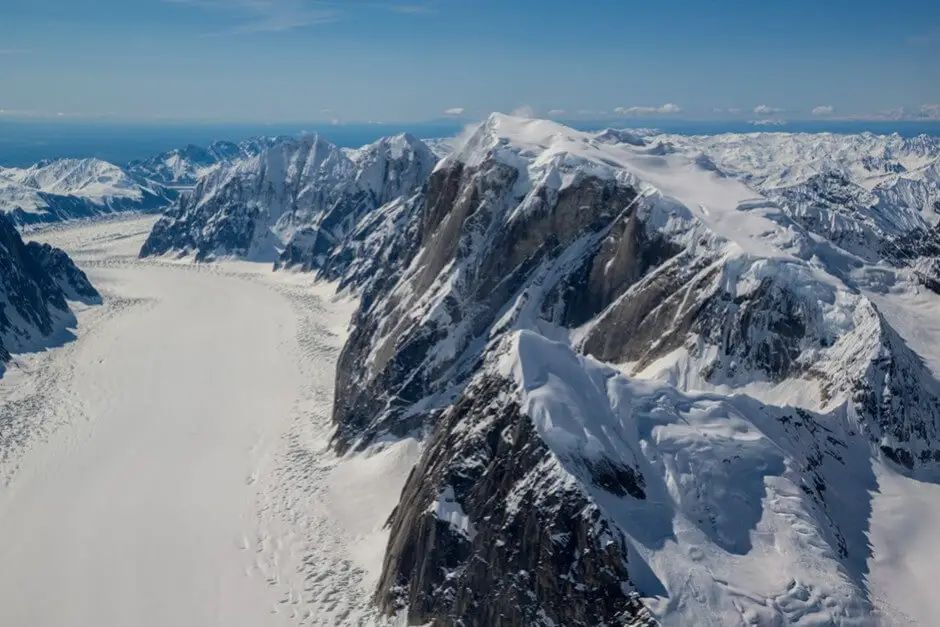 From a flight around the mountain
Those who want to get as close as possible to the mountain usually only have the option of a round trip. There are various providers for this purpose: round flights are offered near the National Park. From Talkeetna there are various flight offers, including the possibility of a glacier landing. All these flights are only carried out if the weather and the flight conditions fit. An unobstructed view of the mountain is not guaranteed as it can quickly hide behind clouds. But even then, such a flight can be exciting, with views of the deep crevasses, the rugged cliffs, and the azure glacial lakes, which you can not even guess at other views.
There is even the option of a scenic flight over the Alaska Range to Mt. Denali from Anchorage. Early reservation is advisable for all of these flights! If you want to see more glaciers in Alaska, then Hubbard Glacier and Glacier Bay are a good choice.
More information about Denali Park
Travel Arrangements:
Arrival Date
Book yours here Arrival by plane, bus or train*. Condor offers flights to Anchorage and Fairbanks.
Car Rentals:
Cheap Car Hire - Book Fast and Easy! *
Hotels in Denali:
Hotels near Denali National Park * in Talkeetna * in Fairbanks * or in Anchorage* You can book through our partner booking.com at this link.
Tours in and to Denali
Tours in Denali * can be booked here.
---
With this post we take part in the blog parade
Source: own research on site at Mt Denali
Mt Denali - best viewpoints