Edam Holland Discover sights from the water

In Edam Holland there is not only the Edam cheese market to discover. At first we are perplexed: we should whisper to explore the Edam Holland sights. What does that mean? We have no idea what that means. And you probably feel the same way, right? Marc had us the former cheese town north of Amsterdam explained. He told us how the region behind the dykes came about. He also reported on the particular challenges that the builders of the pretty and lovingly cared for wooden and stone houses in the villages on the coast face Dutch see confronted. Now he smiled mischievously: "Yes, you will definitely get to know Edam in a whisper."
Said it, and then crossed one of the drawbridges that connect the canals to the North Dutch villages overstretch. Only when he finally stopped at a small boat stall near the city center of Edam Holland did he solve the riddle: "You will get to know Edam's trading houses and the old town with a whisperboat." So I was still not much smarter. Who knows what a "whisper boat" is. But this time the explanation followed immediately: "These are particularly quiet, flat boats powered by electric current. You can use them to navigate the narrow waterways behind the dike. "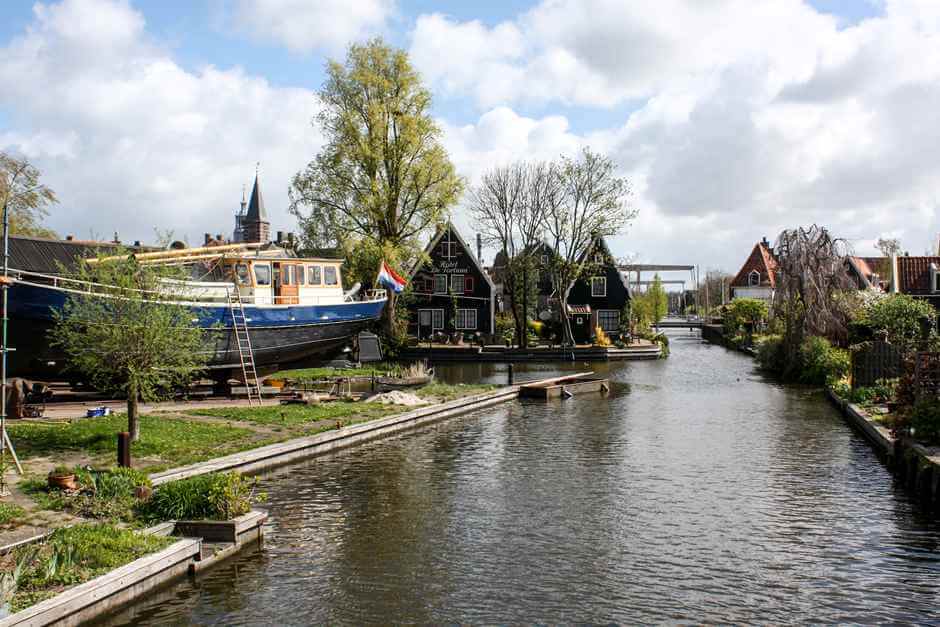 The land behind the dike
Water and canals play in the land behind the dykes in the north of the Netherlands definitely a big part. We noticed straight away that this country is criss-crossed by canals. In addition, there were always larger areas of water, lakes and ponds on our way. Marc also shows us on a map what North Holland looked like hundreds of years ago. A narrow stretch of land that stretched from Amsterdam like a bony finger north into the sea. Today, however, it has become a wide headland, created by human hands.
How to get comfortably from Amsterdam to Edam Holland:
The majority of North Holland consists of polder areas. These are areas that are separated from the sea by dikes. The sea level is higher than the land gained. That is also the reason why there are so many windmills in these regions. Your task is and was to pump the water from the rural areas over the dike into the sea. As a result, the drained areas dry out and the soil shrinks. "It works like a dry sponge," says Marc. "The more water you withdraw from it, the smaller and more compact it becomes." And so the land in North Holland sinks ever lower below sea level. In some places, the difference between land and sea is already several meters.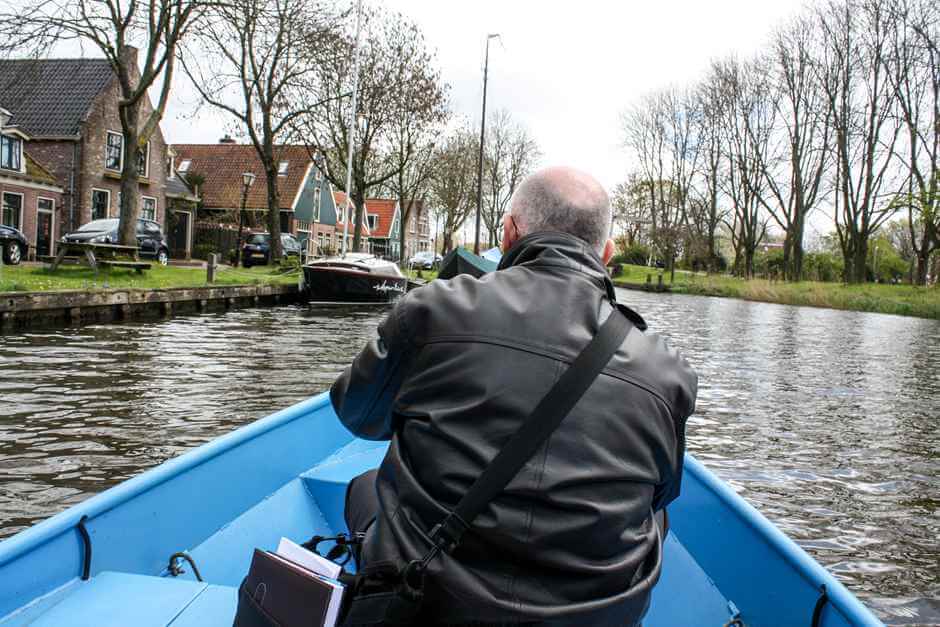 With flat boats through Edam Holland
Marc delivers us to Luc van den Berg after our city tour. He rents his small fleet of "Fluisterbootjes" to tourists. Luc only does this as a sideline. His main job is the editor of a small local newspaper. After a bit of back and forth, he agrees to accompany us on our tour through Edam's old town. A real stroke of luck, as it turns out. He knows about almost every house we see on the way. It can therefore tell us a lot about its history and residents. And so we move leisurely - really at a whisper volume - through the canals of Edam and can see how authentic this place seems to this day.
That belongs in the suitcase:
Edam Holland - then and now
Luc reports that once in Edam and other villages on the Zuiderzee, ships were built for the United East India Company. They killed their spices and other exotic merchandise Africa around to India and the Spice Islands. Some of these yards still exist today, except that they now build other ships and boats. He also shows us the typical façade shapes of North Holland houses. The staircase facade or the bell shape of the gables. And he describes how a walker almost drowned a few years ago when the drawbridge collapsed under him. Today, the wooden and picturesque bridges, spanning the canals in several places, have been restored and given a new lease of life.
What does Edam look like, as if it originated in a Dutch lifestyle magazine? So beautifully maintained is the place, its houses and their front gardens. The residents of Edam often work in Amsterdam, which is only twenty minutes away, and also lead a tranquil life away from the hustle and bustle of the big city in their place of residence. Enviable: they enjoy the best of two worlds - on the one hand, the tranquility that life in the countryside entails, and on the other, the urban offer of the nearby city.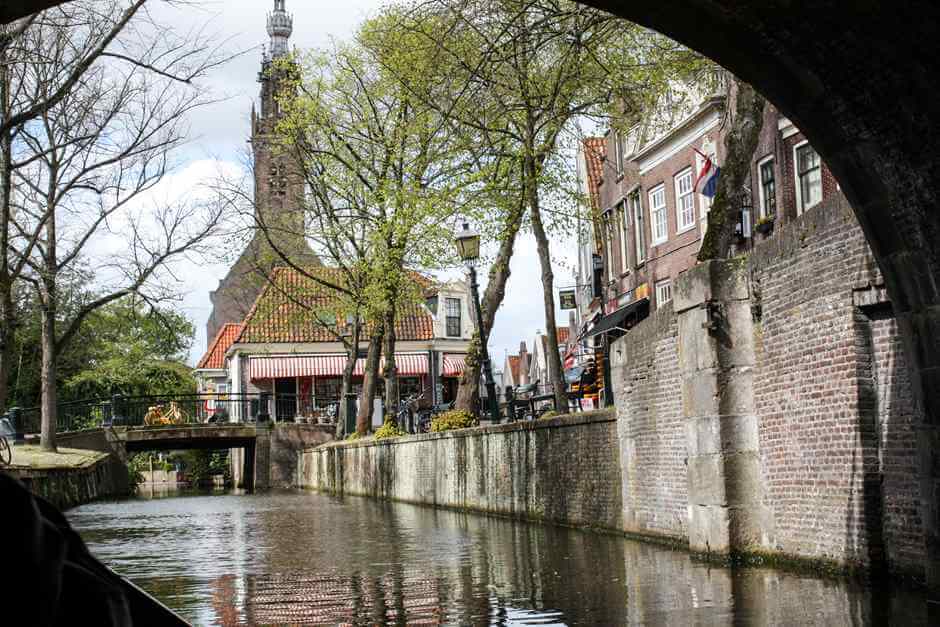 Culture in the cheese village
Culture is also no stranger to Edam. The place has its own theater, a museum and, above all, very creative residents. This can be seen in the many festivals that are celebrated here all year round, but also on a small scale. The front gardens and houses are designed and decorated with so much love and creativity that you can see very quickly: people who have made it live here. That has to be the case, because the prices for the small, proper wooden and stone houses correspond to those that you pay for living space in Germany's most expensive city - Munich. Luc says: "If you own a house here, you can rest." And that's exactly what Edam is the perfect place for. Or for anyone looking for a break from the hustle and bustle of everyday life in a wonderful setting. Edam has become one of our longing places.
Cheese market Edam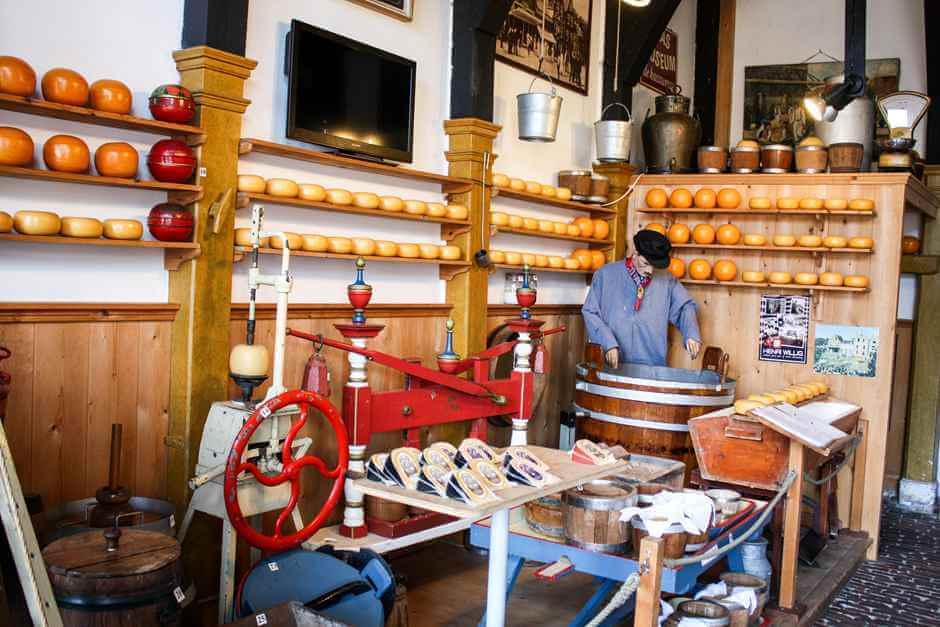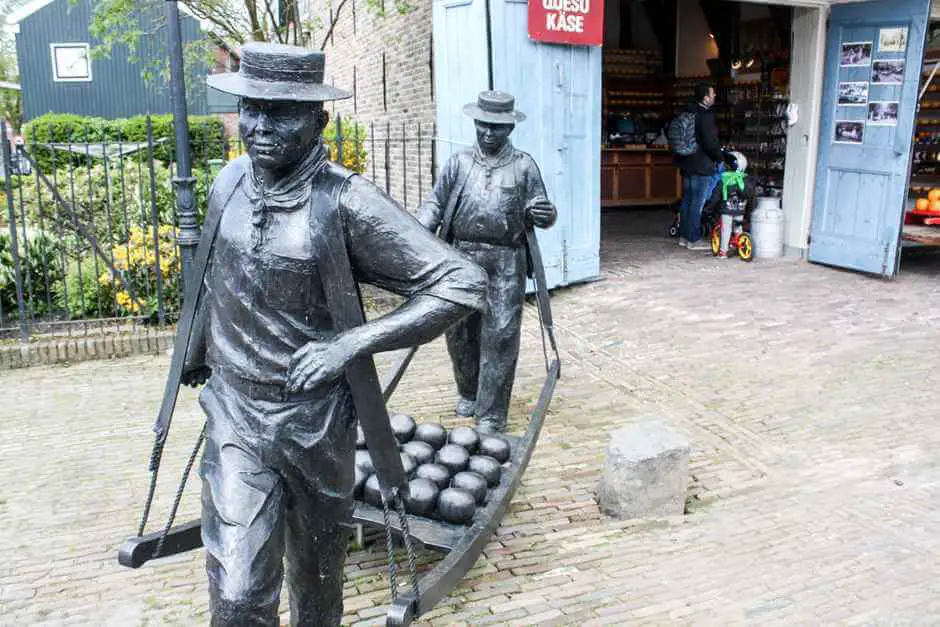 One thing we did not find in Edam: a cheese dairy. But the place was world famous. However, cheese production today takes place elsewhere.
As a reminder of the great time of cheese making in Edam, there is a weekly cheese market in the summer months. Then boats and horse-drawn carriages deliver the cheese. The cheese is unloaded by special cheese carriers. Afterwards, the cheese traders come to the train. They drill a sample of the cheese and test it for its quality. That's how the price is determined. If the quality is perfect, the cheese is transported on wheelbarrows to the cheese scale.
Where is the Edam Holland cheese market?
Edam Cheese Market is located in Jan Nieuwenhuizenplein, 1135WT Edam
It takes place in July and August of Wednesday from 10.30 - 12.30 clock. There's also an evening market on a Saturday from 20: 30 to 22: 30 pm.
Do you like to travel by motorhome?
---
Travel Arrangements:
Getting there
Book yours here Arrival by plane, bus or train*. KLM, Lufthansa, Swiss and Austrian will follow Amsterdam. A stay in Edam can be combined very well with a Road trip through the Hanseatic cities link.
Car Rentals:
Cheap Car Hire - Book Fast and Easy! *
Excursions from Amsterdam
Hotels:
hotels * in Edam you can book through our partner booking.com under this link.
Information about the whisper boats can be found here:
Fluisterbootjes
Luc van den Berg, Rogier de Leeuw
Tel. + 31 (6) 140 52 130 or + 31 (6) 301 64 004
www.fluisterbootverhuur-edam.nl
---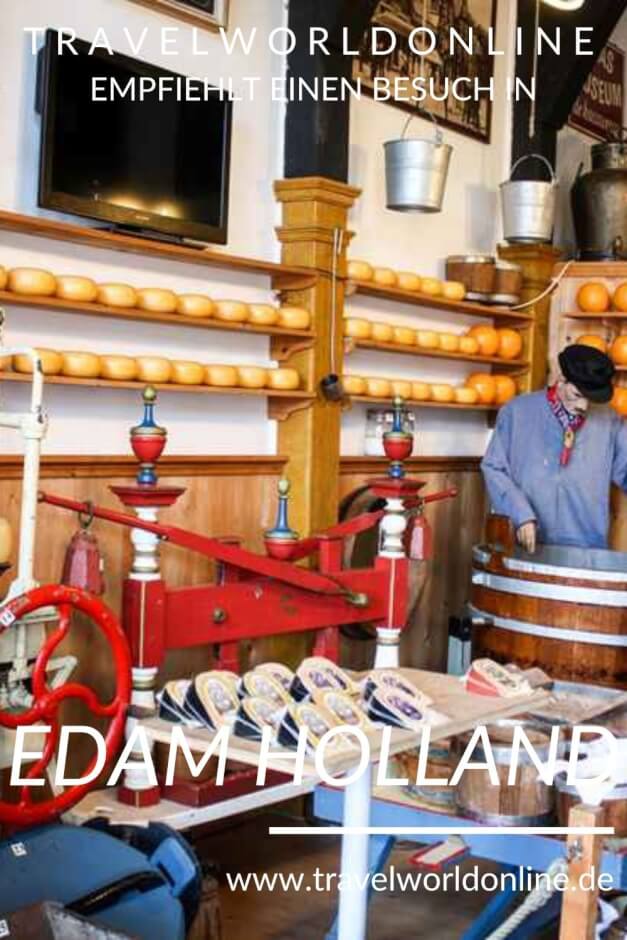 Do you already know:
Discover more Slow Travel Destinations here. Cities in Holland here.
Source – Edam Holland Cheese Market : Research on site invited by iamsterdam and the Dutch Tourist Office. Our opinion remains our own.
Text Edam Holland Sights: © Copyright Monika Fuchs, TravelWorldOnline
Photos: © Copyright Monika Fuchs, TravelWorldOnline
Edam - see the cheese village from the water