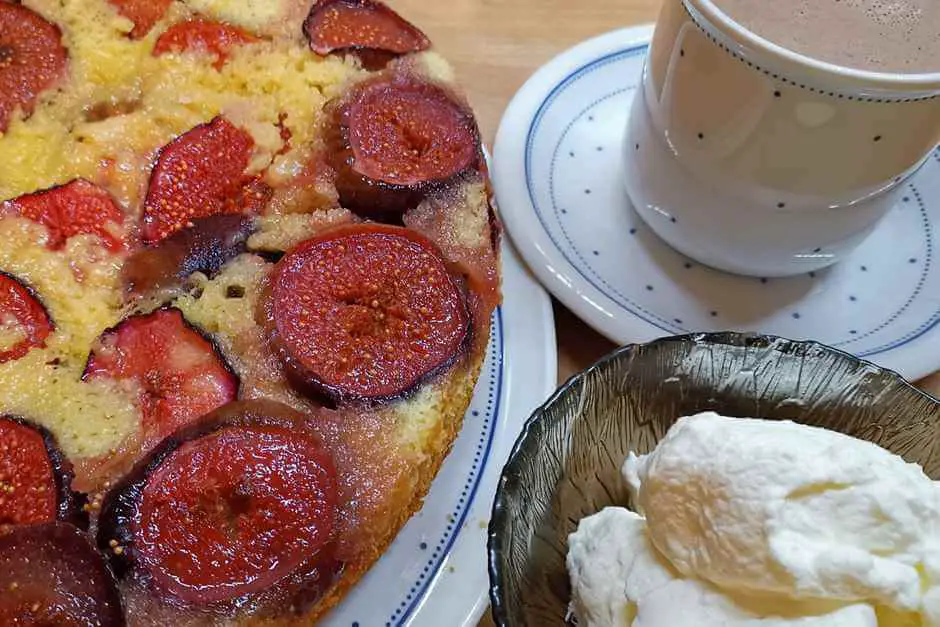 French Baking: Fig Cake Recipe
That French baking is also fun at home, we tested yesterday with this fig cake recipe from France. If you feel the same way, then you try to get the taste of your travel destinations back into your own kitchen every now and then. We went on a river cruise along the Rhone in spring this year, that took us from Lyon via Avignon to the Camargue in Southern France. On this trip, we visited markets and experienced great moments of culinary delights in the cities en route. Lyon and Avignon have a lot to offer for those travelers, who like to experience French specialties and the savoir vivre of our neighboring country. For those who can not, the kitchen at home offers opportunities to enjoy the flavors of French cuisines. This recipe offers a great opportunity to do this. It tastes especially good with hot chocolate with cinnamon and whipped cream.
Fig cake recipe - French baking
Ingredients for this fig cake recipe
two cups of flour
a cup of ground almonds
one cup of sugar
a cup of yogurt
a half cup of oil
three eggs
half a bag of baking soda
a teaspoon of bitter almond flavor
seven fresh figs
forty grams of sugar under the figs in the pan
How To Prepare The Fig Cake Recipe - Simple French Baking
As a cup, I used a yogurt cup. You can also use a cup that is about as big.
Brush a round cake pan with butter or cover the ground with baking paper. We do this to save butter and prevent the cake from sticking to the pan.
Mix flour, almonds, sugar and baking soda thoroughly.
Then add yoghurt, oil, eggs, bitter almond oil and stir thoroughly. I used olive oil. But you can use other oils, which are tasteless.
Cut the figs in about one centimeter thick slices. Sprinkle sugar on the bottom of the cake pan and spread the figs closely on the bottom of the cake pan. Then pour the dough over it and smooth it out.
Bake the fig cake for thirty to forty minutes at 180 ° C (XNUMX ° F) in a preheated oven. The baking time depends on the size of your measuring cup and the size of the cake pan.
With this recipe, French baking is fun, and it guarantees instant success.
Do you like Austrian cuisine? Then try these Mühlviertler Wasp nests.